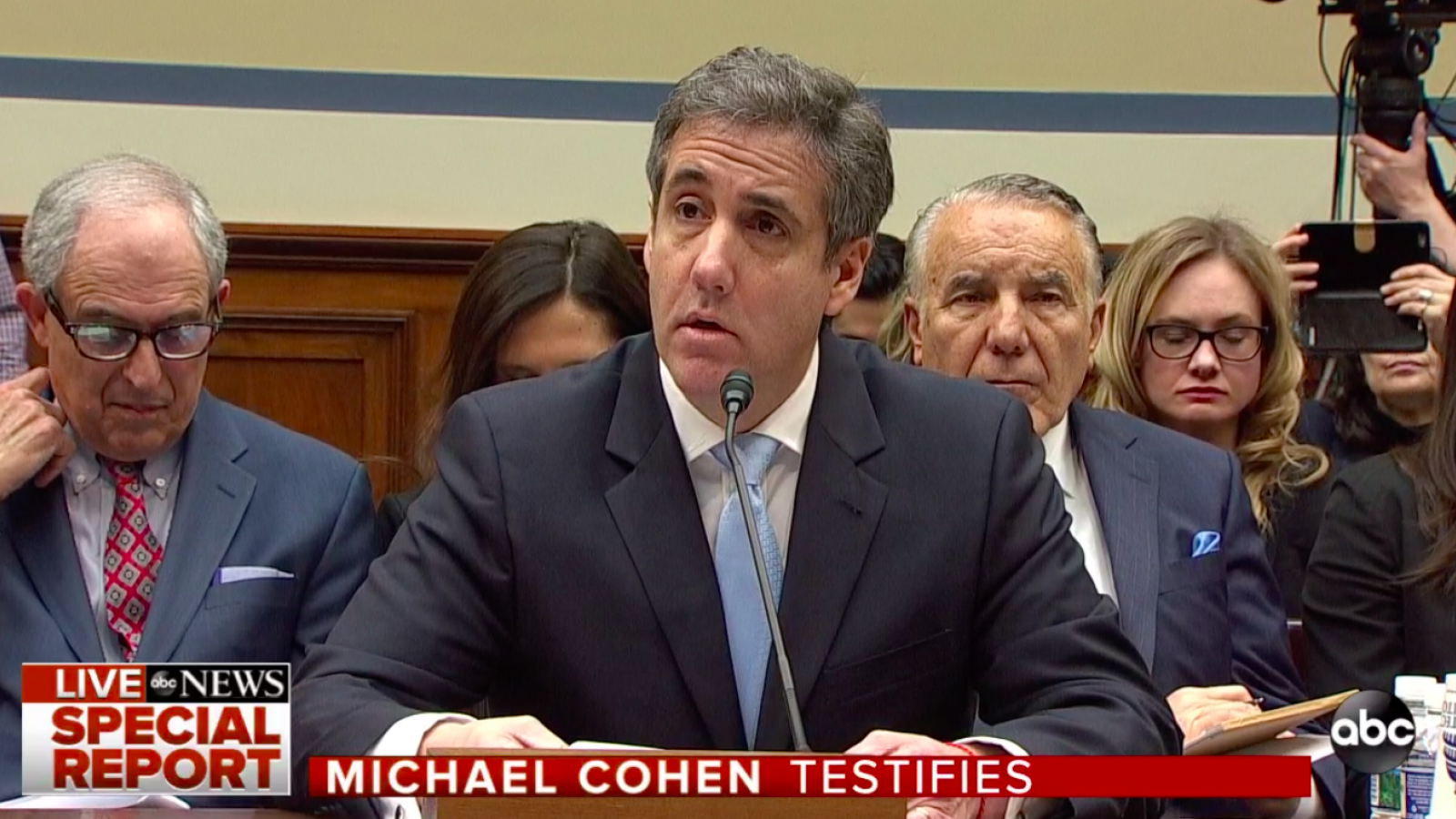 After delivering his prepared opening remarks, Michael Cohen begins taking questions from members of the House Oversight Committee.
Chairman Elijah Cummings (D-MD) begins by asking about the Stormy Daniels reimbursement payments. 
Ranking Member Jim Jordan (R-OH) opens with a threatening Cohen quote and confronts Cohen with his own financial crimes, asking if all his bad deeds were done to protect the president. Jordan attempts to embarrass Cohen by bringing up the @WomenForCohen twitter account.
Jordan asks why Cohen worked for Trump for 10 years if Trump was such a bad guy and says Cohen is here today because he did not get a job in the White House.  
Rep. Debbie Wasserman Schultz (D-FL): Did Trump had advance knowledge of the WikiLeaks dump? Cohen says yes. 
Wasserman Schultz asks how much Don Trump Jr. and Ivanka Trump knew and if it is possible the whole family is compromised. Cohen says yes. Cohen says Roger Stone was a free agent who frequently reached out to Donald Trump who was happy to take his calls. Cohen says the special counsel and other agencies have corroborating information. Cohen says yes, Trump would collude with a foreign power to win at all costs.
Cohen says there was something weird about the back and forth praise for Vladimir Putin but cannot say for sure there was collusion. 
Cohen: "Mr. Trump's desire to win would have him work with anyone." The Trump Tower Moscow project was just business as usual because "we never expected to win."
Rep. Mark Green (R-TN) attacks Cohen as a liar and runs down the list of topics open for discussion during this hearing, noting Cohen lied about his personal, financial, and business activities. Green attacks the majority party and calls Cohen a fake witness and his presence a travesty. 
Rep. Carolyn Maloney (D-NY) asks and Cohen confirms there was nothing he did with the Trump Organization that did not go through Mr. Trump. 
Rep. James Comer (R-KY) asks about Cohen's personal financial activities. Cohen says he never has defrauded any bank. Comer cedes his time back to Jordan who attacks Cohen's credibility and claims he is not remorseful, asserting he argued with the SDNY's judgment. 
Cohen: "Shame on you, Mr. Jordan. That is not what I said." 
Rep. Eleanor Holmes Norton (D-DC) asks about the Access Hollywood tape and what the president's reaction to it was. Cohen says he was in London at the time and got a call from Hope Hicks saying he needed to help spin the tape as just locker room talk. 
Rep. Mark Meadows (R-NC) is disputing Cohen's claim Trump is racist and references Lynne Patton to counter him. Meadows asks to submit her statement (which we do not hear) for the record. 
Rep. Lacy Clay (D-MO) wants to talk about President Trump's financial disclosures. 
Rep. Jody Hice (R-GA) wants to know with whom Cohen spoke to prepare for the hearing. He says he worked with his counsel. Cohen says yes, he spoke with Democrats prior to the hearing. Cohen says no one is paying Lanny Davis. Rep. Hice says he doubts it. Cohen says he was asked to come to Congress to testify and is here voluntarily. 
Rep. Stephen Lynch (D-MA) asks about Cohen's Trump Tower Moscow briefings to Don Jr. and Ivanka Trump. Cohen says there must have been at least 10. Lynch asks if any doubt about what Donald Trump was asking when he spoke to Cohen about Russia. Cohen says no. Cohen says after each communication he had, he would report back to Trump. He said they were interested in building the largest building in all of Europe. 
Rep. Jordan back to yelling about FBI and DOJ. 
Rep. Paul Gosar (R-AZ) calls Cohen a pathological liar and accuses him of testifying to reduce sentencing time. Cohen says he cannot see how today's testimony would help the SDNY. Gosar then tried to embarrass Cohen again with the @WomenforCohen twitter handle. 
Rep. Jim Cooper (D-TN) asks Cohen when his turning point was. Cohen says, "Helsinki. Charlottesville ... I'm responsible for your silliness because I did the same thing you are doing now for 10 years. I protected Mr. Trump for 10 years." Cohen calls himself a picture perfect example of what not to do. 
Cohen says Trump wasn't kidding when he said he could shoot someone on 5th Ave and get away with it. "You don't know this man. I do. This destruction to our civility to each other is out of control. He's sending out the same message that he can do whatever he wants. This is his country. He's becoming an autocrat." Cohen says he never saw Trump personally threaten anyone, but others would do it for him. 
Rep. Kelly Armstrong (R-ND) is up next after a break. 
The hearing resumes with questioning from Rep. Virginia Foxx (R-NC) who wants Cohen to swear under oath he won't try to make money in the future from his story or his time working for Trump, and Cohen refuses. She then cedes her time back to Rep. Jordan who continues to attack Cohen for lying. 
Cohen to Rep. Jordan: "I find it interesting, sir, that not one question from your side has been asked about President Trump. I thought that was why I was coming here. The American people don't care about my taxes. They want to know what I know about Mr. Trump, and not one question has been asked about President Trump."
Rep. Gerald Connolly (D-VA) notes plenty of liars have testified under oath and brought down bigger criminals. He then asks about how Cohen prepared for his prior congressional testimony with Jay Sekulow, the president's personal lawyer. Did the president coach you? Cohen says Trump doesn't tell you what he wants. He says he states his message, and it is understood that is what he wants. 
Rep. Thomas Massie (R-KY) asks if Cohen thinks he was a good lawyer to Mr. Trump. Cohen says he thinks so. Massie asks when Cohen became privy to a conversation Trump and Stone had about WikiLeaks' email dump. Cohen says mid-July. Massie points out Julian Assange told the media in June the emails would be leaked. He gives the rest of his time to Rep. Clay Higgins (R-LA) who tries to nail Cohen on the boxes he searched for evidence to bring to the hearing, asking why the SDNY doesn't have them. Cohen says the boxes were returned to him. 
Rep. Raja Krishnamoorthi (D-IL) asks about Trump's use of non-disclosure agreements. Cohen says it's 100% certain nothing happened at Trump Organization without it going through Trump. Cohen says he cannot answer if people aren't coming forward because of NDAs, and Cohen says he cannot answer that. Krishnamoorthi asks about what communication Trump or his representatives have had with Cohen recently and what was said. Cohen says these matters are under investigation. 
Rep. Michael Cloud (R-TX) asks Cohen to state why he is going to jail on May 6th. Cohen starts to explain why he did not want to work in the White House, and Cloud cuts him off to submit Cohen's sentencing memo for the record. Cloud hands his remaining time to Meadows. 
Rep. Jamie Raskin (D-MD) wants detail from Cohen about catch and kill and hush money payments. Raskin asks if Cohen knows of any Trump behavior home or abroad that would make him susceptible to extortion or blackmail. Cohen says no. Raskin asks why Trump tried to distance himself from Felix Sater. Cohen says that's what Trump does. He distances himself from people when things are going back for them. Raskin asks who reviewed his congressional testimony statement. Cohen says Jay Sekulow and that several changes were made to that statement, including how long the Trump Tower Moscow conversations continued. 
Rep. Glenn Grothman (R-WI) says he is insulted by the assertion Donald Trump did not want to win the election as that was not his take during time spent with Trump during the campaign. Grothman yields to Jordan who yields to Meadows who hammers Cohen about his contacts and contracts with foreign entities. Meadows then asks if Cohen intentionally withheld his testimony until late last night. Cohen says he and his lawyers were editing until late last night. Meadows says he "doesn't believe that bull." 
Rep. Harley Rouda (D-CA) returns to the matter of Trump pretending not to know convicted Russian mobster Felix Sater, even thought Sater had an office on Mr. Trump's floor in Trump Tower - the office that became Cohen's when Sater left. Cohen says Sater did not pay rent for his office. Rouda says and Cohen confirms Trump, at best, lied under oath when he said he barely knew Sater. Rouda asks where the committee could find documentation of Trump's business relationship with Sater. Cohen says they likely would be in a storage facility off-site. Rouda asks about Russians paying for apartments in Trump properties in cash. Cohen says he is not aware of it. Cohen says the $95 million to buy the property in Palm Beach came in by wire from Mr. [Dmitry] Rybolovlev's bank account. 
Rep. Justin Amash (R-MI) asks why Trump hired him originally and how that job came to be. Amash asks Cohen to explain how Trump speaks in code.
Amash: What does President Trump fear most?
Cohen: That's a tough question, sir.
Amash: What is the truth he fears most?
Cohen: I don't know how to answer that question. 
Cohen says he wants his life back. Cohen thanks Amash for his questions and the opportunity to show redemption. 
Rep. Katie Hill (D-CA) clarifies the form Meadows was attacking Cohen about and asks Cohen to review it with his lawyers over lunch. Hill says she is from a purple district and did not come here today for partisan bickering. She starts her questions asking about hush money payments. 
Rep. Bob Gibbs (R-OH) chastises Cohen for attacking the president while abroad, says he sees a very sincere president who wants to make the country better, and then launches into detailing Cohen's crimes and accusing him of just trying to save face. GIbbs calls this political theater. Cohen says I know Trump better than you do because I have been with him for more than a decade. Gibbs yields his time to Jordan who seems shocked Cohen claims credit for starting the Trump campaign. Cohen refers him to the "Should Trump Run" website he started in 2011. 
Rep. John Sarbanes (D-NY) asks about Cohen's coached testimony before Congress the first time around. Cohen says he toed the party line and now he is suffering. 
Rep. Clay Higgins (R-LA) says he's arrested thousands of men and he thinks Cohen is like the ones that are repentant when arrested but then go back to their old ways once free. Higgins is back on the boxes issue. He thinks the documents Cohen submitted should be in evidence elsewhere. Cohen said the boxes were seized in the raid on his office and since have been returned to him. Higgins also claims he did not know who Cohen was until today even though Cohen has been all over television for years. Higgins says this is an attempt to injure our president and lay a cornerstone for impeachment proceedings and then yields his remaining 30 seconds to Jordan. 
Rep. Peter Welch (D-VT) is asking about Roger Stone, WikiLeaks, and Julian Assange. Welch is asking about the call Cohen testified he listened to on speakerphone on either July 18 or 19 in Trump's office. Stone said he had just gotten off the phone with Assange and a massive dump of emails that would hurt the Clinton campaign would be coming soon. Cohen says he does not know if Trump knew where these emails came from. Cohen says Trump showed no indication he knew this behavior was wrong. Cohen says he does not know if Trump knew the substance of the emails. Cohen says Rhona Graff called out "Roger is on line one" when the call came through but does not know if anyone else was aware of the call. 
Rep. Ralph Norman (R-SC) questions whether Cohen is remorseful or just got caught.
Norman: Have you ever been to Prague? Cohen says no, he has never been to the Czech Republic. 
Rep. Jackie Speier (D-CA) asks if Cohen traveled to Europe in 2016. Cohen says he was there to see his daughter who was studying in London. Cohen says he did not meet with any Russians. Speier asks about an elevator video tape that went up for auction, and Cohen says he does not believe that was real. The tape allegedly shows Trump striking Melania. Cohen says he does not believe that happened. Cohen says there is not a love child to the best of his knowledge. Cohen says he intimidated people for Trump on hundreds of occasions. Cohen says he has hundreds of audio recordings he will give the committee if it wants them. 
Rep. Carol Miller (R-WV) claims this hearing is a waste of time and money. She says we can't believe anything Cohen says. She yields the remainder of her time to Jordan who briefly asks about some of the conspiracy theories Rep. Speier raised. 
Rep. Robin Kelly (D-IL) asks about Stormy Daniels payments. 
Rep. Kelly Armstrong (R-ND) hammers Cohen over audio recordings he allegedly made and turned over without clients having waved privilege. Cohen notes Rudy Giuliani waved privilege with regard to the Trump tapes. Armstrong continues to attack Cohen on his taxes, and Cohen asks why this matters since he has pleaded guilty and is going to jail. Armstrong asks if it's exhausting keeping track of all his lies. Cohen says he has no answer to that. 
Rep. Mark DeSaulnier (D-CA) asks about Trump Tower Moscow. He clarifies "Individual 1" is Trump. Cohen says he spoke with Corey Lewandowski about which dates Trump could travel to Russia to take a look at the project, but it never came to fruition. Cohen says pursuit of the project ultimately stopped because Trump won the presidency. Cohen says he told Trump what was going on with Russia and then the president would turn around at a rally and do his Russia witch hunt routine. Cohen speaks about manipulating online polls and says the president was involved in the scheme. DeSaulnier asks if other people in the campaign will end up where he is, and Cohen says if they continue to follow Trump blindly, then yes. 
Rep. Greg Steube (R-FL) bemoans taking testimony from a convicted liar and says no juror in America would believe what Cohen says. 
Rep. Brenda Lawrence (D-MI) opens by saying propping up Lynne Patton, whom she does not mention by name, as a token black person to dispute Cohen's testimony that Trump is racist is insulting. Lawrence wants to know what Cohen thinks the president can do to him. Cohen says it's not just the president but also his followers. Cohen says he does not know what Trump was referencing when he attacked his father-in-law, who is in the clothing business. He says his father-in-law's biggest investment is in a Trump property. Lawrence says this hearing is about the oath of office to have checks and balances. 
Rep. Chip Roy (R-TX) asks if Cohen was asked to come here, and he says he was. Roy asks if Cohen has been to Prague, and Cohen again says no. Roy then enters into the record a Mother Jones article, which he wrongly calls a conservative magazine, saying Cohen had been to Prague for a day 14 years ago. The Wall Street Journal reporting the following in January 2017:
Mr. Cohen told The Wall Street Journal he hadn't been to Prague since 2001, but on Twitter Tuesday night he said he had never been there.
Rep. Stacey Plaskett (D-VI) asks about Cohen allegedly being under retainer with the president, which he says he was not. Plaskett wants to know with whom else the committee should speak. 
Chairman Cummings puts the committee in recess for about an hour. 
Part II of the hearing liveblog continues here. 
Read Michael Cohen's opening statement to Congress (USA Today)
SEE: Documents Michael Cohen will present to back up his testimony to Congress (CNN)
'#Sexy': The most eye-popping @WomenForCohen tweets paid for by Michael Cohen (USA Today)
Lynne Patton Is the Woman Sitting Behind Mark Meadows (Heavy.com)
Intelligence Dossier Puts Longtime Trump Fixer in Spotlight (WSJ)