Former Bayrock Group Managing Director/Convicted Criminal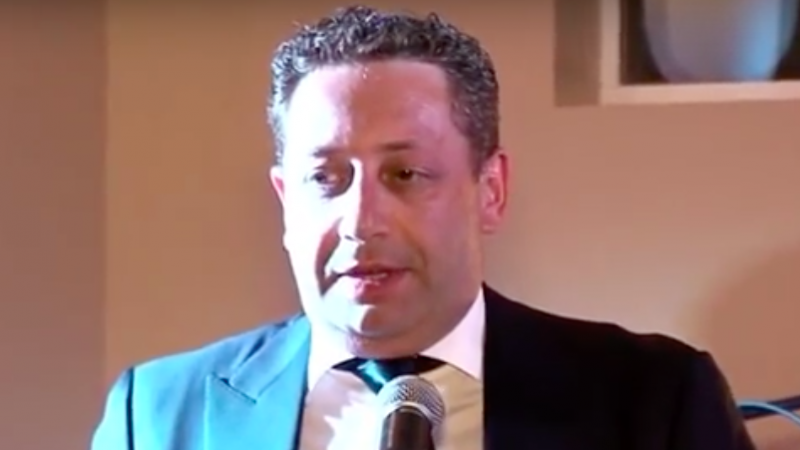 Felix Sater is a Russian-born dealmaker who served as managing director for Bayrock Group, a real estate development firm with an office two floors down from The Trump Organization in Trump Tower. He is a convicted felon who has been accused of dealings with Russian and American organized crime.
In February of 2017, a week before Michael Flynn left his position as President Trump's National Security Advisor, Sater was one of three people who presented Flynn with a plan to end sanctions against Russia. The other two people involved were Michael Cohen, Donald Trump's personal attorney and Sater's friend from Brooklyn, and Andrii Artemenko, a Ukrainian lawmaker connected to Paul Manafort. It is not clear why Sater was involved in such a sensitive matter of national security.
Sater's name emerged again on August 28, 2017 when The New York Times reported Sater had sent a series of emails to Michael Cohen in 2015 bragging about being able to get a Trump Tower built in Moscow with Putin's praise and approval, adding, "Our boy can become president of the USA and we can engineer it." Cohen acknowledged he received Sater's correspondence, and while he claimed Sater was prone to exaggeration, he did admit he discussed Trump Tower Moscow with Trump on three separate occasions during the presidential campaign. Cohen also admitted he emailed Putin spokesman Dmitry Peskov mid-January 2016 for assistance in revitalizing the stalled Trump Tower Moscow project. Peskov confirmed he got the email but said he never replied.
Sater moved to Brooklyn, NY from the Soviet Union at the age of eight, and in his teens, he knew Michael Cohen, Donald Trump's longtime personal attorney and Trump Organization vice president.
In 1991, Sater was a young stockbroker when he got into a bar fight with a colleague in Midtown Manhattan and attacked the man with a broken margarita glass. Sater spent a year in jail for the assault. In 1998, Sater again ran afoul of the law and was caught running a $40 million stock fraud scheme connected to the New York and Russian mobs. He fled to Russia to avoid charges but then returned with information to share about a weapons sale in Afghanistan that he gleaned from one of his KGB contacts. Sater cut a deal that kept his records sealed and his sentencing postponed for 11 years. His eventual sentence was a $25,000 fine and no incarceration.
Sater joined Bayrock in 2001, and over the next eight years, he worked with members of the Trump family — Donald, Ivanka, and Donald Jr. -- on multiple real estate deals. Trump partnered with Bayrock on at least four major failed ventures in the United States (but also pursued development in Russia <unclear). When he left Bayrock in 2009, Sater retained an office at Trump Tower and was issued? Trump Organization business cards that described him as a senior advisor to Donald Trump.
In a 2005 civil racketeering case against Bayrock and its principals, the plaintiff described the firm as "substantially and covertly mob-owned and operated,' and engaging 'in a pattern of continuous, related crimes, including mail, wire, and bank fraud; tax evasion; money laundering; conspiracy; bribery; extortion; and embezzlement."
Trump has attempted to put some distance between himself and Sater by claiming under oath in 2013 that he barely knows the man, in spite of photographic evidence to the contrary. Sater, also under oath, shared a very different story, claiming the two traveled together and would interact often at Trump Tower. Sater also claimed to have escorted Ivanka and Donald Jr. around Moscow during a trip in 2006.
Sater personally contributed the maximum amount of $5,400 to Trump's campaign.