President of Russia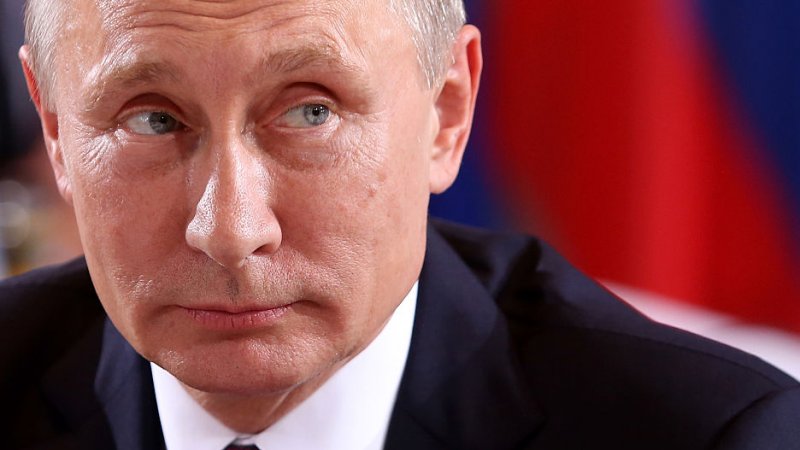 Vladimir Putin is the President of Russia. He has been ranked as Forbes' most powerful person in the world for the past four years. In Putin's combined time as Prime Minister and President, he has become one of the longest-serving leaders in post-czarist Russian history. With power and wealth and at the helm one of America's greatest adversaries, Vladimir Putin is armed with the tools and know-how to exert Russia's influence across a wide range of global affairs.
President Putin's official biography on the web page of the Russian Presidential Executive Office is designed to paint a picture of an ordinary man that built his own path to the presidency through focus, hard work, and an undying commitment to Mother Russia. He aspired to an intelligence career as a teenager, later earning a degree in law from Leningrad State University. Less than a year after his first posting out of college, he gained the attention of intelligence officials who put him into a KGB program at Andropov Red Banner Institute. There he learned KGB intelligence tactics including how to manipulate individuals to become spies against their own countries. He then was posted in Dresden, East Germany where he was tasked with monitoring East German political developments.
After nearly two decades of work in intelligence, Putin became Director of the Federal Security Service (FSB; the KGB's domestic successor), appointed by President Boris Yeltsin on July 25, 1998. Putin's training at the Red Banner Institute and his 16 years monitoring East German political developments made him well attuned to understanding how to read and influence the global political sphere.
On August 9, 1999, Yeltsin named Putin Acting Prime Minister, a role the State Duma approved a week later. When Yeltsin unexpectedly resigned December 31st that same year, Putin stepped in as Acting President. He was subsequently elected in March 2000.
Putin served two terms as President from 2000 to 2008. During his first term, Putin faced the challenge of how to control the oligarchs who -- after the fall of the Soviet Union -- rigged the system to accumulate incredible wealth. He offered them a hands-off approach to their businesses as long they did not challenge his political power. That bargain was tested by Russia's richest man, Yukos Oil Company owner Mikhail Khodorkovsky, who began to challenge Putin on the issue of corruption.  By 2003, Putin had heard enough. That October, he arrested Khodorkovsky on charges of fraud and tax evasion, subjected him to humiliating public trials, and had him thrown in jail for 10 years. The Khodorkovsky incident best exemplified Putin's campaign to replace the Yeltsin-era oligarchs with his own longtime friends and allies whom he helped amass both wealth and power.
Prohibited by law from serving a third consecutive presidential term, Putin became Prime Minister from 2008 to 2012. He ran again for President and won in 2012, but the election cycle was heated and widely protested. Putin faced extensive pushback both nationally and internationally, and in response, he claimed "foreign money" was influencing the protesters. He accused U.S. Secretary of State Hillary Clinton of inciting unrest to stoke political instability and viewed her support for Eastern European nations joining NATO as evidence of a crawling Western invasion and unacceptable interference in Russia's "near abroad."
Putin also saw a threatening pattern emerge as the U.S. toppled authoritarian governments Iraq and Libya and was especially disturbed by Muammar Qadhafi's very public, violent demise in October 2011.
On August 7, 2013, President Obama, frustrated with Russia for granting temporary asylum to NSA whistleblower Edward Snowden, cancelled an upcoming one-on-one summit with Putin in Moscow.
Tensions between the U.S. and Russia further escalated in 2014 after Russia invaded Ukraine and annexed Crimea. The U.S. issued targeted sanctions in response, designed to punish those people and institutions close to Putin and responsible for supporting and facilitating Russia's military operations. Putin has not backed down. He asserts Russia's stance on Ukraine is defensive as a result of a U.S.-engineered "coup" against the Kremlin-allied government in Ukraine and NATO's continued expansion into the post-Soviet Baltic states and Russia's "near abroad." In January 2016, Putin signed a Russian government declaration claiming NATO is a "threat to national security."
On June 14, 2016, The Washington Post reported Russian government hackers penetrated the Democratic National Committee's (DNC) computer network, and in response, the Kremlin's spokesman, Dmitry Peskov, issued a complete denial. Then on July 22, 2016, the eve of the Democratic National Convention, Wikileaks posted nearly 20,000 emails stolen from the DNC. In a September 2016 interview with Bloomberg, Putin flatly denied Russia's involvement, stating, "I don't know anything about it, and on a state level Russia has never done this."
In October 2016, the Department of Homeland Security and the Office of the Director of National Intelligence, the office overseeing all of the 16 U.S. intelligence agencies, released a statement asserting that the Russian government had hacked into U.S. websites and disclosed stolen information in order to influence the upcoming elections and had scanned and probed state election systems.  In January 2017, the US intelligence community released a declassified report revealing Putin ordered an influence campaign designed to undermine the public's faith in democracy, harm Hillary Clinton, and aid Donald Trump.  
In June 2017, during an interview at the St. Petersburg Economic Forum, President Putin changed his tune on Russia's interference in the 2016 election. Instead of issuing a firm denial again, he suggested perhaps patriotic Russians were responsible. "(Artists) may act on behalf of their country, they wake up in good mood and paint things. Same with hackers, they woke up today, read something about the state-to-state relations," Putin said. "If they are patriotic, they contribute in a way they think is right, to fight against those who say bad things about Russia."