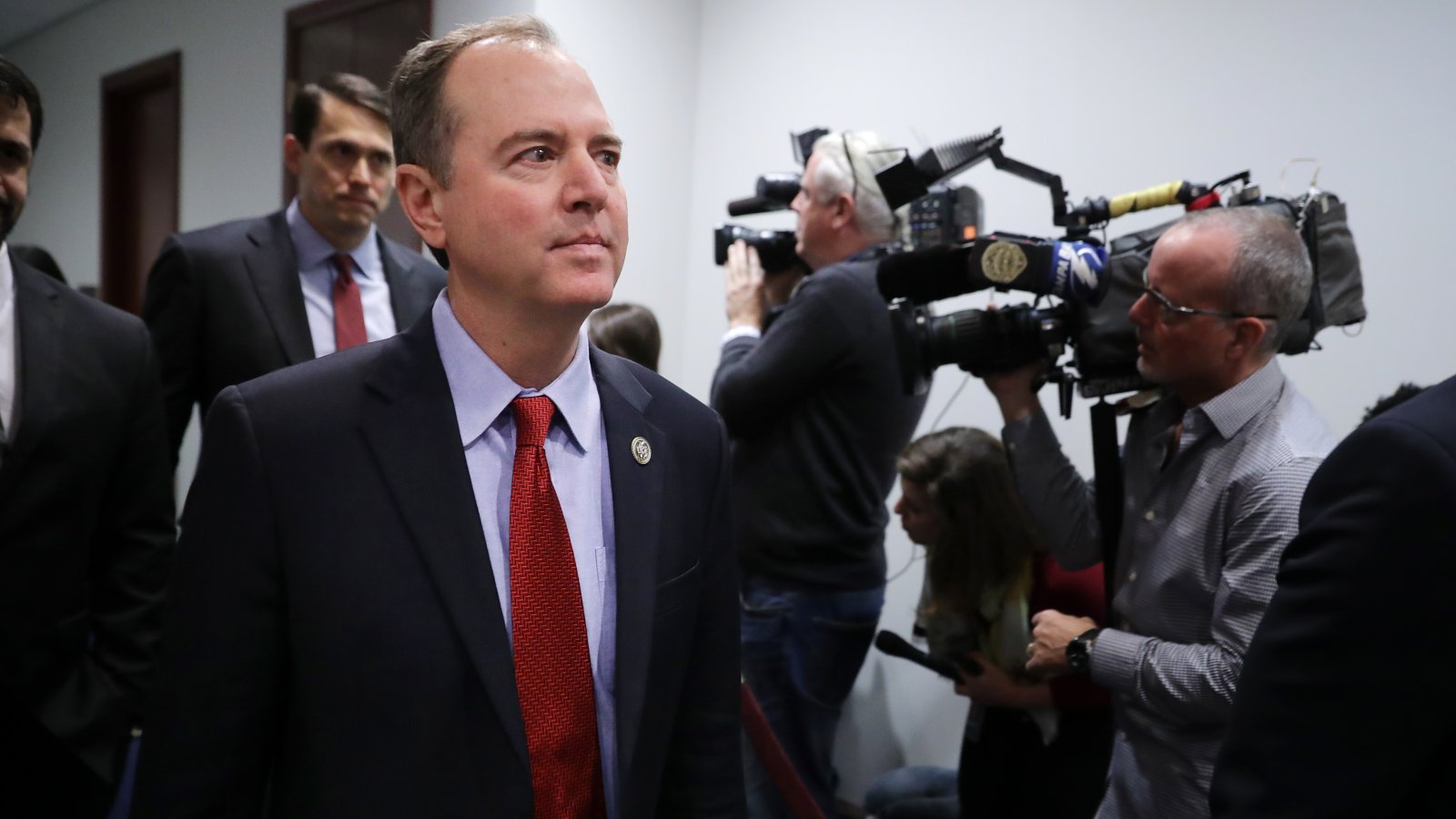 UPDATE 2: (2-7-19) NBC News' Tom Winter: 

---
UPDATE: President Trump, when asked about Schiff's plan to reopen the Russia investigation, went on the attack. 
"He has no basis to do that. He's just a political hack who's trying to build a name for himself," Trump told reporters at the White House after announcing his pick to lead the World Bank.

"It's just presidential harassment and it's unfortunate and it really does hurt our country," Trump said of the probe.
Trump blasts Schiff as 'political hack' over new investigation (The Hill)
---
The House Intelligence Committee, in its first meeting of the congressional session, voted in favor of sending dozens of Russia investigation interview transcripts to Special Counsel Robert Mueller. 
Rep. Mike Conaway (R-Texas) told reporters that the committee vote was by voice and bipartisan to send roughly 50 transcripts to Mueller as he continues to probe Russian interference and potential coordination between the Trump campaign and Russia.

Rep. Chris Stewart (R-Utah), another member of the committee, said he believed the vote was unanimous.
Schiff told reporters that the transcripts, which would be transmitted to Mueller immediately, include some that the special counsel's office has not had access to, as well as transcripts they have not legally been allowed to use.
Mueller will now have access to nonpublic transcripts of closed-door interviews with Donald Trump Jr., Hope Hicks, Jared Kushner, Michael Cohen, Corey Lewandowski and others that were conducted when Republicans on the committee were running the Russia probe.

It will allow Mueller to compare what witnesses said about key events, such as the June 2016 Trump Tower meeting between Trump Jr., Kushner, former Trump campaign chairman Paul Manafort and Russian lawyer Natalia Veselnitskaya.

The documents also catalogue interviews with several Obama administration officials, including former Director of National Intelligence James Clapper and former Deputy Attorney General Sally Yates. They also include transcripted interviews with a number of current and former Trump administration officials, including former Attorney General Jeff Sessions and Director of National Intelligence Dan Coats.
Chairman Schiff also released a statement Wednesday on his plans to reopen the prematurely shuttered Russia investigation. It reads, in part, as follows:
"While Special Counsel Robert Mueller continues his investigation into whether there were "any links and/or coordination between the Russian government and individuals associated with the [Trump] campaign," and whether any crimes were committed in connection with, or arising from, that investigation, the Committee must fulfill its responsibility to provide the American people with a comprehensive accounting of what happened, and what the United States must do to protect itself from future interference and malign influence operations.

"During the prior Congress, the Committee began to pursue credible reports of money laundering and financial compromise related to the business interests of President Trump, his family, and his associates. The President's actions and posture towards Russia during the campaign, transition, and administration have only heightened fears of foreign financial or other leverage over President Trump and underscore the need to determine whether he or those in his Administration have acted in service of foreign interests since taking office. 

"Unfortunately, these and numerous other avenues of inquiry were not completed during the last Congress.  Now, in the 116th Congress, the Committee's investigation will focus principally on five interconnected lines of inquiry, beginning with these incomplete or unexamined investigative threads:

(1)    The scope and scale of the Russian government's operations to influence the U.S. political process, and the U.S. government's response, during and since the 2016 election;

(2)    The extent of any links and/or coordination between the Russian government, or related foreign actors, and individuals associated with Donald Trump's campaign, transition, administration, or business interests, in furtherance of the Russian government's interests;

(3)    Whether any foreign actor has sought to compromise or holds leverage, financial or otherwise, over Donald Trump, his family, his business, or his associates;

(4)    Whether President Trump, his family, or his associates are or were at any time at heightened risk of, or vulnerable to, foreign exploitation, inducement, manipulation, pressure, or coercion, or have sought to influence U.S. government policy in service of foreign interests; and

(5)    Whether any actors – foreign or domestic – sought or are seeking to impede, obstruct, and/or mislead authorized investigations into these matters, including those in the Congress.

(...)

"As Chairman of the Committee, I am committed to leading a thorough and impartial investigation that will follow the facts, and I hope that our Minority counterparts will join us in that effort.  Congress has a duty to expose foreign interference, hold Russia to account, ensure that U.S. officials – including the President – are serving the national interest and, if not, are held accountable."
House Intel panel votes to release Russia interview transcripts to Mueller (The Hill)
House intelligence panel delays Cohen interview, sends Russia transcripts to Mueller (WaPo)
Chairman Schiff Statement on House Intelligence Committee Investigation (press release)