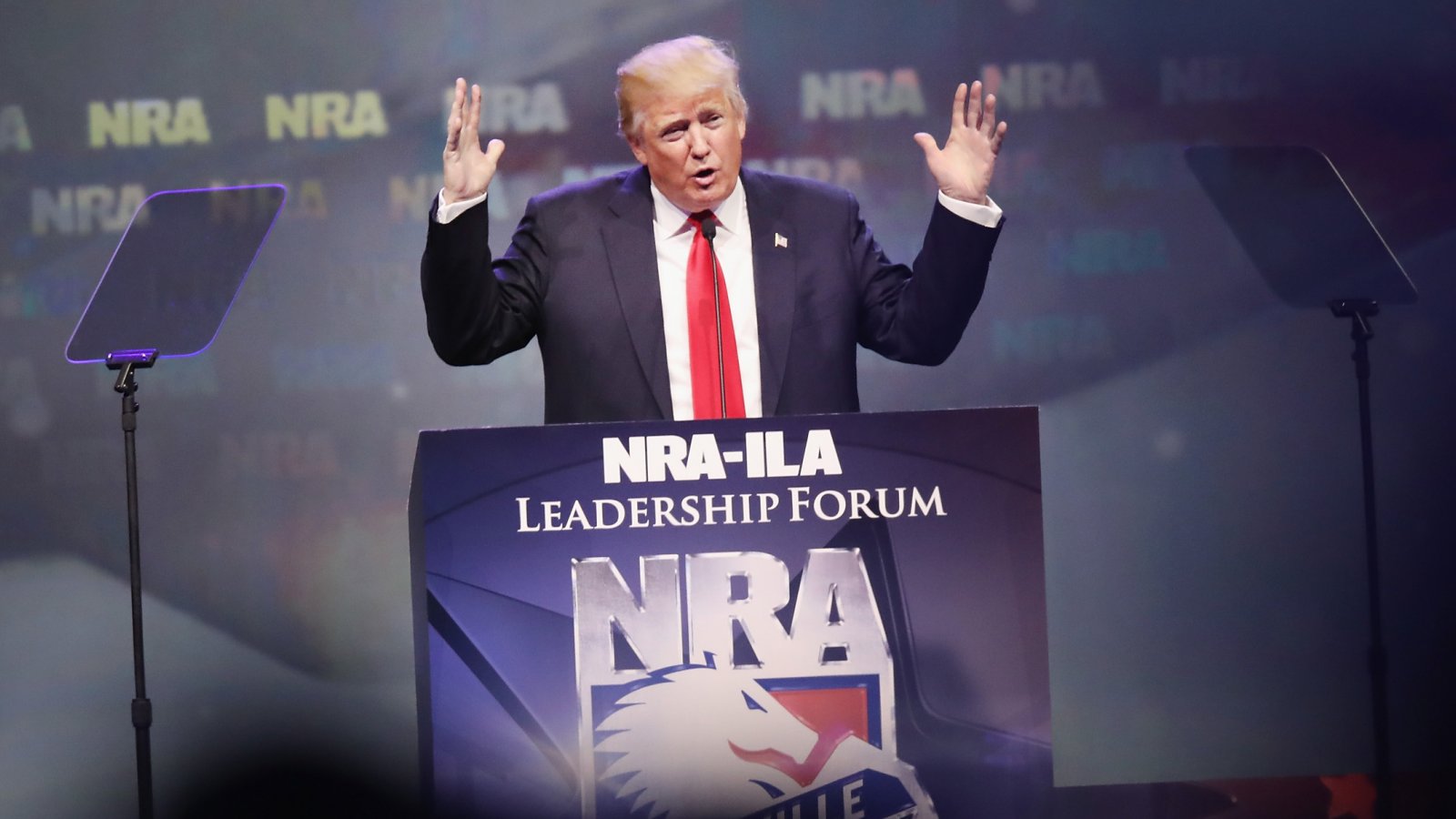 McClatchy is out with a story today about the FBI investigating whether a Russian banker and Putin ally named Alexander Torshin funneled money through the National Rifle Association to help Donald Trump. 
It is illegal to use foreign money to influence federal elections.
The extent to which the FBI has evidence of money flowing from Torshin to the NRA, or of the NRA's participation in the transfer of funds, could not be learned.

However, the NRA reported spending a record $55 million on the 2016 elections, including $30 million to support Trump – triple what the group devoted to backing Republican Mitt Romney in the 2012 presidential race. Most of that was money was spent by an arm of the NRA that is not required to disclose its donors.

Two people with close connections to the powerful gun lobby said its total election spending actually approached or exceeded $70 million. The reporting gap could be explained by the fact that independent groups are not required to reveal how much they spend on Internet ads or field operations, including get-out-the-vote efforts.
Torshin's connection to the NRA and his attempts to connect with the Trump campaign have been known for some time. 
Torshin used an intermediary during the campaign to contact Rick Dearborn, currently a White House deputy chief of staff who testified before the House Intelligence Committee Wednesday, and offered an opportunity to connect personally with Donald Trump. 
Dearborn received an email from a West Virginia man named Rick Clay in May 2016 entitled "Russian backdoor overture and dinner invite" and shared the email with Paul Manafort, Rick Gates, and Jared Kushner. The dinner invite was for an event happening in Louisville, KY at the same time as the NRA annual convention. Kushner reportedly told Dearborn to pass on the offer, but he also withheld the email from the Senate Judiciary Committee.
While no one from the campaign attended Clay's dinner, Donald Trump Jr. did attend an NRA dinner that same night, also in Louisville. Mr. Torshin was there. 
Dearborn received another email in May 2016, within days of Clay's, from an NRA member and conservative activist named Paul Erickson, saying he could arrange "a back-channel meeting between Donald J. Trump and Vladimir V. Putin." 
NYT:
Russia, he wrote, was "quietly but actively seeking a dialogue with the U.S." and would attempt to use the N.R.A.'s annual convention in Louisville, Ky., to make " 'first contact."

(...)

"Putin is deadly serious about building a good relationship with Mr. Trump," ... Erickson wrote. "He wants to extend an invitation to Mr. Trump to visit him in the Kremlin before the election. Let's talk through what has transpired and Senator Sessions's advice on how to proceed."

(...)

"The Kremlin believes that the only possibility of a true reset in this relationship would be with a new Republican White House," Mr. Erickson wrote to Mr. Dearborn, adding, "Ever since Hillary compared Putin to Hitler, all senior Russian leaders consider her beyond redemption."
NYT adds, "It is not clear how Mr. Dearborn handled the outreach."
On top of Torshin's efforts to cozy up to the Trump campaign, the Moscow banker has forged ties with powerful conservatives, including Republican Rep. Dana Rohrabacher, the Californian whom some have deemed Putin's best friend in Washington. In a phone interview in 2016, Rohrabacher recalled meeting Torshin in Moscow a few years earlier and described him as "a mover and shaker."

(...)

Torshin's involvement with the NRA may have begun in 2013 when he attended the group's convention in Houston. Keene, the ex-NRA leader and an avid hunter, was instrumental in building a relationship with the Russian, according to multiple conservative sources. 

Keene also helped lead a high-level NRA delegation to Moscow in December 2015 for a week of lavish meals and meetings with Russian business and political leaders. The week's festivities included a visit to a Russian gun company and a meeting with a senior Kremlin official and wealthy Russians, according to a member of the delegation, Arnold Goldschlager, a California doctor who has been active in NRA programs to raise large donations.

Others on the trip included Joe Gregory, who runs the NRA's Ring of Freedom program for elite donors who chip in checks of $1 million and upwards, Milwaukee Sheriff David Clarke and Pete Brownell, a chief executive of a gun company and longtime NRA board member.
FBI investigating whether Russian money went to NRA to help Trump (McClatchy DC)
Operative Offered Trump Campaign 'Kremlin Connection' Using N.R.A. Ties (NYT)
Related: The Tale of Alexander Torshin