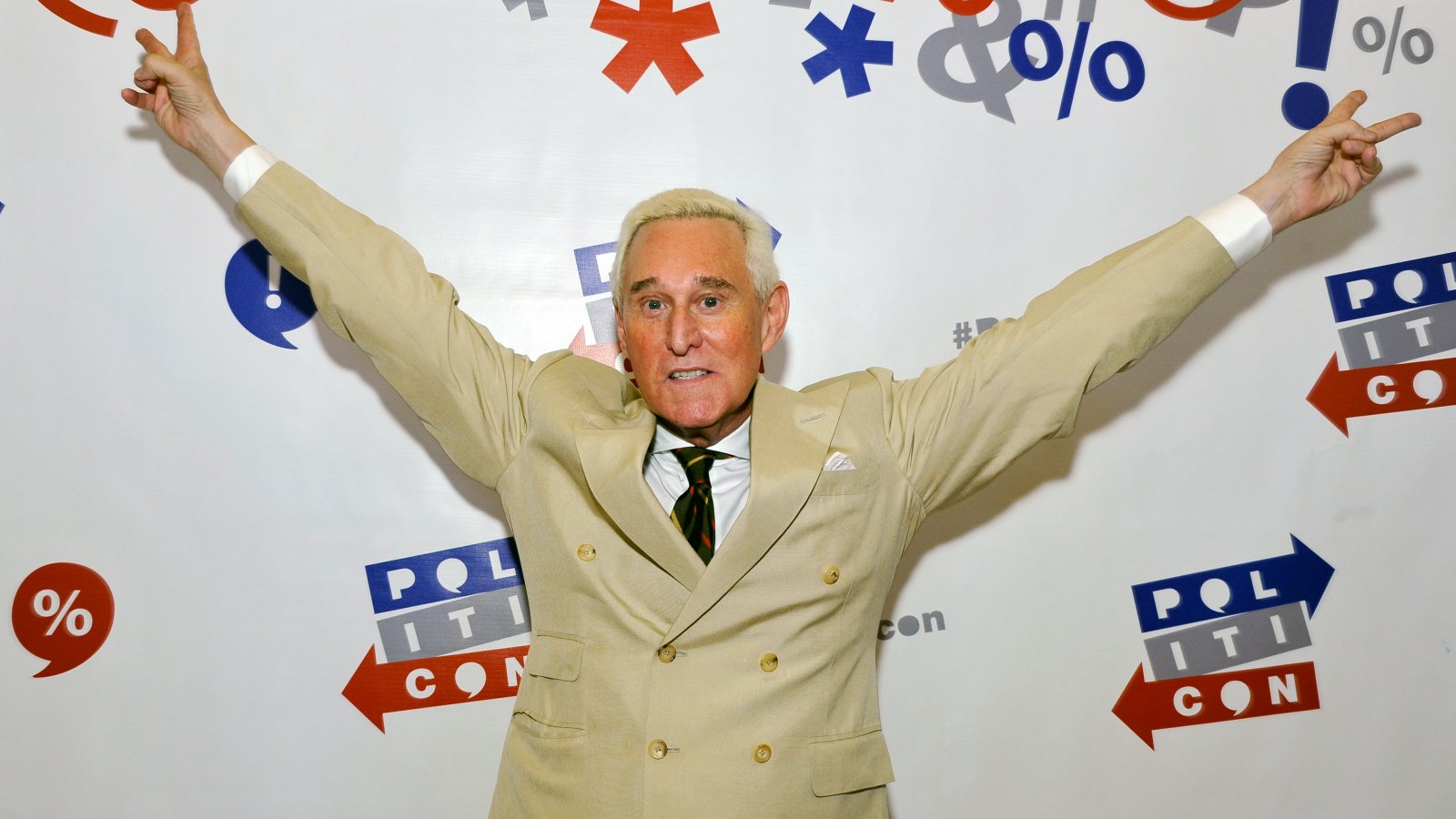 UPDATE 2: Roger Stone's arraignment will take place at 11am Tuesday in Washington, DC before Magistrate Judge Deborah Robinson. Stone will plead not guilty. 
Stone said he plans to fight the charges in court, describing himself as falsely accused and the investigation as "politically motivated."
Roger Stone to appear in DC federal court Tuesday (The Hill)
---
UPDATE: Stone speaks outside the courthouse, at times drowned out by boos and shouts of "lock him up." Stone says he is innocent, will fight the charges, and will not testify against the president. He admits he is one of the president's oldest friends and a fervent supporter.
Stone says he "categorically" did not work with the Russians to aid President Trump. The New York Times has the full transcript of Stone's remarks.
Watch:
The Washington Post adds more detail: 
After the early morning arrest at his home, he appeared briefly in federal court in Fort Lauderdale, Fla., wearing a blue polo shirt, jeans, and steel shackles on his wrists and ankles. The judge ordered him released on a $250,000 bond.

Speaking before a raucous crowd outside the courthouse, Stone vowed to fight the case.

"I will plead not guilty to these charges. I will defeat them in court," he said. Some in the crowd jeered and chanted "lock him up." Others shouted support for Stone.

"There is no circumstance whatsoever under which I will bear false witness against the president nor will I make up lies to ease the pressure on myself. I look forward to being fully and completely vindicated," Stone said. "I will not testify against the president because I would have to bear false witness."

(...)

Stone, 66, who has been friends with Trump for three decades, served briefly as a formal adviser to his presidential campaign in 2015 and then remained in contact with Trump and top advisers through the election.

(...)

Stone's indictment was returned by a federal grand jury in Washington under seal Thursday pending his arrest.

U.S. Magistrate Deborah A. Robinson granted the sealing motion after Mueller's prosecutors stated, "law enforcement believes that publicity resulting from disclosure of the Indictment and related materials on the public record prior to arrest will increase the risk of the defendant fleeing and destroying (or tampering with) evidence."

Stone's case was assigned to U.S. District Judge Amy Berman Jackson of the District of Columbia, the same judge hearing the case of former Trump campaign chairman Paul Manafort.

(...)

With Stone's indictment, the special counsel investigation has now led to charges against 34 people and guilty pleas by six Trump associates and advisers, including Manafort, former deputy campaign manager Rick Gates, former national security adviser Michael Flynn, former Trump attorney Michael Cohen and former campaign adviser George Papadopoulos.
Full Transcript: Roger Stone's Statement Responding to His Arrest (NYT)
Longtime Trump adviser Roger Stone says he's falsely accused after indictment by special counsel in Russia investigation (WaPo)
---
UPDATE: After a short court appearance, Stone has been released on $250,000 bond. 

President Trump lashed out on Twitter, grabbing on to a fast-moving right wing conspiracy theory that CNN got a heads-up to be at Stone's home as the arrest was taking place. In fact, CNN's team noticed yesterday's unusual Thursday grand jury hearing and, on its own initiative, decided to see what Stone was up to this morning because Mueller has been questioning his friends and associates for months. 

CNN's Communications team responded directly to the president's tweet:

---
Special Counsel Robert Mueller has indicted longtime Trump political advisor Roger Stone.
From Mueller's office:
Roger Jason Stone, Jr., 66, of Fort Lauderdale, Florida, was arrested in Fort Lauderdale today following an indictment by a federal grand jury on Jan. 24, 2019, in the District of Columbia. The indictment, which was unsealed upon arrest, contains seven counts: one count of obstruction of an official proceeding, five counts of false statements, and one count of witness tampering.

Stone will make an initial appearance at 11 a.m. before U.S. Magistrate Judge Lurana S. Snow at the federal courthouse in Fort Lauderdale in courtroom 203D.

Court documents can be found at www.justice.gov/sco.
Federal agents also obtained a search warrant for Stone's New York home – described as a "spacious two bedroom" apartment in Harlem. Agents were spotted Friday taking hard drives and other evidence from the apartment.

In the court documents, the special counsel's office wrote that after WikiLeaks began releasing internal Democratic National Committee emails in the summer of 2016, an unidentified "senior Trump campaign official was directed to contact Stone about any additional releases and what other damaging information [Wikileaks] had regarding the Clinton Campaign."

"Stone thereafter told the Trump Campaign about potential future releases of damaging material by [Wikileaks]," prosecutors say.

"There was no Russian collusion, it's a clear attempt at silencing Roger," Roger Stone's attorney Grant Smith tells ABC News. "This was an investigation they started as about Russian collusion and now they're charging Roger Stone with lying to Congress about something he honestly forgot about, and as Roger has stated publicly before, he will fight the charges," Smith said.
The White House again is distancing itself from the crime. 
In the initial White House comment, press secretary Sarah Sanders said on CNN, "Look my first reaction is real simple, this has nothing to do with the president and certainly nothing to do with the White House. This is something that has to do solely with that individual and not something that affects us here in this building."

(...)

Mueller's indictment accuses Stone of making false and misleading statements to the House Intelligence Committee, and Rep. Eric Swalwell, a Democrat on the committee, told ABC News Friday he believes the indictment is important because "it shows the Trump Organization was aware of his efforts. It shows there was awareness of Stone's efforts to get the hacked emails."

"It also puts into context why Donald Trump was talking so much about WikiLeaks," Swalwell said. "Why was Trump talking so often about new information that was coming? Why was he talking so much about WikiLeaks? Why did he make that invitation to the Russians? Now you know they had a connection in Roger Stone."

(...)

In July, the mercurial Stone told ABC News that he is the unnamed Trump campaign regular who allegedly corresponded with Russian hackers, as described in special counsel Mueller's July 13 indictment against a dozen Russians intelligence officers, who were posing as a hacker, Guccifer 2.0. The indictment alleges that the 12 Russians engaged in a sustained effort to hack Democrats and aides to Clinton during the 2016 presidential campaign. Stone has dismissed his short Twitter direct message communications with Guccifer 2.0 and denied knowledge that Russian agents were behind the account.

(...)

Stone told ABC News in November, "There's no circumstance under which I bear false witness against President Trump."
From ABC News' Senior Editorial Producer: 

Roger Stone, longtime Trump friend, indicted by special counsel Robert Mueller (ABC News)
Timeline: The Roger Stone indictment fills in new details about WikiLeaks and the Trump campaign (WaPo)