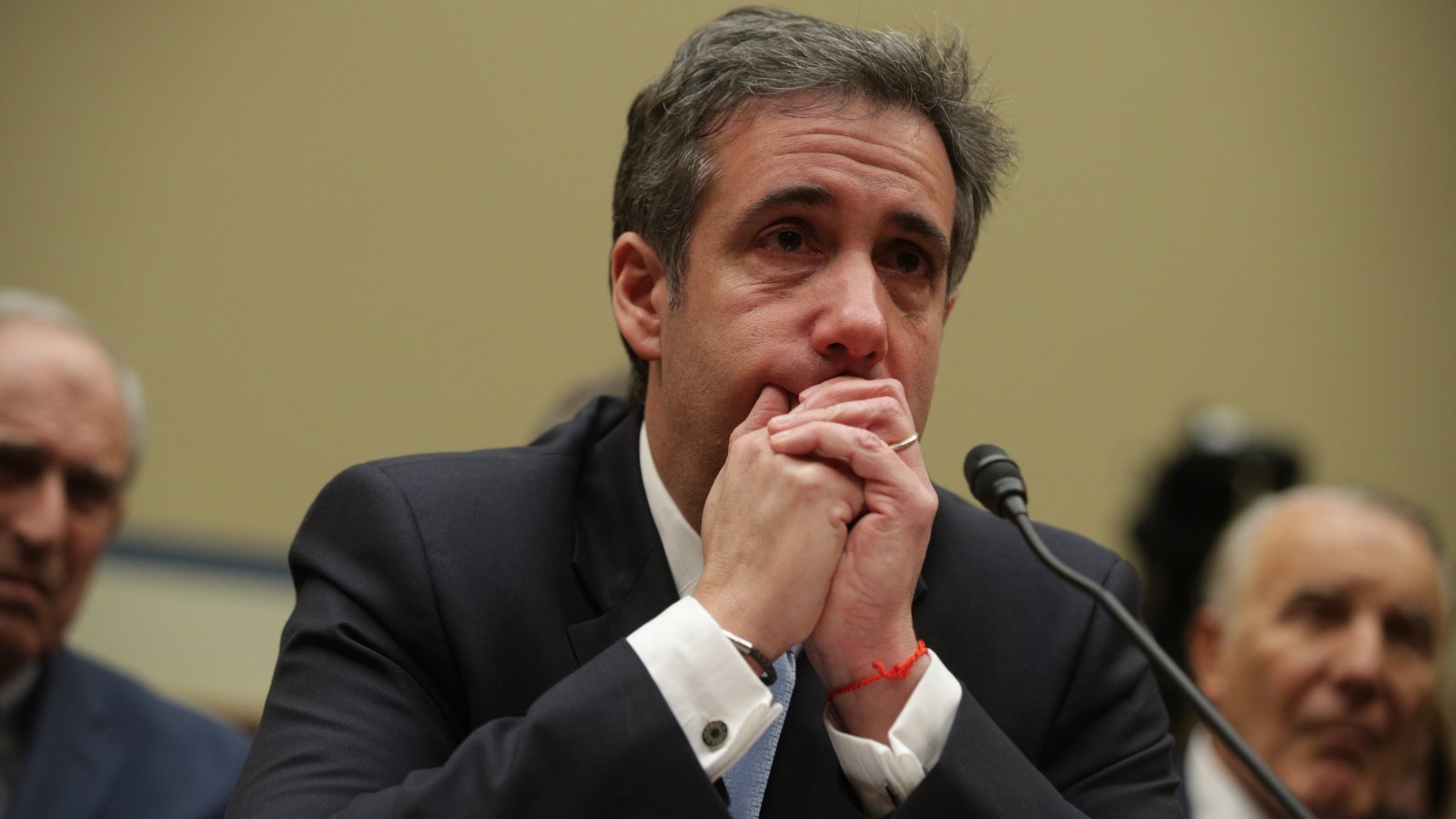 UPDATE: During a press conference in Hanoi last night, President Trump answered one question about Michael Cohen's hearing:
"I tried to watch as much as I could. I wasn't able to watch too much because I've been a little bit busy. But I think having a fake hearing like that, and having it in the middle of this very important summit, is really a terrible thing. They could have made it two days later or next week, and it would have been even better. They would have had more time. But having it during this very important summit is sort of incredible.

And he lied a lot, but it was very interesting because he didn't lie about one thing. He said no collusion with the Russian hoax. And I said, 'I wonder why he didn't just lie about that too like he did about everything else.' I mean, he lied about so many different things. I was actually impressed he didn't say, 'Well, I think there was collusion for this reason or that.' He didn't say that. He said no collusion, and I was a little impressed by that, frankly. He could have gone all out. He only went about 95% instead of 100%.

But the fact is there's no collusion. And I call it the witch hunt. This should never happen to another president. This is so bad for our country. So bad. You look at this whole hoax. I call it the Russian witch hunt. I now add the word hoax. It's a very, very bad thing for our country. But I was impressed with the fact that that he, because the most important question up there was the one on collusion and he said no collusion. So we'll see what happens, but it was pretty shameful, I think."
WATCH:
---
Here are some of the day's big takeaways related to the Russia probe:
TRUMP SPOKE IN CODE

At least when it came to covering up a business deal in Russia. 

Cohen testified that Trump "in his way" communicated that he wanted his former lawyer to lie to Congress about a Trump Tower Moscow deal he was negotiating during the 2016 presidential campaign.

But Cohen said the president was careful not to directly tell him to do so.

(...)

NO 'DIRECT' EVIDENCE OF COLLUSION

Cohen says he isn't aware of direct evidence of coordination between the Trump campaign and Russia during the 2016 election. But he does have "suspicions" about it.

Cohen testified that Trump was told in advance that WikiLeaks planned to release emails damaging to Hillary Clinton's 2016 White House campaign. Cohen recounted a phone call in Trump's office days before the Democratic National Convention when Trump adviser Roger Stone told Trump that WikiLeaks would be releasing a "massive dump" of emails harmful to the Clinton campaign in the coming days.

(...)

THERE'S MORE TO COME

Cohen says prosecutors in New York are investigating conversations that Trump or his advisers had with Cohen after the FBI raided his hotel room and office in April 2018.

About two months later, Cohen says he had contact with Trump or one of his representatives. But Cohen declined to say more because he says the U.S. Attorney's office in the Southern District of New York is investigating the matter.

(...)

ENTANGLING THE TRUMP CHILDREN

Trump's children emerged as key figures in a plan to build a Trump Tower in Moscow and as their father's top defenders.

Cohen said he had briefed Ivanka Trump and Donald Trump Jr. approximately 10 times about the business deal. Cohen's testimony may pose a problem for Trump Jr., who told Congress in 2017 that was only "peripherally aware" of the proposal.
PRAGUE 

Cohen denied under oath that he ever traveled to Prague, part of a key claim in the Steele dossier that accused the Trump campaign of colluding with Russia in August 2016. The dossier said Cohen met representatives of the Kremlin in the Czech Republic about working together to defeat Hillary Clinton. McClatchy News reported a disputed story last year claiming that Cohen's cell phone "pinged" off a cell-phone tower in Prague that summer. "I've never been to Prague," Cohen told Rep. Ralph Norman (R-SC) during Wednesday's hearing. "I've never been to the Czech Republic."
Chairman Elijah Cummings (D-MD), who delivered an impassioned speech to conclude Cohen's appearance before his committee, spoke with reporters afterwards and responded to the question of whether he believes the president committed a crime while in office. 
CNN: 
"Based on what — looking at the text and listening to Mr. Cohen, it appears that he did," Cummings said.

Cummings did not outline specific steps he and the committee would take next, but he said they must be "effective and efficient in everything we do."

"One of the things we have to do is reclaim civility. That's one of the things I was trying to do in there," Cummings said. "Two, we have got to make sure that we get information. When we have an uncooperative executive branch basically who does not want us to get information and then they tell all of you all by the way, they want to suppress you all. I mean how do you even make a government accountable?

Cummings also said today's testimony marked an "important day" in American history and an opportunity "to get back to center."
Cohen made only brief remarks on his way out of the hearing.
CNN:
"First of all I want to say thank you all for being here today. I'm humbled, I am thankful to chairman Cummings for giving me the opportunity today to tell my truth and I hope that, as chairman Cummings said, it helps in order to heal America."
Meanwhile, Trump allies and associates are coming out quickly to counter Cohen. 
Roger Stone, who now may be in violation of his gag order, texted reporters to deny the allegation he told Trump in July 2016 about an upcoming WikiLeaks email dump. The text read, "Mr. Cohen's statement is not true."
Stone's text, which he made clear was a "statement," was just the one sentence, and he did not explain what exactly about Cohen's testimony he maintained was false. Stone, who is facing criminal charges for lying to Congress, is under a gag order not to publicly comment on his case, special counsel Robert Mueller's investigation, or any "participants" in his case or the investigation.

(...)

On Wednesday, the WikiLeaks Twitter account tweeted that Assange "has never had a telephone call with Roger Stone." The group said it had teased releases of "publications on Hillary Clinton" — in June 2016, Assange said in an interview that WikiLeaks was going to publish more emails that Clinton sent or received while she was Secretary of State, but those comments didn't address emails stolen from the DNC.
Julian Assange's lawyer is denying Roger Stone and Assange ever spoke on the phone, but as The New York Times' Charlie Savage notes, Cohen only testified as to what he heard Stone tell Trump and not to what actually happened.  

Jay Sekulow is denying allegations he edited prior false testimony about Trump Tower Moscow negotiations: 

President Trump, who is in Vietnam meeting with North Korea's Kim Jong Un, so far only has retweeted one of his own earlier attacks on Cohen.

His sons, meanwhile, reacted to the hearing in real time. 
During Wednesday's testimony, Trump Jr. ridiculed Cohen as a disgruntled former employee who was just out to save himself. Trump Jr. tweeted that Cohen's testimony sounded "like a breakup letter."

Both he and his brother, Eric Trump, suggested that Cohen was angry because he was rejected from a job at the White House — an assertion Cohen denied.
At least half a dozen sources close to Trump said they either heard from Cohen directly or secondhand before Trump was inaugurated that he wanted a job at the White House. None of those sources was able to provide any evidence — emails or text messages from Cohen — to back up the claim. They also said that Ivanka Trump and Jared Kushner were responsible for Cohen staying in New York as other loyalists moved to the administration. (The Daily Beast reported in July 2018 that Cohen was bragging to his friends he expected to be named chief of staff.)

In their sentencing memo, prosecutors also brought up Cohen telling people he was getting a top administration position. "During and after the campaign, Cohen privately told friends and colleagues, including in seized text messages, that he expected to be given a prominent role and title in the new administration," the memo states.

Several others in Trump's orbit also tweeted during the hearing that they remembered Cohen begging for a job in the administration. North Carolina Rep. Mark Meadows, who is close to the president, asked the House Oversight Committee to include copies of those tweets in the congressional record.
Michael Cohen concludes his testimony: 'I will not sit back' (WaPo)
Russia, hush money, lies: Takeaways from Cohen's testimony (AP)
Cummings: It appears Trump committed a crime (CNN)
Cohen Dismisses Trump Rumors About Prague, Elevator Tape, Abortions, and More (Buzzfeed News)
Trump Loyalists' Plan To Discredit Michael Cohen: Insist He's Lying About Not Having Begged For A White House Job (BuzzFeed News)
Roger Stone Says Michael Cohen Is Lying, After Stone Was Ordered Not To Comment On The Mueller Investigation (BuzzFeed News)