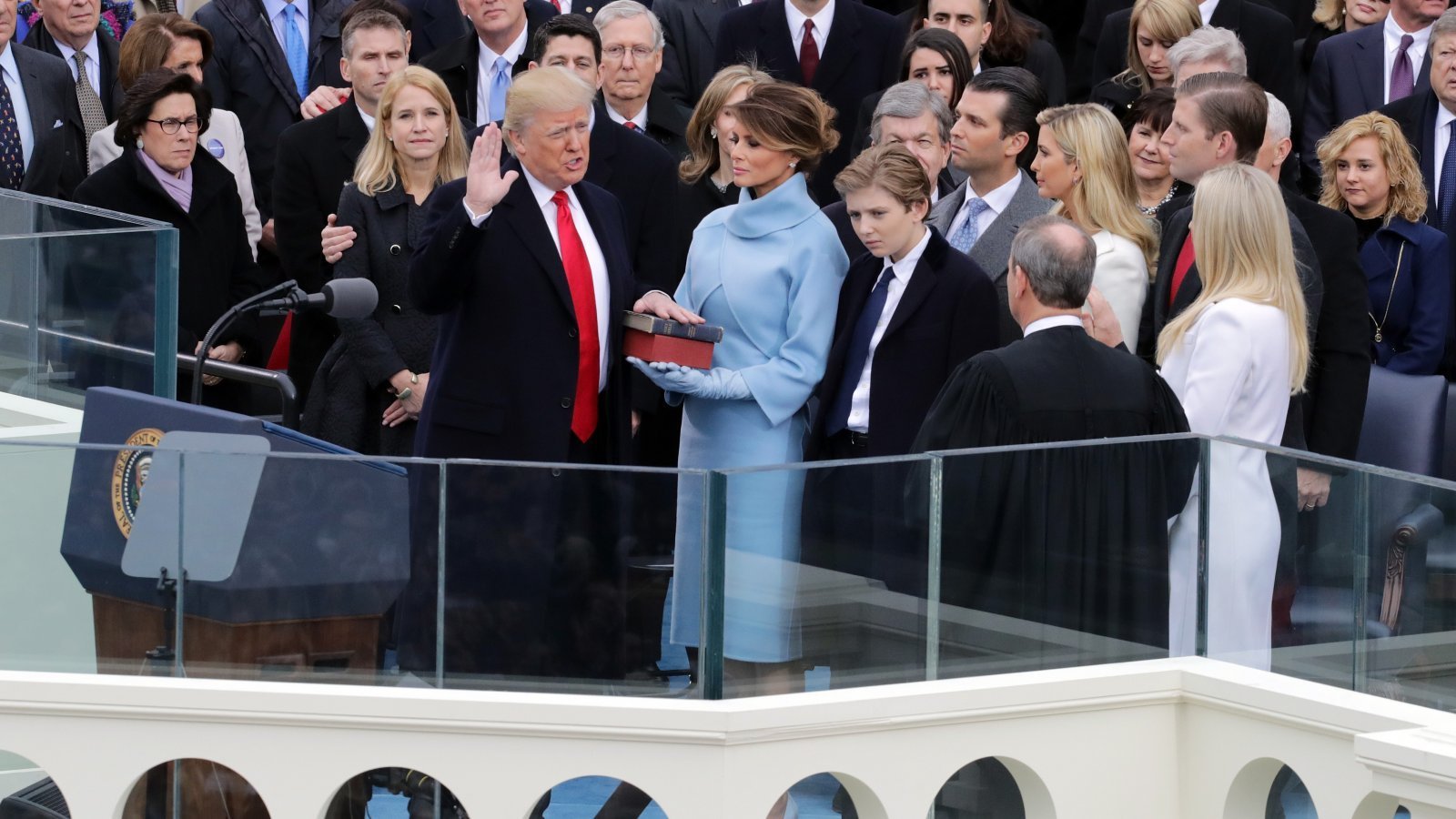 UPDATE: White House Press Secretary Sarah Sanders claims the inaugural committee investigation has nothing to do with President Trump. 
Asked on CNN's "New Day" if she were confident no illegal activity took place on the committee, Sanders said, "I'm reading the same reports you are this morning, gathering the information."

She deferred specific questions to the president's inaugural committee, which is a separate entity from the White House. But she said that "what I do know at this point is this has nothing to do with the White House."

Sanders has deflected blame when members of the president's inner circle, most recently his longtime political adviser Roger Stone, have been wrapped by investigations. 

(...)

... [T]he White House has maintained that the charges against Trump's associates have nothing to do with the president despite the connection to activities that took place during or after his campaign.

Sanders on Tuesday dismissed the notion that the president was a common factor in the legal woes afflicting his inner circle, arguing instead that "the common thread is a hysteria over the fact that this president became president."

(...)

She also said the Russia investigation was a distraction propped up by "the media and Democrats who dislike this president," though it was Trump who appointed the U.S. attorney leading the Southern District of New York that issued the subpoena.
Sanders on Trump inaugural committee subpoena: 'This has nothing to do with the White House' (Politico)
---
Special Counsel Robert Mueller and congressional investigators now have company from the Southern District of New York in their ongoing probe into the Trump inaugural committee.
"We have just received a subpoena for documents. While we are still reviewing the subpoena, it is our intention to cooperate with the inquiry," a spokesperson for the inauguration told ABC News.
CNN:
The wide-ranging subpoena from the Southern District of New York, reviewed by CNN, shows a request for documents related to donors and benefits offered in return. It asks for donations made by, and on behalf of, foreign nationals and communications related to the possibility of foreign nationals donations. 

The subpoena also seeks committee memos and information regarding restrictions on donations "including but not limited to prohibitions on donations by foreign nationals or donations on behalf of a third party."

Federal prosecutors also want information about donations made directly to vendors and communications discussing that possibility.
Trump's inaugural fund raised $107 million – the most in modern history.

(...)

ABC News has reported previously interest by federal investigators in the foreign guests at the inaugural event, and possible contributions by foreign nationals, which would be prohibited. Among those who attended were Russian billionaire Viktor Vekselberg, who is now on the Treasury Department list of sanctioned oligarchs.

Last year, special counsel Robert Mueller's team had questioned several witnesses about millions of dollars in donations from donors with connections to Russia, Saudi Arabia, the United Arab Emirates and Qatar, sources with direct knowledge previously told ABC News. One Mueller target, a political consultant named Sam Patten, acknowledged as part of a plea deal that he accepted $50,000 to buy tickets on behalf of a Ukrainian businessman who wanted to attend inaugural events.

Despite the amount of money raised, the festivities surrounding Trump's swearing-in were far more modest in scale than past inaugural events. The non-profit group established to oversee the celebration hosted only three major events with some small intimate private affairs ... 
NYT:
Only one individual was named as part of the subpoena's demand for documents: Imaad Zuberi, a former fund-raiser for President Barack Obama and Hillary Clinton who was seeking inroads with Mr. Trump, and whose company, Avenue Ventures, gave $900,000 to the inaugural committee. The subpoena also seeks documents related to his company.

(...)

People familiar with the subpoena said prosecutors are interested in potential money laundering as well as election fraud, though it is possible that the prosecutors do not suspect the inaugural committee of such violations. The prosecutors cited those crimes in the subpoena simply as justification for their demand for documents.

The inaugural committee's chairman was Thomas J. Barrack, a close friend of the president's. His close aide working on the inaugural committee was Rick Gates, the former deputy to Paul Manafort, the former Trump campaign chairman who has been convicted of and pleaded guilty to several crimes in connection with the investigation by the special counsel, Robert S. Mueller III.

(...)

The Manhattan investigation into the inaugural committee grew out of the investigation into Michael D. Cohen, Mr. Trump's former personal lawyer and fixer ... 

Mr. Cohen has spent more than 70 hours with investigators with the Manhattan prosecutors, as well as Mr. Mueller's team.
Read more: New York prosecutors seek records from Trump inauguration committee: Sources (ABC News)
Federal prosecutors subpoena Trump inaugural committee, source says (CNN)
Trump Inaugural Committee Ordered to Hand Over Documents to Federal Investigators (NYT)