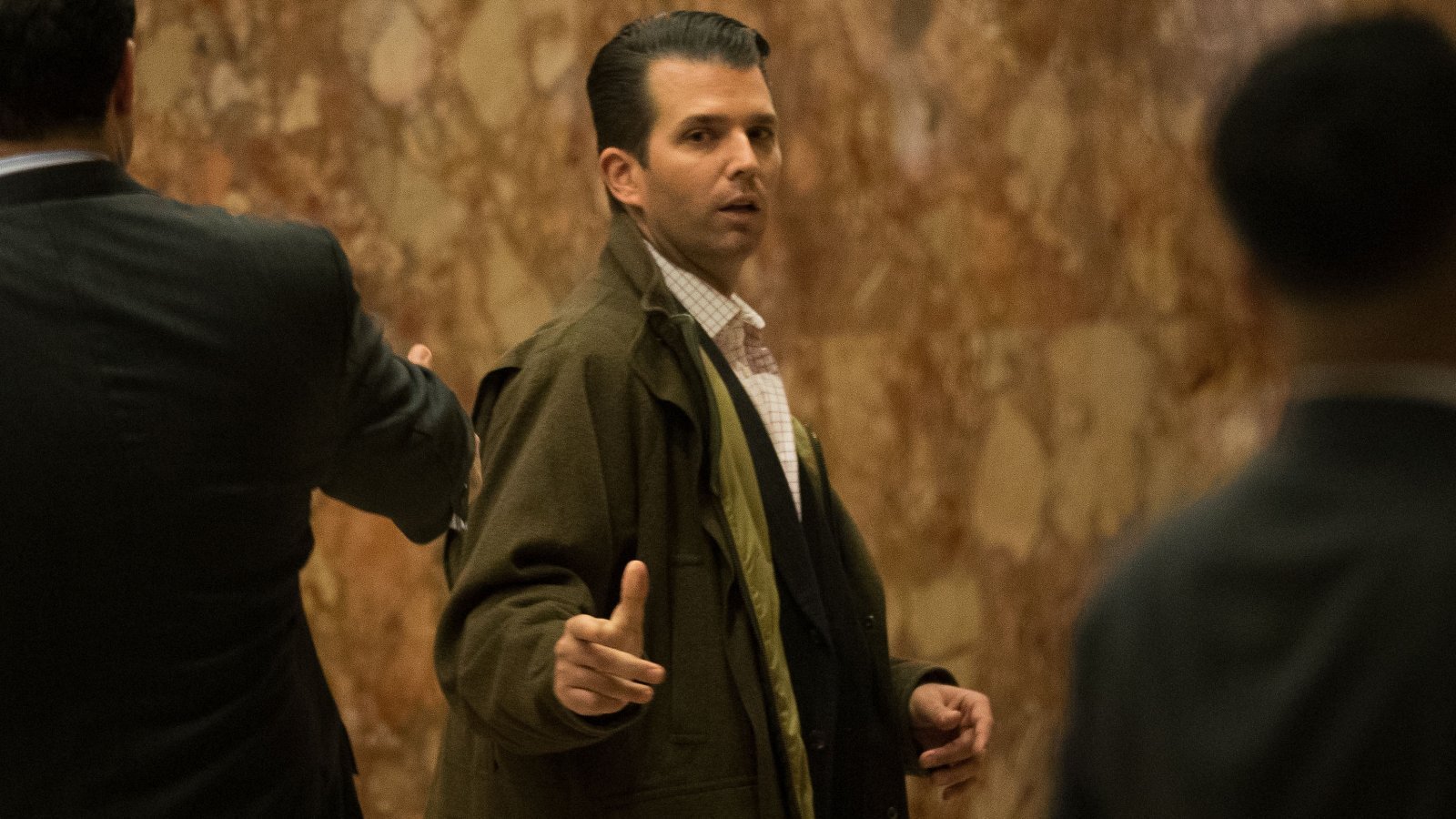 UPDATE: ABC News is naming the men who supposedly spoke to Don. Jr.:
The calls to blocked numbers, which came on June 6, and after the meeting on June 9, were between Trump Jr.'s cell phone and two family friends -- NASCAR CEO Brian France and real estate developer Howard Lorber, according to the sources.

Both men have close ties to President Donald Trump and actively supported his campaign during the 2016 election.

(...)

... In the 1990s, when Trump started exploring real estate options in Russia, Lorber accompanied him on a tour of Moscow. A real estate developer who has done business there, Lorber appeared in a biographical video of Trump that aired on jumbotrons at the 2016 Republican National Convention before his acceptance speech.
NYT:
Mr. Trump's relationship with Mr. Lorber demonstrates that despite the president's claims that he has no ties to Russia, he has sought to do business there for at least three decades. The chief executive of the holding company Vector Group, Mr. Lorber was an early supporter of Mr. Trump, served as an economic adviser to the campaign and accompanied Mr. Trump to Moscow in November 1996. On that trip, they worked on a plan to create a large building and made a trip to a company tied to Mr. Lober's holding company, which held stakes in cigarette companies.
A spokesperson for Lorber said the real estate executive "does not recall having conversations with Donald Jr. in the summer of 2016, but in any event he has absolutely not had conversations with Donald Jr. about any Russian matters."

(...)

According to documents released by Democrats on the Senate Judiciary Committee in May, the president's eldest son spoke to an unknown person with a blocked phone number twice on June 6. Trump Jr. placed those calls – which lasted 11 minutes and four minutes, respectively – as he coordinated logistics for the meeting with a conduit to the Russians.

The next day, then-candidate Trump teased an announcement about "the Clintons."

"I am going to give a major speech on probably Monday of next week and we're going to be discussing all of the things that have taken place with the Clintons," candidate Trump said on June 7. "I think you're going to find it very informative and very, very interesting."

(...)

On June 9, two hours after the meeting concluded, Trump Jr. placed another call to a blocked number, which lasted three minutes.

"Monday of next week" came and went, and no such announcement ever took place.
Blocked calls, long a mystery, went to longtime Trump family friends: Sources (ABC News)
Senate Evidence Clarifies Mystery Call Around Trump Tower Meeting (NYT)
---
According to CNN, citing three sources, Donald Trump Jr.'s calls to blocked numbers after speaking with Emin Agalarov on June 6, 2016 were not to his father. 
Records provided to the Senate Intelligence Committee show the calls were between Trump Jr. and two of his business associates, the sources said, and appear to contradict Democrats' long-held suspicions that the blocked number was from then-candidate Donald Trump.

The information came to light recently and could answer one of the key questions over the meeting Trump's eldest son set up to get Russian dirt on the Clinton campaign. Trump Jr.'s phone calls involving blocked numbers -- meaning the numbers are private and do not appear in the phone records -- have been a lingering issue as investigators have probed the meeting and whether Trump himself had advance knowledge through any means that his son, son-in-law Jared Kushner and then-campaign chair Paul Manafort met with a Russian lawyer promising dirt on Hillary Clinton.

(...)

Democratic lawmakers have zeroed in on Trump Jr.'s four-minute call that occurred between the two calls he exchanged with Agalarov on June 6, 2016, three days before the Trump Tower meeting. Trump Jr. then had an 11-minute call with a private number that same evening, and also another a three-minute call with a blocked number two hours after the meeting.

Trump Jr. told congressional investigators in 2017 that he did not know who the blocked calls were with. When asked if he told his father about the meeting or the underlying offer of dirt on Clinton, he told the Senate Judiciary Committee: "No, I did not."
From the Senate Judiciary Committee Democrats' preliminary findings, released by Ranking Member Dianne Feinstein (D-CA) about the June 9, 2016 meeting: 

CNN:
In a 2018 memo outlining the areas of the Russia investigation that went unexplored, [current House Intelligence Committee Chairman Adam] Schiff (D-CA) wrote that "(b)ased on the timing of these calls, the committee must determine whether some of these calls may be between Trump Jr. and Donald J. Trump, including calls concerning the Trump Tower meeting."

"We wanted to get the phone records to determine, was Donald Trump talking to his son about this meeting," Schiff told CNN in November. "It's an obvious investigative step, but one the Republicans were unwilling to take because they were afraid of where the evidence might lead."

(...)

In her report, Feinstein wrote that Trump Jr. had placed the three calls to the blocked numbers. But Schiff's report in fact states that the first June 6 call was incoming to Trump Jr. A source familiar with the records provided to Congress said they did not indicate if the blocked calls were incoming or outgoing.

Democrats had reason to suspect the private number was Trump, as Trump's first campaign manager Corey Lewandowski told the committee that Trump's "primary residence has a blocked (phone) line," according to a report from Democrats on the House Intelligence panel. 

In addition to the phone calls, Schiff has called for a subpoena to Trump Jr. to compel him to discuss the conversations he had with his father in 2017 about the 2016 Trump Tower meeting before Trump Jr. released a misleading public statement about the purpose of the meeting. Trump Jr. has claimed the conversations with his father were protected by attorney-client privilege when he testified in December 2017.

The President said in written responses to Mueller's questions that he did not know about the meeting in advance.
Exclusive: Trump Jr.'s mysterious calls weren't with his father (CNN)