45th President of the United States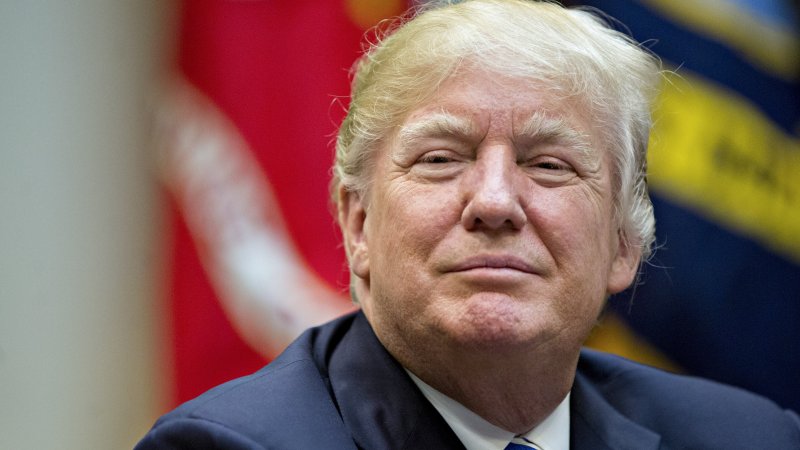 Donald J. Trump is the 45th President of the United States, sworn into office on January 20, 2017. Best known as a real estate mogul, self-promoter, and television personality, Trump ran an unconventional and highly contentious political campaign and won despite all expectations to the contrary. He has been married three times and has five children. His oldest daughter Ivanka works in the White House as a special advisor to her father. Her husband, Jared Kushner, is a senior advisor. The President's oldest son – Donald Trump Jr. – runs the Trump Organization with his brother Eric and is under investigation for a meeting he held with Russians at Trump Tower during the 2016 campaign.
Donald Trump grew up wealthy in Queens, New York, attended military academy, spent two years at Fordham University in the Bronx, and then transferred to University of Pennsylvania's Wharton School of Business. Trump graduated in 1968 and avoided the draft with five deferments, four for education and one for heel spurs.
Instead, Trump joined his father Fred's real estate development business. In 1973, the Justice Department sued Trump Management for violating the Fair Housing Act of 1968 and discriminating against black people. The Trumps countersued for $100 million. The two sides eventually reached an agreement wherein Trump Management promised not to racially discriminate, provide the New York Urban League a weekly list of all vacancies, and accept qualified black applicants in underrepresented properties.
Trump assumed control of his father's company and became president and CEO of the renamed Trump Organization in 1971. By 1983, he had developed three major properties in Manhattan and reportedly controlled $1 billion worth of assets. Trump continued to expand his empire with partnership and licensing deals that allowed him to put his name on buildings without incurring the cost of development. But his business success has been questionable over the years, given the graveyard of failed Trump-branded products and the fact that his companies have filed for bankruptcy six times. As his burgeoning business became a household name, Trump expanded his brand to the entertainment industry with his ownership of the Miss Universe beauty pageant and the reality TV show "The Apprentice."
In 2013, Donald Trump announced he was taking the Miss Universe pageant to Russia. On November 9, 2013, the day of the pageant, Russia Today (RT), a Russian state-funded media outlet, announced Donald Trump planned to build a Trump Tower in Moscow. Russian billionaire Aras Agalarov, whose organization hosted the Miss Universe pageant, confirmed that his real estate development company, Crocus Group, had been in talks with The Trump Organization to collaborate on Trump Tower Russia.
Donald Trump's plans to build in Russia actually originated years earlier. In 1986, while seated at an event next to Russian Ambassador Yuri Dubinin, Trump discussed constructing a Trump Tower across the street from the Kremlin in partnership with the Soviet government. The deal didn't happen in 1987, but Trump tried to make Trump Tower Moscow happen at least two more times (1996 and 2005) without success. In spite of this particular failure, Russians still played a significant role in Trump's U.S. business dealings. In 2016, Sergei Millian, the head of a U.S.-Russia business group, told ABC News that The Trump Organization had done hundreds of millions of dollars in business with Russians.
In June 2015, when Donald Trump announced his candidacy for the 2016 presidential election, he entered a crowded field with more than a dozen candidates on the Republican ticket. Defying most predictions, he won the nomination to run against the Democratic candidate, former Secretary of State Hillary Clinton. Tensions peaked in the fiercely contested race after hackers breached the Democratic National Committee (DNC). The hacks made public large caches of DNC emails at a time when Hillary Clinton already was facing controversy regarding her use of a private email server during her time as Secretary of State. Consequently, in a July 2016 speech, Donald Trump directly addressed Russia in reference to emails allegedly lost from that server. In what many saw as a public invitation for a cyber attack from a foreign power, Trump said, "Russia: If you're listening, I hope you're able to find the 30,000 emails that are missing. I think you will probably be rewarded mightily by our press." Following criticism for his comments during the speech and with increased scrutiny over his ties with Russia, Trump tweeted the day following the speech that he had "ZERO investments in Russia."
In October 2016, the Department of Homeland Security and Office of the Director of National Intelligence on Election Security released a joint statement confirming that Russia had interfered the US election. Donald Trump won the presidency on November 8, 2016.
Following inauguration, the new administration's previously undisclosed Russian ties emerged on a seemingly regular basis. On February 13, 2017, National Security Advisor Michael Flynn resigned due to the discovery he had lied about discussing sanctions with Russian Ambassador Sergey Kislyak. The following day, Trump hosted a closed door meeting with Kislyak and Russian Foreign Minister Sergey Lavrov in the Oval Office. The White House barred US media from covering the meeting but granted access to a Russian state reporter.
As of June 2017, President Trump personally is under investigation by Special Counsel Robert Mueller for possible obstruction of justice. Trump fired FBI Director James Comey in the midst of an active investigation into Russia's interference in the 2016 election and whether anyone on the Trump campaign coordinated with the Kremlin.