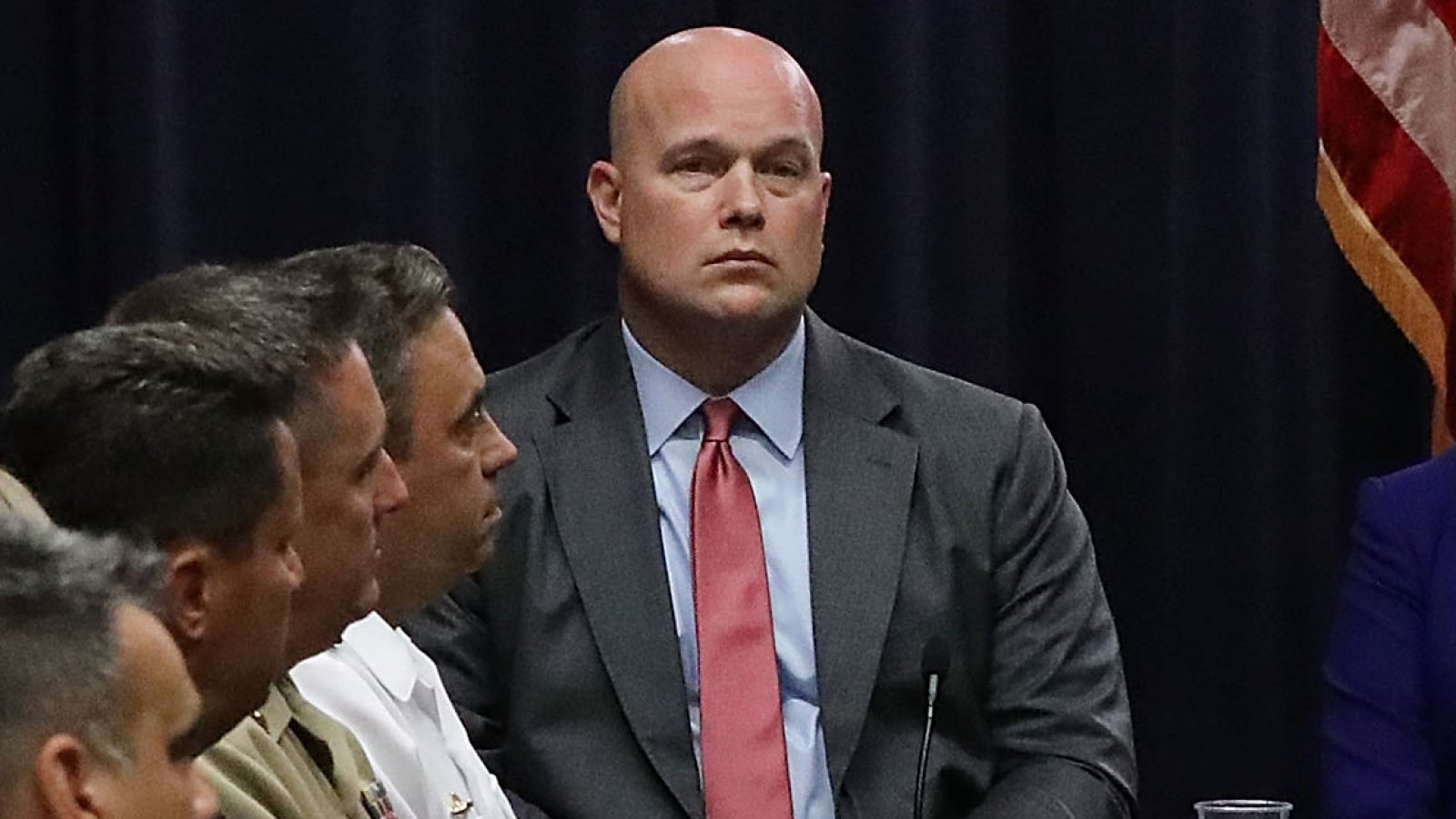 The man just appointed to oversee the Mueller investigation already has made up his mind as to its outcome.
"The truth is there was no collusion with the Russians and the Trump campaign," [Matt Whitaker] said in an interview on the Wilkow Majority show. "There was interference by the Russians into the election, but that is not collusion with the campaign. That's where the left seems to be just combining those two issues."

"The last thing they want right now is the truth to come out, and the fact that there's not a single piece of evidence that demonstrates that the Trump campaign had any illegal or even improper relationships with the Russians. It's that simple."

(...)

In many ways, Whitaker is the textbook Trump-era political talking head. 

He spent most of his interviews arguing that Hillary Clinton should have been prosecuted and that the FBI was providing "political cover" to the former secretary of state for "not releasing probably very damaging emails."

(...)

Whitaker continued to provide Republicans with political cover after Trump won office in 2016, even pushing a conspiracy theory that suggested a Democratic House IT staffer, not Russian hackers, could have been behind the theft of Democratic emails in 2016.
The Washington Post reports Whitaker has no plans to recuse himself from overseeing the Mueller investigation in spite of this stance, as well as a plethora of additional evidence he strongly opposes the probe. Whitaker also is unlikely to approve a subpoena of the president. 
On Thursday, two people close to Whitaker said he has no intention of taking himself off the Russia case.

Ethics officials at the Justice Department are likely to review his past work to see whether he has any financial or personal conflicts. In many instances, the ethics office does not require a Justice Department official's recusal but suggests a course of action. In the past, senior Justice Department officials have tended to follow such advice, but they are rarely required to do so ... 

(...)

The two people close to Whitaker said they strongly believe he would not approve any request from Mueller to subpoena the president. Mueller and Trump's attorneys have negotiated for months about a possible interview, with no agreement in sight.
Congressional Democrats on Thursday demanded emergency hearings in the U.S. House of Representatives to investigate President Donald Trump's ouster of Attorney General Jeff Sessions, calling the move an effort to undermine a federal probe into Russian meddling in the 2016 U.S. election.

(...)

House Judiciary Committee Democrats demanded action from the panel's Republican Chairman Bob Goodlatte, and called for bipartisan legislation to protect Special Counsel Robert Mueller from any effort to stymie the probe.

Goodlatte's office was not immediately available for comment.

(...)

Separately, House Judiciary Democrats called on Whitaker in a letter to recuse himself and keep the Mueller investigation under the supervision of Deputy Attorney General Rod Rosenstein, a career Justice Department official who has given the special counsel full scope to pursue leads. 
In addition to the now well-circulated August 2017 CNN opinion piece Whitaker wrote questioning the scope of the Mueller investigation, Trump's appointee made his stance well-known in a series of radio interviews.
CNN: 
Speaking on the "Rose Unplugged" radio program in August 2017, Whitaker said the appointment of Mueller was "ridiculous" and it "smells a little fishy."

(...)

Whitaker added that Rosenstein felt "political pressure" to appoint Mueller, and that he was "certain" the deputy attorney general now regrets it.

(...)

Speaking on "The Sean Hannity Show" in May 2017, Whitaker said even if the President asked [James] Comey not investigate [Michael] Flynn, it would not rise to the level of obstruction of justice. 

(...)

Speaking on conservative commentator David Webb's radio show in August 2017, Whitaker questioned if investigating [Paul] Manafort was within the special counsel's scope.

(...)

Speaking with Webb, Whitaker added the Mueller investigation would be "invalid" and "fraudulent" if it expanded beyond Russian interference in the 2016 election. Whitaker said it would become a "fishing expedition" that was "very dangerous to the Republic."

(...)

Speaking with Webb, Whitaker added if the Mueller team didn't handle "bias" or what he considered conflicts of interest, it raised the question of if there was prosecutorial misconduct.

(...)

Speaking on Iowa talk radio in August 2017, Whitaker, comparing the Russia investigation to Ken Starr's investigation into President Bill Clinton, called Mueller's probe "equally political" and said it was taking resources away from other FBI investigations.
Ethics officials might advise Whitaker that his commentary created the appearance of a conflict of interest and leave the decision to him. If they recommended forcefully that he recuse himself and he declined, Whitaker could then be referred to the Justice Department's Office of Professional Responsibility, and his license to practice law could be put at issue.
Prior to joining the DOJ as Sessions' chief of staff, Whitaker ran a very small, conservative nonprofit connected to the PR firm behind a high-profile attempt to discredit Justice Brett Kavanaugh's accuser, Dr. Christine Blasey Ford. 
In March 2017, The Washington Post reported that Sessions had neglected to tell the Senate at his confirmation hearing about prior conversations he had with the Russian ambassador.

The attorney general came under blistering criticism, especially as he had not yet recused himself from supervising the FBI's investigation into Russian meddling in the 2016 election.

Then Whitaker spoke up. As executive director of the Foundation for Accountability and Civic Trust, an organization that served primarily to level ethics complaints against Democrats, he released a statement defending Sessions.

(...)

The statement was blasted out to reporters by CRC Public Relations, a conservative group based in Alexandria, Virginia, which represented FACT and Whitaker throughout 2017, according to press releases.

More recently, CRC faced scrutiny and criticism during Justice Brett Kavanaugh's confirmation process for reportedly stoking media interest in a discredited conspiracy theory about Kavanaugh's chief accuser.
U.S. Democrats seek hearings on Trump's ouster of Sessions (Reuters)
Sessions replacement Matthew Whitaker called Mueller's appointment 'ridiculous' and 'a little fishy' (CNN)
Trump's acting attorney general, Matt Whitaker, has no intention of recusing from Russia probe, associates say (WaPo)
Jeff Sessions' Replacement, Matthew Whitaker, Led Secretive Anti-Dem Group (Daily Beast)
Matthew Whitaker, Trump's New AG, Declared There Was 'No Collusion' Between Trump and Russia (Daily Beast)