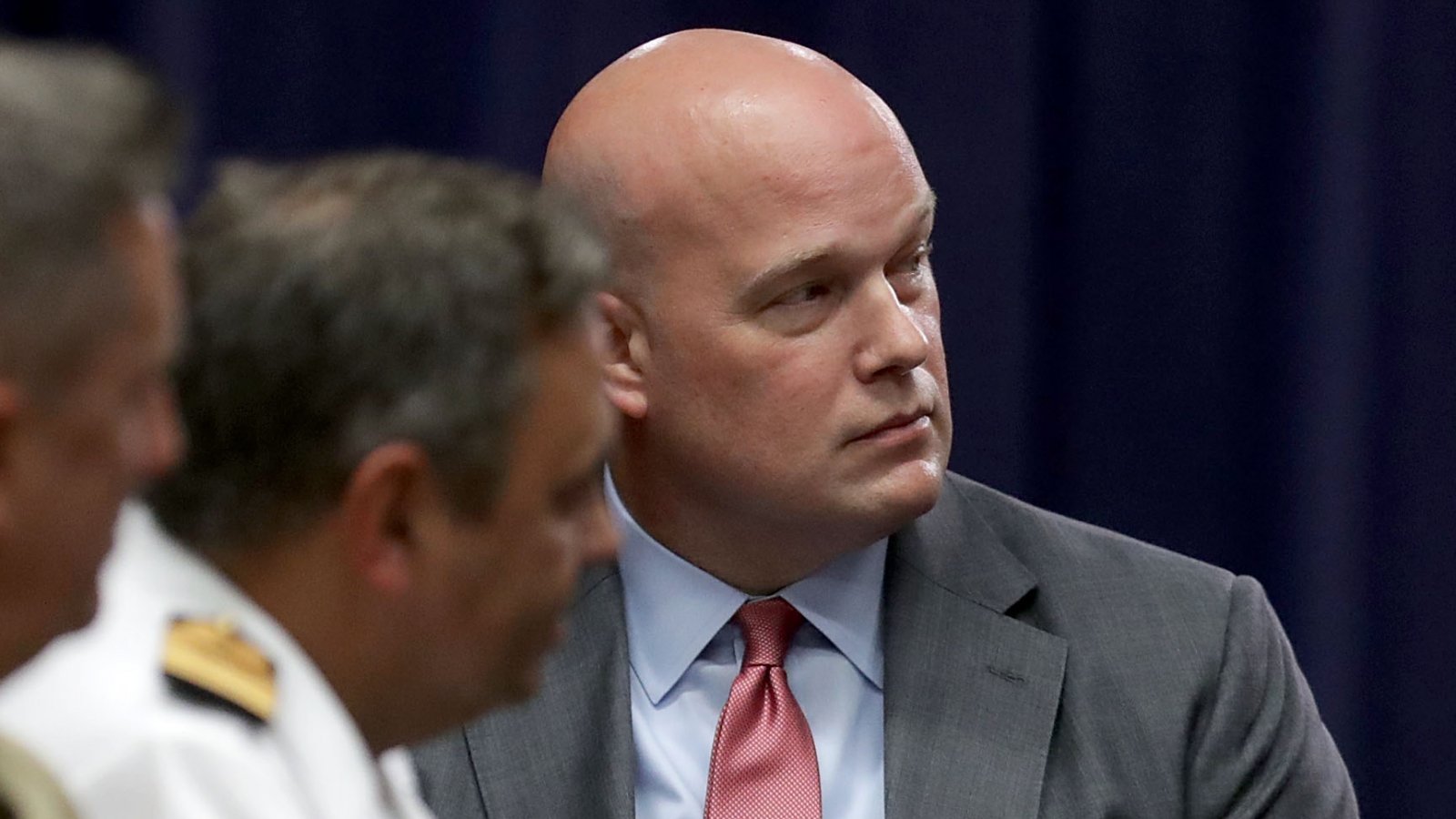 Jeff Sessions' own chief of staff, Matt Whitaker, is stepping in for his now-former boss whom President Trump forced to resign Wednesday. Whitaker also is taking over control of the Mueller investigation. 
From 2004 to 2009, Whitaker, 49, served as the U.S. Attorney for the Southern District of Iowa. He then ran for the Republican nomination for U.S. Senate in 2014, but finished well behind Joni Ernst, who went on to win the seat in the general election. 

Before his political career, Whitaker attended the University of Iowa for college, business school and law school. He was also an accomplished member of the Hawkeyes football team, and played in the 1991 Rose Bowl. 

Whitaker was hired by Sessions to be his chief of staff in September 2017. The month before, he wrote an opinion article for CNN criticizing Mueller. "It is time for Rosenstein, who is the acting attorney general for the purposes of this investigation, to order Mueller to limit the scope of his investigation to the four corners of the order appointing him special counsel." 
CNN: 
Back in 2017, Whitaker also told CNN's Don Lemon that he could see a scenario where Sessions is replaced with an attorney general who "reduces (Mueller's) budget so low that his investigation grinds to almost a halt."
Whitaker ... was a CNN legal commentator and executive director of a group called the Foundation for Accountability and Civic Trust at the time of the op-ed piece, according to his LinkedIn page.
Miami New Times reveals Whitaker once served on the Advisory Board of a Miami Beach-based scam. 
Whitaker not only sat on the board of World Patent Marketing but also sent a threatening email to a former customer who had complained after he spent thousands of dollars and did not receive the promised services. Court records obtained by New Times for a 2017 feature about the fraudulent company show that in one email to a disgruntled customer, Whitaker touted his background as a former federal attorney and declared that filing a complaint with the Better Business Bureau and "smearing" the company online could result in "serious civil and criminal consequences."

Scott Cooper, the CEO and founder of World Patent Marketing, donated $2,600 to Whitaker's 2014 Senate campaign — just $100 shy of the limit for an individual to donate to a candidate. Company records show the company paid him nearly $10,000.

World Patent Marketing collected millions of dollars by promising starry-eyed inventors it would turn their inventions into best sellers. 

(...)

In reality, at least some of the board members simply took cash without meeting with inventors or reviewing any pitches. Some of the supposed innovations the company green-lit already existed, so patent applications were regularly denied. And despite the many supposed success stories listed on its website, virtually none of the firm's clients ever made money. 

(...)

The feds alleged thousands of would-be inventors were ripped off in the scheme. They lost as much as $400,000 apiece. 

After losing a 2014 Senate bid and leaving World Patent Marketing, Whitaker was named Sessions' chief of staff in September 2017.
In 2014, Whitaker also worked for Sam Clovis, a Trump campaign advisor who is a witness in the Mueller probe. 
CNN:
Whitaker was the campaign chairman for Sam Clovis in 2014 when Clovis ran for state treasurer in Iowa.

Clovis, the 2016 Trump campaign national co-chairman, said in a May radio interview that he has been interviewed by the special counsel's team and had testified before the Mueller grand jury. 

Clovis was also listed an unnamed "campaign supervisor" in the indictment of former Trump campaign aide George Papadopoulos, according to The Washington Post.

Both Whitaker and Clovis are rooted in Iowa politics, and both ran for the 2014 Republican Senate nomination. A 2014 press release announcing Whitaker's hiring said the pair became "great friends" during Clovis' US Senate bid that preceded his run for state treasurer.

It was Clovis, no stranger to TV and radio himself, who encouraged Whitaker to get a regular commentary gig on cable television to get President Donald Trump's attention, according to friends who Whitaker told at the time.
Whitaker is considered a Trump loyalist, and "has served as what one White House aide called a 'balm' on the relationship between the president and the Justice Department," according to the New York Times' Katie Benner and Maggie Haberman. 

White House chief of staff John Kelly has called Whitaker the White House's " eyes and ears" at DOJ, per the Times. 

In 2016, Whitaker wrote an op-ed for USA Today headlined, "I would indict Hillary Clinton: Opposing view.""

He has also publicly defended Trump's decision to fire James Comey and Donald Trump Jr.'s decision to take a meeting in Trump Tower with a Russian lawyer who promised dirt on Hillary Clinton.

He's been floated before as a replacement for Rosenstein and White House counsel Don McGahn.
Last month, Mr. Trump was asked about Sessions' future. The president dodged that question, but he did single out Whitaker for praise.

"Well, I'd never talk about that, but I can tell you Matt Whitaker is a great guy," he said.
Senate Minority Leader Chuck Schumer (D-NY) is one of several Democrats saying Whitaker should recuse himself from overseeing the Russia investigation given his vocal opposition to the probe. 
"Given his previous comments advocating defunding and imposing limitations on the Mueller investigation, Mr. Whitaker should recuse himself from its oversight for the duration of his time as acting attorney general," Schumer said in a statement on Wednesday. 

(...)

Sen. Jeff Merkley (D-Ore.) quickly echoed Schumer's demand for Whitaker to recuse himself.

"It's clear that he has no interest in overseeing this investigation in a way that is fair, impartial, and follows the rule of law," he said in a tweet. 
Who is Matthew Whitaker, the new acting attorney general? (CBS News)
Mueller's investigation of Trump is going too far (CNN Opinion)
Trump's replacement for Sessions once argued the Mueller probe goes too far (CNN)
The new acting AG wrote a CNN op-ed saying the Mueller probe should be curtailed (Boston Globe)
Schumer: Acting AG should recuse himself from Mueller probe (The Hill)
Trump's Acting Attorney General Was Part of Miami-Based Invention Scam Company (Miami New Times)
Acting attorney general is a critic of the Mueller investigation (Axios)