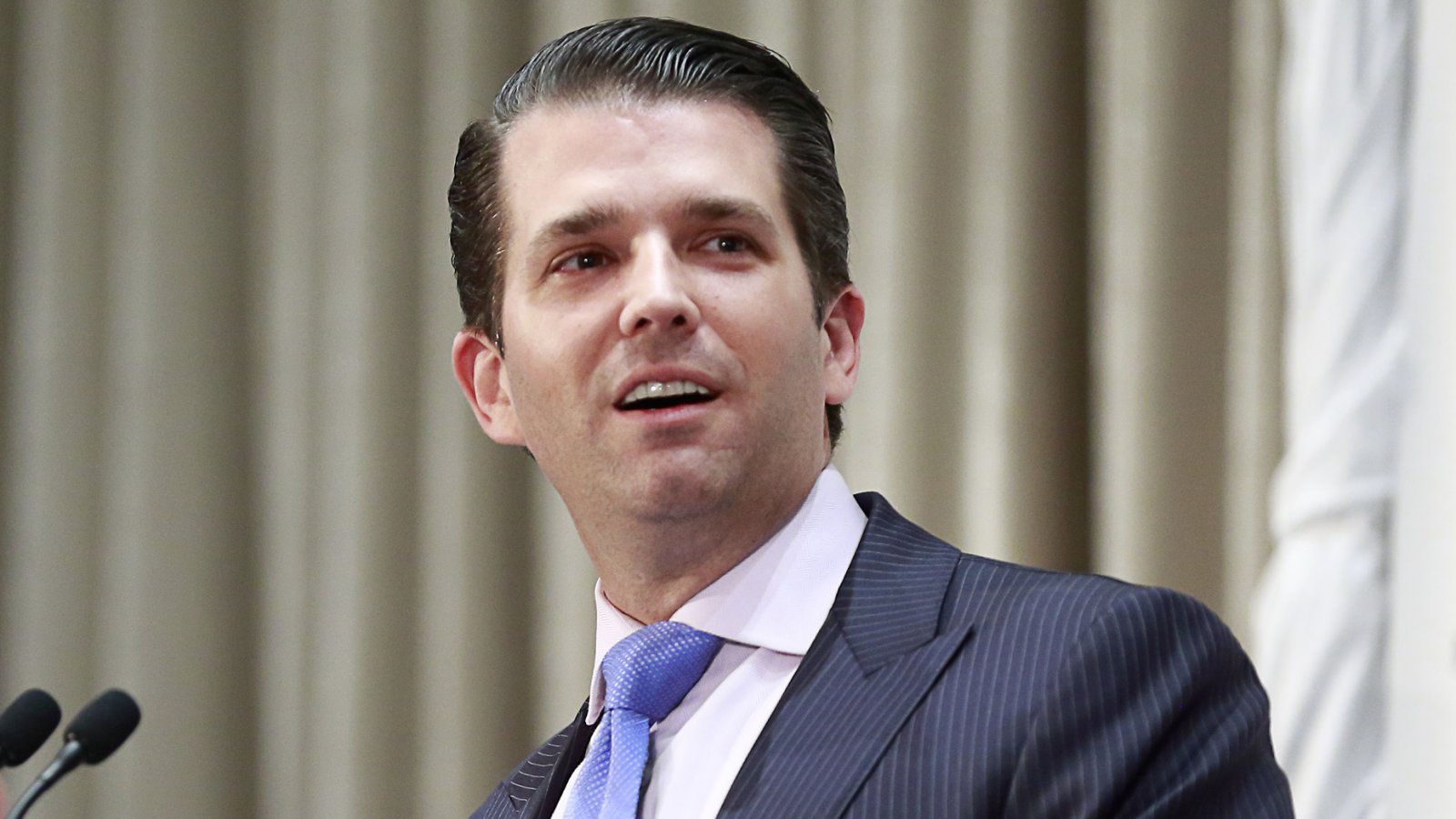 Donald Trump Jr. is scheduled to appear before the House Intelligence Committee behind closed doors Wednesday, a much-anticipated meeting now taking place in the wake Michael Flynn's guilty plea and Paul Manafort's jeopardizing his bail agreement by ghostwriting an editorial with a Russian associate.  
Trump Jr. will face questioning on the Trump family's financial entanglements with Russia as well as his involvement in a controversial meeting with a woman purporting to be Russian government lawyer offering dirt on Hillary Clinton.

The president's eldest son has remained defiant in the face of a growing drumbeat of media scrutiny surrounding both the Trump Tower meeting as well as a series of private messages he exchanged with the Twitter account for WikiLeaks, the organization that released the Democratic emails that U.S. intelligence officials say were stolen by Russian hackers.
Trump Jr. spent five hours with the Senate Judiciary Committee in September, but the House committee has not been privy to what information he shared then. 
"There's a whole range of issues we want to go over with him, everything from — what went into the Trump Tower meeting, his private communications with WikiLeaks, any other meetings he had with Russian representatives, what he's aware of in terms of Mike Flynn, what information he has about Russian money that has gone into the Trump businesses," [ranking member Adam] Schiff (D-CA) told The Hill Tuesday.
The Hill says Trump Jr. gave the House committee a large number of new documents Monday night. 
Meanwhile, The Daily Beast is reporting that two other Trump associates are scheduled to appear before the House Intelligence Committee this month. 
Alexander Nix, the head of Cambridge Analytica, will meet with the House Intelligence Committee on December 14th. Nix, whose data analytics company worked for the Trump campaign, reached out to Wikileaks' Julian Assange last year and offered to help distribute Hillary Clinton's stolen emails.  
Rhona Graff, Donald Trump's longtime executive assistant, is slated for an interview on December 22nd. Her name came up in an email exchange between British publicist Rob Goldstone and Donald Trump Jr. as the former worked to set up the now infamous June 9, 2016 meeting between Trump campaign officials and several Russians at Trump Tower. 
---
UPDATE: CNN reports Felix Sater, Walid Phares, and Sam Clovis are on the House committee calendar this month too. Reuters has former Trump business associate and convicted criminal Felix Sater testifying behind closed doors as soon as Thursday. 
The committee also plans to meet with Representative Dana Rohrabacher (R-CA), Putin's favorite congressman, and Representative Debbie Wasserman Schultz (D-FL), former chair of the DNC, before the end of the year. 
John Podesta. Hillary Clinton's campaign chairman, came back for a second interview Monday. Bloomberg reports lawmakers mostly focused on the connection between the campaign and Fusion GPS, the firm that commissioned the Steele dossier. 
---
UPDATE 2: Deputy Attorney General Rod Rosenstein will appear before the committee on December 13th: 
Rosenstein's hearing comes as Republicans express concerns over possible bias in Mueller's investigation. Reports last week said the special counsel had removed a veteran FBI agent from his team for sending anti-Trump text messages.

It was later reported the same agent, Peter Strzok, edited a key phrase in former FBI Director James Comey's statement about his decision on the Hillary Clinton email investigation.

(...)

Rosenstein said in an interview published Wednesday with an NBC affiliate in Maryland that he is satisfied with Mueller's work so far.
Congress to Grill Trump's Data Guru and His Longtime Assistant (Daily Beast)
Trump Jr. set for high-stakes interview with House intel panel (The Hill)
House Panel Questions Podesta on Trump Dossier Links (Bloomberg Politics)
Donald Jr., ex-Trump associate Felix Sater due to testify before House committee this week (Reuters via NY Daily News)
House Russia investigators to interview colleagues Rohrabacher, Wasserman Schultz (CNN)
Rosenstein to testify before House Judiciary Committee next week (The Hill)