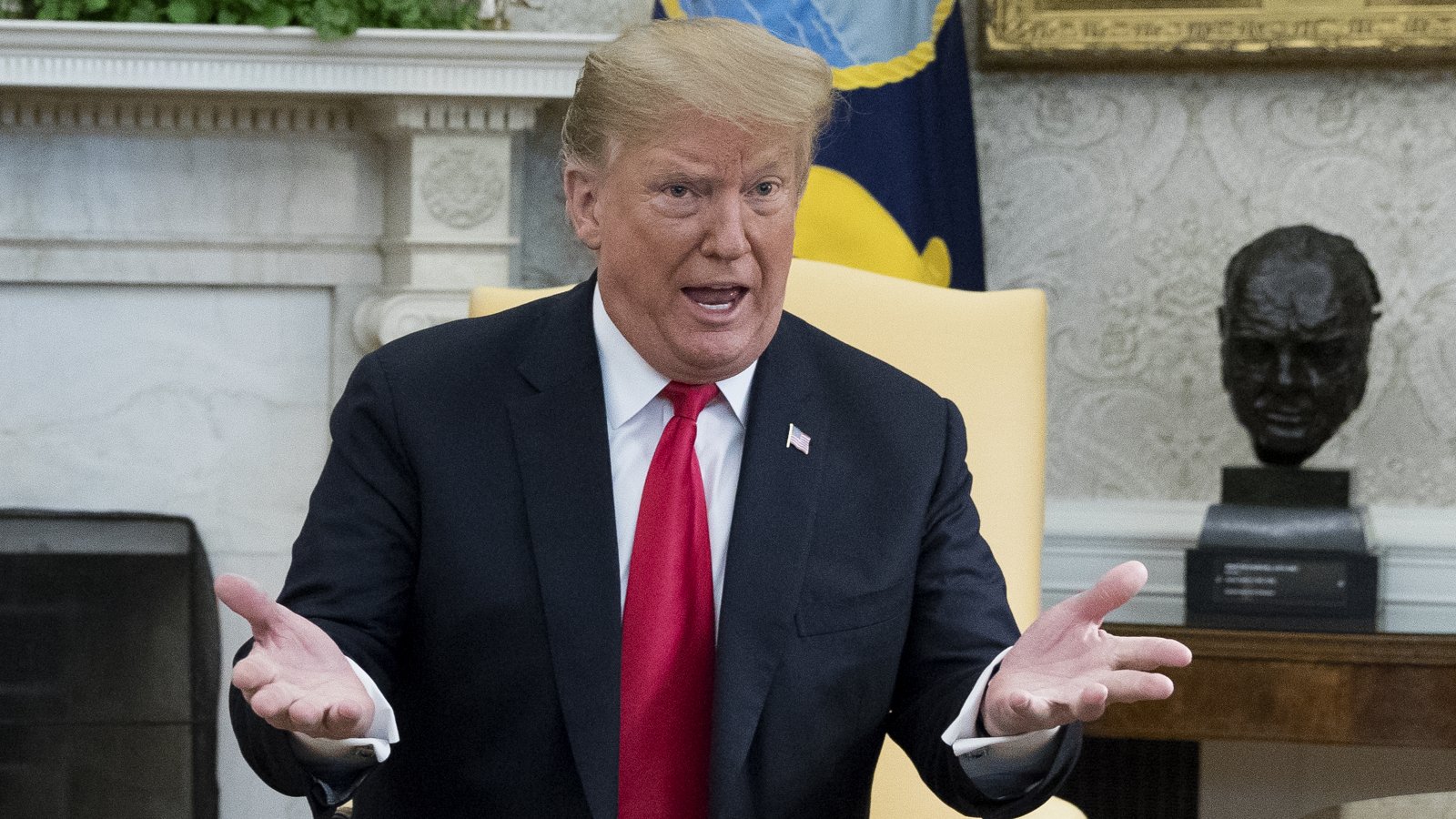 President Trump never had to sit down with Special Counsel Robert Mueller in person and answer questions about what he may or may not have known about Russian election interference or what his intentions were when he made moves likely to be seen as efforts to obstruct justice. 
Why that interview never materialized, especially now that Attorney General William Barr claims Mueller did not reach a conclusion on obstruction of justice, is a source of considerable curiosity. 
The Washington Post takes a look at the back-and-forth between the special counsel and the president's legal team in an effort to understand how Trump avoided the sit-down session. 
Mueller first broached the subject of compelling an in-person interview with Trump's lawyers in March 2018, saying he could issue a subpoena if the president did not agree voluntarily. 
In the months that followed, Mueller never explicitly threatened to issue a subpoena as his office pursued a presidential interview, a sit-down for which the special counsel was pushing as late as December.

But with that prospect hanging over them, Trump's legal advisers conducted a quiet, multipronged pressure campaign to avert such an action and keep the president from coming face-to-face with federal investigators — fearful he would perjure himself.

At one point last summer, when a lull in talks had the president's attorneys worried that Mueller was seriously contemplating a subpoena, White House lawyer Emmet Flood wrote a memo laying out the legal arguments for protecting the president's executive privilege. He sent the document to Mueller's office and to the deputy for top Justice Department official Rod J. Rosenstein, who oversaw the probe, according to two people familiar with Flood's outreach.

Meanwhile, the Trump lawyers sent a steady stream of documents and witnesses to the special counsel, chipping away at Mueller's justification for needing an interview with the president.

(...)

It is an open question whether a subpoena would have survived the court challenge that Trump's lawyers say they would have mounted. The Supreme Court has never issued definitive guidance on issuing a subpoena to a president, but had Mueller pursued one, the courts could have established a precedent for future presidents.
The Post notes one element that may have impacted Mueller's push was his role as a special counsel – under the supervision of the DOJ – and not an independent counsel, which would have had "complete autonomy." Mueller was accountable to Rosenstein. 
Rosenstein himself was under intense political pressure: Trump mused about firing the onetime George W. Bush appointee and former U.S. attorney for Maryland, whom he derided at one point as "the Democrat from Baltimore." And House conservatives threatened to impeach Rosenstein, accusing him of withholding information about the Russia probe.
But according to Barr, who took over for Rosenstein, no one at DOJ ever denied a Mueller request. 
If Mueller wanted to push for a subpoena, he did not force the issue with Justice Department leaders. Barr told lawmakers last week that no decision the special counsel wanted to take was vetoed during the investigation.

(...)

More answers could be revealed in Mueller's full report, which House Democrats are pushing Barr to release.

What is known is that the president's lawyers now believe keeping their client from sitting down with investigators was their greatest victory.

"The president would not have helped his case had he gone in," said Mark Corallo, a former spokesman for Trump's legal team. "No lawyer worth his salt would let that happen."
At one point, Trump did seem willing to speak with the special counsel.
Negotiations between the sides began around Thanksgiving 2017, and an interview was scheduled for January 2018, according to a person close to the legal team and a former senior administration official.

But John Dowd, then the president's lead attorney, canceled the session. He had argued against it because he feared Trump could misspeak or even lie. And a practice session with the president further convinced Dowd that the president could be a problematic interviewee, these people said.

(...)

Over the next 12 months, Mueller tried repeatedly to reschedule the interview, to no avail.

Trump continued to state publicly that he would be glad to sit for an interview — he believed being seen as willing to talk with prosecutors showed "strength," ... But the president came to agree with his lawyers that doing so would be too risky, especially after former national security adviser Michael Flynn pleaded guilty in December 2017 to lying to the FBI ... 
If Mueller fought for a subpoena to interview the president, the decision could have set legal precedent. 
The Supreme Court has never issued definitive guidance on the question, but in a previous independent counsel investigation, of Mike Espy, an agriculture secretary in the Clinton administration, an appellate court offered some clarity on the bounds of how the White House could fight a subpoena by citing presidential privilege.

On the basis of the precedent from that case — which was focused on documents, rather than an interview — Mueller would have had to demonstrate both a need to subpoena Trump to advance his investigation and show that he could not get the information he sought in any other way, [Robert W. Ray, a former independent counsel] said.
The president's legal team's plan was to turn over so much information that they could argue Mueller did not need a sit-down interview with Trump. 
Central to the Trump strategy — developed first by Cobb and Dowd and later carried out by Giuliani, Sekulow and the Raskins, as well as Flood, who from his White House perch represented the office of the presidency — was to cooperate fully with every request for documents and witnesses from Mueller, including Trump's written answers to some questions.

Their goal: to satisfy Mueller's hunt for information to the extent that the special counsel would not have legal standing to subpoena the president's oral testimony.

(...)

Trump's lawyers, citing the independent counsel investigation of Espy, argued that to justify a subpoena of Trump, Mueller needed to prove that he could not get the information in any way other than by asking the president.

(...)

Mueller's team kept insisting it needed to interview the president — but never followed through with an actual demand.

Mueller and Quarles would stress that they needed to know Trump's intentions when he fired Comey and took other actions that could have thwarted the Russia investigation. Jane Raskin would respond by pressing them for a legal justification for seeking to interview the president, according to a person familiar with the negotiations.

The president's team asked, "What evidence have you obtained that justifies you interviewing the president?" according the person, who added that Mueller's office was "never able to articulate a compelling case. They never gave up asking, but they had no good answer for that question."

In the absence of an interview, Trump's attorneys offered Mueller a substitute: The president would provide answers to a set of questions about Russia and the campaign, submitted in writing. But, citing executive privilege, they refused to provide answers to questions pertaining to the president's time in office — questions that went to the heart of the special counsel's inquiry into possible obstruction of justice.

(...)

Finally, in late November 2018, the lawyers sent Trump's answers to Mueller.

In December, Mueller's team made one more request for an interview with the president.

And in January, the special counsel's office contacted Trump's lawyers to ask some follow-up questions, according to people familiar with the request.

But Trump's lawyers again declined.They neither agreed to an interview nor answered the additional questions.

Two months later, Mueller submitted his report without having spoken to the president. The investigation was over.
A Mueller mystery: How Trump dodged a special counsel interview — and a subpoena fight (WaPo)