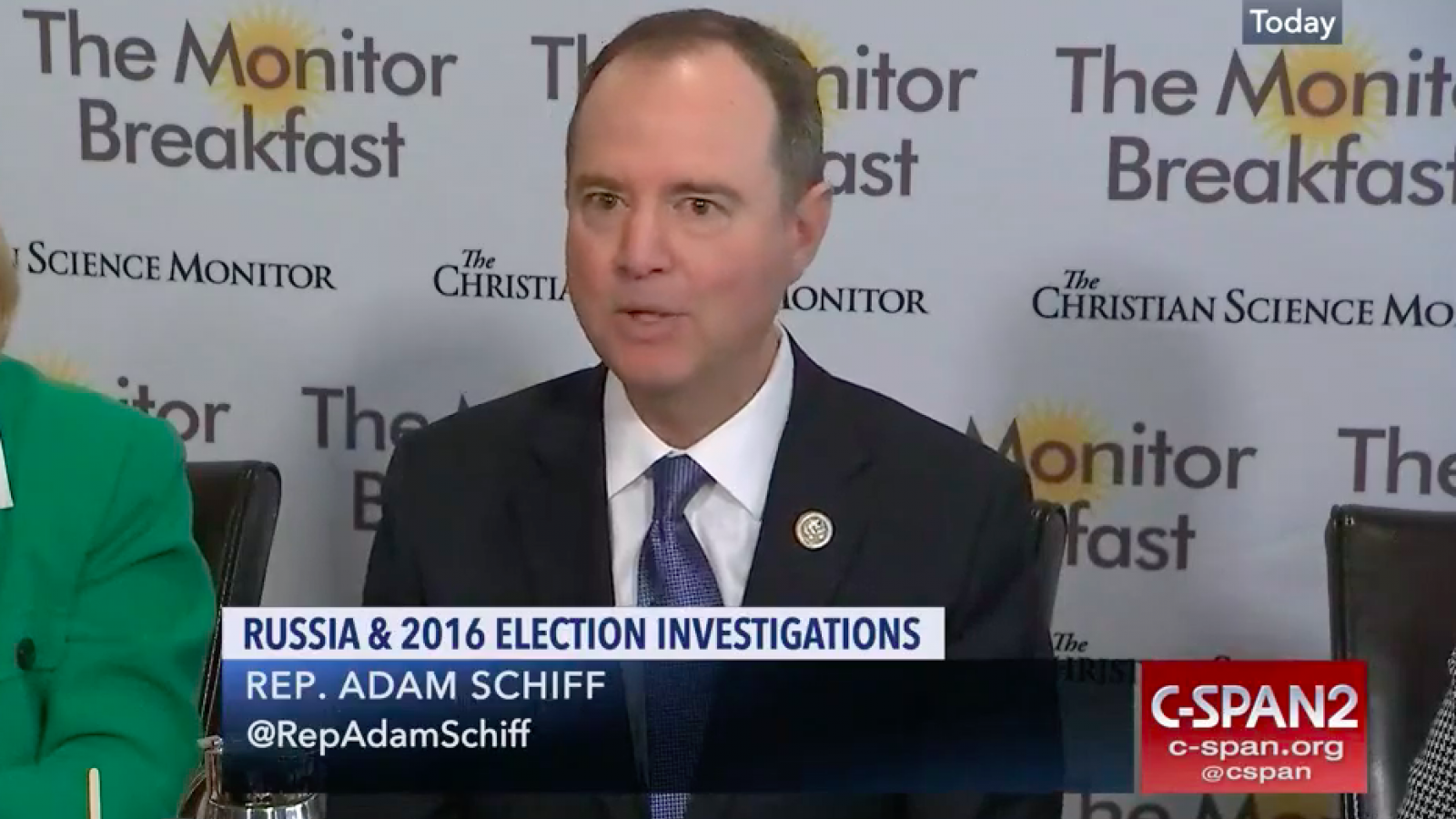 The Christian Science Monitor hosted a breakfast with House Intelligence Committee Chairman Adam Schiff (D-CA) who spoke on a variety of matters central to the ongoing Russia investigations. 
The full event is here. The following are pertinent excerpts as reported by The Hill:
On Michael Cohen's claim President Trump knew Roger Stone was in touch with WikiLeaks' Julian Assange:
Cohen told lawmakers in February that before the 2016 Democratic National Convention he heard Stone tell Trump during a speakerphone conversation that there would be a "massive dump" of emails damaging to Democratic candidate Hillary Clinton's campaign. 

"Mr. Stone told Mr. Trump that he had just gotten off the phone with Julian Assange and that Mr. Assange told Mr. Stone that, within a couple of days, there would be a massive dump of emails that would damage Hillary Clinton's campaign," Cohen said. "Mr. Trump responded by stating to the effect of 'wouldn't that be great.' " 

Stone has denied Cohen's account.

(...)

On Tuesday, Schiff would not say whether the committee was specifically pursuing phone records to corroborate Cohen's account of Trump's knowledge of WikiLeaks's plans.

"I don't want to go into specifics, but we are going to be looking at any documentary evidence," Schiff said. "That could take a number of forms, from phone records, to social media records, to other documentary evidence." 

The Democrat added that the committee might also seek testimony from other witnesses who can "either prove or disprove" what Cohen testified to.
On how Congress could get access to Special Counsel Robert Mueller's findings:
"I think that if the Justice Department either attempts to conceal the Mueller report or the underlying evidence, then requiring Mueller to testify may very well be necessary," Schiff told reporters Tuesday at a breakfast event hosted by the Christian Science Monitor in Washington, D.C., when asked if his committee wanted to hear from Mueller.

"We certainly would not take that off the table," Schiff added.

The California Democrat said it's an open question which committee Mueller would appear before if Congress sought his testimony, noting that it would need to be discussed by the Intelligence, Judiciary and other committees. He left open the possibility Mueller could appear before multiple panels.

"There may be particular issues or areas of concern for the Intelligence Committee that are different than other committees," Schiff said. 
On his alleged contact with Michael Cohen prior to Cohen's testimony:
"I had a brief phone call with my staff, Mr. Cohen and his attorneys to encourage him to come and testify voluntarily and to try to allay the concerns that he had with the threats that he was receiving from the president, from the president's allies in the Congress and outside the Congress," Schiff said. 

(...)

"Now several Republicans, Mr. Meadows, Jordan, the president and others have pushed out this false narrative that I spent 10 hours with Mr. Cohen. That's simply not true and they know it's not true, but it makes for good Fox [News] pundit commentary and so they have pushed out this falsehood," Schiff said.
On potential presidential indictment: 
Trump's former personal attorney, Michael Cohen, pleaded guilty last year to multiple crimes he says he carried out at Trump's behest, though most legal experts agree that a sitting president cannot be indicted.

"It's very difficult to make the argument that the person who was directed and was coordinated should go to jail but the person who did the directing and did the coordinating should not," Schiff told reporters at a breakfast organized by the Christian Science Monitor.

Schiff added that the current evidence "militates very strongly in favor of indicting the president when he is out of office." 
Schiff also tweeted Tuesday morning that lawmakers are investigating the possibility the president offered pardons in an effort to obstruct justice.

Schiff says Congress might call Mueller to testify if DOJ 'conceals' his report (The Hill)
Schiff says Intelligence panel pursuing evidence of Cohen's WikiLeaks claims (The Hill)
Schiff says his contact with Cohen was a 'brief phone call' amid escalating GOP allegations (The Hill)
Schiff: Trump should probably be indicted when he leaves office (The Hill)
Schiff: Congress Investigating Whether Trump 'Dangled' Private Pardons to Obstruct Investigations (The Daily Beast)