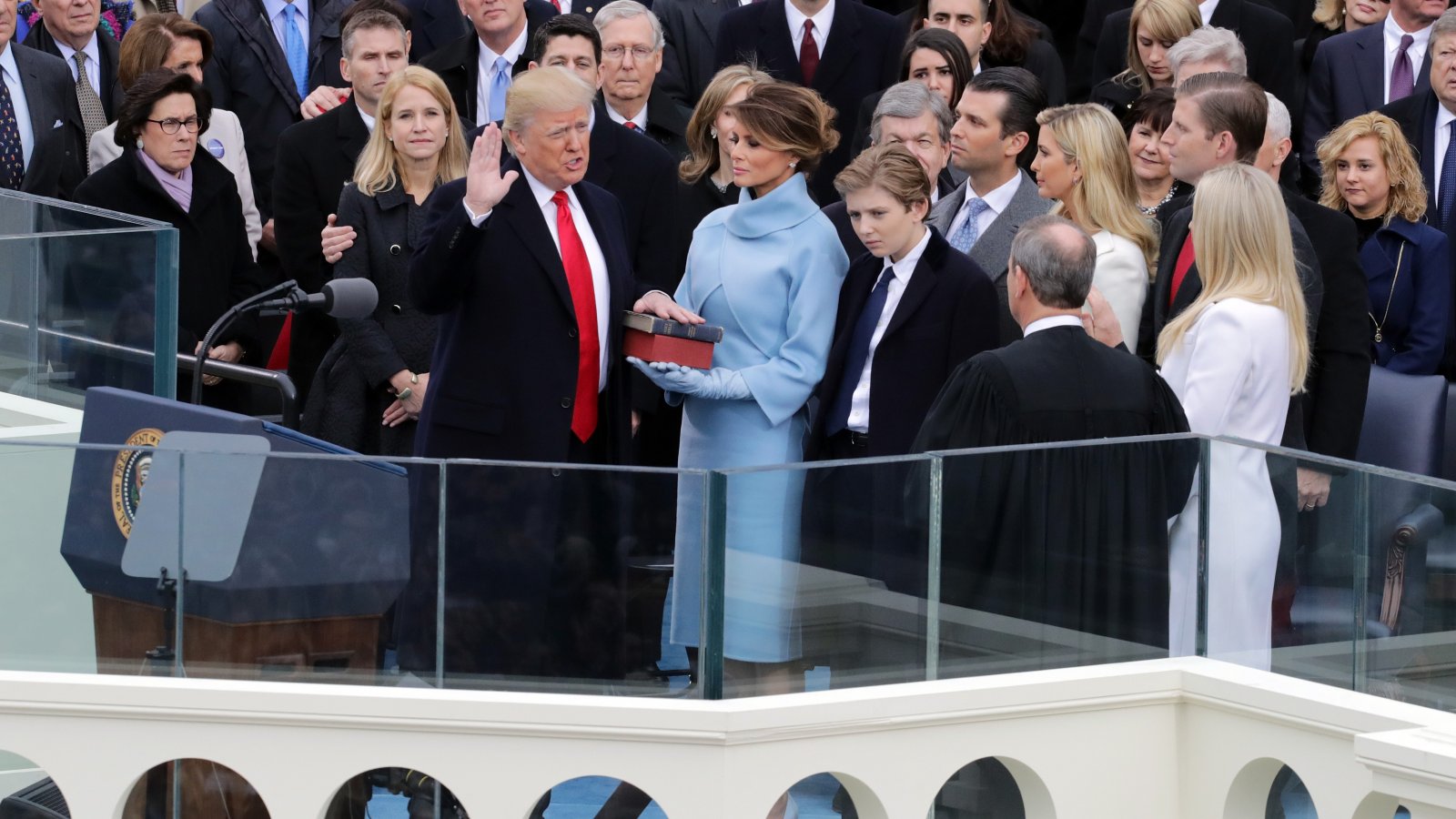 The Washington Post reports a number of wealthy and influential Russians attended President Trump's inauguration and the surrounding celebrations, including laywer Natalia Veselnitskaya and lobbyist Rinat Akhmetshin who had met with Donald Trump Jr., Jared Kushner, and Paul Manafort at Trump Tower on June 9, 2016. 
WaPo:
Seven months later, they were together again in Washington at an inauguration night black-tie party at the Library of Congress sponsored by the campaign committee of [Rep. Dana] Rohrabacher, a GOP congressman who has long advocated that the United States have a better relationship with Putin's Russia. In a photo from the event posted by the campaign committee, Veselnitskaya and Akhmetshin pose with slight smiles, holding wine glasses. 

In a statement, Veselnitskaya told The Post that she attended a private event in Washington that night at Akhmetshin's invitation ...

Michael Tremonte, a lawyer for Akhmetshin, said his client recalls that he was given tickets by a person involved in organizing the event and that he invited Veselnitskaya to join him because he knew she was in town. Tremonte said Akhmetshin did not attend any official inaugural events.

Kenneth Grubbs, a spokesman for Rohrabacher's congressional office, said the campaign has no record of Akhmetshin's invitation to the party or of tickets purchased by him or Veselnitskaya.
According to the Post, Russia's elite celebrated Trump's win at home with the expectation that the new administration would lift sanctions, and "America First" would shift U.S. focus more onto domestic business development and away from promoting democracy and freedom abroad. Several influential Russians made the trip to Washington, obtaining tickets to events "via our friends — entrepreneurs in the Republican Party."
[The prominent business leaders and activists'] presence caught the attention of counterintelligence officials at the FBI, according to former U.S. officials, although it is not clear which attendees drew U.S. government interest. FBI officials were concerned at the time because some of the figures had surfaced in the agency's investigation of the Trump campaign's ties to Russia, the officials said.

(...)

The Washington Post identified at least half a dozen politically connected Russians who were in Washington on Inauguration Day — including some whose presence has not been previously reported. Among them was Viktor Vekselberg, a tycoon who is closely aligned with Putin's government.

(...)

Some Russian guests at Trump's inauguration said they got tickets through U.S. political contacts.

One venue for credentials was the Presidential Inaugural Committee, which provided a slew of perks — such as tickets to events with Cabinet appointees, congressional leaders, the vice president-elect and Trump — to donors who gave at least $25,000.

Only U.S. citizens and permanent residents are legally permitted to contribute to an inaugural committee. Several U.S. business executives with ties to Russia together donated $2.4 million to the inaugural committee, campaign finance records show.
Full story: In the crowd at Trump's inauguration, members of Russia's elite anticipated a thaw between Moscow and Washington (WaPo)