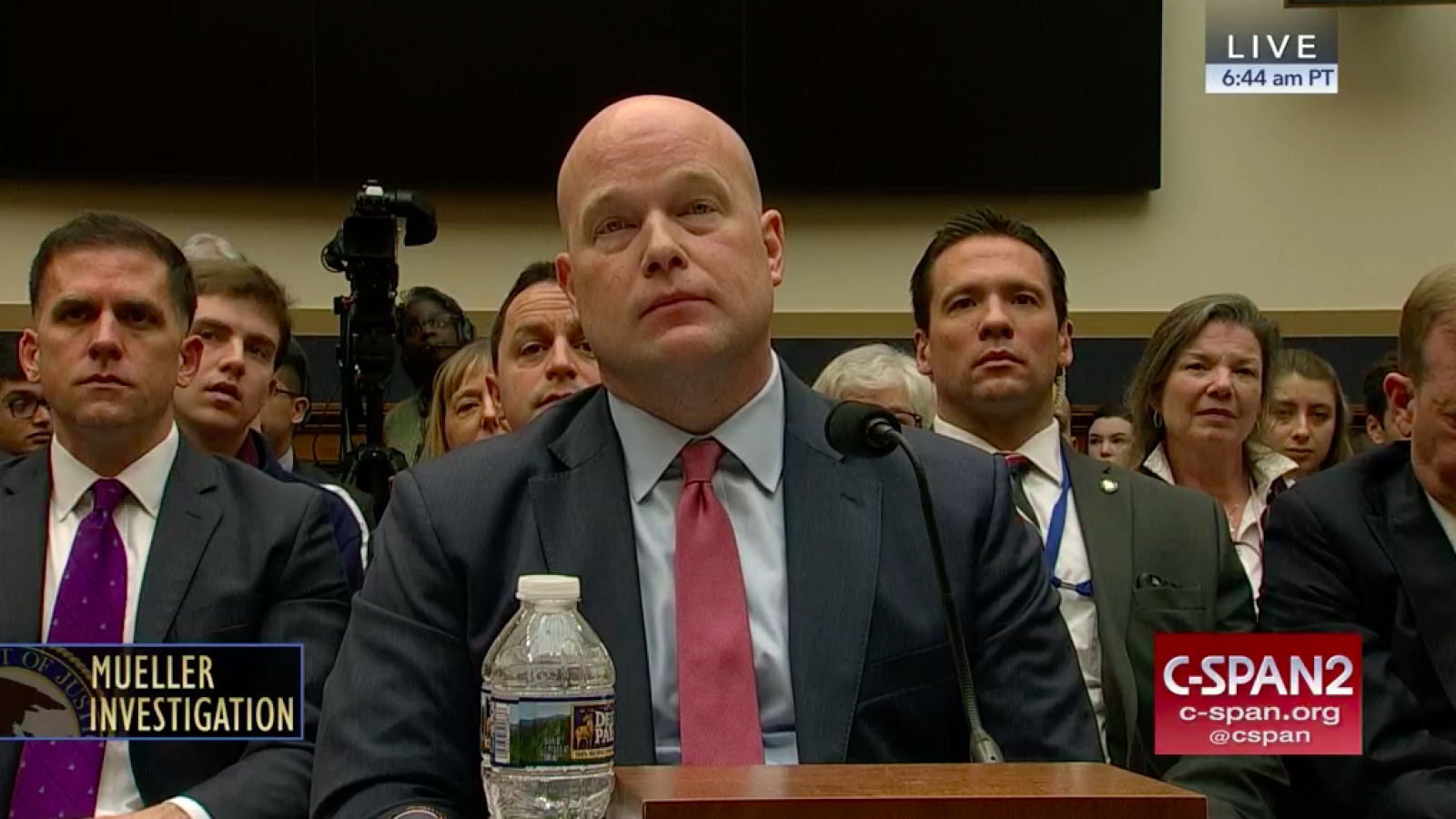 Acting Attorney General Matthew Whitaker spent six hours testifying before the House Judiciary Committee with the committee's partisanship on full display.
Democrats asked a lot of questions related to the special counsel investigation. Republicans largely avoided the issue.
Whitaker often claimed he was unable to comment on ongoing investigations but then would do so when pressed by Republicans about matters of interest to them.
The first shocking moment of the day came when Whitaker tried to stop Chairman Jerrold Nadler (D-NY) from asking him questions he did not want to answer.
Toward the end of his opening round of questions, Chairman Jerry Nadler (D-NY) pressed Whitaker on if he had ever been asked to approve any moves by Mueller's team.

"Mr. Chairman, I see that your five minutes is up," Whitaker replied. "I'm here voluntarily. I agreed to five-minute rounds."

People in the audience and members of Congress gasped, bug-eyed and slack-jawed. Nadler kept pushing.

"Have you been asked to approve or disapprove a request or action to be taken by the special counsel?" he repeated.

Finally, Whitaker gave an answer.

"I have not interfered in any way with the special counsel's investigation," he said.
Our full liveblog of the hearing is below.
NYT lists the top three takeaways:
Matthew G. Whitaker declined to defend the special counsel's investigation, as his predecessor and likely successor at the Justice Department have done

But Mr. Whitaker declared that he had "not interfered in any way" in the special counsel investigation and that he had provided no information about it to President Trump or White House officials.

Mr. Whitaker said multiple times that he did not discuss the Mueller investigation with anyone at the White House, even though in July 2017 he interviewed to become a White House lawyer who would manage and respond to that inquiry.
Acting AG overseeing Mueller probe says he's not interfered (AP)
Matthew Whitaker Says He Has Not Interfered in the Mueller Investigation (NYT)
Matthew Whitaker Hearing Updates: He Declines to Defend the Russia Inquiry (NYT)
Whitaker Tries to Stop Top Democrat From Asking About Mueller: 'Your Five Minutes Is Up' (Daily Beast)
---
UPDATE 2: The committee reconvenes just before 1:10pm ET.
Rep. Tom McClintock (R-CA) starts the next round by mentioning he is reading Fox News analyst Gregg Jarrett's book and wants to know why the DOJ is not investigating Uranium One, FBI misconduct, and more conspiracy theories often spread by right wing outlets. He then moves into discussing Roger Stone and questioning the manner in which he was arrested. Whitaker loosely defends the FBI, clearly reading off his notes.
Rep Cedric Richmond (D-LA) asks about civil rights but cuts Whitaker off as soon as it becomes obvious he is trying to stall. Richmond asks about diversity in leadership of the DOJ, and Whitaker says he cannot think of anyone of color in leadership.
Richmond: Were there good people on both sides in Charlottesville?
Whitaker: The act was charged as a hate crime.
Richmond: In general, do you believe there were good people protesting and anti-protesting?
Whitaker: Congressman, there is no place in civil society for hate, white supremacy, or white nationals.
Richmond asks Whitaker to implore likely incoming attorney general William Barr to do better with diversity within the DOJ. He adds the DOJ should look like the country.
Rep. Lesko (R-AZ) says she ran for Congress to get things done and calls the hearing harassment of the witness. She calls the hearing a joke and says she is sad.
Rep. Hakeem Jeffries (D-NY) begins: I'm confused. Who are you? Where did you come from? And how did you become the head of the DOJ? Jeffries asks Whitaker true or false questions about all the Mueller investigation charges, indictments, guilty pleas, sentences, arrests, and more.
Jeffries: So despite all the evidence of criminal activity, do you still believe the Mueller investigation is a lynch mob? Whitaker says he does not remember when he said that. Jeffries reads Whitaker's own tweet.
Jeffries: One by one, all of the president's men are going down in flames. Yet, you decided not to recuse yourself. And Donald Trump considered the Sessions recusal to be a betrayal, right?
Whitaker says he does not know.
Jeffries: The Mueller investigation is a national security imperative. Keep your hands off the Mueller investigation.
Rep. Ben Cline (R-VA) asks about immigration judges.
Rep. David Cicilline (D-RI) places articles in record detailing Whitaker's bias. He also warns the acting AG not to thank him or compliment him. Cicilline wants to know if briefing information was communicated to anyone at the White House. Whitaker says he does not know. Cicilline asks if Trump lashed out at him on several different occasions, as written about in the press. Whitaker says the president tweeted that he did not. Whitaker says it is based on unsubstantiated information. Eventually, Whitaker says the president "did not" to various individual incidents Cicilline mentions. Have you spoken to the president or his legal team about the Mueller or other related investigations? Whitaker refuses to answer and stalls.
Cicilline asks about Whitaker remarks in print that show his strong stance against the Mueller probe and asks again how it is he came to be in charge of the investigation. It is a rhetorical question. He does not request an answer.
Rep. Guy Reschenthaler (R-PA) follows his Republican colleagues' lead and criticizes the focus on this hearing as being too much on the special counsel probe. He then pivots into attacking sanctuary cities.
Rep. Eric Swalwell (D-CA) asks about Whitaker's time as executive director of FACT and whether he got any foreign contributions. Rep. Collins puts up a fight. Swalwell continues. Whitaker says he does not know if his organization got any foreign contributions. He says the main donor was a U.S. entity.
Swalwell wants to know to whom Whitaker spoke as he was interviewing to work for the White House, and Whitaker claims he never discussed his opinion of the Mueller investigation. Swalwell asks if there has been any discussion within the DOJ as to burying the Mueller report. Whitaker says no.
Swalwell: Did Trump ask if you would recuse before you became AG? Whitaker says he already answered that. Whitaker says he does not have any opinion on whether Jeff Sessions was correct in recusing himself.
Swalwell wants to know if there have been any discussions of pardons. Whitaker says he has not been involved in discussions of any pardons at all.
Swalwell: Is Mr. Mueller honest?
Whitaker: I have no reason to believe he is not honest.
Swalwell: Do you believe he is conflicted?
Whitaker: As acting AG, I have followed regular order. I don't have any reason to believe he is conflicted.
Whitaker says he is not a puppet and will not repeat what Swalwell requests – that he tell the president Mueller is not conflicted.
Rep. Kelly Armstrong (R-ND), after a series of unrelated questions, gives Whitaker time to explain how criminal investigations work.
The committee breaks for a two minutes recess.
Rep. Ted Lieu (D-CA) asks Whitaker about the Constitution and whether it says anywhere in it anyone cannot be indicted, including the sitting president. Whitaker avoids answering the question.
Lieu asks about the SDNY investigations related to the president and whether he discussed them with the president or anyone at the White House. Whitaker says he should refer back to his opening statement, but he does not appear to want to restate his own remarks.
Rep. Jamie Raskin (D-MD): You have had a very interesting career before joining the government. He shows various news reports pointing out how lucky Whitaker seems to have gotten once he got to DC. Whitaker starts to argue that Raskin has challenged his character. Whitaker, clearly angry, answers that FACT was the name of his nonprofit and continues to argue with Raskin. Rep. Nadler – for a second time – reminds Whitaker the time is Raskin's and not the witness'. Raskin asks where the money came from that Whitaker was paid as the only employee of the nonprofit. Collins again interrupts and objects to the line of questioning. Now the committee is arguing.
Raskin resumes. He would like to know the one donor to Whitaker's group, of which he was the one employee. Whitaker says the donor was another nonprofit called The Donor's Trust. Raskin points out that was the pass-through, and Whitaker claims he does not know who paid the original money. Raskin opens a line of questioning that suggests Republican megadonor Sheldon Adelson indirectly could have paid for Whitaker to change laws with regards to online gambling.
Rep. Pramila Jayapal (D-WA) confronts Whitaker about the government's child separation actions at the border. Whitaker reads through papers and does not seem to be listening. He then says there was no child separation policy, which is a proven lie. Whitaker calls it a zero tolerance policy. Jayapal refers to a GAO report that various departments had no advance notice of the policy. Whitaker says DOJ was not tracking children separated from their parents.
Jayapal asks if Whitaker understands the damage that has been done to children and parents. Whitaker only says he understands the policy of zero tolerance.
Rep. Val Demings (D-FL) tells Whitaker she believes he has worked to make a mockery of the judicial system. Demings asks again about whether Whitaker has spoken – at all – with Trump about the SDNY investigation, Michael Cohen, or firing or reassigning people who work with the SDNY. Whitaker continually says he will not discuss his private conversations with the president. Demings then asks if he discussed firing or reassigning people with anyone at all, and Whitaker refuses to answer.
Demings wants to know if Whitaker agrees with the president's negative characterization of the DOJ and FBI. Whitaker says he has reestablished the relationship between the DOJ and the White House. Whitaker says he holds the DOJ in high regard but will not say whether or not he agrees with the president.
Rep. Lou Correa (D-CA) asks about white nationalists and white supremacists and whether Whitaker considers them a threat. He says he does.
Rep. Mary Gay Scanlon (D-PA) has trouble getting Whitaker to answer yes or no to most of her questions about a variety of issues.
Rep. Sylvia Garcia (D-TX) enters documents into the record showing crime has gone down in border regions. Whitaker insists illegal immigration is causing more crime. She next asks about his participation in issuing the zero tolerance policy.
Rep. Joe Neguse (D-CO) wants to talk about marijuana legislation. He asks Whitaker when he knew Sessions was going to be fired. He claims it was November 7th along with everyone else.
Neguse: I'm sure you're aware Rosenstein was next in line to be appointed acting AG. I'm trying to understand. Were you surprised you were appointed?
Whitaker: It's been the opportunity of a lifetime, and I am going to take full advantage of the last six days, including enjoying this hearing.
Neguse: Rosenstein would have been the appropriate man to fill that role.
Rep. Lucy McBath (D-GA) discusses voter suppression.
Rep. Madeleine Dean (D-PA) asks how many positions Whitaker interviewed for before going to the DOJ. He says he interviewed for Ty Cobb's job and then the chief of staff job. She notes in his time before joining the administration in his private life, he spent his time going on TV and disparaging the Mueller investigation. He says it was not disparagement. Dean asks how he learned he got the acting AG job. Whitaker says he got a call from the president. Earlier, he had said he found out via tweet. Rep. Dean points out this discrepancy, and Whitaker says she is mistaken even though she is not.
Whitaker claims he spent five weeks determining whether or not to recuse. He starts to filibuster again about not recusing himself. He says it was his decision to make and he believes he made the right decision. Dean asks for the written guidance he received recommending recusal. Whitaker says that was an internal deliberation and he did not receive any written advice.
Rep. Debbie Mucarsel-Powell (D-FL) asks Whitaker about FACT and whether it was public or private. Whitaker says he does not have the 990 filings and can't say, even though he was the executive director and the only employee. Whitaker says he filed the organization's complaints on his own. Mucarsel-Powell reads the law that says 501c3 organizations cannot do political work.
Rep. Veronica Escobar (D-TX) asks for yes or no answers. Whitaker argues with her. Right as her time runs out, she asks whether Whitaker knows anything about discussion of or documents related to pardons.
Whitaker: I am aware of documents related to pardons, yes.
The hearing concludes after six hours. Rep. Nadler reminds Whitaker he owes the committee responses that he will do everything in his power to secure. He calls Whitaker's testimony "at best inconsistent."
Nadler says it is not credible Whitaker interviewed for a job about the special counsel investigation but never conveyed his opinion about that investigation to the White House.
---
UPDATE: The hearing resumes around 11:45am ET.
Rep. Zoe Lofgren (D-CA) opens by asking Whitaker about his statement on January 28th that the Mueller investigation was close to wrapping up, and Whitaker refuses explain what he meant.
Whitaker says he has nothing to add to his remarks from that day and clarifies, with assistance, that the special counsel's investigation is proceeding consistent with Deputy AG Rod Rosenstein's appointment order. Lofgren adds that Whitaker's application of the matter of not discussing ongoing investigations seems to be uneven, citing Whitaker's mention of the Roger Stone investigation earlier in the hearing.
Whitaker appears to be stalling when answers questions, filibustering by making statements unrelated to the questions being asked.
Lofgren wants to know if Whitaker shared his opinions of the Mueller investigation with anyone from the president to John Kelly to Rudy Giuliani prior to his being hired, and Whitaker eventually says he did not.
Rep. Steve Chabot (R-OH) pivots to discussion of the opioid crisis and drug overdose deaths.
Rep. Sheila Jackson Lee (D-TX) starts by saying we know these are extraordinary times and asks Whitaker to answer her questions in a yes or no manner in the interest of making the most of her time. Whitaker ignores the instruction. Chairman Nadler says he will not allow Whitaker to stall and waste time. Whitaker continues to stall. Rep. Jackson Lee tells Whitaker his attempt at humor is not appreciated. She wants to know if he has had an oversight hearing, and Whitaker states – in long form – he has never appeared before Congress in any hearing.
Whitaker refuses to answer whether or not he discussed or shared his private opinions with President Trump or John Kelly or the special counsel, asking who provided the basis for that question. Whitaker clearly is stalling. He says he will not talk about his conversations with the president or senior White House staff. He says he has been briefed on the special counsel investigation.
Rep. Jackson Lee asks if Whitaker believes foreign election interference is a severe matter, and Whitaker says he believes voter fraud also is very serious. Whitaker says if he were contacted by a foreign country while he was a Senate candidate, he most likely would have reached out to the FBI.
Rep. Jim Jordan (R-OH) asks about Rosenstein's initial appointment order and his follow-up memo. Whitaker says because of Sessions' recusal from the Russia probe, he also was recused. Whitaker says he knows what is under the redacted sections of the memo Jordan is referencing. Did Rosenstein give Mueller the authority to investigate specific people? Whitaker says yes.
Jordan: Are there American names in this redacted memo?
Whitaker: I would just refer to the general practices of the DOJ. We investigate crimes, not individuals.
Rep. Steve Cohen (D-TN) asks about the emoluments clause and any possible violations at the Trump Hotel. Whitaker says he is aware of ongoing litigation but can't talk specifically about any of those cases. Cohen asks Whitaker about his remarks prior to his appointment and whether he believes the special counsel would be crossing a red line to investigate whether President Trump owed money to Russian oligarchs.
Cohen: Are you overseeing a witch hunt?
Whitaker: It would be inappropriate for me to discuss an ongoing investigation.
Whitaker adds in response to a follow-up question: I have not denied any funds to the special counsel's investigation. I have not interfered in the special counsel's investigation.
Rep. Louie Gohmert (R-TX) pivots back to illegal drugs and the southern border.
Rep. Hank Johnson (D-GA) asks, and Whitaker refuses again to answer, whether he thinks the Mueller investigation is a witch hunt. Johnson points out Whitaker answered about Stone but won't comment on Mueller probe even though both are ongoing investigations. Whitaker flails.
Rep. Nadler interrupts and chastises Whitaker for stalling on every question and trying to run down Democrats' time.
Johnson asks about career DOJ ethics officials advising Whitaker to recuse himself and Whitaker refusing to do so. Whitaker says it was his decision to make. He says he is not obstructing by not answering directly with whom he consulted. Whitaker names two people and then argues about naming anyone else. He reluctantly names a third, who did say he should recuse out of an abundance of caution. Whitaker says he stands by his decision.
Rep. John Ratcliffe (R-TX), like the rest of his Republican colleagues, turns away from the Mueller probe and starts talking about gun control.
Rep. Ted Deutch (D-FL) asks Whitaker if Trump was telling the truth when he said he did not know Whitaker had been critical of Mueller prior to making his appointment. He says he has no reason to believe the president was not being truthful.
Whitaker won't answer if he spoke with anyone at the WH about the Mueller investigation prior to his appointment. He says he did not talk about his TV appearances or his views with anyone at the WH between May 2017 and October 4, 2017. Whitaker won't answer yes or no to whether or not he spoke to anyone at the WH about his views of Mueller before taking the job. Deutch wants to know if anyone on Whitaker's staff talked to the WH about the briefings he has received on the Mueller probe. Whitaker says only one member of his staff also was in briefings. Whitaker says no, he has not attempted to use intermediaries to get information to the president. Deutch points out Whitaker was not even in the line of succession to become acting AG and wants to know why he was selected. Whitaker says he was chosen because he had been a U.S. attorney before and that he was the CoS for Sessions and worked with him side-by-side and had given him "advice and counsel." He thinks POTUS was comfortable he was best positioned to do the duties of AG.
Rep. Andy Biggs (R-AZ) asks of it's still policy the DOJ cannot indict a sitting president. Whitaker says yes. Whitaker reiterates, in answer to another question, that his remarks as a private citizen were done so without any inside information. Biggs asks if his opinion has changed. Whitaker refuses to answer, citing the ongoing investigation. Biggs asks if the scope of Mueller's investigation has expanded in any way. Whitaker refuses to comment.
Rep. Karen Bass (D-CA) wants to know about Whitaker's work prior to joining the DOJ. Rep. Collins argues the question is not relevant. After a procedural vote, Bass continues. She wants to know if any investigations have been initiated into the people Whitaker suggested be investigated when he was the Executive Director of FACT, all of which appear to be Democrats.
Whitaker claims he filed complaints against Republicans, and Bass asks which Republicans. Whitaker refers her to the website and refuses to answer. Bass wants to know if Whitaker has recused himself from any matter involving Hillary Clinton. Whitaker says he cannot answer because it would reveal the existence of an investigation, if there were an open matter.
The committee takes a five minutes recess.
---
Acting Attorney General Matthew Whitaker appears before the House Judiciary Committee as scheduled at 9:30am ET.
Chairman Jerrold Nadler (D-NY) gives a strong opening statement chastising Whitaker for past remarks criticizing the special counsel's investigation and refusal to heed ethics officials' advice to recuse himself from its oversight. He also says did not receive Whitaker's written testimony until almost midnight last night.
Ranking Member Doug Collins (R-GA) goes on a rant for his opening remarks, stating the hearing has nothing to do with oversight and is just a "character assassination" and a "dog and pony show."
Whitaker's opening statement focuses mostly on drug crimes, illegal immigration, human trafficking, and the need for more security at the southern border. He says at no time has the White House asked for or has he promised anything with regard to the special counsel investigation or any other investigation.
Rep. Nadler opens asking about Whitaker's comment the special counsel investigation is wrapping up. Whitaker will not answer whether he has been briefed or not. Whitaker says he cannot talk about ongoing investigations but then admits yes, he has been briefed. Whitaker says he had no involvement in the special counsel's investigation, adding "I have said all I am planning to say" about my involvement in the special counsel investigation.
Whitaker asks the basis for Nadler's question about whether the acting AG was briefed in December before taking his job and refuses to answer. Nadler asks if Whitaker has communicated anything he learned in that briefing to the president, and Whitaker dodges answering. He says he will not answer questions about his private conversations with the president. Then he says no. Nadler asks if he has spoken to anyone else at the White House about it. Then he says he has not talked about the special counsel investigation with senior White House officials. As for third party individuals not already briefed who may have conveyed the information to the president or his legal team, Whitaker says it is an impossible question. He says he does not believe he has briefed anyone and is usually the endpoint of the information he received.
Nadler says he will get answers to his questions one way or another, including asking Whitaker to return for a deposition, under oath, with a transcript released to the public.
Nadler asks Whitaker if he ever has been asked to request or approve any action to be taken by the special counsel, and in response, Whitaker tells Nadler his five minutes are up.
Nadler asks again Whitaker talks around the answer and does not respond directly. Nadler reiterates his question. Whitaker, "I want to be very specific about this ... We have followed the special counsel's regulations to a T ... I have not interfered in any way in the special counsel's investigation."
Ranking member Collins speaks next. He asks, "Were you aware of Roger Stone's indictment before it happened?" Whitaker says he was briefed on that. Whitaker says he was aware of CNN being at Stone's house for the arrest and disturbed by it. He says he does not have any information that CNN had any knowledge of the indictment before it was unsealed after his arrest. Whitaker says he shares Collins' concern someone may have tipped off CNN. [CNN has explained clearly that its crew, noticing an unusual convening of the grand jury on Thursday instead of Friday, took initiative to check on Stone's whereabouts Friday morning and got lucky.]
Whitaker tries to shift the conversation away from the Mueller probe and towards the overall work of the Department of Justice.
The committee moves into recess until a series of votes on the floor are complete.
Resources: Matthew Whitaker Testifies Before House Panel: Live Updates (NYT)
At fiery hearing, Whitaker testifies that he has not talked about Mueller to Trump (CNN)
How CNN captured video of the Roger Stone raid (CNN)
Whitaker says he never interfered in Mueller probe (Politico)
Watch on C-SPAN or below from the House Judiciary Committee:
Oversight of the U.S. Department of Justice (House Judiciary Committee)