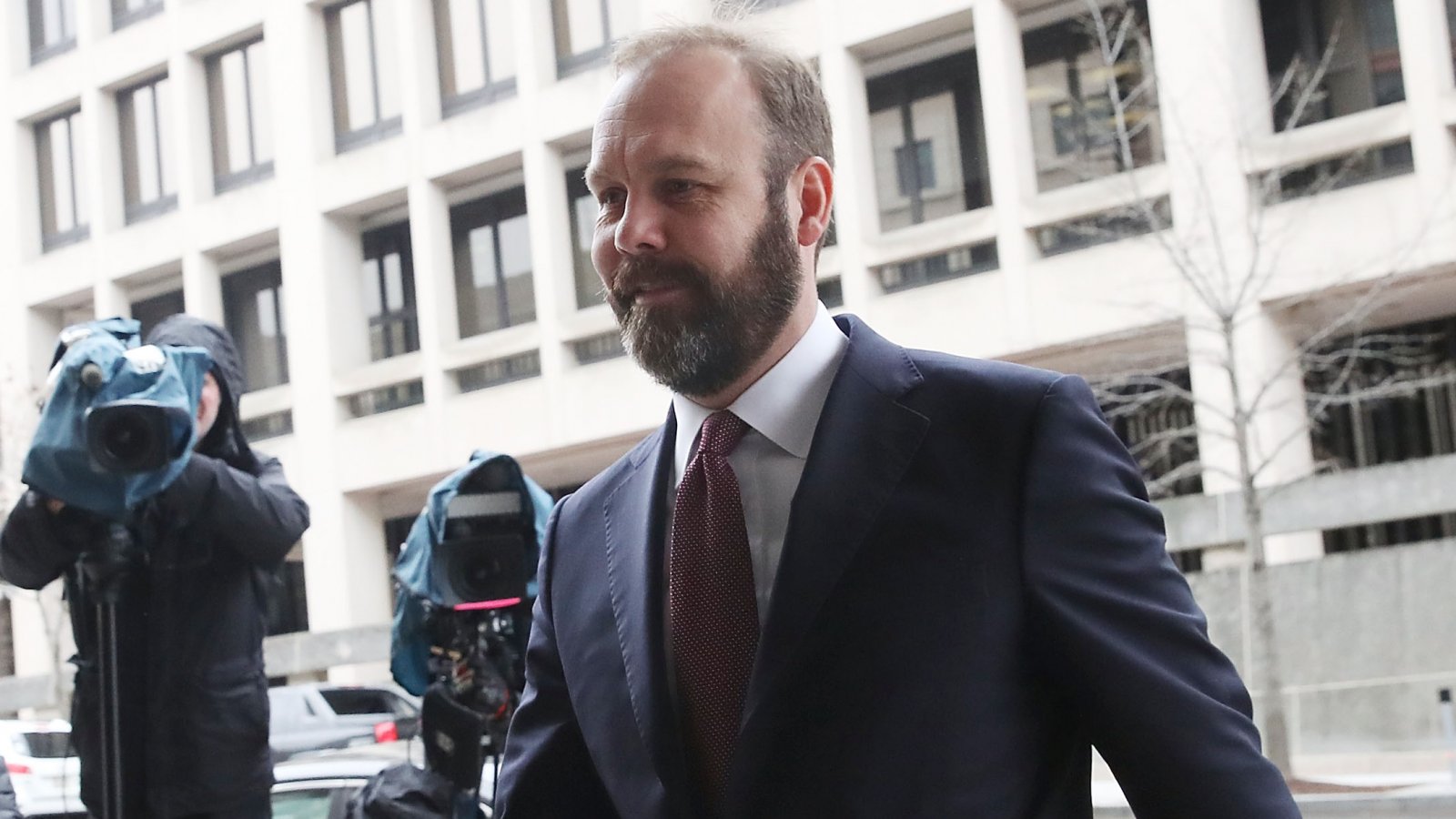 UPDATE:
BREAKING: Rick Gates has officially pleaded guilty and told the judge that he has agreed to cooperate with Mueller's investigation. (h/t @kpolantz, @stark_talk and @evanperez who were in the courtroom.)

— Marshall Cohen (@MarshallCohen) February 23, 2018
Gates has pleaded guilty to two charges, conspiracy against the United States and lying to the FBI. 
WaPo:
According to a criminal information — a document filed earlier Friday with the permission of the defendant — Gates conspired to defraud the United States regarding the money he and his business partner Paul Manafort earned, and lied to the FBI in a Feb. 1, 2018 interview about a 2013 meeting between Manafort, a lobbyist, and a congressman.

That FBI interview came as Gates was trying to negotiate a plea deal. In the interview, Gates claimed there had been no discussion of Ukraine at the 2013 meeting, when in fact, Gates and Manafort prepared a report detailing the Ukrainian discussions, according to the criminal information.
BuzzFeed News identifies the congressman in the 2013 meeting as Rep. Dana Rohrabacher (R-CA), who has been nicknamed "Putin's favorite U.S. congressman." Bloomberg Politics puts the pieces together too. 
Former Trump campaign aide Rick Gates just admitted to lying to U.S. investigators about a March 19, 2013, meeting between his boss, Paul Manafort, and an unidentified U.S. congressman. Public filings show a meeting that day between Manafort and Dana Rohrabacher, a Russia-friendly Republican congressman from California.
WaPo:
According to the court document submitted with Gates' agreement, Manafort laundered more than $18 million between 2006 and 2016, and Gates transferred more than $3 million to accounts that he controlled during that time.

(...)

Gates is the third former Trump aide to publicly admit guilt in Mueller's probe.
The two counts in the new criminal information each have a maximum penalty of five years in jail. According to Gates' plea agreement with the special counsel's office, he faces an estimated sentencing guidelines range of between 57 and 71 months in jail and a fine between $20,000 and $200,000. However, Gates' lawyer Thomas Green told the judge that he reserved the right to argue for a lower sentence based on Gates' "disproportionate conduct" as compared to Manafort.

Gates has agreed to cooperate with the special counsel's office. If prosecutors determine he has "provided substantial assistance," they have agreed to file a motion asking for a downward departure from the sentencing guidelines range.

As part of the plea deal, Gates agreed to delay his sentencing to give him time to cooperate. Asked how far out into the future the judge should set a deadline for the government to update the court on the status of the case, special counsel prosecutor Andrew Weissmann suggested three to four months. US District Judge Amy Berman Jackson set a deadline for a status report for May 14.
Manafort has released a statement in response to Gates' plea deal.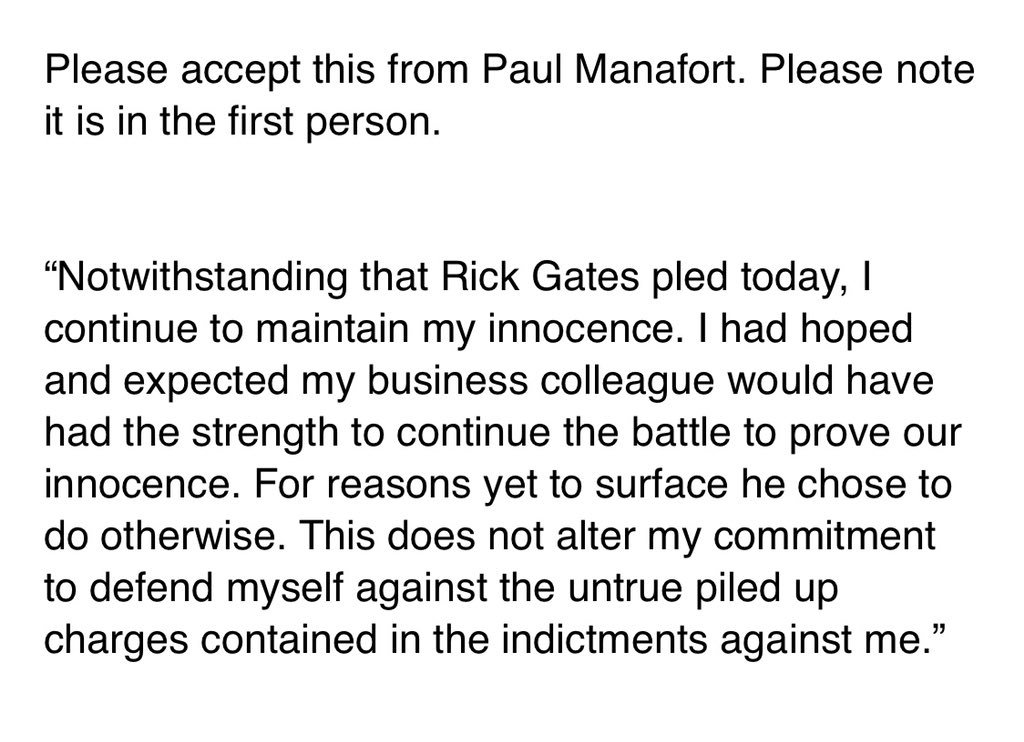 Former Trump campaign official Rick Gates pleads guilty to 2 charges (WaPo)
Former Trump Campaign Adviser Rick Gates Pleaded Guilty To Conspiracy And Lying To Investigators (BuzzFeed News) 
Meeting That Gates Admits Lying About Matches Rohrabacher Dinner (Bloomberg Politics)
---
Rick Gates, Paul Manafort's protégé and Trump's deputy campaign chairman, tells close friends and family he will plead guilty on Friday to charges filed against him by Special Counsel Robert Mueller in the Russia investigation. 
Gates has for weeks been vacillating between fighting the charges and pleading guilty, and remained undecided through much of this week, according to the sources. Legal teams for President Trump and Manafort appeared to be unaware as late as Thursday about Gates' intentions.

In the letter obtained by ABC News, Gates writes to family and friends "despite my initial desire to vigorously defend myself, I have had a change of heart," Gates explained. "The reality of how long this legal process will likely take, the cost, and the circus-like atmosphere of an anticipated trial are too much. I will better serve my family moving forward by exiting this process."

Gates, who has a young family, has endured immense pressure throughout, facing charges that carried the potential for more than a decade in jail, and risking the remainder of his savings. The deal hammered out between Mueller's team and Gates' legal team has the potential to spare him jail time.
The plea deal could be a significant development in the investigation — a sign that Mr. Gates plans to offer incriminating information against his longtime associate and the former campaign chairman, Paul Manafort, or other members of the Trump campaign in exchange for a lighter punishment.

(...)

It was unclear exactly what Mr. Gates might have to offer the special counsel's team ...

But Mr. Gates was present for the most significant periods of activity of the campaign, as Mr. Trump began developing policy positions and his digital operation engaged with millions of voters on platforms such as Facebook. Even after Mr. Manafort was fired by Mr. Trump in August 2016, Mr. Gates remained on in a different role, as a liaison between the campaign and the Republican National Committee. He traveled aboard the Trump plane through Election Day.
Read more:
Rick Gates, Trump Campaign Aide, to Plead Guilty in Mueller Inquiry and Cooperate (NYT)
Former Trump aide tells loved ones of plans to plead guilty, cooperate with special counsel (ABC News)