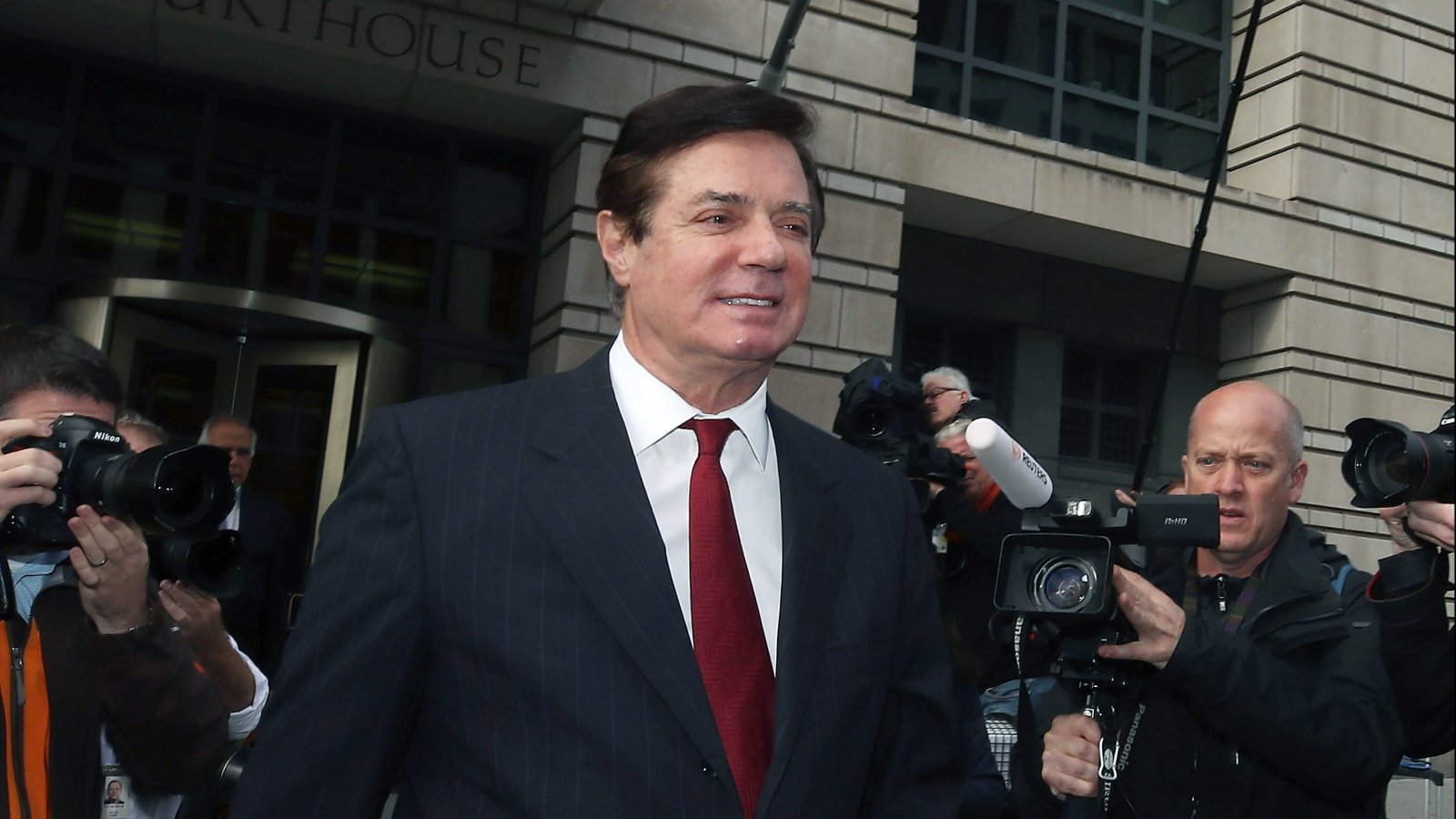 Special Counsel Robert Mueller's team has filed a new 32-count indictment against Paul Manafort and Rick Gates. The new charges come from a grand jury sitting in the Eastern District of Virginia and include multiple counts of financial crimes. 
PBS:
The filing adds allegations of tax evasion and increases the amount of money Manafort is accused of laundering through offshore accounts to $30 million. The additional charges involve much of the same conduct Manafort and his longtime associate, Rick Gates, were charged with last year in an indictment in Washington.
In all, the pair faces 32 counts: 16 counts related to false individual income tax returns, seven counts of failure to file reports of foreign bank and financial accounts, five counts of bank fraud conspiracy, and four counts of bank fraud.
Mueller first indicted Manafort and Gates in October 30, 2017 on 12 counts including conspiracy against the United States, conspiracy to launder money, failure to file reports of foreign bank and financial accounts, being an unregistered agent of a foreign principal, and making false statements. 
Both have pleaded not guilty. Manafort still is under house arrest. Gates posted a $5 million bail package last month. 
WaPo:
The filing Thursday comes at a time of significant uncertainty in the case about when a trial might happen, or even who the defense lawyers will be. Last week, U.S. District Judge Amy Berman Jackson criticized both sides for what she called "unacceptable delays" in a case which still doesn't have a trial date set.
Also on Thursday, Judge Berman rejected Manafort's latest attempt to post bail, rejecting one of his pledged properties because it had been offered up as collateral to guarantee a loan on another pledged property.
[She] said she would not accept Manafort's Alexandria, Virginia, condominium as part of the bail package because it is pledged as part of the security for a $10.5 million loan Manafort obtained in 2016 on another home in Long Island, New York.

"The Court has determined that in the absence of additional security or assets pledged by a surety, it will not accept as security the Alexandria property that has already been pledged in its entirety as collateral for the loan on the Bridgehampton property," Jackson wrote in an order Thursday afternoon.

(...)

The judge did not mention it in her order Thursday but prosecutors have alleged that Manafort obtained the $10.5 million loan under false pretenses by using "doctored" financial statements for his consulting business.
That is the exact detail revealed in the new indictment – how Manafort and Gates allegedly falsified documents, inflated income, and committed bank, tax, and insurance fraud.  
Gates and Manafort, the indictment states, failed to report their foreign accounts to the Treasury Department (Manafort for each year between 2008 and 2014; Gates for each year between 2010 and 2013). Between 2008 and 2014, Manafort (with Gates's help) allegedly lied on his tax filings by declaring that he had no foreign bank accounts. Gates did the same between 2010 and 2013.

When the money from Ukraine dried up, Manafort and Gates used the real estate Manafort had purchased previously to obtain mortgages, which provided them with a source of income without having to pay taxes, the indictment charges. In order to receive the loans, the two lied about Manafort's income, debt and use of the property. 
Lawfare notes the charges do not connect to or implicate the president's campaign in any way. The activities simply took place while Manafort and Gates were Trump's campaign and deputy campaign chair, respectively. 
Once again, the indictment contains no allegations about the Trump presidential campaign or any work by Manafort or Gates relating to Donald Trump. And there are no allegations of wrongdoing by the Trump campaign or anything having to do directly with Russian election interference. But the indictment alleges bank fraud between 2015 and 2017—a time frame that indicates Manafort and Gates's activities would have continued through both their time on the campaign and Gates's time on the presidential transition team.
For his part, Manafort continues to claim he is not guilty. 
"Paul Manafort is innocent of the allegations set out in the newly filed indictments and he is confident that he will be acquitted of all charges," [Manafort's spokesman] Jason Maloni said in a statement. 

"The new allegations against Mr. Manafort, once again, have nothing to do with Russia and 2016 election interference/collusion," he added. "Mr. Manafort is confident that he will be acquitted and violations of his constitutional rights will be remedied."
Read the indictment (pdf)
Read the status report (pdf)
Special counsel Mueller files new charges in Manafort, Gates case (WaPo)
Paul Manafort, Rick Gates laundered more than $30 million, according to new Mueller indictment (PBS)
Judge rejects Manafort's latest bail offer (Politico)
Paul Manafort and Rick Gates indicted on 32-counts (ABC News)
What's New in the Paul Manafort and Rick Gates Indictment? (Lawfare Blog)
Manafort 'confident he will be acquitted' of all charges (The Hill)