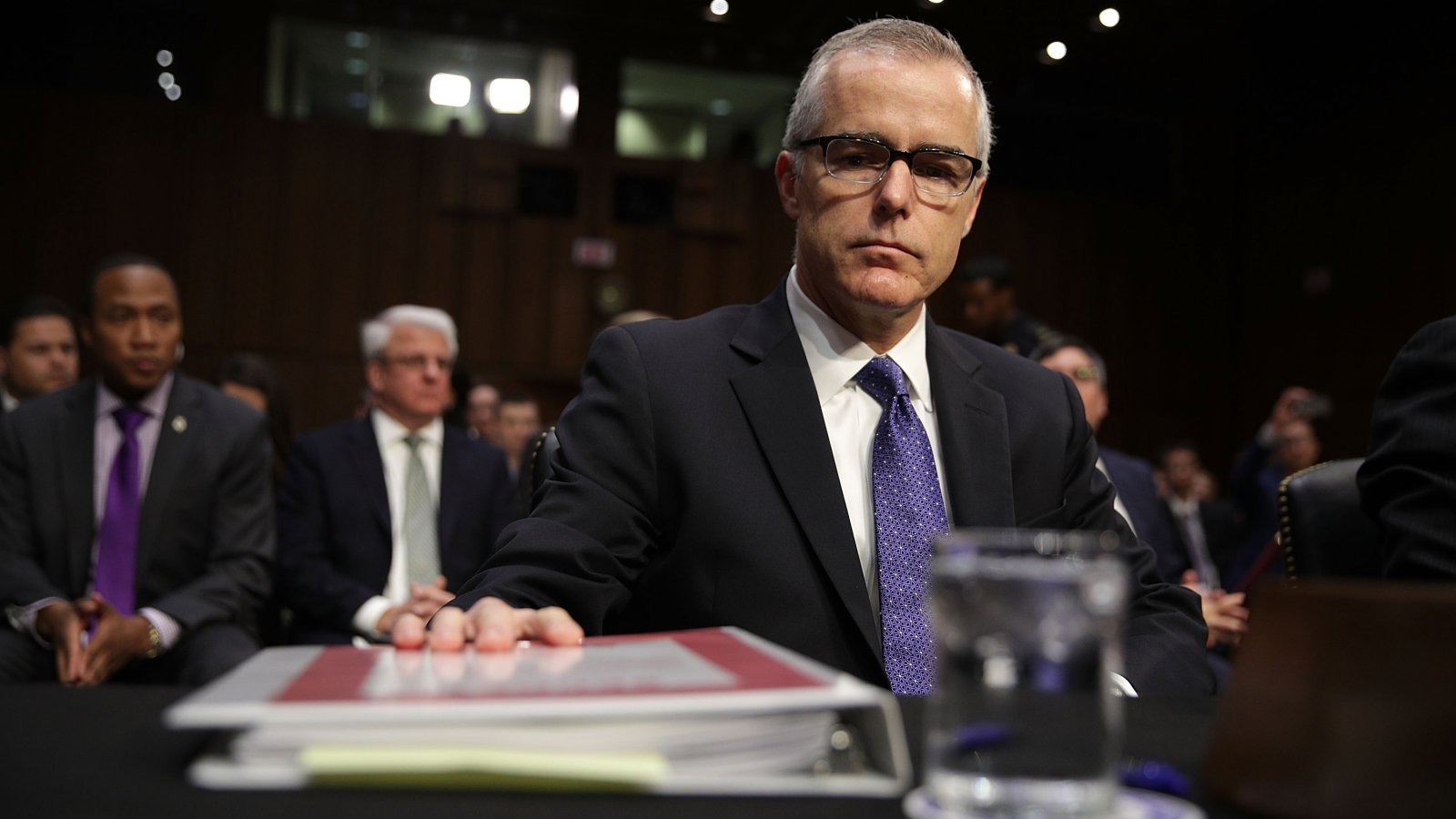 UPDATE: McCabe appears to be trying to walk back his remarks via a spokesperson:

---
Former FBI Deputy Director Andrew McCabe, who is promoting a new book, tells 60 Minutes' Scott Pelley that after President Trump fired FBI Director James Comey, he and other top Justice Department officials discussed whether they could recruit Cabinet members to remove President Trump under the 25th Amendment. 
The concerns about the president's actions also prompted Mr. McCabe to order the bureau's team investigating Russia's election interference to expand their scope to also investigate whether Mr. Trump had obstructed justice by firing Mr. Comey. They also were to examine if he had been working on behalf of Russia against American interests.

(...)

Mr. McCabe said he spoke to Mr. Trump just after Mr. Comey was fired, and the next day he met with the team investigating Russia's election interference.
"I was speaking to the man who had just run for the presidency and won the election for the presidency and who might have done so with the aid of the government of Russia, our most formidable adversary on the world stage," McCabe said in an excerpt aired on CBS on Thursday. "And that was something that troubled me greatly."
"I was very concerned that I was able to put the Russia case on absolutely solid ground, in an indelible fashion," Mr. McCabe said. "That were I removed quickly, or reassigned or fired, that the case could not be closed or vanish in the night without a trace."

On the eve of his retirement in March 2018, Mr. McCabe was fired by Jeff Sessions, the attorney general at the time, citing lack of candor.

"I wanted to make sure that our case was on solid ground and if somebody came in behind me and closed it and tried to walk away from it, they would not be able to do that without creating a record of why they made that decision," Mr. McCabe said.
President Trump and his allies have been attacking McCabe and working to discredit him since it became clear he was one of three people who could corroborate Comey's accounts of the president's actions which could constitute obstruction of justice. 
In a tweet on Thursday, Trump said, "Disgraced FBI Acting Director Andrew McCabe pretends to be a "poor little Angel" when in fact he was a big part of the Crooked Hillary Scandal & the Russia Hoax - a puppet for Leakin' James Comey."

McCabe was fired last March, just 26 hours before he was scheduled to retire with a full pension. Then-Attorney General Jeff Sessions fired McCabe over allegations he had violated the FBI and Justice Department's policy on disclosures to the media. He's responded that he was the target of a political attack by Trump, who has repeatedly slammed the FBI as biased and called the Russia probe a "witch hunt."
Pelley also said Thursday morning McCabe told him Deputy Attorney General Rod Rosenstein did, in fact, consider wearing a wire around the president, an allegation Rosenstein denied. 
... Mr. Pelley said on "CBS This Morning" that Mr. McCabe had confirmed a New York Times report that the deputy attorney general, Rod J. Rosenstein, had suggested wearing a wire in meetings with Mr. Trump and that Justice Department officials discussed recruiting cabinet members to invoke the 25th Amendment to remove Mr. Trump from office.

"There were meetings at the Justice Department at which it was discussed whether the vice president and a majority of the cabinet could be brought together to remove the president of the United States under the 25th Amendment," Mr. Pelley said. "These were the eight days from Comey's firing to the point that Robert Mueller was appointed special counsel. And the highest levels of American law enforcement were trying to figure out what do with the president."

(...)

In a statement released on Thursday morning in the wake of the interview with Mr. Pelley, a Justice Department spokeswoman said: "The deputy attorney general again rejects Mr. McCabe's recitation of events as inaccurate and factually incorrect."

The spokeswoman added that as Mr. Rosenstein "has stated, based on his personal dealings with the president, there is no basis to invoke the 25th Amendment, nor was the deputy attorney general in a position to consider invoking the 25th Amendment."
"The most illuminating and surprising thing in the interview to me were these eight days in May when all of these things were happening behind the scenes that the American people really didn't know about," Pelley said on the show.

(...)

The interview with the veteran FBI agent who rose to acting director of the bureau will be broadcast on 60 Minutes, Sunday, February 17 at 7:00 p.m., ET/PT on CBS.
McCabe Says Justice Officials Discussed Recruiting Cabinet Members to Push Trump Out of Office (NYT)
FBI's McCabe Opened Russia Probe on Concern Case Might 'Vanish' (Bloomberg Politics)
McCabe says he ordered the obstruction of justice probe of President Trump (CBS News)