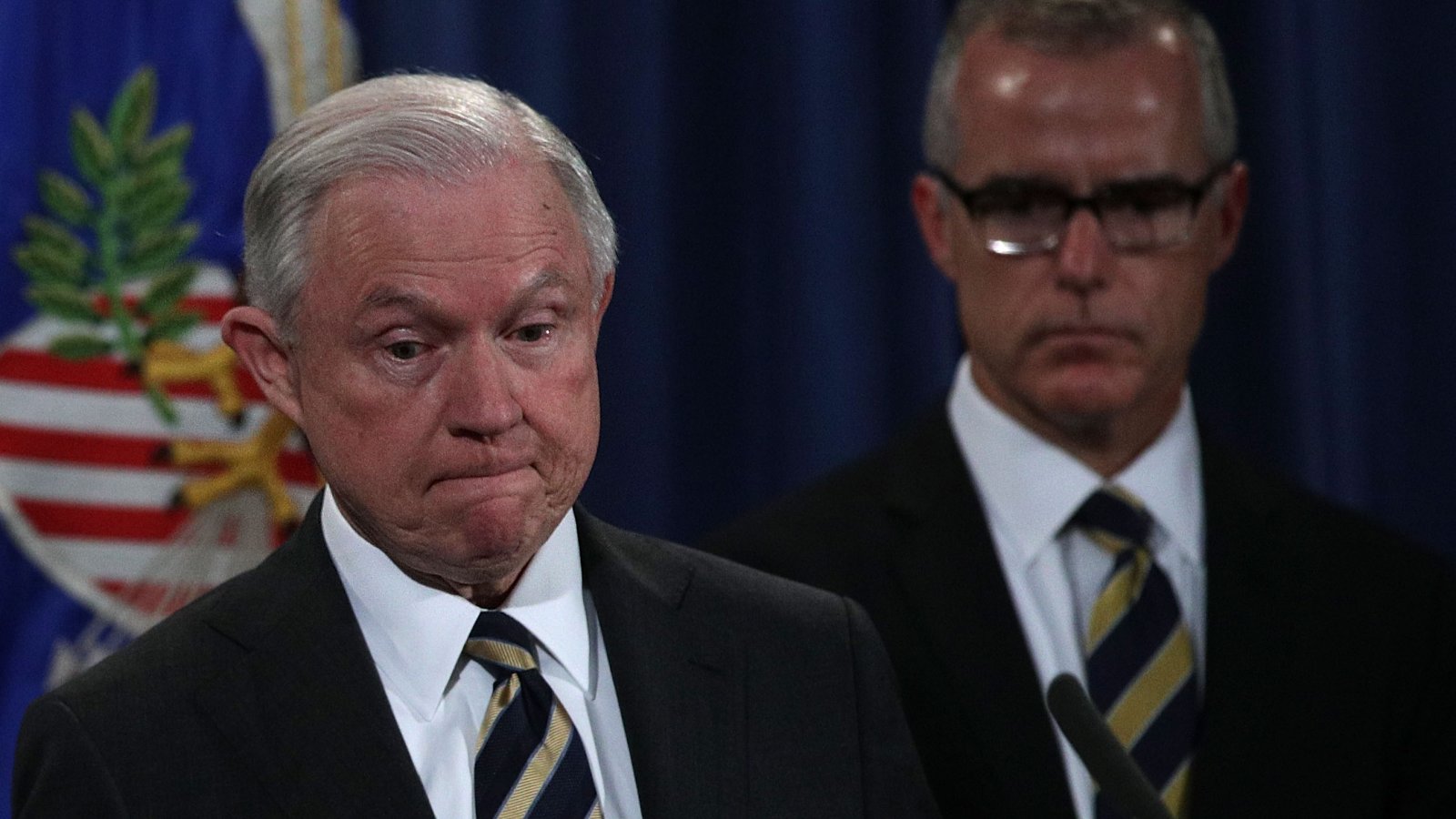 Attorney General Jeff Sessions fired former FBI Deputy Director Andrew McCabe late Friday night, issuing a statement saying he was acting on the recommendations of the Inspector General and the FBI. The timing is terrible for McCabe.
Nearly 24 hours earlier, McCabe was inside the Justice Department making the case to keep his job until Sunday when he officially qualifies for retirement benefits. His firing means his full pension — built after nearly 22 years in government — is in jeopardy.

Friday's move by Sessions comes after FBI officials concluded McCabe should be fired for allegedly misleading internal investigators about his role two years ago in allowing an FBI spokesman and FBI attorney to disclose information about the agency's Clinton Foundation investigation to a reporter.

(...)

Because the inspector general's report has not been released publicly yet, it's still unclear exactly why investigators believe McCabe was not forthcoming, or if McCabe is criticized for other actions.

(...)

McCabe issued his own statement saying he would no longer keep silent.

"For the last year and a half, my family and I have been the targets of an unrelenting assault on our reputation and my service to this country. Articles too numerous to count have leveled every sort of false, defamatory and degrading allegation against us. The President's tweets have amplified and exacerbated it all. He called for my firing. He called for me to be stripped of my pension after more than 20 years of service. And all along we have said nothing, never wanting to distract from the mission of the FBI by addressing the lies told and repeated about us."

"No more," McCabe said.

Later in his statement, McCabe accused the president of driving an effort to destroy his reputation.

"Here is the reality: I am being singled out and treated this way because of the role I played, the actions I took, and the events I witnessed in the aftermath of the firing of James Comey. The release of this report was accelerated only after my testimony to the House Intelligence Committee revealed that I would corroborate former Director Comey's accounts of his discussions with the President," the statements said.
McCabe ran the FBI for three turbulent months last year, assuming the director's job on an acting basis after James B. Comey was fired in May.
NYT:
Mr. McCabe was among the first at the F.B.I. to scrutinize possible Trump campaign ties to Russia. And he is a potential witness to the question of whether Mr. Trump tried to obstruct justice. Mr. Trump has taunted Mr. McCabe both publicly and privately, and Republican allies have cast him as the center of a "deep state" effort to undermine the Trump presidency.

As a witness, Mr. McCabe would be in a position to corroborate the testimony of the former F.B.I. director, James B. Comey, who kept contemporaneous notes on his conversations with Mr. Trump. Mr. Comey said Mr. Trump prodded him to publicly exonerate the president on the question of Russian collusion and encouraged him to shut down an investigation into his national security adviser.

In a statement released by his lawyers, Mr. McCabe said his firing was part of Mr. Trump's "ongoing war on the F.B.I." and Robert S. Mueller III, the special counsel. He said he answered questions truthfully in the internal investigation and contacted investigators to correct the record when he believed they misunderstood him.
CNN: 
McCabe had been expected to retire this Sunday, on his 50th birthday, when he would have become eligible to receive early retirement benefits. 
McCabe's full statement: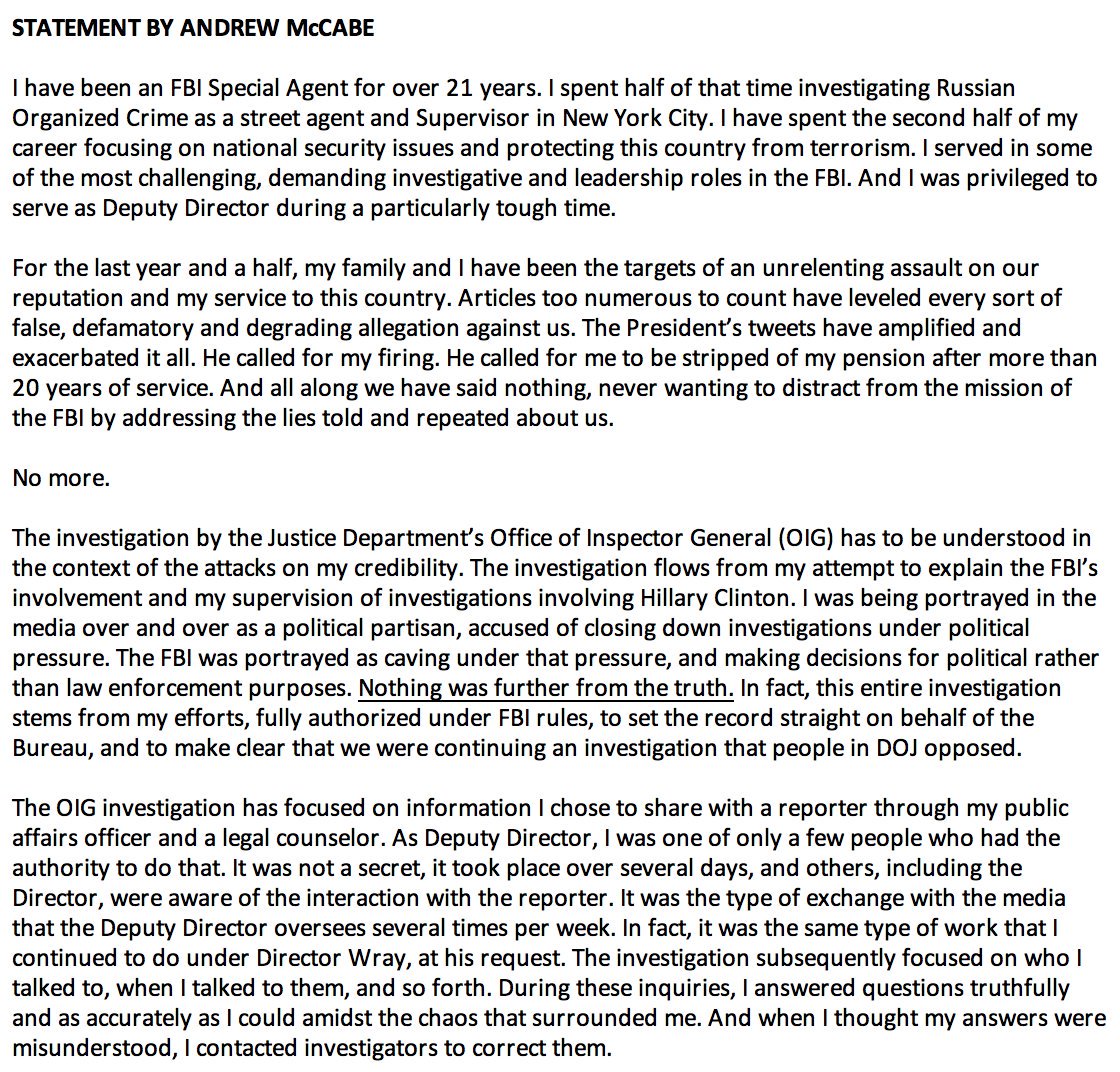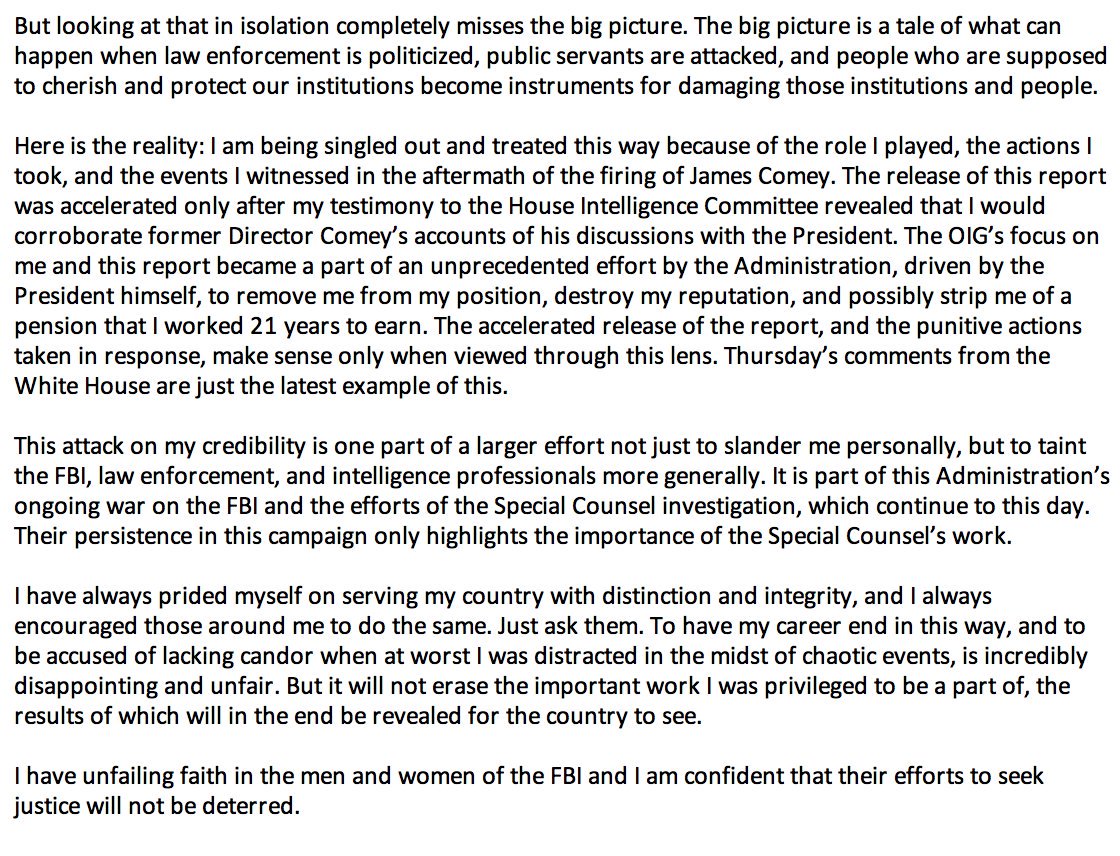 FBI's Andrew McCabe is fired just before retiring. Former deputy director became lightning rod for Clinton email and Russia probes. (WaPo)
Ex-FBI deputy director Andrew McCabe fired (CNN)
Former FBI deputy director fired just days before retirement to kick in (ABC News)
Andrew McCabe, a Target of Trump's F.B.I. Scorn, Is Fired Over Candor Questions (NYT)