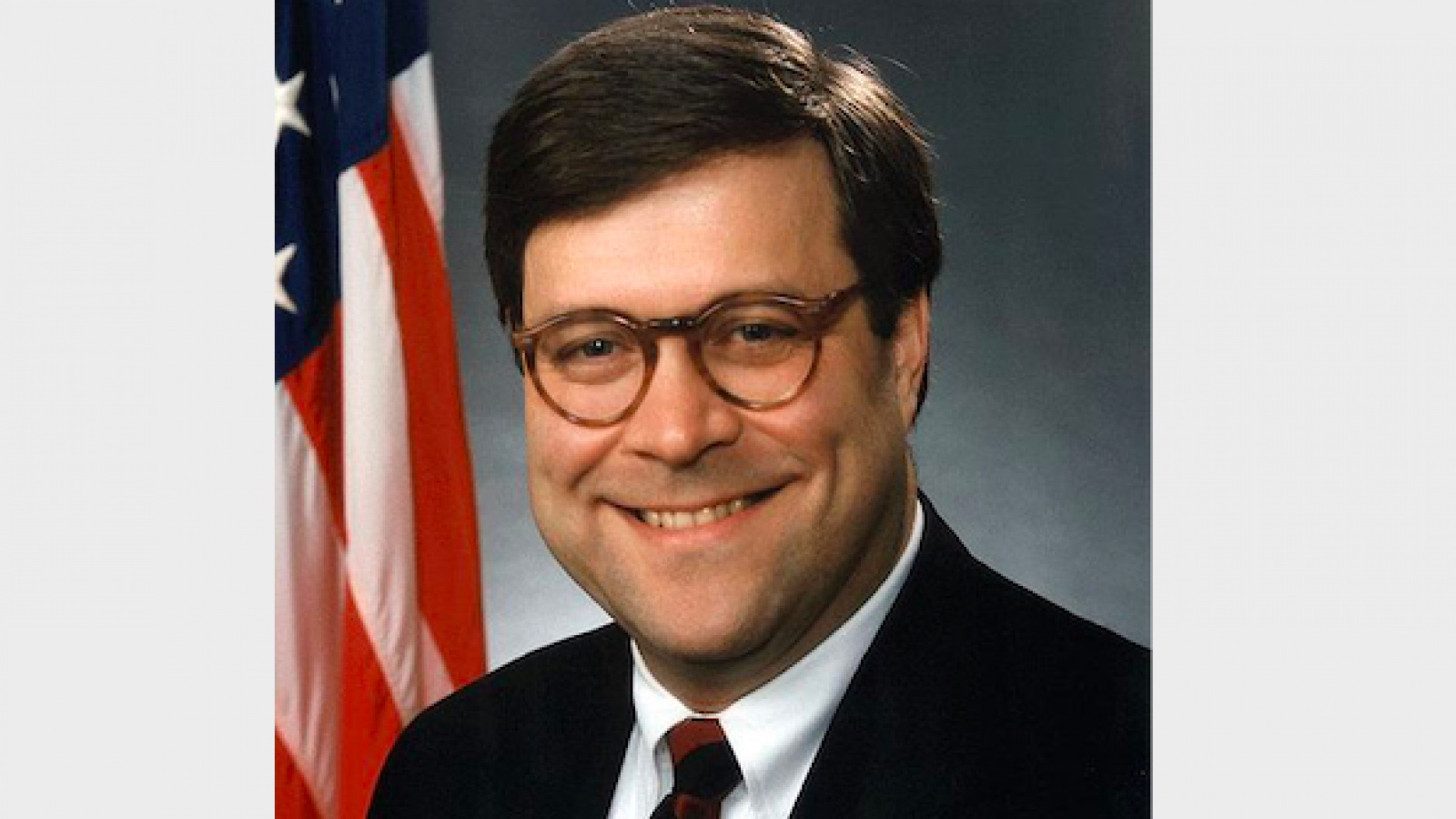 William Barr, President Trump's nominee to be his next Attorney General, sent an unsolicited 19-page memo to Deputy AG Rod Rosenstein and Assistant AG Steven Engel on June 8, 2018 arguing against Special Counsel Robert Mueller's right to investigate the president for possible obstruction of justice. 
Even before the memo, Barr was expected to be grilled about his past statements regarding special counsel investigations, controversial decisions President Trump has made and whether he would publicly pledge to protect the Mueller investigation from political interference.

Barr wrote that Mueller's apparent theory of obstruction "is premised on a novel and legally insupportable reading of the law. Moreover, in my view, if credited by the department, it would have grave consequences far beyond the immediate confines of this case and would do lasting damage to the presidency and to the administration of law within the executive branch."

(...)

The memo argued that a president can be investigated for acts that would directly alter an investigation, such as suborning perjury or destroying evidence. But Barr contended that the department should not investigate the president for acts that are allowed under his legal authority as president but could, in theory, be done for the purpose of blocking an investigation.

Specifically, Barr wrote that because a president has the power to hire and fire an FBI director, Mueller should not investigate the president's decision to fire [James] Comey. He wrote that doing so would ultimately limit the chief executive's authority over government agencies, and the authority of senior Justice Department officials who might later decide to shut down investigations or not approve the filing of charges.

"Mueller should not be permitted to demand that the president submit to interrogation about alleged obstruction," Barr wrote. "Apart from whether Mueller [has] a strong enough factual basis for doing so, Mueller's obstruction theory is fatally misconceived."

Days after Comey's firing, Barr wrote an opinion piece in The Washington Post arguing that the president's action was justified, but that was before many of the details of Trump's interactions with the FBI director were known. The June 2018 memo makes clear that even after those details came to light — such as the president asking Comey two months before the firing to drop his investigation into Trump's former national security adviser Michael Flynn — Barr still considered the president's actions justified and not criminal.
Mr. Barr's memo was provided by the Trump administration to the Senate Judiciary Committee on Wednesday as part of his nomination materials. 
The committee made the memo public Wednesday night. 
According to media reports, Barr gave the memo ... to the White House as well as Justice Department officials before his name was floated for the job.
The Wall Street Journal, which was first to report the existence of the memo, says Rosenstein and Engel did not share it with the president, but Barr himself reportedly gave a copy of his memo to the White House at the same time he sent it to the deputy and assistant AG. 
Rosenstein and Engel didn't circulate it beyond their offices nor share it with either Mr. Mueller or Mr. Trump.

(...)

After Mr. Trump offered him the job, Mr. Barr briefly told the president that he had written a memo about aspects of the Russia probe that could spur questions during his confirmation hearing, according to a person familiar with the process. It wasn't immediately clear how Mr. Trump responded, but a second person familiar with the matter said the memo played no role in his decision to choose Mr. Barr. The person also said Mr. Barr shared the memo with the top lawyer representing the White House in the Mueller probe around the same time he gave it to Mr. Rosenstein.
Barr ended his memo with a warning that if Mueller's obstruction theory were to be accepted by the Justice Department as a whole, the implications "are astounding."

Justice Department lawyers "are always making decisions that invite the allegation that they are improperly concluding or constraining an investigation," he noted. "Under the theory now being advanced, any claim that an exercise of prosecutorial discretion was improperly motivated could legitimately be presented as a potential criminal obstruction."
Senator Dianne Feinstein of California, the top Democrat on the Senate Judiciary Committee, called Mr. Barr's memo "very troubling," saying it concluded that "the president is above the law."

"We need answers as to why Barr proactively drafted this memo and then shared it with the deputy attorney general and President Trump's lawyers," she said. "There's no reason for a lawyer in private practice to do this unless he was attempting to curry favor with President Trump and convey that he would protect the president. The Justice Department has been under relentless attack by this president, and it needs a leader who is independent and able to defend the rule of law."
In a statement and series of tweets, Senate Minority Leader Chuck Schumer (D-NY) asked President Trump to withdraw Barr's nomination. 
"The fact that he holds these deeply misguided views and chose to launch them in an unprovoked written attack on the Special Counsel unquestionably disqualifies Mr. Barr from serving as attorney general again," Schumer said in a statement on Thursday. 

He added that because Barr's nomination hasn't been formally sent to the Senate, Trump "must immediately reconsider and find another nominee who is free of conflicts and will carry out the duties of the office impartially."

"Barr's memo reveals that he is fatally conflicted from being able to oversee the Special Counsel's investigation and he should not be nominated to be attorney general," Schumer continued. 
Senate Intelligence Committee Vice Chairman Mark Warner (D-VA) agrees. 
CNN: 
"I think the President should withdraw this nomination," said Warner. "It appears that the number one qualification Trump is looking for in an AG is someone that will try to undermine the Mueller investigation."

Warner said that "in effect" Barr's memo was "an attempt to solicit" the nomination, while the special counsel probes whether the President obstructed justice during the investigation of Russian interference in the 2016 campaign. He called the memo "almost tacky" and "at the very least unseemly."

(...)

Barr discussed the memo with Trump and told him it would likely come up during his Senate confirmation, a source familiar with the discussions told CNN.

Warner claimed that Barr's actions showed he "desperately" wanted the job and sent the message to the President that "you won't be indicted" and "I'll make sure that we'll keep you away from the arm of the law."

"To me, that is both inappropriate and disqualifying," Warner said.
Rosenstein weighed in Thursday, praising Barr in the process. 
"The memo that you made reference to reflects Mr. Barr's personal opinion," Rosenstein said during a press conference on Thursday after announcing criminal charges for Chinese hackers. "Lots of people offer opinions to the Department of Justice, but they don't influence our own decision making."

(...)

Rosenstein said that he believes that Barr will be "an outstanding attorney general" once he's confirmed and argued that Barr's opinion was based on not having access to "actual facts of the case."

"Obviously, our decisions are informed by our knowledge of the actual facts of the case, which Mr. Barr didn't have," Rosenstein said. "I didn't share any confidential information with Mr. Barr. He never requested that we provide any non-public information to him, and that memo had no impact on our investigation."

(...)

The Deputy Attorney General, at his Thursday press conference, also offered assurances that no matter who is overseeing the investigation, it will be "handled appropriately.

"It's being handled appropriately, whether its Bob Mueller or Rod Rosenstein or Matt Whitaker or Bill Barr, that investigation is going to be handled appropriately by the Department of Justice," Rosenstein said.
Attorney general nominee wrote memo criticizing Mueller obstruction probe (WaPo)
Trump's Attorney General Nominee Criticized Russia Investigation (NYT)
Schumer tells Trump to drop attorney general pick over Mueller criticism (The Hill)
Trump's Attorney General Pick Criticized an Aspect of Mueller Probe in Memo to Justice Department (WSJ)
Key Senate Democrat says Trump 'should withdraw' attorney general nomination (CNN)
Rosenstein: AG nominee's memo had 'no impact' on Mueller probe (Politico)