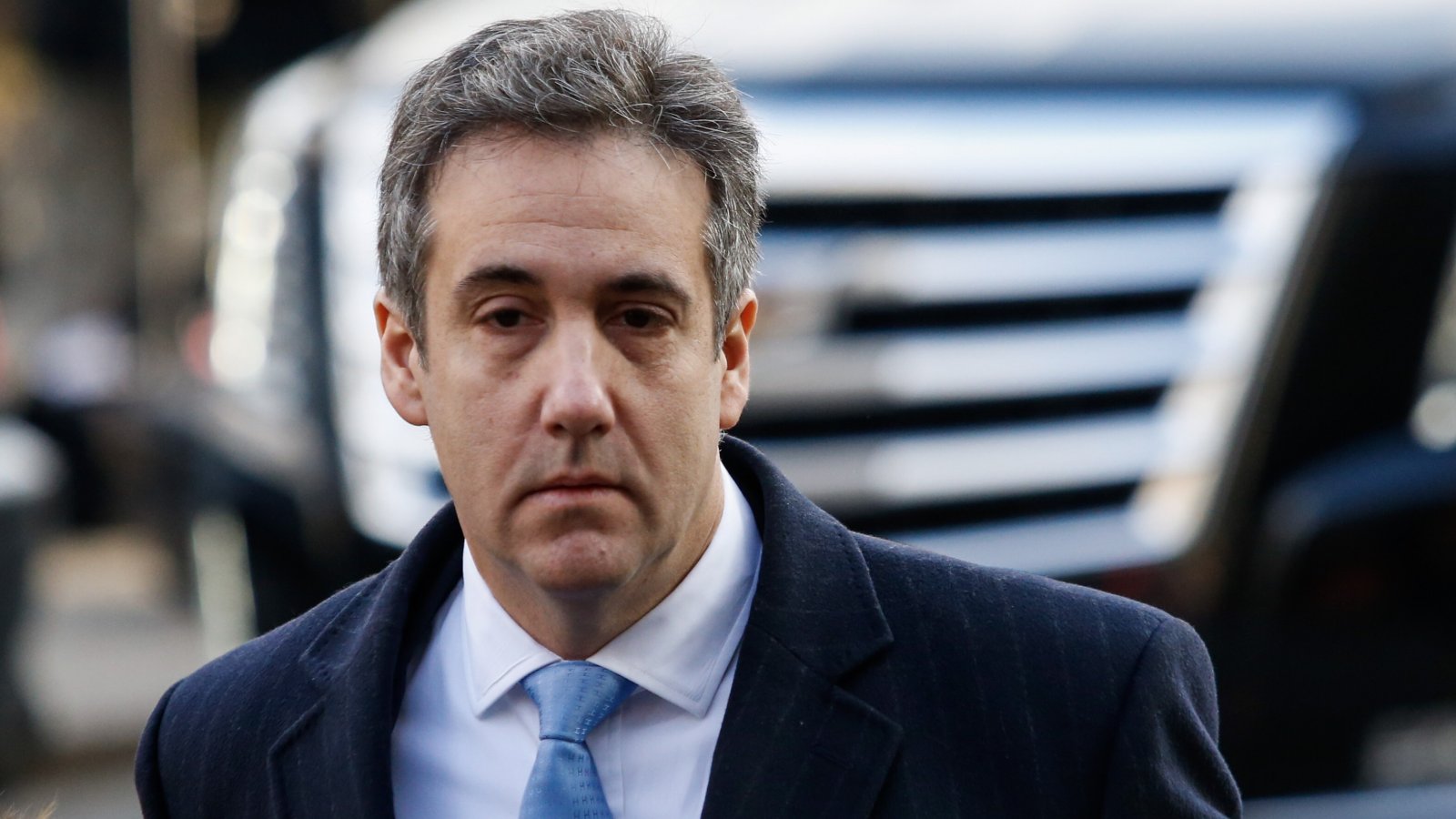 UPDATE: Michael Cohen gets three years in prison. He will have to turn himself in on March 6, 2019. 

Cohen made an emotional, teary apology to U.S. District Judge William H. Pauley III, taking responsibility for crimes that included tax violations, lying to a bank, and buying the silence during the 2016 campaign of women who alleged affairs with the future president.
CNN:
"Recently the President tweeted a statement calling me weak and it was correct but for a much different reason than he was implying. It was because time and time again I felt it was my duty to cover up his dirty deeds," Cohen said. 

"This may seem hard to believe, but today is one of the most meaningful days of my life," Cohen added later. "I have been living in a personal and mental incarceration ever since the day that I accepted the offer to work for a real estate mogul whose business acumen that I deeply admired."

(...)

He previously pleaded guilty to eight criminal counts brought by federal prosecutors in New York, and received 36 months for those crimes. Cohen also pleaded guilty to one count of lying to Congress from Mueller's team, for which he was sentenced to two months.

Cohen will serve the sentences concurrently.

Pauley also ordered Cohen to pay $1.39 million in restitution, forfeit $500,000 and pay a $50,000 fine. Cohen was ordered to report to prison in March.
Judge William H. Pauley III said Mr. Cohen had committed a "smorgasbord" of crimes involving "deception" and motivated by "personal greed and ambition." "As a lawyer, Mr. Cohen should have known better," he said.

(...)

Mr. Trump at first denied knowing anything about the payments, but then acknowledged that he had known about them. This week, he insisted that the payments were "a simple private transaction" — not election-related spending subject to campaign-finance laws.

He also maintained that even if the hush-money payments were campaign transactions in violation of election regulations, that should be considered only a civil offense, not a criminal one.

(...)

Mr. Cohen did not formally cooperate with prosecutors in the United States attorney's office in Manhattan. In addition to the campaign-finance violations, the sentence covered Mr. Cohen's guilty pleas to charges of tax evasion, bank fraud and making false statements to Congress.

He took a calculated gamble in pleading guilty to this litany of federal crimes without first entering into a cooperation agreement with the government. He offered to help prosecutors, but only on his terms, and there were some subjects he declined to discuss.

(...)

Shortly before Mr. Cohen and his family and friends walked out of the courtroom, roughly 20 minutes after the sentencing had ended, he briefly addressed a cluster of reporters who were waiting in an anteroom between the courtroom and the hallway.

"This is my last time talking to you guys," he said abruptly, then said nothing more.
Cohen still poses a significant threat to the president in the investigation into a potential conspiracy between the Trump campaign and Russia. He has taken Mueller deep inside the Trump Organization, describing how he helped Trump pursue a real-estate deal in Russia well into the election campaign, and provided the first in-court evidence that Trump may have been compromised by Russia while President Vladimir Putin was waging a direct attack on the United States. Cohen has committed to continuing his cooperation with Mueller, even after being sentenced in the Southern District, according to the special counsel's filing. Trump has called Cohen a "weak person" who made up "stories" to get a "deal" with Mueller, but he's also been lashing out against the Mueller probe more than ever. "Bob Mueller (who is a much different man than people think) and his out of control band of Angry Democrats, don't want the truth, they only want lies," he tweeted last week. "The truth is very bad for their mission!"
Read Michael Cohen's full sentencing statement and why 'blind loyalty' to Trump was the biggest mistake of his life (NBC News)
Michael Cohen, Trump's Ex-Lawyer Who Implicated Him in Hush-Money Scandal, Sentenced to 3 Years (NYT) 
Michael Cohen sentenced to three years in prison for crimes committed while working for Trump (WaPo)
Michael Cohen Sentenced to Three Years for Lies, 'Blind Loyalty' to Trump (The Atlantic)
Michael Cohen sentenced to three years in prison (CNN)
---
Michael Cohen, Donald Trump's longtime personal attorney and fixer, is in federal court in New York this morning finding out what kind of prison time he will serve for crimes "including tax evasion, making false statements to a financial institution, and campaign finance violations." He also pleaded guilty to lying to Congress in the Russia investigation. 
Prosecutors for the Southern District of New York recommended Cohen serve 51 to 63 months. While Special Counsel Robert Mueller's sentencing memo was more generous to Cohen, citing his cooperation with the Russia probe, it simply asked the court to consider Cohen's efforts to help and recommended Cohen be allowed to serve any time warranted for lying to Congress concurrently with whatever he gets in the SDNY case. 
Follow CNN's Erica Orden or Courthouse News' Adam Klasfeld for realtime updates from inside the courtroom. Read from the bottom up: 

Developing ... 
Michael Cohen attorney cites Watergate in making sweeping case for leniency (CNN)
Former Trump attorney Michael Cohen to face sentencing for campaign finance violations, lying to Congress (ABC News)