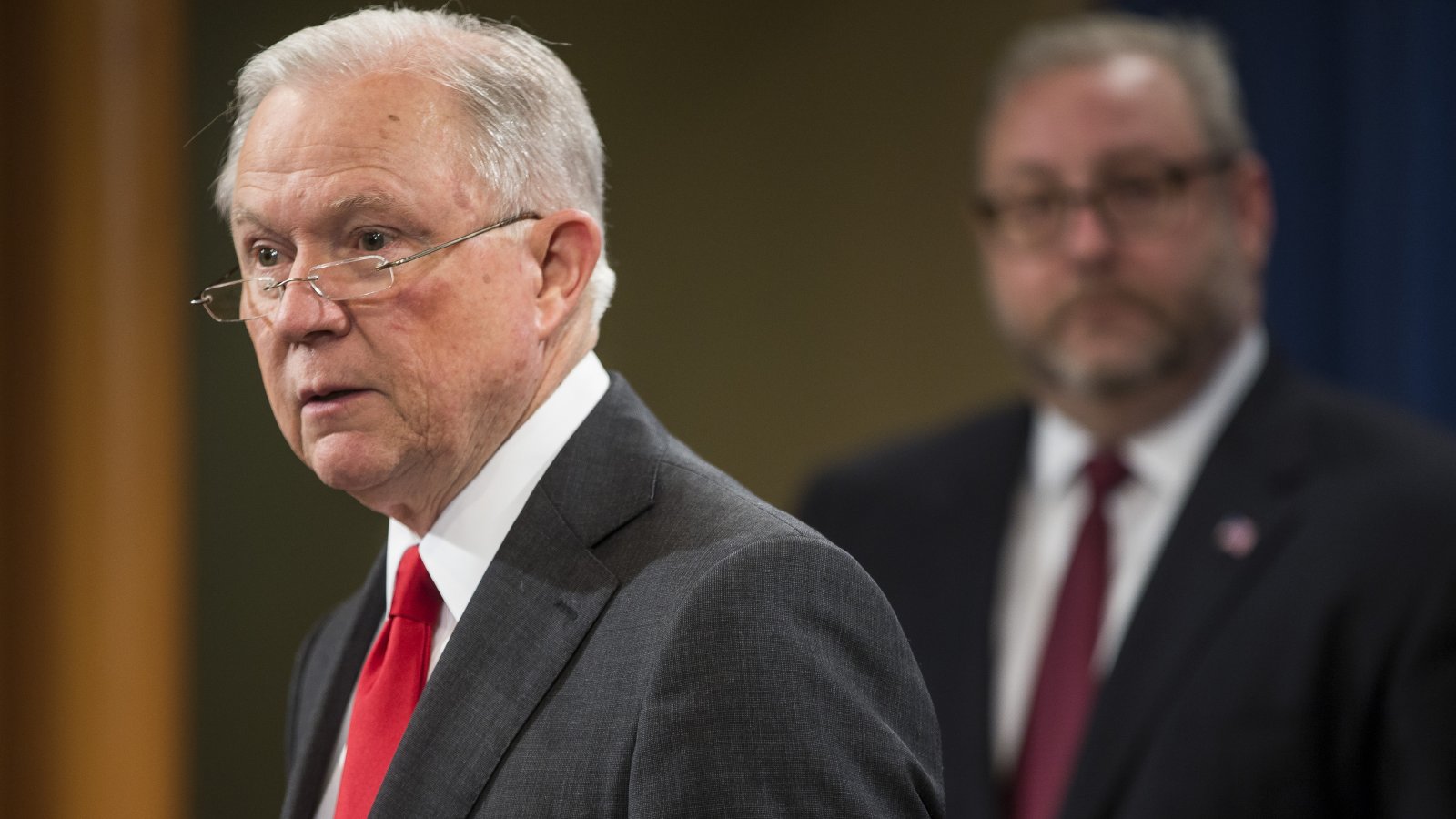 President Trump asked Attorney General Jeff Sessions to resign Wednesday, and Sessions did, making it clear in the first line of his letter of resignation that the decision to leave was not his own. 

The president immediately announced Sessions' replacement, Sessions' own chief of staff, via Twitter:

Sessions reportedly wanted to stay on the job until the end of the week, but Chief of Staff John Kelly rejected that request. 
A White House official said Trump had been held at bay to demand Sessions's resignation until after the election, but he talked eagerly about ousting his attorney general as soon as the votes were tallied. Even as election results were coming in, Trump complained about Sessions and said he hoped Republicans would win a large enough margin in the Senate that he could fire the attorney general quickly, a person familiar with the matter said.

(...)

In a matter of hours, Sessions was out, and Whitaker was in.
Whitaker, a vocal opponent of Special Counsel Robert Mueller's investigation, will assume oversight of the probe he has said publicly could easily be undermined by pulling funding. Deputy Attorney General Rod Rosenstein loses his authority to oversee the investigation because he gained it when Sessions recused himself. With Sessions gone, oversight transfers back to the AG. 
Whitaker is a Trump loyalist with additional conflicts of interest. One arises from his 2014 role working for Sam Clovis:

Last year, Politico reported on Clovis' involvement with the Mueller probe:
Clovis, a former co-chair and policy adviser to Trump's campaign, knew that another campaign adviser, George Papadopoulos, was talking to Russians, according to documents released Monday as part of special counsel Robert Mueller's probe and campaign and administration officials.
Walter Shaub, former director of the Office of Government Ethics, notes Whitaker himself has said partisanship has no place in the Russia investigation. 

The Atlantic's Natasha Bertrand summarizes Whitaker's well-established disdain for the Mueller probe:
While he has touted Mueller's character—"There is no honest person that sits in the world of politics, in the world of law, that can find anything wrong with Bob Mueller," he told CNN last year—he seems to have already formed an opinion on the probe itself. In a tweet, Whitaker said an article that characterized Mueller's investigators as a "lynch mob" was a "must read," and he told CNN that if Sessions were fired, his replacement could "reduce" Mueller's budget in such a way that it would grind his investigation almost to a halt. He also shared an article on Twitter that explored the process by which Trump could fire Mueller, said in a radio interview that "there is no criminal obstruction-of-justice charge to be had" against Trump, and defended the Trump campaign's decision to meet with Russian nationals to obtain dirt on Hillary Clinton—a meeting Mueller has been closely examining."You would always take the meeting," Whitaker told CNN last year. "You certainly want to have any advantage, any legal advantage you can." ... 

Whitaker most clearly expressed his view of the Mueller probe in an op-ed last year, writing that the inquiry had gone "too far," and arguing that the president's personal finances were a "red line" that the special counsel had come "dangerously close to crossing." (Mueller subpoenaed the Trump Organization earlier this year, but it is not clear which documents his team had requested. ) Whitaker added that "investigating Donald Trump's finances or his family's finances falls completely outside of the realm of his 2016 campaign and allegations that the campaign coordinated with the Russian government or anyone else. That goes beyond the scope of the appointment of the special counsel."

In reality, Deputy Attorney General Rod Rosenstein gave Mueller a fairly broad mandate when he appointed him following Sessions's recusal in May 2017: Mueller was free to investigate not only Russia's election interference and potential coordination between Trump's campaign and Moscow, but "any matters that arose or may arise directly from the investigation" as well. Mueller has also been farming out aspects of the investigation to prosecutors in New York and Washington, D.C., that don't fall squarely within his mandate.

Moreover, intelligence and law-enforcement experts—as well as sitting members of Congress—have pointed out that the question of whether Russia has any kind of financial leverage over the president is highly relevant to determining whether Trump could have been coerced into conspiring with Moscow's election interference in 2016. Indeed, several of the Justice Department and FBI officials who have investigated Trump's campaign—and who have been attacked by Trump directly—have extensive experience in probing money laundering and organized crime, particularly as they pertain to Russia.
Bertrand also points out Sessions now may be willing to cooperate with the special counsel given his role at the center of several questionable events of interest to Mueller, including his own conversations with Russian ambassador Sergey Kislyak and George Papadopoulos. 
What Sessions's Resignation Means for Robert Mueller (The Atlantic)
Clovis said to be 'cooperative witness' in Senate Russia probe (Politico)
Jeff Sessions forced out as attorney general (Washington Post)