Former Russian Ambassador to the United States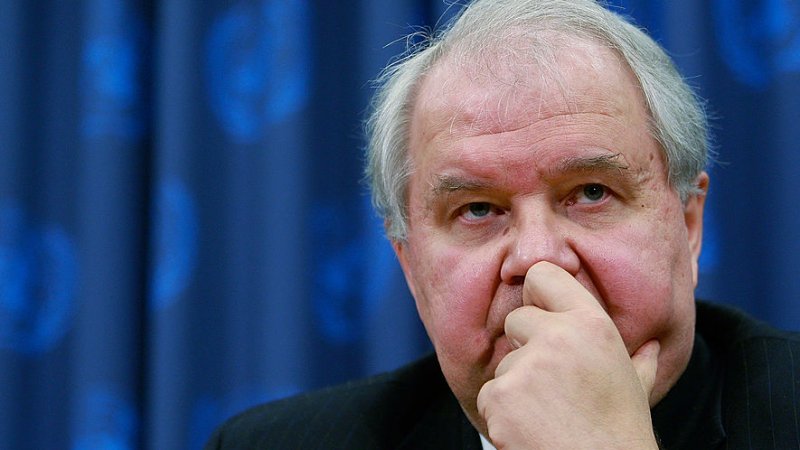 Sergey Kislyak was Russia's Ambassador to the United States from 2008 until late summer 2017 when Russia called him home. Even though US officials say Kislyak's planned departure predates any controversies, multiple investigations continue into contacts the envoy had with Trump aides during the 2016 campaign. Kislyak's expected replacement is Deputy Defense Minister Anatoly Antonov who currently is under EU sanctions for his role in deploying Russian troops to Ukraine in 2014.
Kislyak joined the Soviet Union's Foreign Ministry in 1977 and spent 1981 through 1989 in the United States, first with the Soviet delegation to the United Nations in New York and then with the Embassy of the Soviet Union in Washington, DC.  He returned to Moscow to serve at the Russian Ministry of Foreign Affairs until 1998 when he became the Russian ambassador to Belgium and then to NATO until 2003. From 2003 until 2008, Kislyak served as Russia's Deputy Minister of Foreign Affairs.
FBI investigators are taking a closer look at Kislyak's interactions with members of the Trump team during the 2016 election. In April 2016, Kislyak was backstage with Trump at DC's Mayflower Hotel as the then-candidate prepared to give a foreign policy speech written with input from Richard Burt, Putin's oil lobbyist. Three months later at the Republican National Convention in Cleveland, Kislyak spoke with then-Senator Jeff Sessions who was an official foreign policy advisor on the Trump campaign, as well as with Trump officials J.D. Gordon and Carter Page.
Kislyak and Sessions met again on September 8th in the Senator's DC office, allegedly with Sessions acting in his capacity as a member of the Armed Services Committee. However, The Washington Post contacted all 26 members of the Armed Services Committee, and of the 20 who responded, none, including Chairman John McCain, had met with the Russian Ambassador as part of his or her duties.
During his Judiciary Committee confirmation hearing in January 2017 to become Attorney General, Sessions failed to disclose both the July and September encounters with Kislyak when asked whether he or any other members of the Trump campaign had met with Russian government officials. On March 1, 2017, The Washington Post exposed the Sessions-Kislyak meetings, and the following day, Attorney General Sessions recused himself from all investigations concerning Russian interference in the 2016 election. More than four months later, President Trump started publically expressing his frustration with Sessions' decision in interviews and on Twitter.
Trump's former National Security Advisor Michael Flynn also had communication with Kislyak via text, phone, and in person before November 8th that continued throughout the transition. Flynn denied that he and Kislyak ever discussed President Obama's December 2016 sanctions against Russia for its interference in U.S. elections, and Vice President Mike Pence strongly defended Flynn on Face the Nation. However, U.S. officials discovered through routine surveillance of Russian diplomatic communication that Flynn had not been truthful about his conversations with Kislyak and was subject to blackmail. Flynn resigned on February 13, 2017.
Kislyak also had a meeting with Jared Kushner and Flynn at Trump Tower on December 1, 2016 during which, according to U.S. intelligence officials, Kushner proposed setting up a backchannel line of communication between the Trump transition team and the Kremlin that could not be monitored, even going so far as to suggest using Russian diplomatic facilities. Kushner denies this characterization of his interaction with Kislyak, and in a written statement released prior to his meeting with Senate Intelligence Committee investigators on July 24, 2017, says the discussion concerned finding a secure channel by which Russian "generals" could relay important Syria-related information to the incoming Trump administration. Kushner claims he turned down several additional Kislyak requests to meet again, but when the Ambassador asked him to meet with Sergei Gorkov, the head of Russia's state investment bank, he did so because Kislyak allegedly said Gorkov "was a banker and someone with a direct line to the Russian President who could give insight into how Putin was viewing the new administration and best ways to work together."
On May 10, 2017, at President Putin's request, President Trump welcomed Kislyak and Russian Foreign Minister Sergei Lavrov to the Oval Office. No American media was allowed to document the event. Meanwhile, the White House did grant access to one Russian state news agency photographer. The official White House statement about the meeting did not mention Kislyak was in attendance. About a week later, news broke that Trump had disparaged former FBI director James Comey to the Russians while in that Oval Office meeting, telling Lavrov and Kislyak, "I just fired the head of the F.B.I. He was crazy, a real nut job." Trump then reportedly added, "I faced great pressure because of Russia. That's taken off."