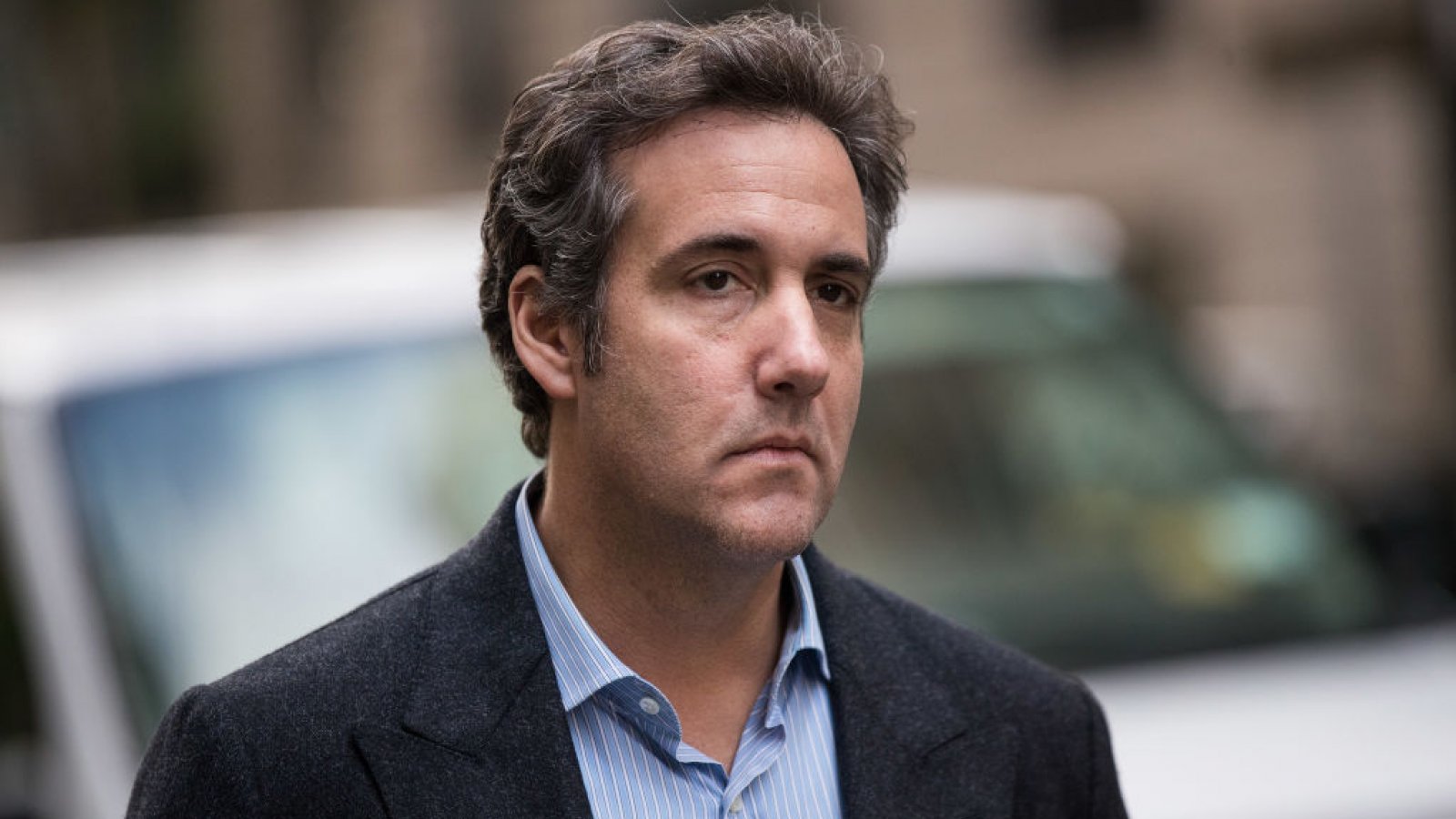 UPDATE 2: The Associated Press: 
In a plea bargain reached with federal prosecutors, Cohen, 51, pleaded guilty to eight counts in all, including tax evasion and making a false statement to a financial institution. He could get about four to five years in prison at sentencing Dec. 12.

In entering the plea, Cohen did not specifically name the two women or even Trump, recounting instead that he worked with an "unnamed candidate." But the amounts and the dates all lined up with the payments made to Daniels and Playboy Playmate Karen McDougal.

Cohen said the first payment was "in coordination and at the direction of a candidate for federal office," and the second payment was made "under direction of the same candidate."
The "candidate" Cohen referred to was not named in court but the criminal information identifies Cohen as the personal attorney "to Individual-1, who at that point had become the President of the United States."

The information states that Cohen made a contribution to "Individual-1" and "did so by making and causing to be made an expenditure, in cooperation, consultation, and concert with, and at the request and suggestion of one or more members of the campaign, to wit, COHEN made a $130,000 payment to Woman-2 to ensure that she not publicize damaging allegation before the 2016 presidential election and thereby influence that election."

"I participated in this conduct for the principal purpose" of influencing an election, Cohen said.

The president's current personal attorney, Rudy Giuliani, was quick to react.

"There is no allegation of any wrongdoing against the President in the government's charges against Mr. Cohen. It is clear that, as the prosecutor noted, Mr. Cohen's actions reflect a pattern of lies and dishonesty over a significant period of time," Giuliani said in a statement.

An attorney for Cohen, Lanny Davis, issued a statement as well.

"Michael Cohen took this step today so that his family can move on to the next chapter," he said.

(...)

"Today he stood up and testified under oath that Donald Trump directed him to commit a crime by making payments to two women for the principal purpose of influencing an election. If those payments were a crime for Michael Cohen, then why wouldn't they be a crime for Donald Trump?" Davis said.

(...)

The investigation into Cohen was referred to New York's Southern District by special counsel Robert Mueller, and if Cohen agrees to cooperate, the information he provides could benefit the investigation into Russian meddling in the 2016 election. But it remains unclear if he has committed to cooperate.

(...)

Cohen's name appeared repeatedly in the now infamous dossier of unverified allegations, which included salacious claims about Trump, prepared by former British intelligence agent Christopher Steele.
Senate Intelligence Committee Chairman Richard Burr (R-NC) released a statement in reaction to Cohen's plea, saying he hopes today's developments do not stop the president's longtime personal attorney from meeting with Senate investigators. 
"We have obviously followed today's reporting about Michael Cohen with great interest. He appears to be pleading guilty to very serious charges, however, we have no insight into any agreements he and his legal team have allegedly reached with prosecutors in New York.

"What we can say is that we recently reengaged with Mr. Cohen and his team following press reports that suggested he had advance knowledge of the June 2016 meeting between campaign officials and Russian lawyers at Trump Tower. Mr. Cohen had testified before the Committee that he was not aware of the meeting prior to its disclosure in the press last summer. As such, the Committee inquired of Mr. Cohen's legal team as to whether Mr. Cohen stood by his testimony. They responded that he did stand by his testimony.

"We hope that today's developments and Mr. Cohen's plea agreement will not preclude his appearance before our Committee as needed for our ongoing investigation."
Michael Cohen Pleads Guilty In Manhattan Federal Court To Eight Counts, Including Criminal Tax Evasion And Campaign Finance Violations (press release)
Download U.S. v. Michael Cohen Information
Ex-Trump lawyer Cohen pleads guilty in hush-money scheme (AP)
Senate Intel Committee Statement on Testimony of Michael Cohen 
READ: Ex-Trump lawyer Michael Cohen's plea deal (CNN)
Michael Cohen, Trump's former longtime personal attorney, pleads guilty to illegal campaign contributions 'at the direction of a candidate for federal office' (ABC News)
---
UPDATE: NY Daily News' Manhattan Federal Court reporter: 
 
---
Michael Cohen has turned himself into the FBI and is expected to plead guilty to criminal charges at 4pm ET.
Mr. Cohen surrendered to the F.B.I. at the bureau's Lower Manhattan offices at about 2 p.m. on Tuesday.
Mr. Cohen is expected to enter guilty pleas on violations of campaign-finance laws, tax charges and making a false statement in a credit application, according to other people familiar with the agreement. The deal doesn't require Mr. Cohen to cooperate with prosecutors in any case against Mr. Trump or his associates, the people said. 

Mr. Cohen is scheduled to appear in federal district court in Manhattan at 4 p.m. The U.S. Attorney's Office for the Southern District of New York announced a "proceeding of interest" followed by a news conference by Deputy U.S. Attorney Robert Khuzami. 

(...)

Earlier this month, the Journal reported Mr. Cohen's possible exposure to tax- and bank-fraud charges, stemming from his taxi-medallion business and personal finances, and possible campaign-finance violations related to two payments to women who alleged sexual encounters with Mr. Trump. Mr. Trump denies the encounters took place.

Mr. Cohen served for years as a top lawyer and self-described "fixer" of problems for Mr. Trump and the Trump family. If he agrees to cooperate with prosecutors, that could pose a significant setback for Mr. Trump and threaten to increase the president's exposure to legal trouble in special counsel Robert Mueller's investigation into whether his associates colluded with Russia in the 2016 presidential campaign.

The case in Manhattan was, in part, a referral from Mr. Mueller's office.
The FBI raided Cohen's home, hotel room, and office on April 9th.
Prosecutors obtained the search warrant after a federal magistrate judge found probable cause to believe Mr. Cohen's materials contained evidence of a crime.

Four days after the raid, lawyers for Mr. Cohen appeared in a public court hearing to stop federal prosecutors from reviewing the seized materials, claiming attorney-client privilege. Their motion set off a series of court hearings that each became their own media spectacle, including one attended by Ms. Clifford.

A federal judge ultimately appointed a "special master" to decide which records were protected by attorney-client privilege and which would be excluded from the investigation. After more than three months of review, it was determined that only a fraction of the seized records fell under such protection.
The plea agreement does not call for Mr. Cohen to cooperate with federal prosecutors in Manhattan, but it does not preclude him from providing information to the special counsel, Robert S. Mueller III, who is examining the Trump campaign's possible involvement in Russia's interference in the 2016 campaign.

If Mr. Cohen were to substantially assist the special counsel's investigation, Mr. Mueller could in the future seek a reduction in his sentence.
Michael Cohen to Plead Guilty to Criminal Charges (WSJ) *Note: All WSJ articles appear behind a paywall
Michael Cohen, Trump's Former Fixer, Reaches Plea Deal Over Payments to Women (NYT)