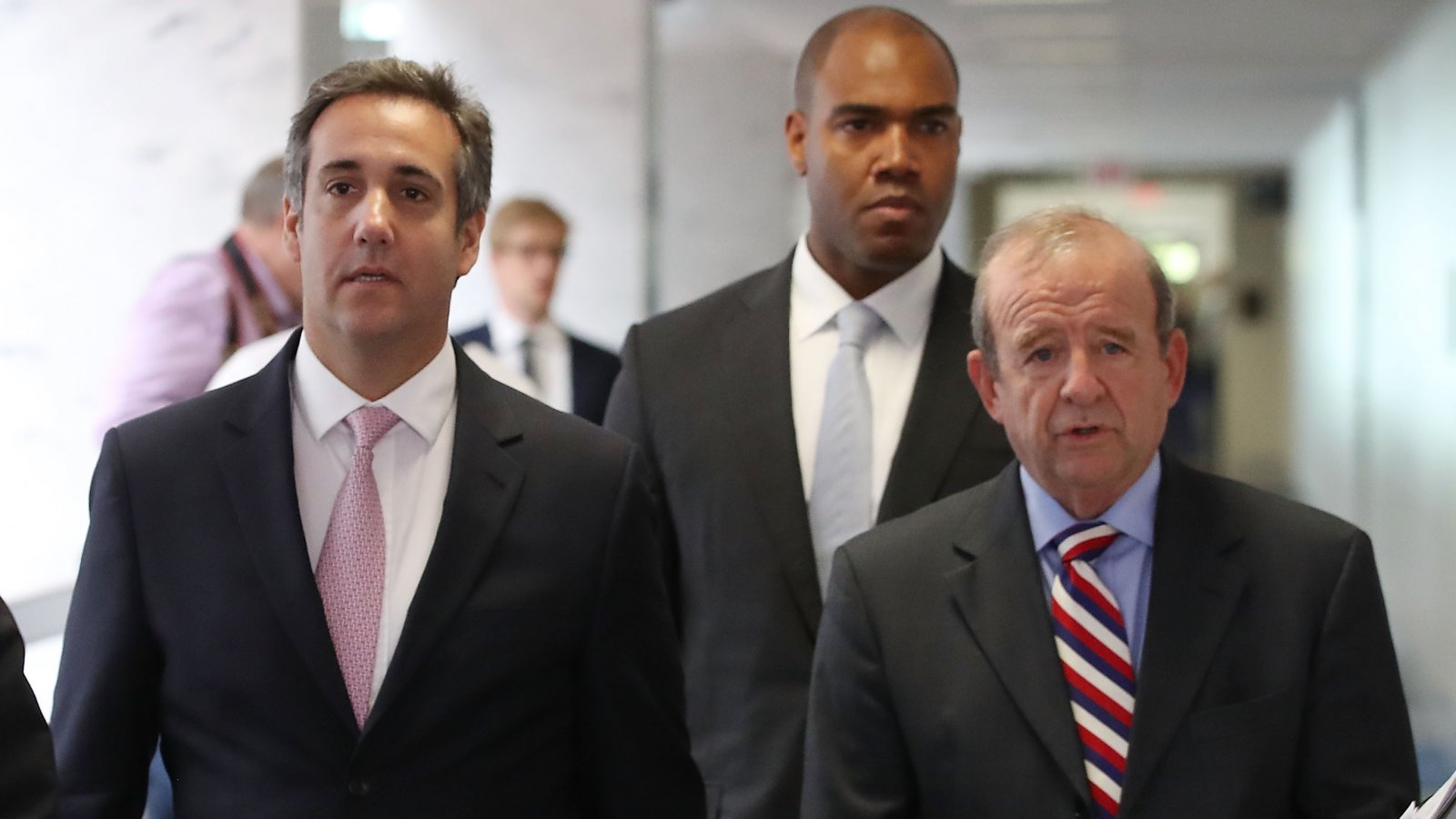 UPDATE 2: The Washington Post says investigators are looking at Michael Cohen for bank fraud, wire fraud, and campaign finance violations. 
FBI agents on Monday raided Cohen's Manhattan office, home and hotel room as part of the investigation, seizing records about Cohen's clients and personal finances. Among the records seized were those related to a 2016 payment Cohen made to adult-film star Stormy Daniels, who claims to have had a sexual encounter with Trump ...  

Investigators took Cohen's computer, phone and personal financial records as part of the search of his office at Rockefeller Center ... 

The broad seizure collected communications between Cohen and his clients — including some with Trump ...

(...)

On Monday evening, Trump called the raid of his attorney's office and home "a disgraceful situation."

"I have this witch hunt constantly going on," the president said.
Trump, speaking to reporters at the White House, defended Cohen as a "good man" and blasted the Special Counsel Robert Mueller's probe as "an attack on our country in a sense."

(...)

Trump also said it was a "terrible mistake" for Attorney General Jeff Sessions to recuse himself from the case. The referral to the U.S. attorney was approved by Deputy Attorney General Rod Rosenstein ... 

(...)

Mueller brought information involving Cohen to Rosenstein, who decided that the inquiry should be handled by federal prosecutors in New York ... 

Under Justice Department regulations, Mueller is required to consult with Rosenstein about how to handle evidence and matters that may fall outside his jurisdiction and authority. Mueller is investigating Russian meddling in the 2016 U.S. presidential campaign, whether anyone close to Trump engaged in collusion and whether Trump sought to obstruct justice.
The president did not respond to a question about whether Deputy Attorney General Rod Rosenstein – who would have approved special counsel Robert Mueller's referral to the separate federal law enforcement officials in New York who conducted the raid – will keep his job.

When asked if he is concerned about what federal investigators might find in the raid,the president responded sharply: "No."
Trump attorney Cohen is being investigated for possible bank fraud, campaign finance violations, according to a person familiar with the case (WaPo)
Trump Assails FBI Raid on His Lawyer's Office as 'Disgraceful' (Bloomberg Politics)
Trump calls raid on his personal lawyer's home and offices 'a disgrace' (ABC News)
---
UPDATE: CBS News: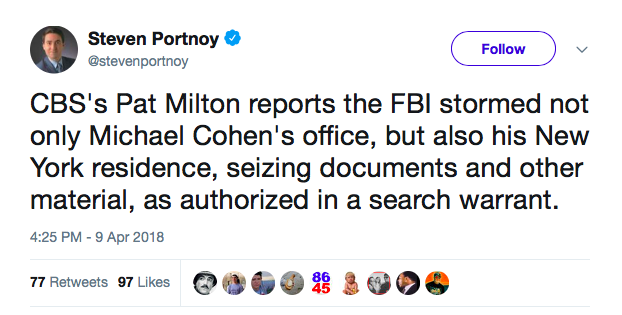 ---
NBC News reports the FBI raided Michael Cohen's office on Monday based on information gathered by Special Counsel Robert Mueller. 
Federal prosecutors in Manhattan obtained the search warrant after receiving a referral from the special counsel, Robert S. Mueller III, according to Mr. Cohen's lawyer, who called the search "completely inappropriate and unnecessary." The search does not appear to be directly related to Mr. Mueller's investigation, but likely resulted from information he had uncovered and gave to prosecutors in New York.

"Today the U.S. Attorney's Office for the Southern District of New York executed a series of search warrants and seized the privileged communications between my client, Michael Cohen, and his clients," said Stephen Ryan, his lawyer. "I have been advised by federal prosecutors that the New York action is, in part, a referral by the Office of Special Counsel, Robert Mueller."

(...)

The seized records include communications between Mr. Trump and Mr. Cohen, which would likely require a special team of agents to review because conversations between lawyers and clients are protected from scrutiny in most instances.
Full story: F.B.I. Raids Office of Trump's Longtime Lawyer Michael Cohen (NBC News)