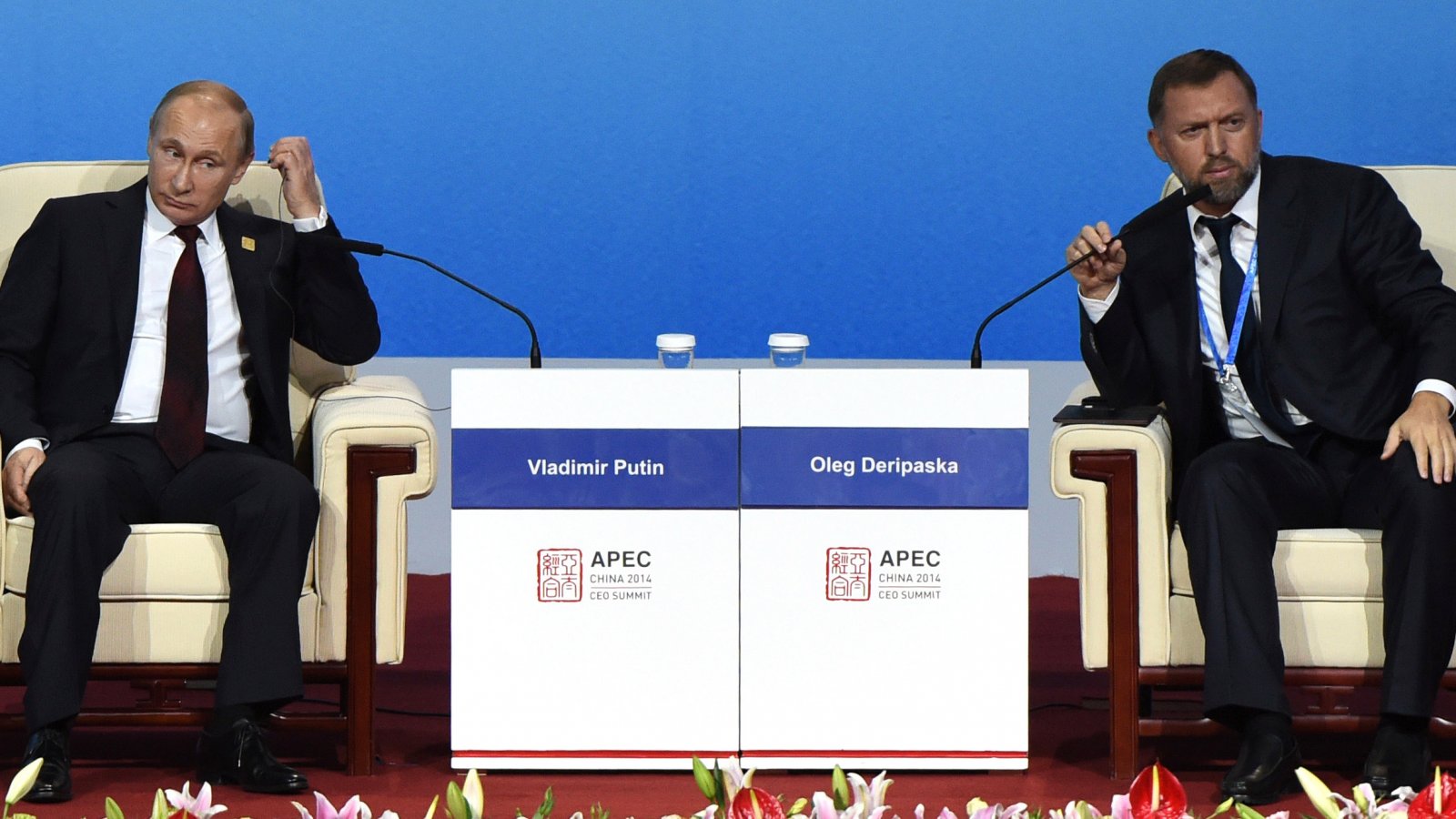 Last Monday, President Trump rejected new Syria-related sanctions on Russia.
On Friday, Treasury Secretary Steve Mnuchin met with the Russian Finance Minister on the sidelines of the IMF World Bank Annual Meetings. The official Treasury Department readout simply says Mnuchin and Anton Siluanov "discussed issues involving North Korea, Syria, and Ukraine." But Russian media – quoting the Russian Finance Ministry – reports the two men discussed sanctions. 
TASS: 
"On April 20, Russian Finance Minister Anton Siluanov met with US Secretary of the Treasury Steven Mnuchin on the sidelines of this year's Spring Meetings of the International Monetary Fund and World Bank Group. During the meeting, the issue of sanctions was discussed," the ministry said in a statement.
Today, the Treasury Department is easing up on sanctions issued earlier this month. 
Oleg Deripaska, the billionaire oligarch connected to both Vladimir Putin and Paul Manafort, is a major shareholder in Rusal, one of Russia's largest aluminum companies. The Trump administration sanctioned Deripaska and Rusal on April 6th. But workers for the company now are threatening revolt should Rusal close facilities to compensate for sanctions-related loss of revenue, and the administration is backtracking. 
Trapped by mortgages for apartments built on barren steppe under communism, residents of Sayanogorsk, one of a string of towns dominated by Rusal, have few options if a loss of customers for its aluminum leads the firm to cut jobs.

(...)

The Kremlin has said it is considering various ways to help Rusal after Washington blacklisted the company and its billionaire major shareholder Oleg Deripaska for suspected meddling in the 2016 U.S. election and other alleged "malign activity".

(...)

The government will have to step in "so that people don't start howling," said a welder who has worked at the plant in southern Siberia for more than six years. 

"There are lots of people here who are unhappy with the government, and with Putin too. If the plant starts cutting staff, people will revolt," he said, declining to be named for fear of losing his job. 

The scale of any support would have to be immense. According to one source with an understanding of Rusal's trading volumes, it is possible the company has lost access to buyers of more than 2 million tonnes of its aluminum. That is more than half of the 3.7 million tonnes it produces each year.
"RUSAL has felt the impact of U.S. sanctions because of its entanglement with Oleg Deripaska, but the U.S. government is not targeting the hardworking people who depend on RUSAL and its subsidiaries," Treasury Secretary Steven Mnuchin said in a statement.

"Given the impact on our partners and allies, we are issuing a general license extending the maintenance and wind-down period while we consider RUSAL's petition," he added.

In a document released today, OFAC said "the path for the United States to provide sanctions relief is through divestment and relinquishment of control of RUSAL by Oleg Deripaska."
Residents track Deripaska's comings and goings by his helicopter. This week it spent a day at the plant, factory workers said, while the businessman held a closed-door meeting with managers. 

One resident said it then flew to Deripaska's private estate in the countryside nearby. The so-called 'oligarch', who potentially lost $4.56 billion in just the first four trading days after U.S. sanctions were introduced, has also built a ski resort and hotel nearby, according to reports in Russian media.
Deripaska made headlines last year after it was reported that former Trump campaign manager Paul Manafort offered him "private briefings" on the 2016 election less than two weeks after Trump became the Republican nominee.

The Russian oligarch filed suit in January against Manafort and business partner Rick Gates over a failed business deal.
U.S. eases sanctions on aluminum firm tied to Russian oligarch (Politico)
'People will revolt': workers say Russia must save sanctions-hit Rusal (Reuters)
Readout from a Treasury Spokesperson on Secretary Mnuchin's Meeting with Russian Finance Minister Anton Siluanov (Treasury Department)
Russian, US finance chiefs meet in Washington to discuss sanctions (TASS)