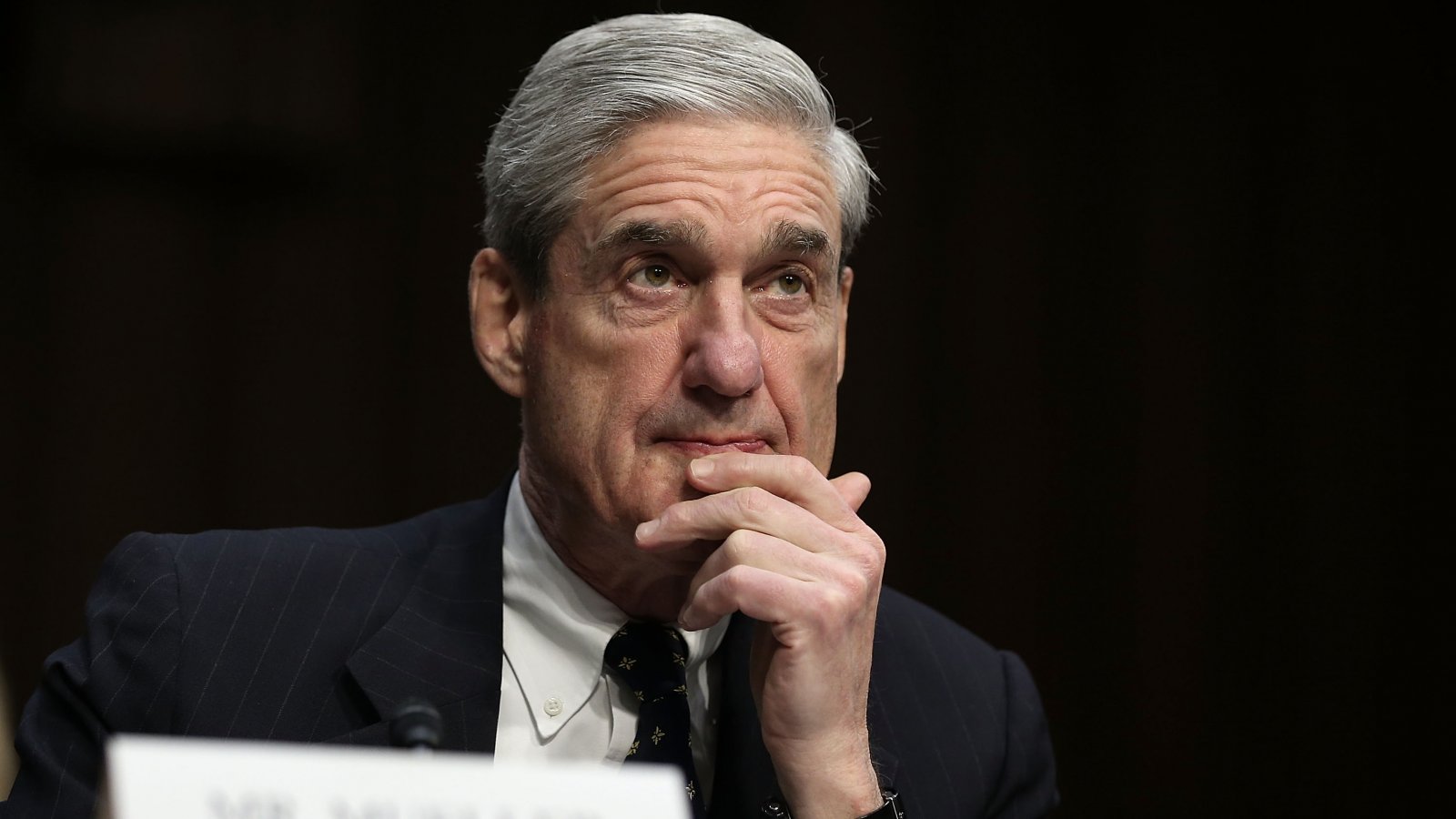 He's done.
The Justice Department announced around 5pm ET Friday that Special Counsel Robert Mueller has delivered his final Russia investigation report to Attorney General William Barr. 
NYT:
Only a handful of law enforcement officials have seen the report, a Justice Department spokeswoman, Kerri Kupec, said. She said a few members of Mr. Mueller's team would remain to close down the office. Mr. Mueller will not recommend any new charges be filed, a senior Justice Department official said.
The report was delivered to Deputy Attorney General Rod Rosenstein's office early Friday afternoon by a security officer from Mueller's office, Kupec said.

"Within a matter of minutes," Rosenstein sent it to Barr's office, she added.

White House deputy counsel Emmet Flood was notified of the development just after 4:30 p.m., Kupec said.

Rosenstein called Mueller Friday to thank him for his work, she added.

Barr's letter to congressional leaders was hand delivered to the House and Senate Judiciary committees around 5 p.m. by Assistant Attorney General for Legislative Affairs Stephen Boyd, according to Kupec.

The department emailed the notification to other committee chairs and ranking members, she added.
CNN:
Barr is now reviewing the findings, and has told lawmakers he could provide them with "the special counsel's principal conclusions as soon as this weekend."

A Justice Department official described the report as "comprehensive."
The attorney general wrote he would consult with Deputy Attorney General Rod J. Rosenstein and Mueller "to determine what other information from the report can be released to Congress and the public consistent with the law, including the Special Counsel regulations, and the Department's long-standing practices and policies."

Barr said there were no instances in the course of the investigation in which any of Mueller's decisions were vetoed by his superiors at the Justice Department.
Bloomberg News' Jennifer Jacobs posted a copy of Barr's letter to Senate and House Judiciary leadership:

NYT:
Mr. Barr will decide how much of the report to share with Congress and, by extension, the American public. The House voted unanimously in March on a nonbinding resolution to make public the report's findings, an indication of the deep support within both parties to air whatever evidence prosecutors uncovered.
"The investigation has identified 199 different criminal acts," Rep. Hakeem Jeffries, D-New York, noted during a recent House hearing. "So let's be clear: The investigation into Russia's attack on our democracy is not a witch hunt, it's not a fishing expedition, it's not a hoax, it's not a lynch mob. It's a national security imperative."
CNN:
White House press secretary Sarah Sanders said the White House has not seen Mueller's findings.

"The next steps are up to Attorney General Barr, and we look forward to the process taking its course. The White House has not received or been briefed on the Special Counsel's report," Sanders said in a statement.
Trump's personal lawyers in a joint statement kept their message concise. 

"We're pleased that the Office of Special Counsel has delivered its report to the Attorney General pursuant to the regulations. Attorney General Barr will determine the appropriate next steps," said the attorneys, Rudy Giuliani and Jay Sekulow.

In an interview shortly before 5 p.m., as he went to a downtown Washington, D.C., stationary store to repair a fountain pen, Giuliani told POLITICO he wasn't expecting to say much until the document itself came out. "Nothing really to comment on other than we're glad that they did it and let's hope they get it over with quick," he said.
It's unclear how detailed Mueller's report is, or when his conclusions may become public. According to Justice Department guidelines, his confidential report to the attorney general is supposed to explain "the prosecution or declination decisions reached by the special counsel."
Senate Minority Leader Chuck Schumer (D-NY) and House Speaker Nancy Pelosi (D-CA) have issued a joint statement:
"Now that Special Counsel Mueller has submitted his report to the Attorney General, it is imperative for Mr. Barr to make the full report public and provide its underlying documentation and findings to Congress.  Attorney General Barr must not give President Trump, his lawyers or his staff any 'sneak preview' of Special Counsel Mueller's findings or evidence, and the White House must not be allowed to interfere in decisions about what parts of those findings or evidence are made public.

"The Special Counsel's investigation focused on questions that go to the integrity of our democracy itself: whether foreign powers corruptly interfered in our elections, and whether unlawful means were used to hinder that investigation.  The American people have a right to the truth.  The watchword is transparency."
Senate Majority Leader Mitch McConnell's statement is as follows:
"I welcome the announcement that the Special Counsel has finally completed his investigation into Russia's efforts to interfere in the 2016 elections. Many Republicans have long believed that Russia poses a significant threat to American interests. I hope the Special Counsel's report will help inform and improve our efforts to protect our democracy.

"I am grateful we have an experienced and capable Attorney General in place to review the Special Counsel's report. Attorney General Barr now needs the time to do that.

"The Attorney General has said he intends to provide as much information as possible. As I have said previously, I sincerely hope he will do so as soon as he can, and with as much openness and transparency as possible."
Axios has a roundup of other lawmakers' reactions:
Some Democrats:

Some Republicans: 
So what's next? The Atlantic's Natasha Bertrand has a summary of what Mueller has found so far and what questions still linger:
While aspects of the central pieces of Mueller's investigation—conspiracy, obstruction of justice, and kompromat, the Russians' practice of collecting damaging information about public figures to blackmail them with—have been revealed publicly through indictments and press-friendly witnesses, the legitimacy of Trump's presidency, and Mueller's own legacy, still hang in the balance. Did Trump's campaign knowingly work with Russia to undermine Hillary Clinton and win the election? And how much was Mueller actually able to uncover?
Read her full summary here.
AG Barr's Letter to Judiciary Leadership (WaPo)
Mueller Delivers Report on Russia Investigation to Attorney General (NYT)
Special counsel Robert Mueller's highly anticipated report handed off to Department of Justice (ABC News)
Special counsel Robert Mueller ends investigation (CNN)
Mueller report sent to attorney general, signaling his Russia investigation has ended (WaPo)
What Mueller Leaves Behind (The Atlantic)
Pelosi, Schumer Joint Statement On Special Counsel Mueller's Report (press release)
McConnell Statement on Special Counsel Mueller's Announcement (press release)
What they're saying: Lawmakers call for Mueller report to be made public (Axios)
Robert Mueller's Russia investigation is officially complete (Politico)