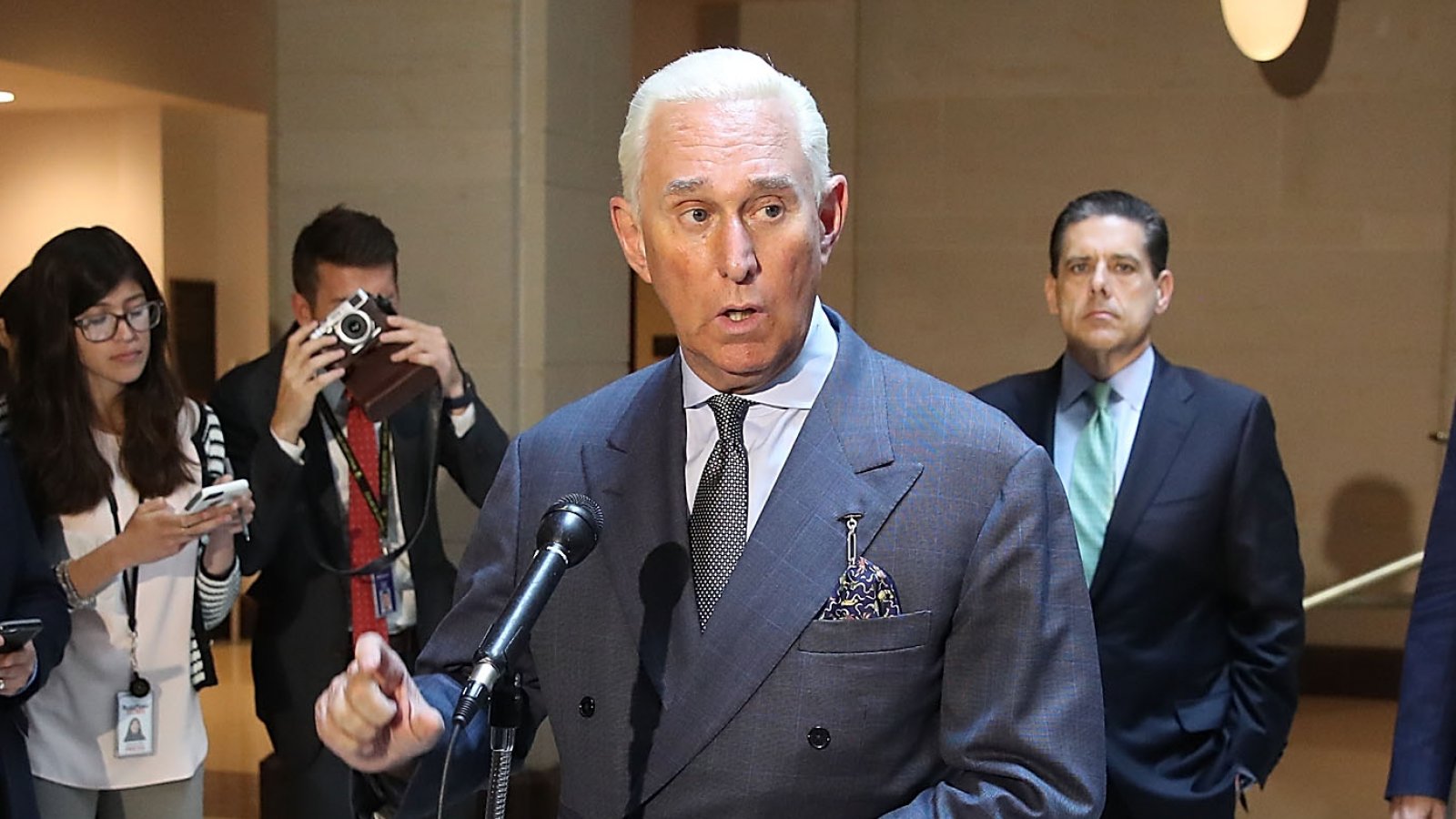 Roger Stone appears to be running out of chances with Judge Amy Berman Jackson, who issued an order Tuesday telling Stone the parameters of his gag order are very clear and he has no one but himself to blame for being under restrictions in the first place. 
CNBC:
On Feb. 21, Jackson barred Stone from criticizing Mueller's team or the case against him.

She imposed that gag order after Stone posted an image on Instagram showing Jackson's face next to a rifle scope crosshair.
Stone's latest stunt involves rereleasing a book critical of the Russia probe. 
CNN:
The same week she tightened the gag order, a publisher began selling revised copies of Stone's book from two years ago, with a new introduction that criticized the Mueller investigation.

Jackson hasn't yet found that Stone broke the court's orders, but her assessment of his book re-release on Tuesday condemns his recent actions and makes clear she is taking a long, hard look at whether Stone crossed the line again. 

If she finds that he did, he could be fined or lose his bail and be jailed through his trial. 
From the order:
[T]here is no question that the order prohibited and continues to prohibit the defendant from making any public statements, using any medium, concerning the investigation. It does not matter when the defendant may have first formulated the opinions expressed, or when he first put them into words: he may no longer share his views on these particular subjects with the world. ... ("You may continue to publish, to write, and to speak, and to be, as your lawyer put it, a voice, about any other matter of public interest[.] [N]ot this case, not the people in it. Not while you're under my supervision.").

The fact that the order exists at all is entirely the fault of the defendant; the Court did not impose any restrictions on his speech whatsoever until, as he put it, he "abused the latitude" the Court gave him ... and he used his public platform in an incendiary and threatening manner. And any costs or consequences that will be occasioned by the Court's reiteration of this clear requirement at this late date are also solely attributable to the defendant, since he deliberately waited until public sales were not only "imminent," but apparently, ongoing, to inform the Court of the publication effort that had been underway for weeks.
CNN:
Before Jackson takes additional action, she wants more information from Stone about the book. He has until next week to tell her how he has "come into compliance" with her orders. She also wants him to submit to the court all records of his interactions he had with his publisher and any public statements he made about the book's re-release.
From the order:
It is FURTHER ORDERED that defendant must file a status report on March 11, 2019 detailing his efforts to come into compliance with the Court's rulings.
CNN:
Jackson says Stone had no excuse for failing to tell her about the late-February book release when she considered restricting speech in the case. She also points out that Stone testified under oath that he wasn't being paid to speak about the case -- even though the book was published days before, clearly referenced the Mueller investigation and describes how Stone needs help paying his legal bills.

Finally, Jackson accuses Stone of alerting her to the book re-release as a way to get publicity for it.
Today's ruling did not make mention of Stone's Instagram story, which claimed he had been framed, but CNBC noticed Stone appears to have taken down two of his many websites. 
At least one of those deletions apparently occurred after CNBC reported Sunday that the Republican operative might have violated the terms of his judicial gag order by posting an image on his Instagram account asking "Who framed Roger Stone."

Another of Stone's websites, which itself was titled whoframedrogerstone.com, has also been deleted.

The possible gag-order violation was noted to the judge in his case Monday by Mueller, who has charged Stone in Washington, D.C., federal court with lying to Congress, witness tampering and other crimes.

(...)

In a court filing to Jackson on Monday, Mueller cited CNBC's story detailing the Instagram post by Stone but did not ask the judge to rule that Stone broke her gag order.

Another Stone website, stonecoldtruth.com, remained online Tuesday, as does stonedefensefund.com.

Both of those active sites contain links for visitors to donate to his legal defense, as does Stone's active Facebook page. However, Stone has significantly changed the language on one of his remaining legal fundraising sites, apparently to comply with the gag order.

(...)

When CNBC emailed Stone on Tuesday to ask about the two deleted sites, Stone replied with an email that had no words in it.
Judge blasts Roger Stone book release amid gag order (CNN)
Two of Roger Stone's websites deleted as Robert Mueller flags judge to possible gag-order violation by Trump friend (CNBC)