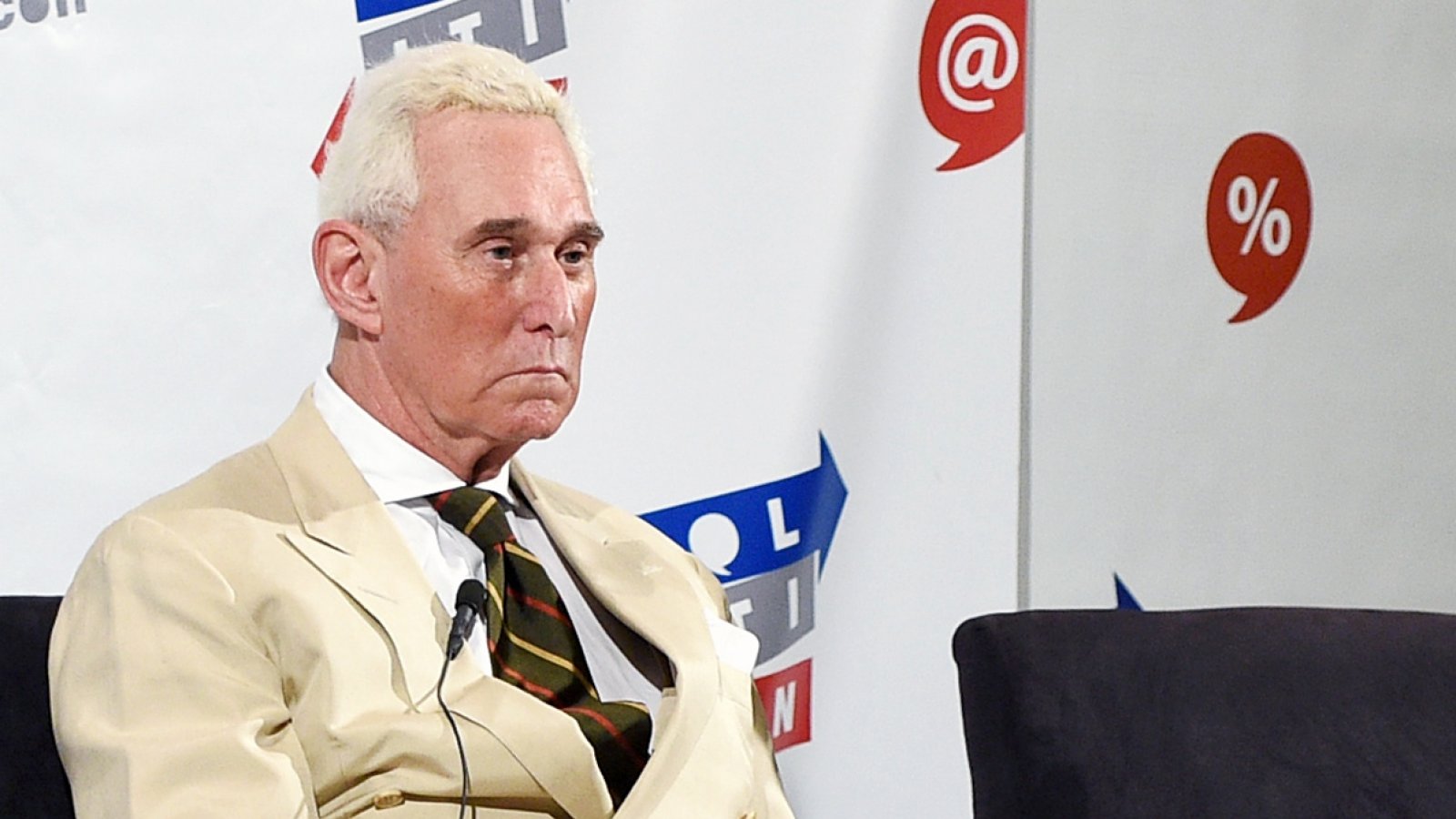 Roger Stone, who is barred from speaking publicly about his case, posted an Instagram story over the weekend with the words, "Who Framed Roger Stone?" above the url for his defense fund.  
The WSJ's video reporter captured the image:
 
CNBC:
Stone deleted the only image in that multi-image post that included "Who framed Roger Stone" language shortly after CNBC emailed his lawyer to ask about it.

Stone's post was put online less than 48 hours after the judge, Amy Berman Jackson, ordered lawyers for the admitted Republican "dirty trickster" to explain why they did not tell her earlier about the planned publication of a book by Stone that could violate her gag order on him.

(...)

In her gag order in U.S District Court in Washington, D.C., Jackson barred Stone from "making statements to the media or in public settings about the Special Counsel's investigation or this case or any of the participants in the investigation or the case."

The gag extends to "posts on Facebook, Twitter, Instagram or any other form of social media." If Stone violates the order, Jackson could order him jailed without bail until his trial.
Documents made public Monday show Stone's defense team arguing their client published his book prior to the February 21st gag order.  
In a redacted version of Stone's Friday filing that was made public on Monday, Stone's lawyers blacked out a description of the part of the book at issue, but prosecutors filed a notice with the court on Monday confirming that it's the new introduction that Stone wrote. Prosecutors also noted that Stone's book is available online — a copy of the introduction is accessible via the preview function on Amazon's website.

... Prosecutors also included a link to [the CNBC] news article about the [Instagram] post speculating whether it might violate Jackson's gag order.

(...)

On Monday, Stone's lawyers filed a response saying they didn't bring the book up at the Feb. 21 hearing because, at that point, there was no significant limit on Stone's public speech; the judge previously had only barred Stone from talking to the media outside the federal courthouse in Washington, DC. Addressing a book that Stone had already written and that he didn't have control over — the publisher was in charge of printing and distribution — wasn't relevant to the "forward-looking" focus of that hearing, his lawyers wrote.

Stone's Instagram post said the book would be in stores March, but it's been on sale since early February and has sold 96 copies as of Feb. 16, according to a declaration from Stone's publisher that Stone's lawyers also filed with the court.

(...)

In the book's new introduction, Stone addresses his testimony to the House Permanent Select Committee on Intelligence about the hack of the Democratic National Committee during the 2016 campaign and the subsequent release of stolen emails via WikiLeaks. Stone wrote in the introduction that he had asked for his testimony to be public "so that the American people could judge my veracity and see the partisan nature of my inquisitors and their trick questions, but this request was denied."

(...)

"All of this has been a most extraordinary personal nightmare as Mueller has investigated me for over two years, probing deeply into every aspect of my personal, private, family, business, and political life," Stone wrote. "According to CNN, Mueller has reviewed all of my personal financial records, and there is substantial evidence that all of my emails, text messages, and phone calls have been reviewed by the special counsel."

"Historians will one day write about these dark days in which America's ruling elite conspired to create the biggest witch hunt in our country's history," Stone wrote.
Trump friend Roger Stone suggests Robert Mueller 'framed' him in Instagram post that could violate gag order (CNBC)
Roger Stone Is In Trouble With His Judge Again, This Time Over A Book He Wrote Calling Mueller "Crooked" (BuzzFeed News)