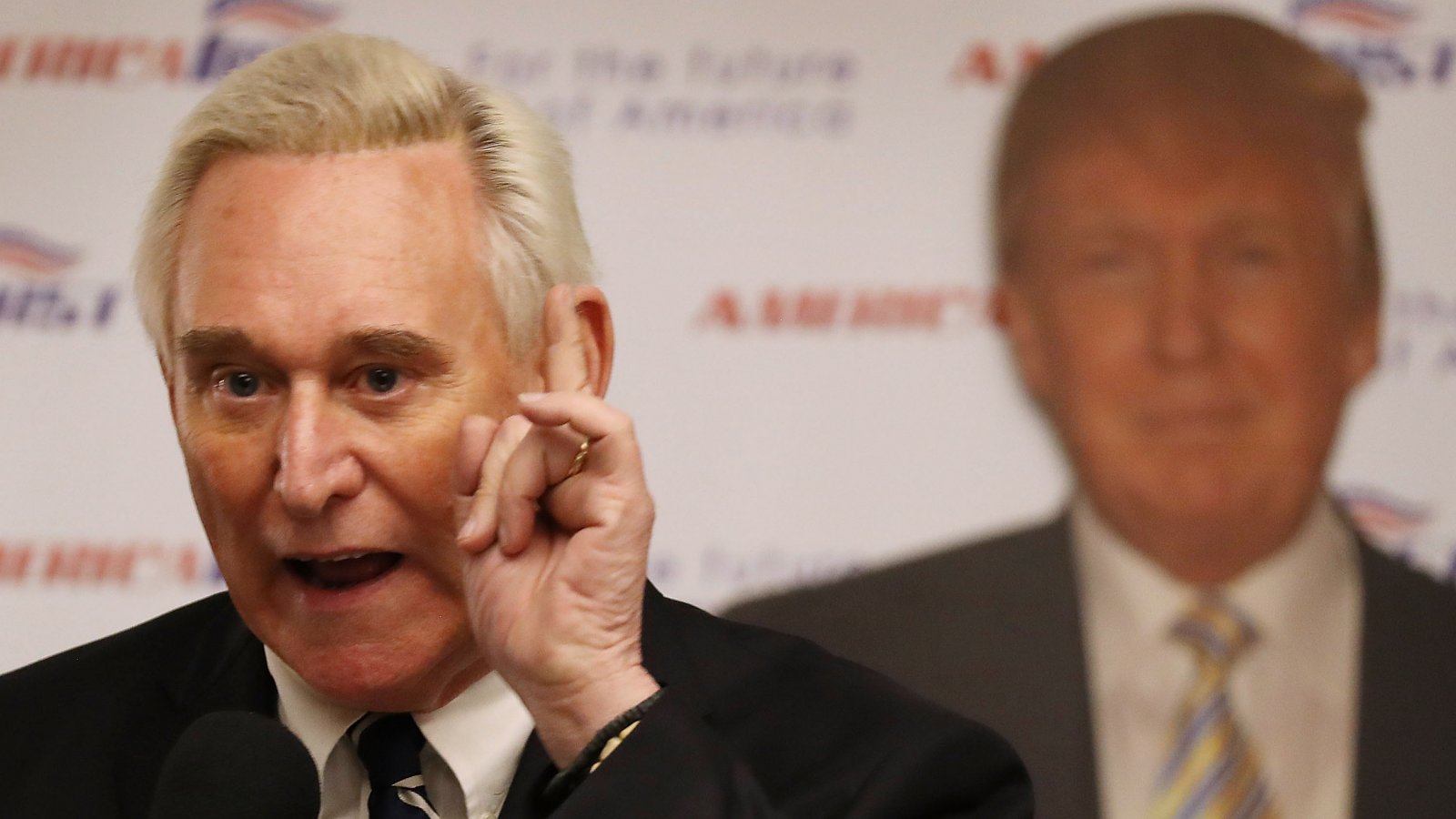 Judge Amy Berman Jackson is considering whether to stop Roger Stone from speaking publicly about his case before it goes to trial.
Stone's lawyers are arguing against a gag order, claiming he is not well-known enough to have his commentary sway potential jurors.
CNN: 
His speech shouldn't be restricted, because his lifeblood is writing and speaking about politics and fashion, his attorneys say. But while he's known in some circles, Stone is nowhere near as famous as Kim Kardashian, his attorneys argued. That lack of fame means he will be able to have an unbiased jury when his case goes to trial.

(...)

"An example of how limited and narrow his public presence is, is that Kim Kardashian has 59.5 million followers on Twitter," they added. Stone, meanwhile, has no Twitter presence (he was banned by the service in 2017). Stone has 39,000 followers on Instagram, while Kardashian has 126 million, his legal team argued.

Besides, Stone wants to be heard even while he's under indictment.

"Whether it is his pursuit of a posthumous pardon for Marcus Garvey, or the style of his clothes, or the state of the Nation, Roger Stone is a voice," his attorneys wrote.

Stone's attorneys' argument contrasts with what Stone has claimed about his case so far -- that it's "impossible" for him to have a fair trial in Washington, he wrote on Instagram.
Special Counsel Robert Mueller's team says Stone still can speak to the media, as long as it's not about anything connected to his case. 
"The order would be supported by a finding that there is a substantial likelihood that extrajudicial comments by trial participants will undermine a fair trail," the Mueller prosecution team wrote in a six-page memo that accompanied their proposed gag order.

To underscore what they're up against, Mueller's team included links to live television network interviews that Stone has done since his indictment in which he discussed "the merits of the charges, the nature of the evidence, the identity and credibility of trial witnesses and the motives of the prosecution."
Stone's lawyers also asked that his case be handed to a judge other than Jackson. 
CNN:
They requested that his criminal matter be randomly reassigned to another judge, because they say it was unfairly lumped together with a case that special counsel Robert Mueller brought against 12 Russian military intelligence agents for allegedly hacking the Democratic Party and Hillary Clinton presidential campaign during the 2016 election.

(...)

The DC District Court has special rules that govern related cases so that those with similar facts can be assigned to the same judge. Stone faces no charges in connection with the hack -- though he was mentioned anonymously in their indictment as communicating with the Russians. He is charged with lying about his attempts to reach WikiLeaks as it planned to publish documents stolen by the Russians in 2016.
Mueller's case against the 12 Russian military officials, while assigned to Jackson, hasn't moved since the indictment was unsealed last July. None of the defendants are in the U.S., and no one has entered a plea responding to the charges, which center around allegations that the Russian hackers stole and released Democratic documents after planting malicious computer codes in the networks of the Democratic National Committee and the Democratic Congressional Campaign Committee.

(...)

In an order issued later Friday, Jackson gave Mueller until Feb. 15 to respond to Stone's objection on who presides over the case.
CNN:
In one extra punch Friday, Stone's attorneys said prosecutors got his name wrong when they indicted him. The case is against Roger Jason Stone Jr.

"Roger Stone's middle name is Joseph, not Jason," the attorneys wrote to the judge.
Stone's response to the gag order
Stone's request to have the case reassigned
Roger Stone argues against gag order, says he's no Kim Kardashian (CNN)
Mueller: It's time to gag Roger Stone (Politico)