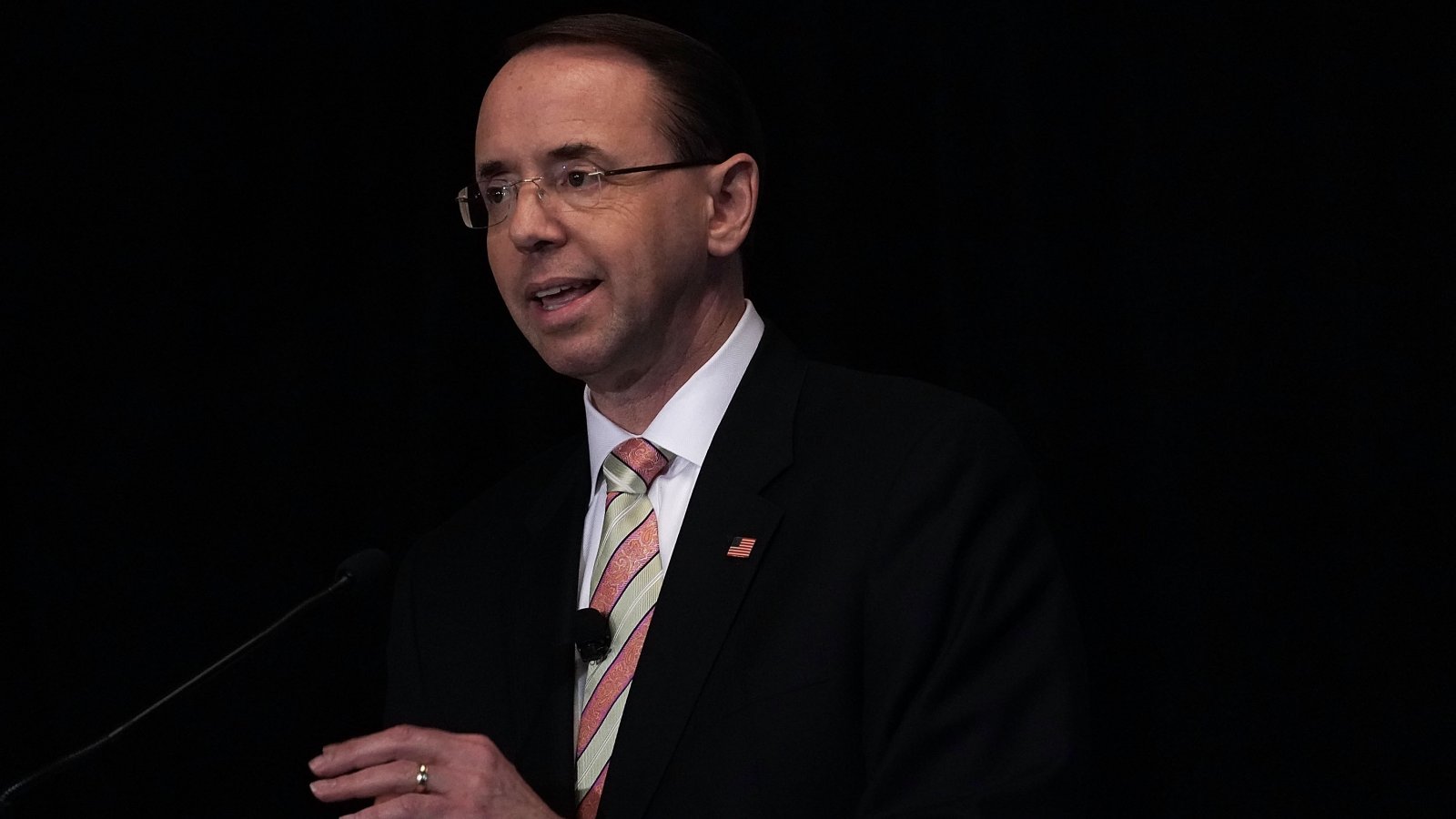 Deputy Attorney General Rod Rosenstein has canceled plans to meet with members of the joint House Judiciary and Oversight and Government Reform committees tomorrow because the two sides could not agree on how that conversation might take place. 
The House Judiciary and Oversight and Government Reform committees were expected to speak with Rosenstein behind closed doors Thursday as part of their probe into federal law enforcement's conduct during the investigations of Trump's campaign and former secretary of state Hillary Clinton's use of a private email server. But a dispute over the interview's terms prevented the committees and the Justice Department from reaching a deal to hold the meeting ... 

(...)

Rosenstein, who oversees the special counsel investigation of Russian interference in the 2016 presidential election, has been a target of Trump's Republican allies on the joint panel ... 

(...)

Lawmakers' interest in bringing Rosenstein back to Capitol Hill followed publication of a New York Times report indicating that the deputy attorney general had suggested secretly recording Trump and invoking a constitutional amendment to remove the president from office. Rosenstein has disputed the report ... 

(...)

The House Judiciary Committee has already subpoenaed memos drafted by former FBI deputy director Andrew McCabe that say Rosenstein suggested recording the president. Last week, both the Judiciary and Oversight and Government Reform committees interviewed former FBI general counsel James Baker, who told the panels that he understood Rosenstein's suggestion to be serious.

At a Senate hearing Wednesday, Sen. Ron Johnson (R-Wis.), chairman of the Homeland Security and Governmental Affairs Committee, pressed FBI Director Christopher A. Wray about turning over a copy of McCabe's memo detailing the May 16, 2017, meeting.
Wray told Senator Johnson he would have to get back to him on that. 
A second Washington Post report explains the contentious relationship between Rosenstein and McCabe that emerged after President Trump fired FBI Director James Comey and how this might have colored McCabe's documentation of encounters at that time. Each man thought the other should recuse himself from the Russia probe, and the Post details one confrontation in particular. 
McCabe was summoned to meet with Rosenstein and [Special Counsel Robert] Mueller to talk about his possible recusal, these people said. While the accounts of current and former officials familiar with the confrontation differ in some key respects, they agree on the basic terms of the discussion — Rosenstein wanted McCabe out of the Russia probe, and McCabe felt differently, arguing that it was the deputy attorney general, not the head of the FBI, who should step away from the case.

One person said part of Rosenstein's argument was that, because McCabe had years earlier worn a T-shirt supporting his wife's campaign for a state Senate seat in Virginia, he could not be considered objective in a political probe. A photo of McCabe wearing the shirt had been posted on social media during the campaign, leading some to later question whether he had violated rules that limit government employees' advocacy for political candidates.

(...)

One person familiar with the confrontation denied that the T-shirt or his wife's campaign was part of Rosenstein's rationale, saying the proposed recusal had to do with McCabe's recent public and private statements expressing deep loyalty to Comey and unhappiness over his firing.

McCabe argued that Rosenstein's authoring of a memo — which criticized Comey's handling of the earlier investigation of Hillary Clinton's use of a private email server when she was secretary of state — meant that the deputy attorney general was the one who should step away from the case.

"Andy was angry," said one person familiar with the matter, adding that McCabe slapped the document down in front of Rosenstein at one point in the discussion.

(...)

In the end, neither Rosenstein nor McCabe recused from the Russia investigation, and it was clear in that meeting and after that Mueller would have a great degree of independence and control over his investigation, including management of Justice Department prosecutors and FBI agents detailed to him ... 

The McCabe-Rosenstein relationship has only worsened with time. McCabe was fired earlier this year over what the Justice Department's inspector general said were falsehoods he told to internal FBI investigators. That matter is now the subject of a grand jury investigation.

(...)

The Rosenstein-McCabe relationship has come under renewed scrutiny as lawmakers have demanded answers about memos written by McCabe and his then-senior counsel, FBI lawyer Lisa Page, about the discussions on May 16, 2017, in which McCabe wrote that Rosenstein suggested recording the president and discussed the 25th Amendment.

Lawmakers had sought a private question-and-answer session with Rosenstein on the issue to be held Thursday ... The session was to follow closely on the heels of news reports that a top FBI lawyer, James Baker, had been told of Rosenstein's comments in real time and took them to be serious — though he was not present when they were made.
Rosenstein's interview with Trump's congressional allies postponed indefinitely (WaPo)
Rosenstein-McCabe feud dates back to angry standoff in front of Mueller (WaPo)