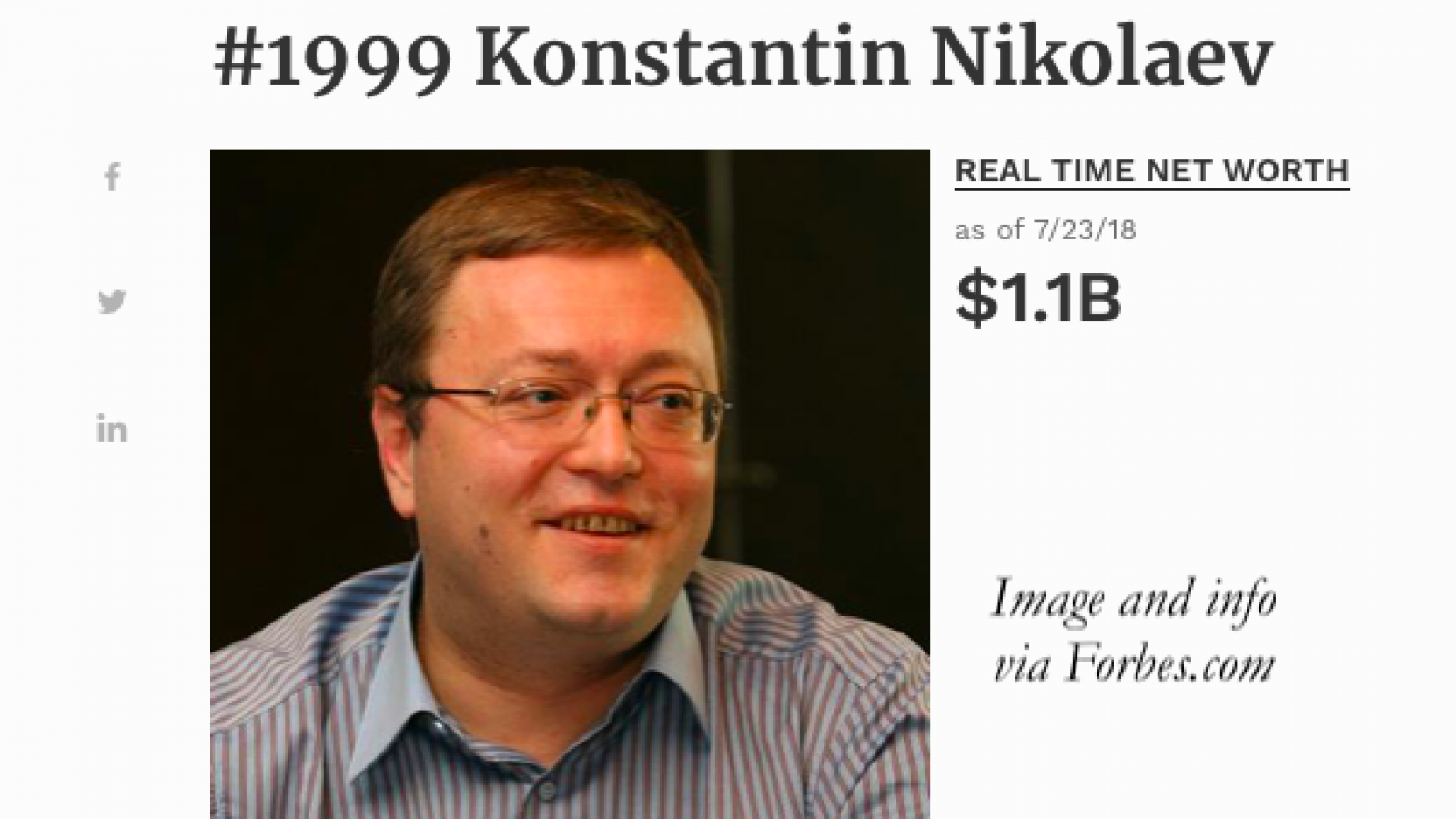 Suspected Russian agent Maria Butina received financial support from Russian billionaire Konstantin Nikolaev, according to a source familiar with Butina's congressional testimony. She also, according to Reuters, attended meetings in 2015 with senior officials at the U.S. Federal Reserve and Treasury Department, indicating she was more than just a graduate student as her lawyer asserts. 
WaPo:
Butina told the Senate Intelligence Committee in April that Nikolaev provided funding for a gun rights group she represented, according to the person. A spokesman for Nikolaev confirmed that he was in contact with her as she was launching the gun rights group in Russia between 2012 and 2014. He declined to confirm whether Nikolaev gave her financial support.

Nikolaev's fortune has been built largely through port and railroad investments in Russia. He also sits on the board of American Ethane, a Houston ethane company that was showcased by President Trump at an event in China last year, and is an investor in a Silicon Valley start-up.

Nikolaev has never met Trump, according to his spokesman.

However, Nikolaev's son Andrey, who is studying in the United States, volunteered in the 2016 campaign in support of Trump's candidacy, according a person familiar with his activities. Nikolaev was spotted at the Trump International Hotel in Washington during Trump's inauguration in January 2017, according to two people aware of his presence.

In a court filing last week, prosecutors said Butina's emails and chat logs are full of references to a billionaire as the "funder" of her activities. They wrote that the billionaire is a "known Russian businessman with deep ties to the Russian Presidential Administration."

Prosecutors did not identify Butina's funder by name but said he travels often to the United States and was listed by Forbes this year as having a net worth of $1.2 billion — which is the same as Nikolaev's current listing.

(...)

Prosecutors cited Butina's interactions with the Russian billionaire to argue she should not be allowed out of jail while awaiting trial. They argued that she has "ties to the Russian oligarchy" and knows wealthy men who could be in a position to offer her "safe harbor" if she decided to flee the United States.

(...)

Konstantin Nikolaev is a major investor in American Ethane and sits on the company's board.

The company was spotlighted by Trump during a visit to Beijing in November. 

(...)

It is unclear if Nikolaev also attended any official inaugural events, but he was seen at Trump's D.C. hotel, which served as hub of inauguration celebrations. His spokesman declined to comment on what he was doing there.

Also in town for the festivities: Butina, who made an appearance at one of the inaugural balls, according to a person aware of her attendance. Last week, prosecutors submitted as evidence a selfie she snapped in front of the Capitol during the swearing-in ceremony.
As for Butina's activities, Reuters reports exclusively that the suspected foreign agent visited the U.S. in 2015 and attended meetings alongside Russian government official Alexander Torshin. 
The meetings, revealed by several people familiar with the sessions and a report from a Washington think tank that arranged them, involved Stanley Fischer, Fed vice chairman at the time, and Nathan Sheets, then Treasury undersecretary for international affairs. 

Butina traveled to the United States in April 2015 with Alexander Torshin, then the Russian Central Bank deputy governor, and they took part in separate meetings with Fischer and Sheets to discuss U.S.-Russian economic relations during Democratic former President Barack Obama's administration. 

The two meetings, which have not been previously reported, reveal a wider circle of high-powered connections that Butina sought to cultivate with American political leaders and special interest groups. 

The meetings with Fischer and Sheets were arranged by the Center for the National Interest, a Washington foreign policy think tank that often advocates pro-Russia views.

The meetings were documented in a Center for the National Interest report seen by Reuters that outlined its Russia-related activities from 2013 to 2015. The report described the meetings as helping bring together "leading figures from the financial institutions of the United States and Russia."

(...)

Butina worked for Torshin, who has close ties to Russian President Vladimir Putin, and served as his interpreter at various Washington events.

(...)

The think tank hosted Trump at an event at the Mayflower Hotel in Washington in April 2016 also attended by Sergei Kislyak, Russia's ambassador to Washington at the time. Two months earlier, the group's Russian-born CEO, Dimitri Simes, traveled to Moscow, where he met with Putin and other Russian officials, the organization's records showed. 

The April visit came about a year after Obama's administration imposed sanctions on Russia for its annexation of Ukraine's Crimea region. 

During the same trip, Torshin and Butina also participated in a private "off the record" discussion at the center about the "Russian financial situation and its impact on Russian politics," according to people familiar with the meeting and the think tank's report. That event was moderated by the group's chairman emeritus, former AIG CEO Maurice "Hank" Greenberg, the report showed. Greenberg did not return calls for comment. 

Among the think tank's board members is David Keene, a former NRA president and former chairman of the American Conservative Union. Keene has previously been photographed alongside Butina at events. 

Paul Saunders, the think tank's executive director, said Torshin spoke at an April 2015 event about the Russian banking system and Butina attended. 

(...)

Randy Weber, a Republican U.S. congressman from Texas, also met with Torshin during the April trip, according to the think tank's documents. A spokeswoman for Weber did not respond to multiple calls or emails seeking comment.
Russian billionaire with U.S. investments backed alleged agent Maria Butina, according to a person familiar with her Senate testimony (WaPo)
Exclusive: Accused Russian agent Butina met with U.S. Treasury, Fed officials (Reuters)