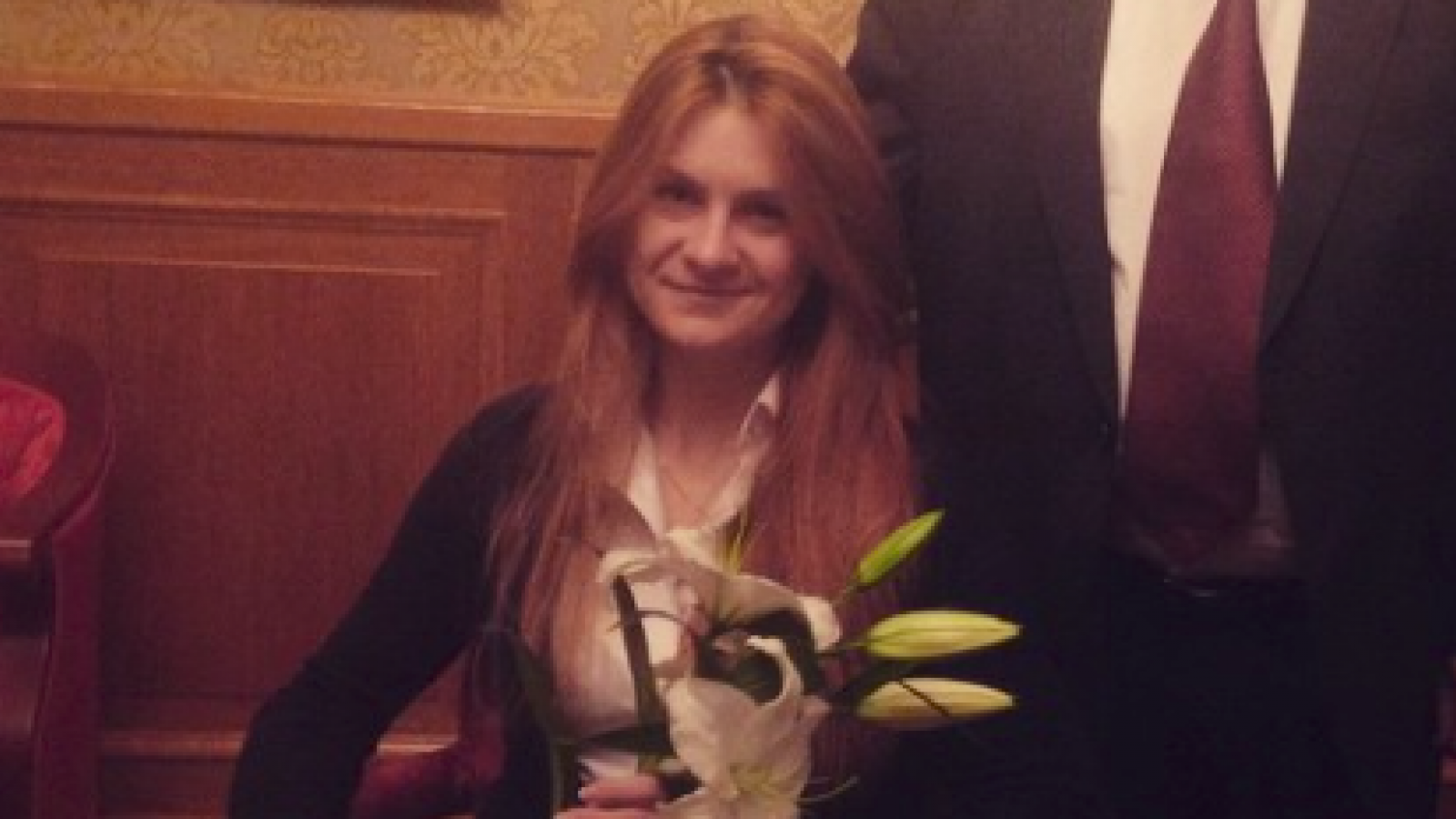 The Department of Justice has arrested 29-year-old Maria Butina, a Russian national living in Washington, DC, on charges of "conspiracy to act as an agent of the Russian Federation within the United States without prior notification to the Attorney General."
Butina works alongside Alexander Torshin, and the two have close ties to the National Rifle Association. Torshin is referred to as the RUSSIAN OFFICIAL in FBI Special Agent Kevin Helson's affidavit submitted for the criminal complaint against Butina. 
From the affidavit:

From the DOJ press release: 
Mariia Butina, 29, a Russian citizen residing in Washington D.C., was arrested on July 15, 2018, in Washington, D.C., and made her initial appearance this afternoon before Magistrate Judge Deborah A. Robinson in the U.S. District Court for the District of Columbia. She was ordered held pending a hearing set for July 18, 2018.

According to the affidavit in support of the complaint, from as early as 2015 and continuing through at least February 2017, Butina worked at the direction of a high-level official in the Russian government who was previously a member of the legislature of the Russian Federation and later became a top official at the Russian Central Bank.  This Russian official was sanctioned by the U.S. Department of the Treasury, Office of Foreign Assets Control in April 2018.

The court filings detail the Russian official's and Butina's efforts for Butina to act as an agent of Russia inside the United States by developing relationships with U.S. persons and infiltrating organizations having influence in American politics, for the purpose of advancing the interests of the Russian Federation. The filings also describe certain actions taken by Butina to further this effort during multiple visits from Russia and, later, when she entered and resided in the United States on a student visa. The filings allege that she undertook her activities without officially disclosing the fact that she was acting as an agent of Russian government, as required by law. 
Maria Butina, 29, was arrested Sunday in the District and made her first appearance in U.S. District Court before Magistrate Judge Deborah A. Robinson. Her attorney, Robert Neil Driscoll, told the judge that Butina's residence was searched by the FBI in April, that she had testified before the Senate Intelligence Committee in a closed session several months ago, and that "we have been offering to cooperate with the government the entire time."

Butina did not speak during the brief hearing other than to state her name. A detention hearing and preliminary hearing were set for Wednesday.
Russian National Charged in Conspiracy to Act as an Agent of the Russian Federation Within the United States (press release)
Maria Butina, Russian gun rights advocate, charged in U.S. with acting as Russian Federation agent (WaPo)
Related: Web of elite Russians met with NRA execs during 2016 campaign (McClatchy DC)
Background: The Rise of Russia's Gun Nuts (The New Republic 11/15/12)