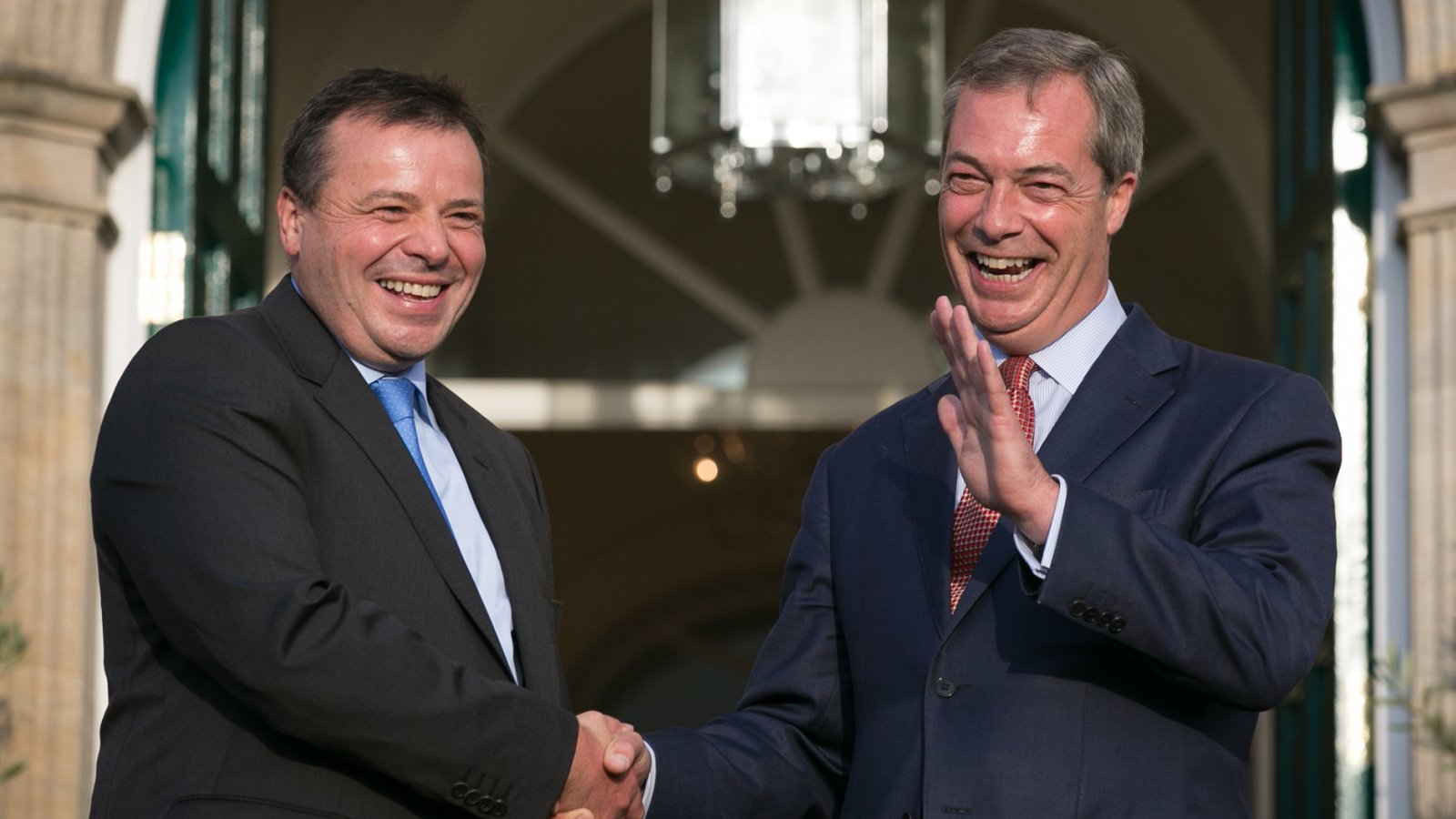 The Observer and The Sunday Times both have obtained emails showing Brexit's biggest financial backer, British businessman Arron Banks, had more contact with powerful Russians than previously known. Banks and his close friend Nigel Farage also supported Trump for president. 
VICE News has a good explainer detailing who Banks is, what the emails say, how the emails got to the press, and why Special Counsel Robert Mueller will be interested in this newly exposed information. 
Banks, who gave £12m of services to the campaign, becoming the biggest donor in UK history, has repeatedly denied any involvement with Russian officials, or that Russian money played any part in the Brexit campaign. The Observer has seen documents which a senior Tory MP says, if correct, raise urgent and troubling questions about his relationship with the Russian government.

The communications suggest:

• Multiple meetings between the leaders of Leave.EU and high-ranking Russian officials, from November 2015 to 2017.

• Two meetings in the week Leave.EU launched its official campaign.

• An introduction to a Russian businessman, by the Russian ambassador, the day after Leave.EU launched its campaign, who reportedly offered Banks a multibillion dollar opportunity to buy Russian goldmines.

• A trip to Moscow in February 2016 to meet key partners and financiers behind a gold project, including a Russian bank.

• Continued extensive contact in the run-up to the US election when Banks, his business partner and Leave.EU spokesman Andy Wigmore, and Nigel Farage campaigned in the US to support Donald Trump's candidacy.
In his book on the referendum, The Bad Boys of Brexit, and in another public statement, Banks claimed to have had only one meeting with Putin's envoy, Alexander Yakovenko, in September 2015.

But ... The Sunday Times can reveal the pair also had lunch with the ambassador three days after they and Nigel Farage, then acting Ukip leader, visited US president-elect Donald Trump in New York in November 2016. Last night, Banks admitted he handed over phone numbers for members of Trump's transition team to Russian officials.

Trump, whose campaign staff are under investigation by a special prosecutor over whether they colluded with Moscow, called this weekend for Russia to be readmitted to the G7 group of nations.

The leaked emails reveal an extensive web of links between the Leave.EU campaign, led by Farage, and Russian officials.
Banks also exchanged emails with the embassy and other Russian officials, including Alexander Udod, a diplomat who was subsequently expelled from the U.K. over the poisoning of Sergei Skripal and his daughter.

Yakovenko is already on the radar of special counsel Robert Mueller, who is investigating Russian interference in the U.S. presidential election, after he was was named in the indictment of ex-Trump campaign aide George Papadopoulos.

Banks, along with close friend and former Ukip leader Nigel Farage, was among the very first overseas political figures to meet Trump after his surprise victory in November 2016.

It also emerged over the weekend that Banks passed contact information for Trump's transition team to the Russians.
Mr Banks said any suggestions Leave.EU received financial help from Russia was "complete, absolute garbage". 

The businessman, who has agreed to appear before MPs on Tuesday, told Reuters he and other Brexit supporters were victims of a "political witch-hunt".

(...)

Mr Banks said he could not have profited from any business deals in Russia because he did not agree any and joked that if Russia had promised him any financial help, he was "still waiting for the cheque".

"This is just complete, absolute garbage - it is like the Salem witch hunt. They just keep on screaming 'witch', 'witch'," he told Reuters.

"The big picture is that they are in the full Remain swing - they are trying to discredit everyone involved in Brexit and it just continues apace."
Nigel Farage is already believed to be a "person of interest" to Mueller's team, and his links to Banks could excite some interest in the businessman by the special counsel, especially the relationship with Yakovenko.

One of Banks' meetings with Yakovenko took place on August 19, 2015 — the day Steve Bannon became Trump's campaign manager and just days before Banks, Wigmore and Farage traveled to Mississippi for a Trump rally, where Farage was introduced to the crowd as "Mr. Brexit."

The fact that Banks was in Trump Tower with Wigmore and Farage just days after Trump's surprise victory could also raise suspicion, especially given that Banks met with his Russian contacts on his return to the U.K. after that trip.
Everything you need to know about the bombshell report linking Russia to Brexit (VICE News) 
Leave.EU donor Arron Banks 'must explain Russia link' (BBC News)
Arron Banks 'met Russian officials multiple times before Brexit vote' (The Observer)
Revealed: Brexit backer Arron Banks's golden Kremlin connection (Sunday Times)