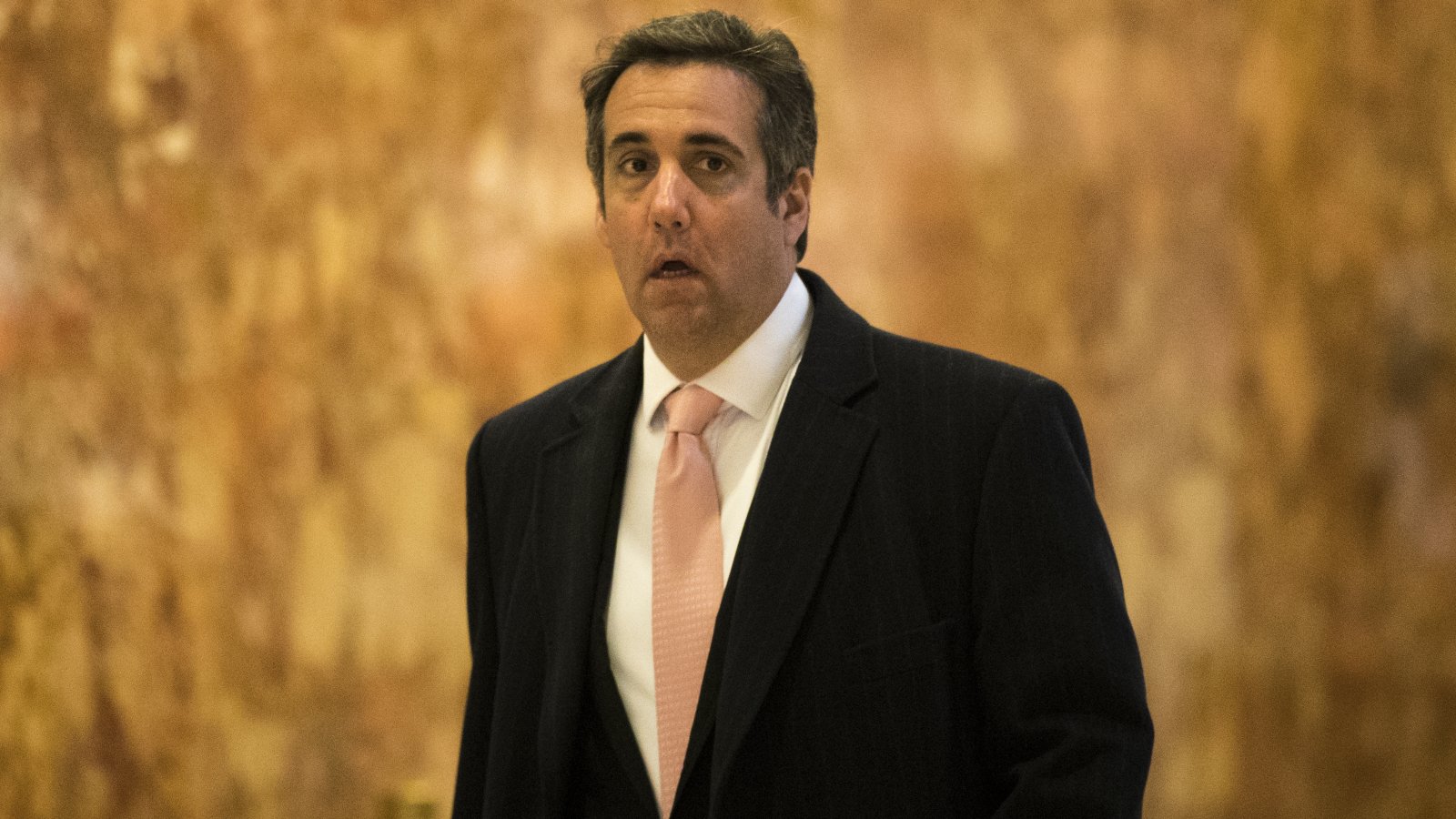 UPDATE 2: Details continue to emerge regarding President Trump's reaction Friday to the news that his personal attorney is under criminal investigation and what specifically prosecutors are are seeking and already have obtained. 
More from the NYT: 
President Trump's advisers have concluded that a wide-ranging corruption investigation into his personal lawyer poses a greater and more imminent threat to the president than even the special counsel's investigation ...

(...)

As his lawyers went to court in New York on Friday to try to block prosecutors from reading files that were seized from the personal lawyer, Michael D. Cohen, this week, Mr. Trump found himself increasingly isolated in mounting a response. He continued to struggle to hire a new criminal lawyer, and some of his own aides were reluctant to advise him about a response for fear of being dragged into a criminal investigation themselves.

(...)

In addition to searching his home, office and hotel room, F.B.I. agents seized material from Mr. Cohen's cellphones, tablet, laptop and safe deposit box, according to people briefed on the warrants.

(...)

Mr. Cohen has publicly declared that he would defend the president to the end, but court documents show that prosecutors are building a significant case that could put pressure on him to cooperate and tell investigators what he knows.

(...)

Although [Trump's] lawyers had projected confidence in their dealings with the special counsel, Robert S. Mueller III, they were caught flat-footed by the New York raids.

(...)

For more than a decade, Mr. Trump has unleashed Mr. Cohen on his foes — investigative journalists, business rivals and potential litigants. And the New York search warrant makes clear that the authorities are interested in his unofficial role in the campaign.

Prosecutors demanded all communication with the campaign — and in particular two advisers, Corey Lewandowski and Hope Hicks, according to two people briefed on the warrants.

Prosecutors also seized recordings of conversations that Mr. Cohen had secretly made, but he told people in recent days that he did not tape his conversations with Mr. Trump ... 
Read more: Trump Sees Inquiry Into Cohen as Greater Threat Than Mueller (NYT)
---
UPDATE: The New York Times: 
President Trump phoned his longtime confidant, Michael D. Cohen, to "check in" on Friday as lawyers for the two men went to court to block the Justice Department from reading seized documents related to Mr. Cohen's decade of work for Mr. Trump, according to two people familiar with the call.

It is not clear what else they discussed in a call that came days after a series of F.B.I. raids. Depending on what was said, the call could be problematic for both men, as defense lawyers often advise their clients not to talk to each other during investigations. Mr. Trump and Mr. Cohen still were trying to determine what exactly was seized.

(...)

Searching a law office is one of the most sensitive — and most heavily reviewed — activities the Justice Department conducts. It is rare to seek documents from lawyers in any case, but doing so by search rather than subpoena is unusually aggressive and is typically reserved for cases when prosecutors believe that the lawyer would conceal or destroy evidence if asked for it.
Trump Called Michael Cohen as Their Lawyers Went to Court Over Seized Trump Documents (NYT)
---
A document filed by federal prosecutors in the Southern District Court of New York Friday confirms President Trump's personal attorney, Michael Cohen, is under criminal investigation. Lawyers for Cohen are asking the court to give their client a  temporary restraining order and access to materials FBI agents seized in a raid on his office, home, and hotel room Monday. 
A hearing Friday in Manhattan federal court was put on hold until Monday after an attorney for Trump intervened and requested additional time.

"He as an acute interest in these proceedings," said Joanna Hendon, an attorney for the president who said she was hired Wednesday night.

Hendon noted the "exceptional nature" of her client and expressed concern about the prosecutors' internal "taint team" that separates evidence that is privileged from evidence that is available for prosecutors to view.

(...)

Thomas McKay, one of the prosecutors handling the case, said the president's attorney-client privileges are no different than anyone else's. He accused the president and Cohen of delay tactics but promised prosecutors would not view any of the seized material until the judge makes her ruling following the hearing on Monday.
CNN:
The Justice Department is asking for a so-called taint team to vet the material seized in the raids Monday, as is standard process. Cohen's lawyer is asking for the lawyers themselves to review the material or a "special master" to decide what is relevant to the case, and Hendon is concerned about a taint team or however the material is handled.
Prosecutors filed a 23-page motion arguing against these requests which offers a lot of new information about the government's case against Cohen and his misrepresentations so far. 
On April 9, 2018, agents from the New York field office of the Federal Bureau of Investigation ("FBI") executed search warrants for Michael Cohen's residence, hotel room, office, safety deposit box, and electronic devices. The searches were authorized by a federal magistrate judge, who had found probable cause to believe that the premises and devices searched contained evidence, fruits, and instrumentalities of conduct for which Cohen is under criminal investigation, namely [redacted]

(...)

Here, Cohen is not a criminal defense attorney, has no cases with the USAO-SDNY, and is being investigated for criminal conduct that largely centers on his personal business dealings. Based on information gathered in the investigation to date, the USAO-SDNY and FBI have reason to believe that Cohen has exceedingly few clients and a low volume of potentially privileged communications.

Moreover, although Cohen's claims are founded on his expressed concern that attorney- client privilege will be undermined, he nevertheless asks for far broader relief: He asks to also be the first to make the determination of whether a document is responsive to the search warrant. That request for relief, which bears no relation to the claimed justification, belies the true intent of his motion: To delay the case and deprive the USAO-SDNY of evidence to which it is entitled.

(...)

But there can be no dispute that attorneys, like anyone else, may be criminally investigated for their conduct, and that law enforcement officials may search an attorney's law office – or other premises – "pursuant to a valid warrant that is supported by probable cause that an attorney has been engaging in criminal activity and that the law offices in question contain evidence of this suspected wrongdoing."

(...)

A federal magistrate judge found that there was probable cause to believe that Cohen's premises and devices contained evidence, fruits and instrumentalities that specified federal crimes were committed. Despite Cohen's conclusory claims to the contrary, there is nothing inappropriate about the execution of these warrants.
A footnote also makes clear while Special Counsel Robert Mueller's office referred information to the Southern District Court of New York, the two cases are separate.
Although Cohen accurately states that the Special Counsel's Office ("SCO") referred this investigation to the USAO-SDNY, the investigation has proceeded independent from the SCO's investigation. 
The government draws a distinction between Cohen's being a lawyer and the other work he does to earn money, the latter of which has nothing to do with the former. In other words, Cohen does not enjoy attorney-client privilege in all communications just because he is an attorney, but the government still is taking all necessary steps and using a designated filter team to sort out what is and isn't covered by those protections.
Although Cohen is an attorney, he also has several other business interests and sources of income. The searches are the result of a months-long investigation into Cohen, and seek evidence of crimes, many of which have nothing to do with his work as an attorney, but rather relate to Cohen's own business dealings. As set forth below, unlike a search of a traditional law office, the information gathered thus far in the investigation suggests that the overwhelming majority of evidence seized during the searches will not be privileged material, but rather will relate to Cohen's business dealings. 

Nevertheless, because Cohen holds himself out as a practicing attorney, each of the search warrants contains the following provision:

Additionally, review of the items described in this Attachment shall be conducted pursuant to established procedures designed to collect evidence in a manner reasonably designed to protect any attorney-client or other applicable privilege. When appropriate, the procedures shall include use of a designated "filter team," separate and apart from the investigative team, in order to address potential privileges.
The government document says contrary to what Cohen now claims in his motion, he only has one client – Donald Trump. And the relationship he had with the law firm out of which he was operating was a strategic alliance and not one that made Cohen a member of that firm or would allow him to use that alliance as reason for extended attorney-client privileges.
Cohen claims that the materials seized include "thousands of privileged documents and communications related to numerous clients of Mr. Cohen, as well as Mr. Cohen's privileged communications with his own attorneys." (Br. 2). Although the USAO-SDNY and FBI have not yet reviewed the seized materials, there is considerable reason to doubt that assertion. As an initial matter, as set forth above, the USAO-SDNY's investigation relates in significant part to Cohen's personal business dealings and finances. Moreover, it is neither apparent (i) that Cohen, in his capacity as an attorney, has many, or any, attorney-client relationships other than with President Donald Trump (indeed, he does not specifically identify any in his motion and thus far has refused to identify any to the USAO-SDNY), nor (ii) that the seized communications will include a significant volume of communications with that one identified client. This is so for several reasons.

First, Cohen's claim that he has confidential communications with multiple clients appears to be exaggerated. For example, Cohen has told at least one witness that he has only client – President Trump.

(...)

Cohen was not an employee or partner of the law firm and, according to the law firm's representative, maintained complete independence from the firm. To be sure, it is possible that Cohen was copied on certain attorney-client privileged communications relating to clients of the firm. But to the extent such documents exist, it is likely – given the relatively short duration of the Agreement, the limited number of clients involved, and the utterly segregated nature of Cohen's relationship with the firm, both electronically and otherwise – that the number of such communications is small.
In addition, the government notes, because of the way Trump has spoken about the Stormy Daniels matter publicly, any communication between Cohen and Trump on this specific matter is not subject to attorney-client privilege. 
And there is reason to doubt that even communications with his only publicly identified client regarding payments to Stephanie Clifford, who is also known as Stormy Daniels, would be protected by attorney-client privilege. Among other things, President Trump has publicly denied knowing that Cohen paid Clifford, and suggested to reporters that they had to "ask Michael" about the payment. See Kevin Liptak, Trump Says He Didn't Know About Stormy Daniels Payment, CNN.com (Apr. 6, 2018), https://www.cnn.com/2018/04/05/politics/donald-trump- stormy-daniels/index.html.
The document reveals the government - via covert warrants - already has gone through multiple Cohen email accounts.  
Fourth, the USAO-SDNY has specific reason to doubt that the seized materials will include the volume and nature of attorney-client communications that Cohen claims. This is because the USAO-SDNY has already obtained search warrants – covert until this point – on multiple different email accounts maintained by Cohen, and has conducted a privilege review of the materials obtained pursuant to those warrants. The results of that review, as resported by the USAO's Filter Team, indicate that Cohen is in fact performing little to no legal work, and thatzero emails were exchanged with President Trump.
 The government document also knocks down Cohen's claim its search was too broad. 
Cohen briefly suggests that the seizure of materials from his premises was overbroad ... Cohen claims that the seized materials contain privileged documents relating to communications with President Trump and other clients. That suggestion ... is undermined by the fact that Cohen apparently rarely emailed with President Trump, and has identified no other clients with whom he has an attorney-client relationship. In fact, when questioned about this very issues, Cohen's counsel declined to identify Cohen's other clients, and instead chose to file this motion. Similarly, as noted above, Cohen exaggerates the extent to which he had an attorney-client relationship with the law firm described above.

(...)

... Cohen's claims of over-seizure are overblown. And to the extent records covered by the attorney-client privilege were seized during the searches, they will be reviewed, as described herein, pursuant to a rigorous filter protocol.
THE GOVERNMENT'S OPPOSITION TO MICHAEL COHEN'S MOTION FOR A TEMPORARY RESTRAINING ORDER (pdf)
Trump lawyer Michael Cohen under criminal investigation (ABC News)