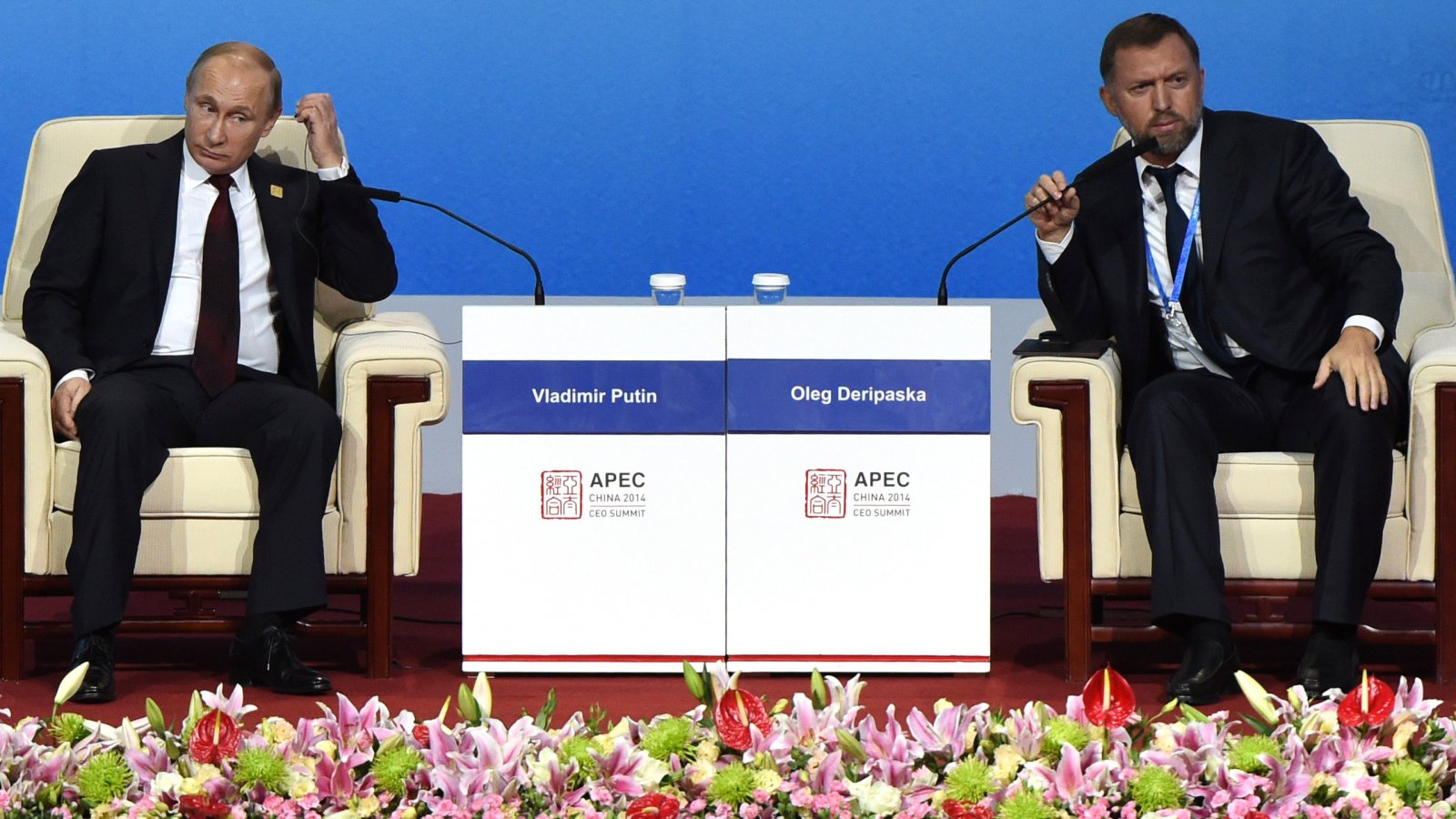 The U.S. Treasury Department finally has issued long-awaited sanctions on seven Russian oligarchs, 12 companies associated with them, a "state-owned weapons trading company," and 17 government officials.
NYT:
The sanctions are designed to penalize some of Russia's richest industrialists, who are seen in the West as enriching themselves from Mr. Putin's increasingly authoritarian administration.

(...)

"The Russian government operates for the disproportionate benefit of oligarchs and government elites," said Treasury Secretary Steven Mnuchin. "Russian oligarchs and elites who profit from this corrupt system will no longer be insulated from the consequences of their government's destabilizing activities."
Included on the list are Oleg Deripaska, who has close ties to Paul Manafort; Alexander Torshin, who is closely connected to the NRA; and Viktor Vekselberg, a tycoon and Putin ally who was in Washington, DC for Trump's inauguration. 
NYT:
Also sanctioned was Suleiman Kerimov — a financier close to Mr. Putin; Vladimir Bogdanov, a top executive of Surgutneftegaz, a Russian oil company; Igor Rotenberg, another oil executive; Kirill Shamalov, an energy executive who married Mr. Putin's daughter, Katerina Tikhonova; Andrei Skoch, a deputy of the Russian Federation's State Duma; and Viktor Vekselberg, chairman of the Renova Group, a Russian investment firm.
Meet the 7 Russian Oligarchs Hit by the New U.S. Sanctions (NYT)
NYT:
The sanctions have been under consideration for some time and were not imposed solely because of the recent poisoning in England but rather "in response to the totality of the Russian government's ongoing and increasingly brazen pattern of malign activity around the world," a senior administration official said in a conference call with reporters, adding: "But most importantly this is in response to Russia's continuing attack to subvert Western democracies."

(...)

Friday's penalties could be particularly painful for Mr. Putin's regime. While Russia's oligarchs make nearly all of their money in Russia, many stash their families, lovers and much of their wealth in places like London, New York and Miami.
WaPo:
Senior administration officials on Friday stressed that the sanctions were not aimed at the Russian people. Instead, they were meant to cripple the finances of those elites who have "disproportionately benefited from the bad decisions made by the Kremlin on their behalf," according to one of the officials.

The officials declined to elaborate on why Putin himself was not directly targeted by the sanctions, but they emphasized that several in the Russian leader's inner circle were being sanctioned.
The sanctions are likely to give a downward push to already deteriorating U.S.-Russia relations, but at the same time, President Trump continues to act as if he is aiding Russian interests on some fronts. 
WaPo:
On Friday, Konstantin Kosachev, chairman of the foreign relations committee in the upper house of the Russian parliament, told the Interfax news agency that the sanctions are an "unsubstantiated, unfriendly and senseless step."

Russian opposition figure Alexei Navalny, meanwhile, tweeted that he is "looking at the new US sanctions list of Russian officials and oligarchs and thinking back of the day when they had champagne celebrating Trump's victory. I am laughing."
NYT:
The Trump administration's responses to Mr. Putin's needling have been uneven. Although Congress gave the State Department $120 million in 2016 to counter Russian hacking efforts, the department has so far spent none of it. And Mr. Trump said this week that he wants American forces to leave Syria soon, an exit that would benefit Iran, Russia and its ally, Mr. Assad.
Some see the considerable time it took for the Trump administration finally to announce sanctions as a giveaway to Putin and his allies as well. 
One U.S. official noted that the delay in initiating sanctions against the oligarchs responsible for meddling in the 2016 U.S. election has muted their effect. He said that the oligarchs have had a year to restructure their U.S. holdings. "They had to know these were coming," he said.
Both Republican and Democratic lawmakers praised Friday's announcement and, at the same time, agree the president personally has more work to do when it comes to countering Russia. 
CNN:
Arizona Republican Sen. John McCain, who is the chairman of the Senate Armed Services Committee, called the sanctions as "a clear message to Putin and his cronies that there will be a high price to pay for Russia's aggression in Ukraine and Syria."

"The United States must press forward with a broader strategy to deter and, if necessary, defeat Russian aggression and counter Russian malign influence activities," he said in a statement. "Anything less will only encourage Putin to continue attacking us, our allies, and democracies around the world."

(...)
Democratic Sen. Bob Menendez, the ranking member of the Senate Foreign Relations Committee, also praised the sanctions but argued the White House needs to do more.

"I welcome today's sanctions on Russian oligarchs and government officials, which I called for many months ago," he said in a statement. "But I again urge President Trump to clearly articulate a comprehensive strategy to counter malign Russian government behavior in all of its forms. Nearly 15 months into this Administration, the American people and our allies are still questioning whether the President is willing to fully defend our democracy and our national security."

(...)

Democratic Rep. Eliot L. Engel, the top Democrat on the House Committee on Foreign Affairs, also said the White House needed to do more.

"The sanctions imposed by the Administration today are a welcome step and the right thing to do," he said in a statement. "If the White House is serious about protecting our country, it needs to get much smarter and much tougher in dealing with Russia."
Treasury Department announcement and list
Trump administration imposes sweeping new sanctions on Russian elite (WaPo)
Trump Administration Imposes New Sanctions on Putin Cronies (NYT)
New Russia sanctions will likely target oligarchs with ties to Putin (NBC News)
Meet the 7 Russian Oligarchs Hit by the New U.S. Sanctions (NYT)