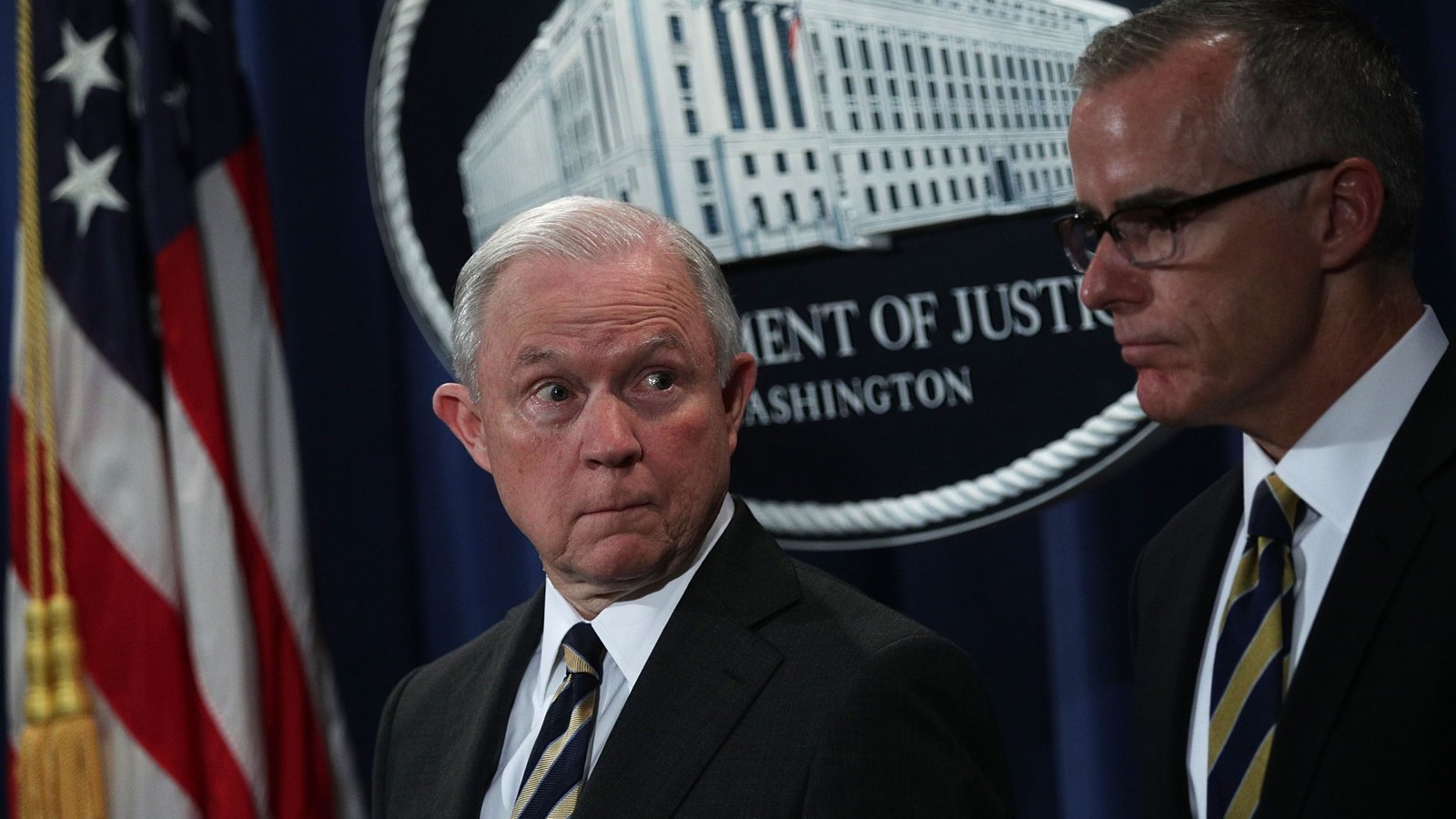 According to ABC News, just-fired FBI Deputy Director Andrew McCabe had authorized an investigation into Attorney General Jeff Sessions for lying to Congress.
One source told ABC News that Sessions was not aware of the investigation when he decided to fire McCabe last Friday less than 48 hours before McCabe, a former FBI deputy director, was due to retire from government and obtain a full pension, but an attorney representing Sessions declined to confirm that.

Last year, several top Republican and Democratic lawmakers were informed of the probe during a closed-door briefing with Deputy Attorney General Rod Rosenstein and McCabe, ABC News was told.
ABC News reports Special Counsel Robert Mueller's team interviewed AG Sessions a couple months ago about whether he lied during his confirmation hearing and via subsequent document submissions. Sessions' lawyer says that case is now closed.
McCabe authorized the initial Sessions investigation request after Senator Patrick Leahy (D-VT) and then-Senator Al Franken (D-MN) sent the FBI a letter in March 2017 asking them to look into the AG's potential Russian ties plus evidence he lied to Congress about those connections.
It's unclear how actively federal authorities pursued the matter in the months before Sessions' interview with Mueller's investigators. It's also unclear whether the special counsel may still be pursuing other matters related to Sessions and statements he has made to Congress – or others – since his confirmation.

During his confirmation in January 2017, Sessions told the Senate committee that he had not been in contact with anyone connected to the Russian government about the 2016 election. He also said he was "not aware" of anyone else affiliated with the Trump campaign communicating with the Russian government ahead of the election.

Two months later, after a Washington Post report disputed what Sessions told Congress, the attorney general acknowledged he had met the Russian ambassador twice during the presidential campaign, but insisted none of those interactions were "to discuss issues of the campaign."

Sessions "made no attempt to correct his misleading testimony until The Washington Post revealed that, in fact, he had at least two meetings with the Russian ambassador," Leahy and Franken said in a statement at the time. "We know he would not tolerate dishonesty if he were in our shoes."

Sessions called any suggestions that he misled lawmakers "false."

Nevertheless, charges subsequently brought by Mueller raised more questions over Sessions' testimony to Congress.

In November, former Trump campaign adviser George Papadopoulos admitted to federal authorities that during the campaign he was in frequent contact with Russian operatives about setting up a meeting between Trump and Russian President Vladimir Putin, and Papadopoulos pitched the idea to Sessions and Trump at a meeting of the then-candidate's foreign policy team in March 2016.

Sessions later told lawmakers he "always told the truth," insisting he didn't recall the March 2016 meeting when first testifying to Congress. He later remembered the meeting after reading news reports about it, he said.
Full story: EXCLUSIVE: Fired FBI official authorized criminal probe of Sessions, sources say