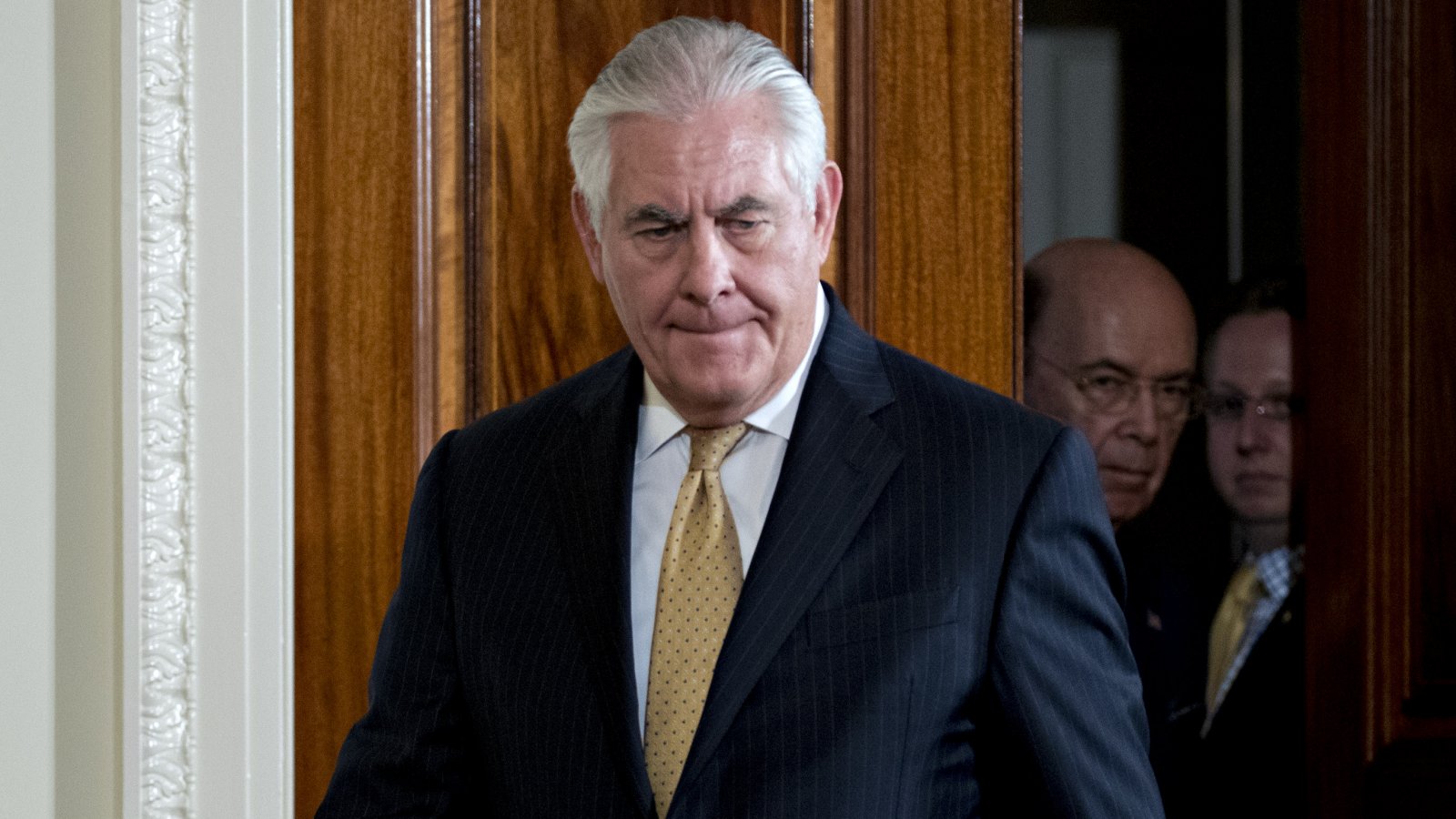 UPDATE: The Associated Press and CNN both report Steve Goldstein, who told the press Tillerson found out about his firing via tweet, now has been fired too. 
BREAKING: Officials: White House fires top Tillerson aide who contradicted account of secretary of state's dismissal.

— The Associated Press (@AP) March 13, 2018
Breaking: Undersecretary of State who contradicted WH line on #Tillerson firing is fired himself. Steve Goldstein tells CNN he was informed by WH personnel office.

— Jim Sciutto (@jimsciutto) March 13, 2018
---
President Trump has fired Secretary of State Rex Tillerson and is replacing him with CIA Director Mike Pompeo. Tillerson found out via tweet. 
Mike Pompeo, Director of the CIA, will become our new Secretary of State. He will do a fantastic job! Thank you to Rex Tillerson for his service! Gina Haspel will become the new Director of the CIA, and the first woman so chosen. Congratulations to all!

— Donald J. Trump (@realDonaldTrump) March 13, 2018
CNN:
A senior White House official has told CNN that President Trump asked Chief of Staff John Kelley to call Rex Tillerson on Friday night. 

The official said Kelly told Tillerson that he will be replaced but did not specify the timing.

(...)

Steve Goldstein, State Department undersecretary of public affairs, confirmed that Tillerson got a call on Friday night from Kelly with a heads up, but Goldstein did not elaborate. Goldstein insists that Tillerson was notified of the official termination in the tweet this morning.
The State Department's official statement confirms the president's tweet caught Tillerson by surprise. 

The move comes less 12 hours after news reports indicated Tillerson took a much stronger stance than the White House on Russia's likely poisoning of former spy Sergei Skripal and his daughter.
Trump spoke briefly with reporters Tuesday morning and said he and Tillerson were not really "thinking the same."
CNN:
President Trump, despite firing Tillerson, said he "actually got along well with" his former secretary of state, but felt that they had "a different mindset" and "a different thinking."

Trump added that he felt Tillerson would be happier out of Washington.

"And frankly, I get along well with Rex, too. And I wish Rex a lot of good things. I think he is going to be very happy. I think Rex will be much happier now. But I really appreciate his service," Trump said.