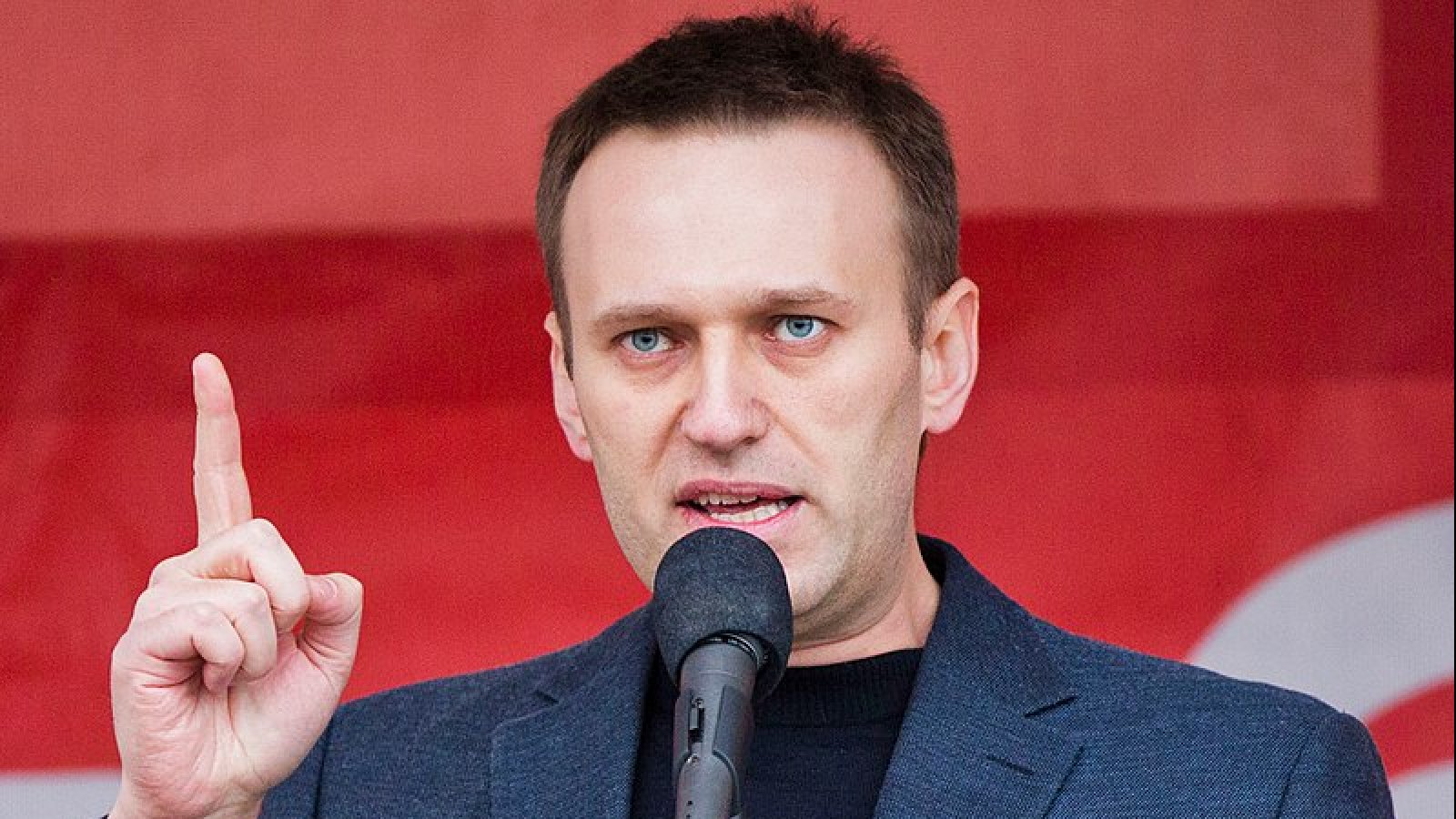 UPDATE: The Associated Press:
[Russia's communications oversight] agency, Roskomnadzor, said Saturday it has placed the investigation, which was published Thursday on the website of Navalny's Anti-Corruption Foundation, and a YouTube video of it, on its register of sites containing information not to be distributed in Russia, according to Russian news agencies.

The sites have three days after the notification to remove the material before being blocked.

Foundation lawyer Ivan Zhdanov says the move would be appealed in court.
Russia moves to block Navalny's latest investigation (AP)
---
Alexei Navalny, Vladimir Putin's top political opponent who has been banned from running against him for President, released a YouTube video Thursday that accuses Russian billionaire Oleg Deripaska – who is tied to former Trump campaign chairman Paul Manafort – of cavorting with an escort and bribing a government official. The video is in Russian with English subtitles and walks through Navalny's investigation and how it uncovered all the salacious details.
Russian opposition leader Alexei Navalny, who produced the 25-minute video that was posted Thursday, displays film purportedly showing Deputy Prime Minister Sergei Prikhodko aboard the private yacht of oligarch Oleg Deripaska in August 2016 off the coast of Norway, accompanied by a half dozen prostitutes. Prikhodko is a longtime foreign policy adviser to Russian leaders.

The video's potential significance is linked to the fact that a month earlier, then-candidate Trump's Campaign Chairman Paul Manafort had offered, in an email sent to an intermediary, to provide Deripaska private briefings as the campaign progressed.

The offer from Manafort, who had reaped millions in consulting fees from Deripaska in prior years, has been a focus of investigations into whether Trump's campaign collaborated in Russia's cyber offensive aimed at disrupting the 2016 U.S. election and helping Trump win.
"An oligarch takes a top government official on a ride on his own yacht — that's a bribe," Navalny says in the video. "An oligarch pays for all of this, including young women from escort agencies. Believe it or not, this is also a bribe."

(...)

After Navalny's investigation was published, the woman, who goes by the name Nastya Rybka, posted a new video on Instagram in which she said that what took place on the yacht "was in truth a gang rape."

A spokesman for Deripaska on Thursday slammed the report and denied the accusations. "These scandalous and mendacious assumptions are driven by sensationalism and we totally refute these outrageous false allegations in the strongest possible way," the spokesman told the Associated Press in a statement.

(...)

While Russia's mainstream media largely ignored Navalny's report, his video drew some 700,000 views on YouTube within hours. Navalny is now trying to use his social media reach to try to persuade Russians to boycott the March election, in which Putin is expected to win a fourth term.
Within its first 24 hours on YouTube, the video had 899,221 views and 28,131 comments. It had gotten more than 2 million views by Friday afternoon.
WaPo:
A spokesman for Putin declined to comment on the video Friday during a daily call with journalists.

"I want to warn the media against the dissemination of these mendacious accusations," Deripaska said in his statement, which was emailed to media organizations including The Washington Post. "I will severely suppress any attempts to create and disseminate false information flow using all legal measures and will defend my honor and dignity in court."

The statement was also posted on the Instagram account of Deripaska, who has an estimated net worth of $6.7 billion, according to Forbes.

Business media outlet RBC said Friday that Prikodko responded to inquiries about the video in a statement. "I would have answered him like a man, but we will remain within the legal framework," the statement said. Prikodko went on to say that he did not know Paul Manafort ...

(...)

Navalny responded to Deripaska on Instagram, writing: "What are you calling the false accusations? Was government official Prikhodko not aboard your yacht? Did he not fly there on your plane?"

(...)

Lawyers for Deripaska sued the Associated Press last year over an article that said he had paid Manafort for work aimed at advancing the goals of the Russian government and Putin.
Watch the video:

Sensational video by Putin opponent adds new player to 2016 election puzzle (McClatchy)
Russian opposition leader Alexei Navalny scours Instagram to accuse a top Kremlin official of ties to a billionaire (WaPo)
Navalny accuses top Russian official of ties to billionaire (AP)
Russian oligarch threatens to sue media over opposition investigation (WaPo)