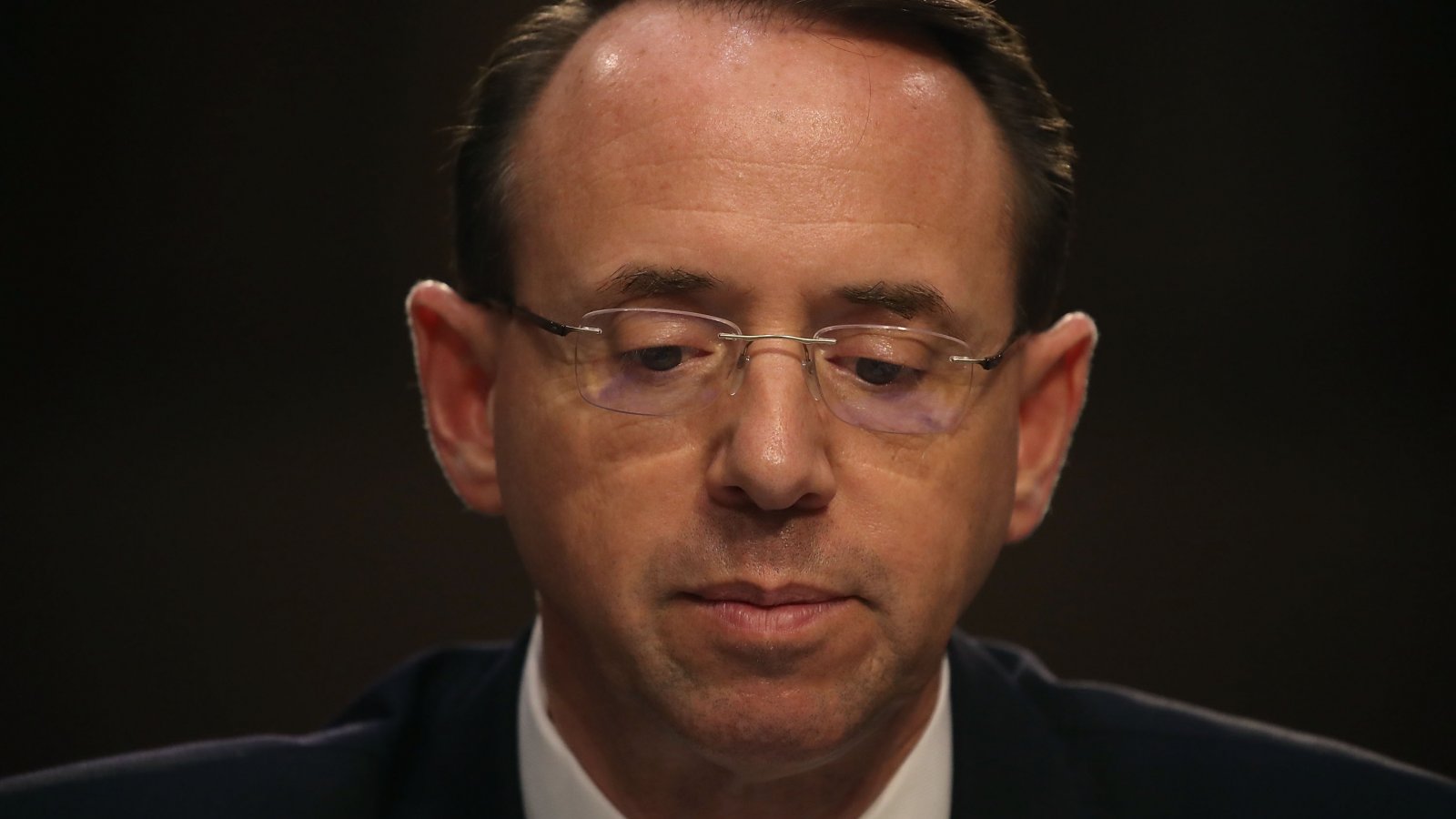 CNN reveals Deputy Attorney General Rod Rosenstein visited the White House in December, shortly before he was scheduled testify before the House Judiciary Committee, to ask for President Trump's help.
Rosenstein wanted the president to stop House Intelligence Committee Chairman Devin Nunes (R-CA) from getting "access to sensitive documents demanded by Nunes, who has spent months pursuing claims of surveillance abuses by the FBI and the Justice Department against the Trump campaign."
But the President had other priorities ... Trump wanted to know where the special counsel's Russia investigation was heading. And he wanted to know whether Rosenstein was "on my team."

... The exchange could raise further questions about whether Trump was seeking to interfere in the investigation by special counsel Robert Mueller, who is looking into potential collusion by the Trump campaign with Russia and obstruction of justice by the White House.

At the December meeting, the deputy attorney general appeared surprised by the President's questions, the sources said. He demurred on the direction of the Russia investigation, which Rosenstein has ultimate authority over now that his boss, Attorney General Jeff Sessions, has recused himself. And he responded awkwardly to the President's "team" request, the sources said.

"Of course, we're all on your team, Mr. President," Rosenstein told Trump, the sources said. It is not clear what Trump meant or how Rosenstein interpreted the comment.
The president's ask is similar to those questions he reportedly posed to former FBI Director James Comey and now former FBI Deputy Director Andrew McCabe. Trump allegedly asked Comey for his loyalty and asked McCabe for whom he voted in the 2016 election. Both men subsequently were fired and pushed out, respectively. 
The interaction between Trump and Rosenstein marks the third known instance during which the president asked a top law-enforcement official where their loyalties lie. 

(...)

Obstruction of justice is broadly defined: it involves any conduct in which a person willfully interferes with the administration of justice. 

That means influencing, obstructing, or impeding any kind of proceeding before a federal agency, department, court, or Congress, according to CNN legal analyst Danny Cevallos.

In order to prove obstruction of justice, prosecutors must establish that the defendant had "corrupt intent" when they made a particular decision, and experts said the Trump-Rosenstein meeting adds another piece of evidence to a growing arsenal in Mueller's hands.
CNN also reports President Trump suggested questions for House Judiciary Committee Republicans to ask Rosenstein about the Russia investigation during his December 13th appearance on the Hill.
One line of inquiry Trump proposed lawmakers ask about was whether Rosenstein appointed Mueller as special counsel to investigate Russian meddling in the 2016 election because Mueller was not selected as FBI director. CNN has reported that Trump has been venting to his aides about Rosenstein in recent weeks and even raised the possibility of his removal. Sources say Trump believes Rosenstein was upset Mueller wasn't selected as FBI director and responded by making him special counsel.

(...)

At the hearing, Rosenstein repeatedly declined to say whether Trump had ever asked him about the Russia Investigation. But he testified that he never received any "improper orders" from Trump and denied that anyone ever asked him to pledge his loyalty, dating back to his time in the Bush administration.
As for the result of Rosenstein's December meeting with the president wherein he asked for help blocking Nunes' sensitive document request, the White House ultimately refused. 
On Monday, Rosenstein, this time with the FBI Director in tow, was back at the White House asking that the administration not release Nunes' four-page memo based on those sensitive documents. 
Full story: Exclusive: Trump asked Rosenstein if he was 'on my team' (CNN)
Mueller just got another critical piece of evidence in the Russia investigation (Business Insider)