Trump Transition Advisor/Former Chairman, House Intelligence Committee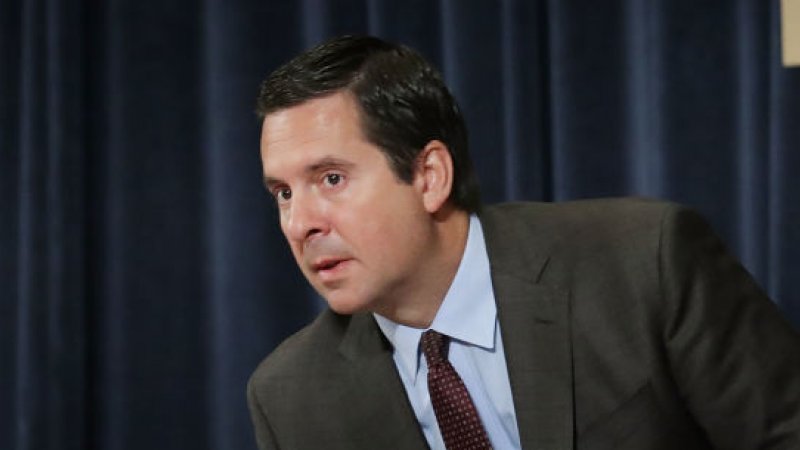 Representative Devin Nunes has been the Republican congressman for California's 22nd District for the past 14 years. Nunes is a strong Trump supporter who served on the President's transition team.
As chairman of the House Intelligence Committee, it is Nunes' responsibility to oversee foreign intelligence investigations, but from the start of inquiries into possible Russian connections to the Trump campaign, Nunes adamantly has denied any wrongdoing by the President and instead tried to shift the FBI's focus from possible collusion to leaks coming from the intelligence community.
On March 4, 2017, President Trump sent a tweet with an accusation that President Obama had wiretapped his phones in Trump Tower. In spite of the President's assertion being completely unfounded, Nunes promised to investigate. Wired has a timeline of Nunes' quest to prove the President's claims true. Nunes traveled to the White House on March 21, 2017 to view classified documents collected by Senior Director of Intelligence Programs Ezra Cohen-Watnick and reviewed by White House lawyers John Eisenberg and Michael Ellis, the latter of whom Nunes worked with on the House Intelligence Committee. The following morning, Nunes teased out having information that revealed improper surveillance. He went back to the White House to brief the President and then shared his findings – that Trump officials has been caught in routine surveillance of foreign entities -- with the press. At no point did Nunes share this information with his colleagues on the House Intelligence Committee.
Nunes now is under investigation by the House Ethics Committee for discussing classified reports on television. He reluctantly recused himself from the Russia investigation on April 6, 2017, replaced by Republican Congressman Mike Conway.
However, Nunes never fully stepped away from the investigation. In late May, he issued subpoenas to three intelligence agencies -- the FBI, CIA and National Security Agency – seemingly to do the White House's bidding and shift attention away from the Russia probe and onto the issue of "unmasking." Democrats in House leadership and on the committee have expressed frustration with Nunes' ongoing interference, asking House Speaker Paul Ryan to intervene.
On September 6, 2017, Nunes stepped in again, this time sending a letter to Attorney General Jeff Sessions and FBI Director Christopher Wray demanding they produce documents related to the Christopher Steele dossier and threatening to hold them in contempt of Congress. Nunes alone and no other members of the House Intelligence Committee signed the letter.