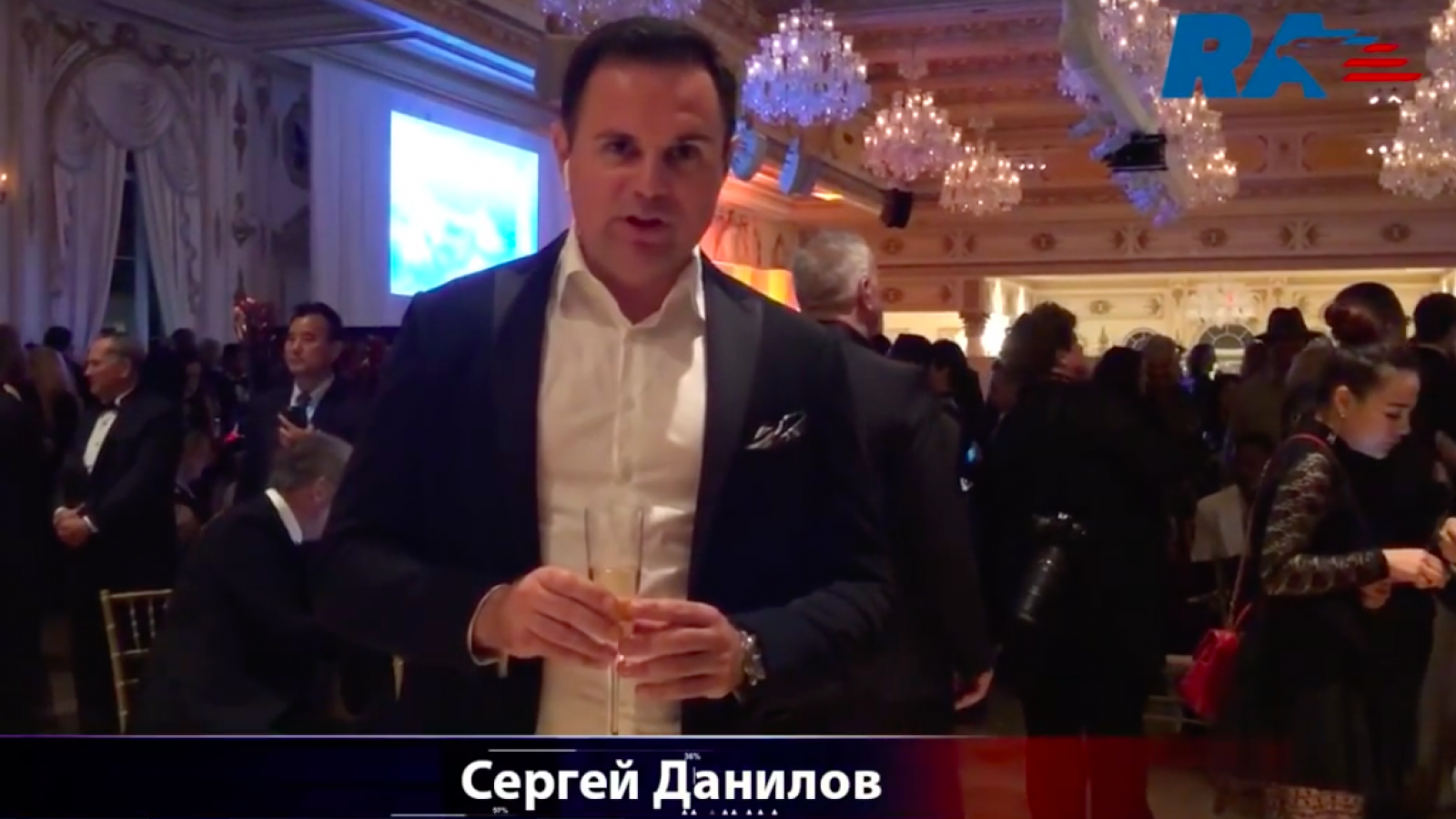 Sergey Danilochkin, a Russian real estate investor charged with tax fraud in connection with the organized crime figures behind the Magnitsky case, now lives in South Florida and attended a January 2018 fundraiser at Mar-a-Lago, during which he made a video bragging about his inside access to the property and noting the surprising number of Russian-speakers in attendance.  
While the guests sipped cocktails and studied photos of African wildlife, Danilochkin, who is also an aspiring journalist, filmed the bustling ballroom on a smartphone and posted the footage on YouTube. Holding a flute of champagne and wearing a dark suit, the Russian émigré addressed the camera in his native tongue, alluding to the uncanny way Russians seem to turn up in the president's orbit.

"The most interesting thing," Danilochkin said, "is that we met a lot of people here who speak Russian."

(...)

In 2010, he fled Moscow fearing for his life as Russian authorities investigated his alleged role in a $170 million tax fraud. The case became big news, especially once it was linked to the organized-crime group behind the so-called "Magnitsky affair," a Russian corruption scandal that dominated international headlines starting around 2009.

(...)

Danilochkin's exile in South Florida — a magnet for rich Russian expatriates — made no difference to the justice system back home, which has been criticized by international observers for corruption and political subservience. The Russian government put out an international notice for his arrest, and he was eventually tried in absentia before being handed a 10-year prison sentence in 2017. Prosecutors alleged that Danilochkin, an accountant by trade, set up shell companies that claimed five billion rubles in fraudulent tax refunds in 2009 and 2010. That was about $170 million.

The Magnitsky affair centered on a similar style of tax fraud, and was masterminded by the same organized-crime outfit behind the smaller $170 million theft, according to Russian investigative journalists and Danilochkin himself, who says he was used as a pawn and fall guy.

(...)

In his new South Florida home, the 47-year-old Danilochkin — gray-haired but still noticeably straight-backed thanks to his time in a Russian military academy — has produced a documentary laying out the case for his innocence. The 35-minute film was privately screened at the National Press Club in Washington, D.C., and features Danilochkin answering questions while sporting a comically fake beard.

(...)

Danilochkin now lives in Sunny Isles Beach, a popular resort town for Russians and a place where old-world disputes seem to migrate across the Atlantic to roost in South Florida palms. As the region transforms into a haven for wealthy Russian expatriates — helped along by marketing campaigns from developers like Trump — their political and financial machinations have followed. 

(...)

... Danilochkin has invested big in South Florida real estate. Between 2010 and 2012, he took advantage of the battered U.S. housing market to buy at least 50 rundown residential properties, spending $1.4 million in Homestead, Overtown, Lauderhill and other economically depressed areas. The homes, mainly condos, had been foreclosed by banks during the recession. 

His working-class tenants had no idea who he was — or that Russian police were on his tail.

(...)

While his real estate investment didn't pan out, Danilochkin has reinvented himself as the founder and star of a Russian-language YouTube news channel called Russian America TV. On camera he goes by the name Serge Daniloff.

It was in the capacity of newsman that Danilochkin visited Mar-a-Lago for a Jan. 26, 2018, fundraiser hosted by Elizabeth Trump Grau, the president's sister.
The president and first lady did not attend this particular fundraiser.
Someone else who has recently made big news did attend the Safari Night gala, however: Li "Cindy" Yang, the former owner of the Jupiter massage parlor at the center of the prostitution investigation that netted criminal charges for Patriots owner Robert Kraft and many others last month. Yang posted photos of herself at the event on a website for her consulting business. The business claimed to offer Chinese clients access to Trump, his family and his advisers at Mar-a-Lago and at the White House, among other places.

The presence of both Yang and Danilochkin at the same event illustrates the way that Trump's private clubs offer a lightly regulated channel into the president's social circle
Danilochkin also used to work for Oleg Deripaska.
Full story: Wanted in Russia, he partied at Mar-a-Lago — and invested in cheap South Florida homes (Miami Herald)