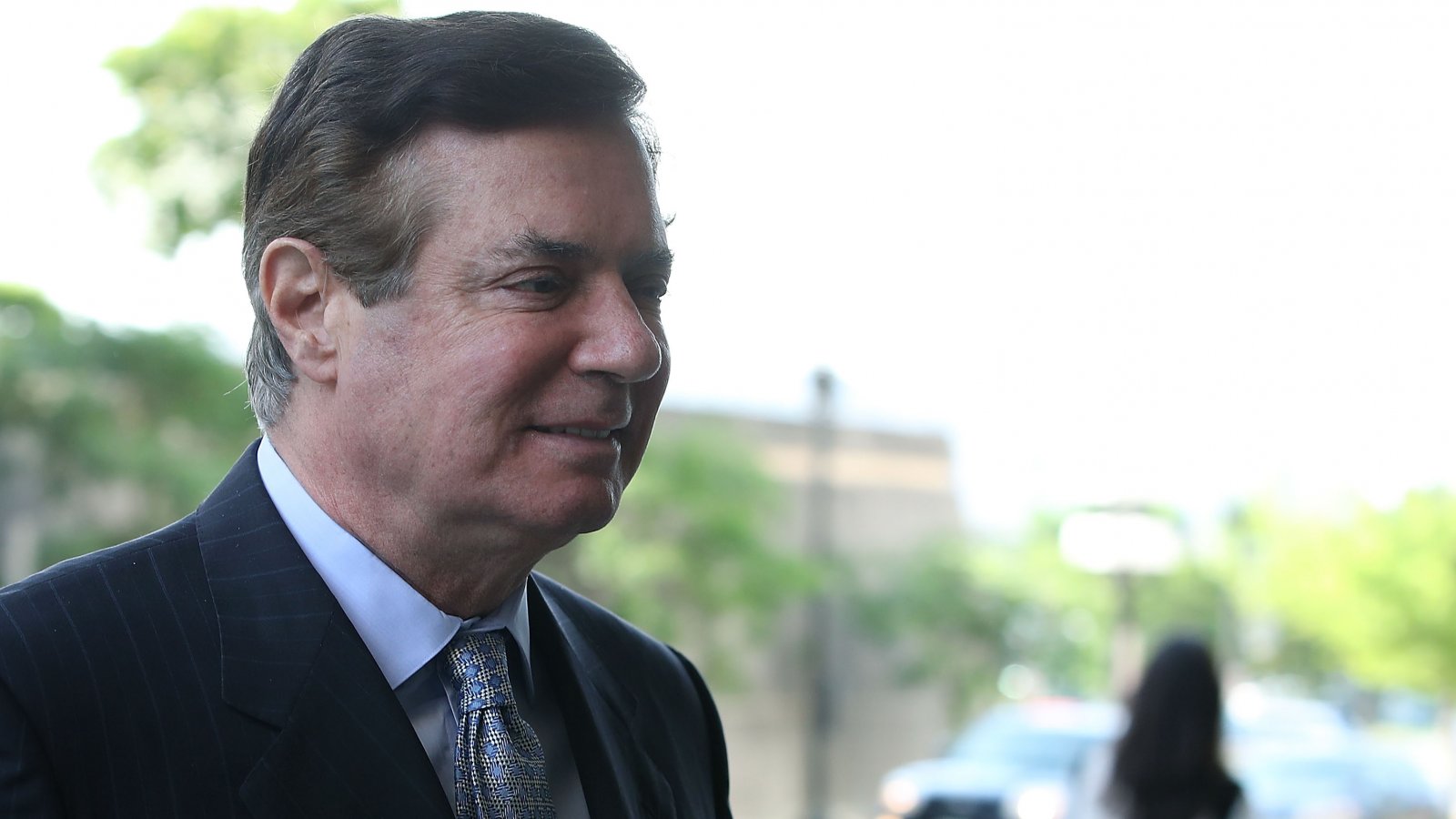 UPDATE: Paul Manafort has been sentenced to 47 months in prison, which is significantly lower than the federal sentencing guidelines which recommended 235 to 293 months or 19.5 to 24.5 years. He will get credit for the nine months he already has served. 
Before he announced the sentence, [Judge T.S.] Ellis made a point of stressing that Manafort "is not before the court on anything having to do with collusion with the Russian government."

One of Manafort's lawyers, Kevin Downing, repeated that point outside the courthouse, saying "there is no evidence that Paul Manafort was involved in any collusion with the Russian government."
Ellis also made a point of complimenting Manafort in spite of his known history of influence peddling and working for ruthless dictators around the world. 
Ellis noted that he must consider the entirety of Manafort's life when issuing a sentence, noting Manafort has been "a good friend" and a "generous person" but that "can't erase the criminal activity." Manafort's tax crimes, the judge said, were "a theft of money from everyone who pays taxes."

(...)

"He's lived an otherwise blameless life," Ellis said. The judged noted Manafort has no past criminal history and "earned the admiration of a number of people" who wrote letters to the court support Manafort.
Manafort spoke briefly before hearing his fate but expressed no remorse. Instead, he told the court how tough this whole process has been on him and his family. 
"The last two years have been the most difficult years for my family and I," Manafort told the judge. "To say that I feel humiliated and ashamed would be a gross understatement."

He asked the judge "for compassion," adding, "I know it is my conduct that has brought me here."

Speaking from his chair, Manafort did not apologize for his crimes, but thanked the judge for how he had conducted the trial.
Because Judge Ellis referenced Special Counsel Robert Mueller's probe during the hearing, many suspect his leniency emerged as a rebuke of the special counsel. 
A team of Mr. Mueller's prosecutors sat glum-faced while Judge Ellis delivered his decision. 

(...)

For nearly two years, prosecutors pursued Mr. Manafort on two tracks, charging him with more than two dozen felonies, including obstruction of justice, bank fraud and violations of lobbying laws. While they ultimately won Mr. Manafort's agreement to cooperate, prosecutors said on Thursday that Mr. Manafort provided little information of value for their inquiry into Russia's election interference and the degree of involvement by Trump associates.

Most of what Mr. Manafort told the office of the special counsel "we already knew or was already in documents," Greg D. Andres, the lead prosecutor in the case, said in court. "It certainly wasn't 50 hours of information that was useful."

(...)

Prosecutors abandoned their plea agreement with him in November, saying Mr. Manafort had repeatedly lied to them. The federal judge overseeing the Washington case agreed that Mr. Manafort had deceived investigators about three matters, including his interactions with a Russian associate who prosecutors have said is linked to Russian intelligence.

Mr. Manafort will be sentenced next week in the Washington case.

(...)

Mr. Manafort's lawyers repeatedly implied that the special counsel's office pursued their client with unusual vigor because of his importance to the Russia inquiry. They said his political consulting work for four American presidents, including Mr. Trump, spoke to his high ideals. And they argued that the special counsel's office has vilified him for what are essentially garden-variety crimes that for other defendants merited only limited time behind bars.

But prosecutors said that Mr. Manafort had been under criminal investigation before Mr. Mueller was appointed in May 2017, that his fraud scheme lasted a full decade and that he committed new crimes by tampering with witnesses after he was indicted. Those new offenses led a federal judge to revoke his bail and jail him in June.

"The defendant blames everyone from the special counsel's office to his Ukrainian clients for his own criminal choices," prosecutors wrote in a sentencing memo.
Next week, Judge Amy Berman Jackson of United States District Court for the District of Columbia will sentence him for the two conspiracy charges, which each carry a maximum penalty of five years. Whether the sentences run consecutively or concurrently is a major issue for both sides.
Paul Manafort sentenced to about 4 years in prison in Virginia case (WaPo)
Paul Manafort Is Sentenced to Less Than 4 Years in 1 of 2 Cases Against Him (NYT)
'Humiliated and ashamed.' Paul Manafort, former Trump campaign chairman, sentenced to nearly 4 years in prison (USA Today)
READ: Paul Manafort's statement to judge at his sentencing (CNN)
---
Judge T.S. Ellis is sentencing Paul Manafort, President Trump's former campaign chairman, in Alexandria, Virginia right now.  
NBC News reports Ellis has said Manafort deserves no credit for acceptance of responsibility since he pleaded not guilty and took the case to trial.  

From CNN's Crime and Justice Reporter:

At his sentencing, Manafort asked for compassion and spoke briefly about how prayer and faith helped get him through this time."I know it is my conduct that brought me here," he said. "My life—personally and professionally—is in shambles." "Humiliated and shamed would be a gross understatement," he said. "I ask you to be compassionate," Manafort told Judge TS Ellis. Manafort also thanked the judge for conducting a "fair trial."
CNN:

The sentencing guidelines, according to the court's probation department, are as follows:
... 235 to 293 months in prison (federal sentences are tallied by month, not year), a fine of between $50,000 and $24 million, a period of supervised released after he finished his prison time of up to five years, a requirement to pay restitution valued at $24 million, and an order to forfeit property to the government worth $4.4 million.
Developing ... 
Paul Manafort at Sentencing: Please Have Mercy, 'My Life Is in Shambles' (Daily Beast)