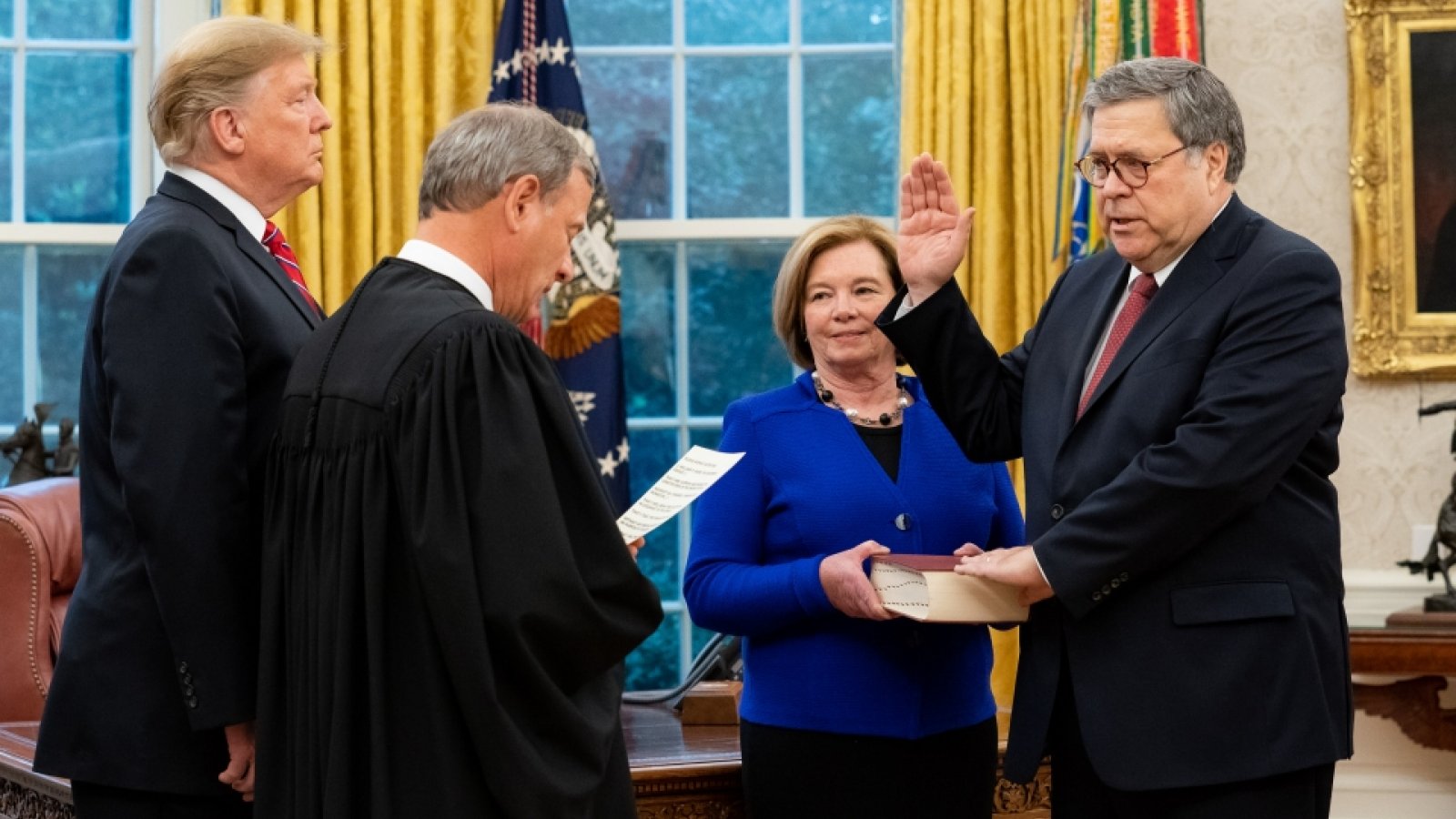 The Senate confirmed William Barr as the next attorney general of the United States by a vote of 54 to 45, and President Trump attended his swearing-in ceremony in the Oval Office Thursday afternoon.  
From the Justice Department press release:
Today, William P. Barr was confirmed by the U.S. Senate to be the 85th Attorney General of the United States. Following the vote, President Donald J. Trump participated in the swearing-in of Mr. Barr during a ceremony in the Oval Office of the White House, where U.S. Supreme Court Chief Justice John Roberts administered the oath of office. Mr. Barr's wife, his three daughters and their spouses, and his grandchildren attended the ceremony. Mr. Barr joins John Crittenden (1841 and 1850-1853) as one of only two people in U.S. history to serve twice as Attorney General.
Barr, who served as the Attorney General under President Bush from 1991 to 1993, delivered an unsolicited 19-page memo to the current Justice Department and the White House last summer, arguing Special Counsel Robert Mueller did not have the authority to investigate the president for obstruction of justice. Now he will be in charge of the probe he voluntarily criticized. 
Mr. Barr assured senators during the confirmation process that he would not allow political interference to sway the department's work, but under pressure from Democrats, he would make no specific assurances to make Mr. Mueller's findings public, foreshadowing a potentially caustic fight.

(...)

A handful of senators separated from their parties on the Senate floor. One libertarian-leaning Republican, Senator Rand Paul of Kentucky, voted against Mr. Barr, citing concerns over his sweeping view of executive power. Three Democrats from conservative or swing states — Senators Doug Jones of Alabama, Kyrsten Sinema of Arizona, and Joe Manchin III of West Virginia — supported him.

(...)

In a confirmation hearing last month and private conversations before the vote, Democrats demanded that Mr. Barr pledge to make public any final report by Mr. Mueller describing the findings of his investigation. But Mr. Barr resisted making any specific commitments, saying the he did not know what Mr. Mueller would produce or whether it could include information that must remain secret, such as grand-jury testimony. He pledged instead that he would be as transparent as possible.

(...)

"Everything that is my concern is in the memo, the 19-page memo he wrote five months before he was appointed," said Senator Dianne Feinstein of California, the top Democrat on the Judiciary Committee. "To me, it was an invitation to be appointed with his support for the unitary executive and the all-powerful president."
Deputy Attorney General Rod Rosenstein, who appointed Mueller and has overseen the investigation from the beginning, will leave the DOJ in a few weeks. Barr will choose his own deputy. 
He intends to call on Jeffrey A. Rosen, the current deputy secretary of transportation, to serve as deputy attorney general, two people briefed on the choice said. His nomination would be subject to a Senate vote.
Senate Confirms William Barr as Attorney General (NYT)
William P. Barr Confirmed As 85th Attorney General of the United States (press release)