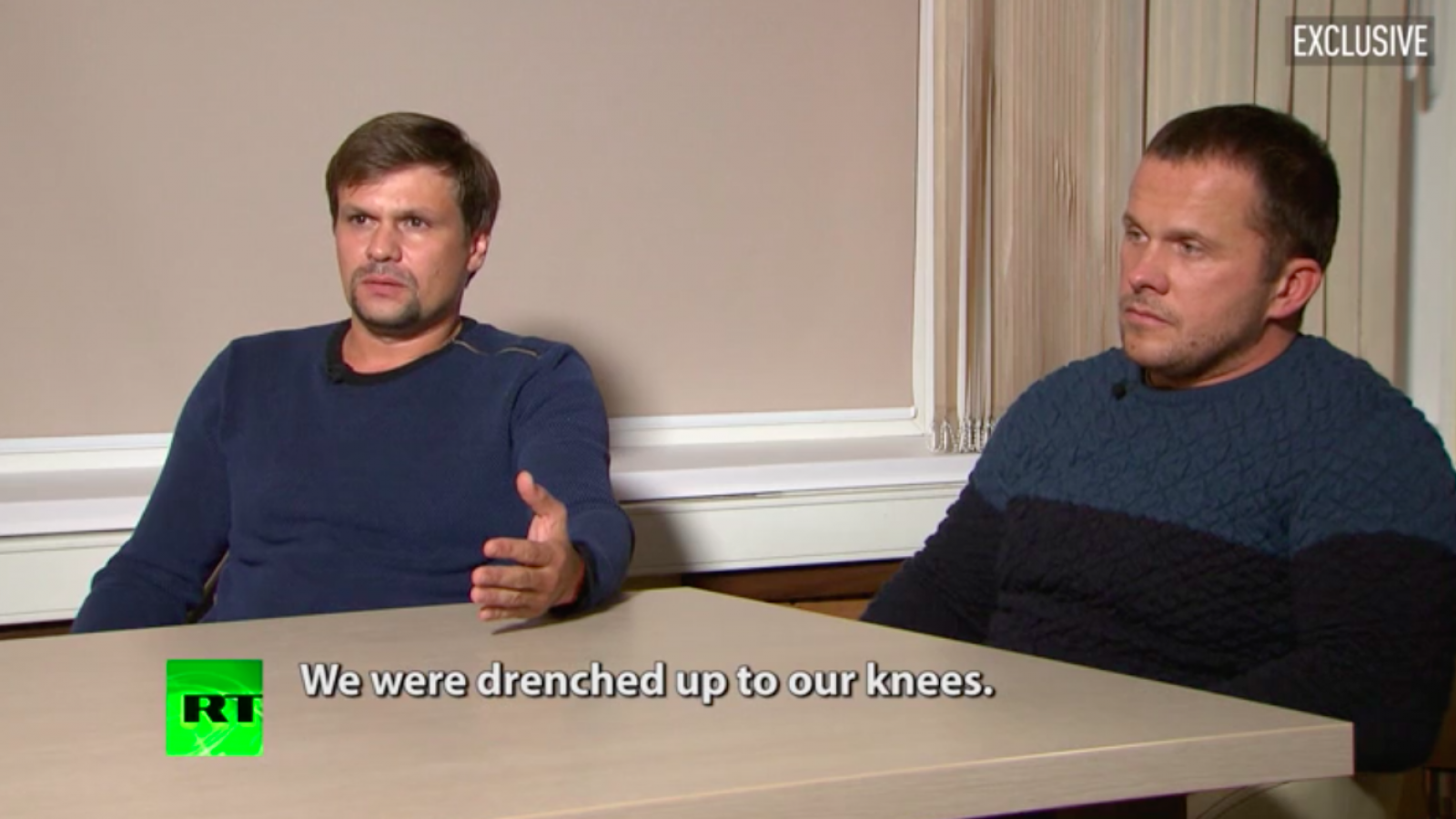 Alexander Petrov and Ruslan Boshirov, the two men identified as Russian military intelligence officers suspected of poisoning former Russian spy Sergei Skripal and his daughter Yulia last March in Salisbury, England, interviewed with the editor-in-chief of Kremlin-funded RT and claimed to be innocent tourists. 
RT:
Both men said emphatically that they were not Russian intelligence agents and were merely sightseeing in Salisbury. They said they wanted to visit the "wonderful town" of Salisbury but realized they came at a bad time – and not just because of the wet English weather.

(...)

The two men told [Margarita] Simonyan they went to London to "hang out," and decided to also visit Salisbury upon the advice of their friends. The town, situated close to the world-famous Stonehenge, also attracted them because of the Cathedral Church of the Blessed Virgin Mary, "famous not just in Europe, but in the whole world."

(...)

They tried to walk through the town when they arrived there by train on March 3, but that "lasted for only half an hour because it was covered in snow," Petrov told Simonyan. There was "slush" everywhere.

On March 4 though, "everything had melted away in London, there was warm and sunny weather." So the two decided to go to Salisbury again to see Old Sarum and the cathedral, "to give it another try."

(...)

While the UK claimed the two were trained intelligence officers, the pair themselves said their occupation was far more modest. "We are owners of a mid-tier business," Petrov told Simonyan, but chose to stop there. According to him, keeping quiet on the details of their business was the only way to protect their clients given the current situation.

"In brief, this is the fitness industry, everything related to sports industry, vitamins and microelements," he said. According to Petrov and Boshirov, they traveled to Europe to do business from time to time to examine the market and "see if there is something new – some biologically active additives, amino acids, vitamins, microelements."
So many elements of the story make no sense, including the suspects' claim the unmanageable weather dictated their departure from and return to Salisbury the next day. 
They acknowledged they went to Salisbury twice. But they claimed they cut short both trips due to the snow and slush on the streets.

"We were drenched up to our knees," Boshirov said.

Photos released by Scotland Yard show the pair walking on a largely clear sidewalk, with a light dusting of snow, a day after a bigger snowstorm. The pair were also picked up by surveillance video in the vicinity of the Skripal house on the day of the attack, March 4. 

"Perhaps we did pass by Skripal's house, but we don't know where it is," said Boshirov.

(...)

After the interview was aired, the British government reiterated its claim that Russian authorities were lying.

Some in Russia believed their appearance on RT had been staged. "The interview with Petrov and Boshirov had already been set, otherwise [Putin] wouldn't have spoken about them," political strategist Gleb Pavlovsky told the Ekho Moskvy radio station. 
Putin spoke about the men yesterday, contradicting an earlier claim the Kremlin had no idea who they were. 
When British investigators first identified two Russian suspects as suspected nerve agent attackers, Kremlin officials said the names meant nothing to them. 

Then, days later, President Vladi­mir Putin vouched for them as just ordinary guys and anything but would-be hit men.
The men appeared on screen a day after President Vladimir Putin had urged them to come forward, saying they were civilians and "there's nothing unusual or criminal" in their behavior.

The U.K. was unmoved. "The lies and blatant fabrications in this interview, given to a state-sponsored TV station, are an insult to the public's intelligence," said James Slack, spokesman for Prime Minister Theresa May ...
Authorities say the men brought the deadly nerve agent into the country in a perfume bottle.
When asked if they were carrying Novichok with them, both Petrov and Boshirov laughed it off. 

"Don't you think it's silly for straight men to have women's perfume with them?" Boshirov said, referring to the Nina Ricci vial that British authorities said contained the poison. 

The RT interview went on: "Speaking of straight men, all footage features you two together. You spent time together, you lived together, you went for a walk together. What do you have in common that you spend so much time together?"

Boshirov: "You know, let's not breach anyone's privacy. We came to you for protection, but this is turning into some kind of interrogation. We are going too far. We came to you for protection. You're not interrogating us."
The U.S. plans to impose a new round of "very severe" sanctions on Russia in November over the Skripal poisoning, Manisha Singh, assistant secretary of state, told a congressional hearing Thursday.
'We're not agents': UK's suspects in Skripal case talk exclusively with RT's editor-in-chief (VIDEO) (RT)
Russian men accused in Skripal poisonings say they visited Britain 'just as tourists' (WaPo)
U.K. Poison Suspects' Gothic Tale Tests Belief on Russian TV (Bloomberg Politics)