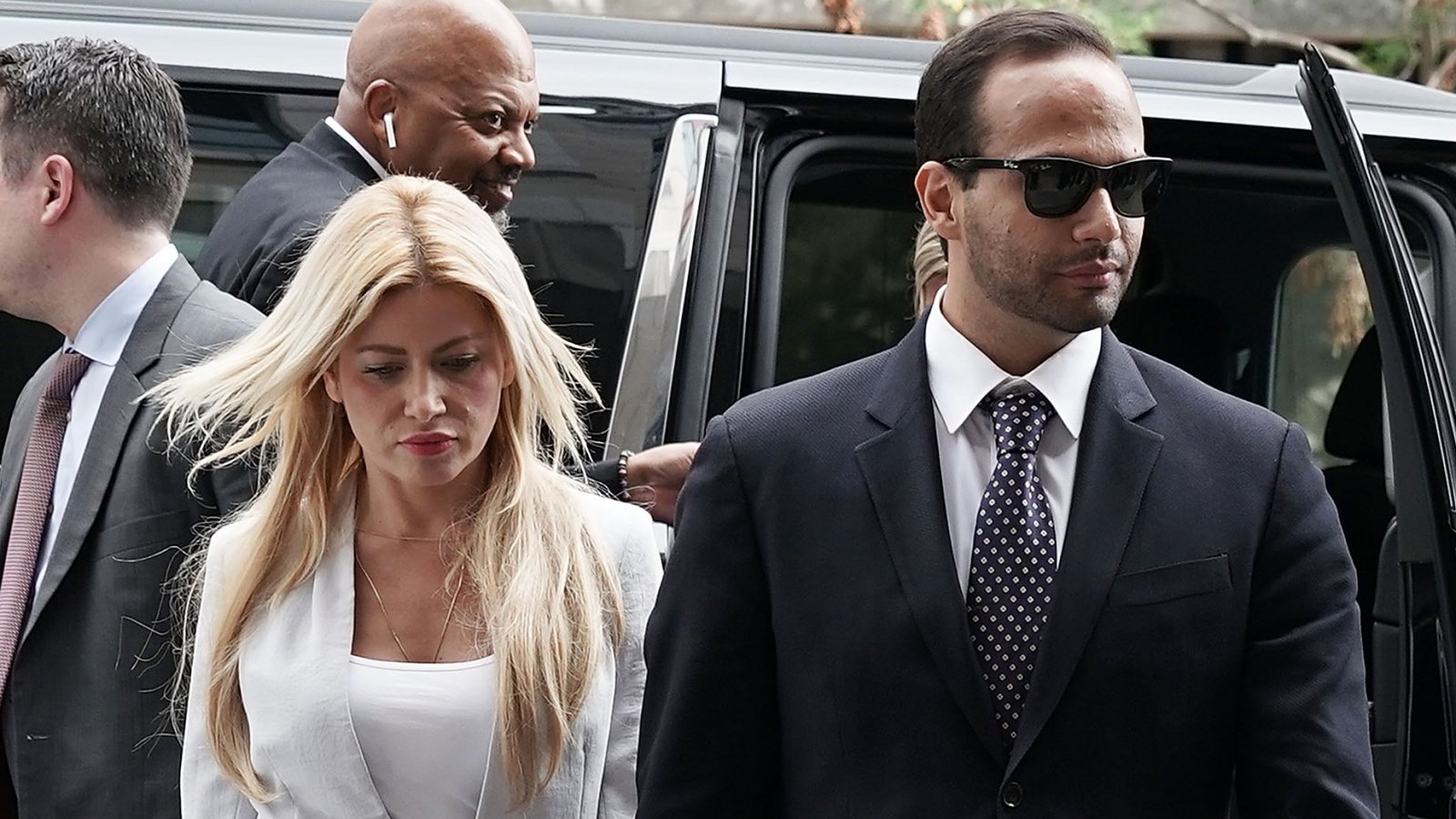 George Papadopoulos, the Trump campaign foreign policy advisor who pleaded guilty to lying to the FBI, was sentenced Friday and only will be doing two weeks' time. He also will have to do 200 hours of community service, be under a year of supervision, and pay a $9500 fine. 
In arguing for probation for his client, Papadopoulos attorney Thomas Breen said, "The president of the United States hindered this investigation more than George Papadopoulos ever could."

That was because, in January 2017, shortly before Papadopoulos was interviewed by, and lied to, the FBI, Trump proclaimed that the Russia investigation was a "witch hunt" and "fake news," Breen told the court. Green argued that those comments influenced Papadopoulos's decision to lie to the FBI.

At another point, Breen talked about going to the FBI field office in Chicago in February 2017 and seeing a picture of Trump and Attorney General Jeff Sessions on the wall.

He told the judge Friday that at the time, he mused to himself that he and his client were there to cooperate in an investigation that potentially could implicate those two men.

Court documents suggest the special counsel's office had hoped to secure Papadopoulos' cooperation, but quickly concluded they could not trust him when he began meeting with reporters. A scheduled FBI cooperation interview was cancelled.

But even without his active help, the court record suggests that Mueller's team learned a lot from his emails and texts, as well as from seizing his phone.

Prosecutors say Papadopoulos, 31, was solicited by a professor with ties to Russian intelligence, Joseph Mifsud, who told the young Trump aide that the Russians possessed incriminating information about Hillary Clinton in the form of "thousands of emails" — before it was widely and publicly known that Russia had stolen Democratic emails. Papadopoulos initially lied to the FBI about the timing of his interactions with the professor, suggesting they happened before he started working for Trump, while actually it was afterward.

(...)

Papadopoulos related the talk of Democratic emails to an Australian diplomat during what the New York Times described as a night of heavy drinking at an upscale London bar in May 2016. The diplomat reported the conversation to his American counterparts, who were seeing other evidence that Russia was making a play to interfere in the 2016 election.

Thus began the FBI's counterintelligence investigation into Russia's election interference operation, American officials have confirmed — an investigation that was taken over by Mueller in May 2017.
Papadopoulos' lawyer Thomas Breen told the court Friday his client's cooperation earned him probation, saying he was "unsophisticated, he was naive and he was a fool."

Papadopoulos then read a prepared statement in which he said that "Serving the United States with pride is all I ever wanted to do."

"I made a dreadful mistake. I am a good man," Papadopoulos said, adding, "I am ready to accept my sentence."

Prosecutors demanded time behind bars, telling U.S. District Court Judge Randolph D. Moss that the young foreign policy and energy expert continued to mislead them even after they had reached a cooperation agreement.

Prosecutor Andrew Goldstein said Papadopoulos "chose to lie again and again to advance his personal interests. His lies were purposeful, calculated and caused harm to the investigation."

He made "at best begrudging efforts to cooperate," Goldstein said.
The New York Times conducted an interview with Papadopoulos this week and has posted excerpts online. 
PAPADOPOULOS: My biggest regret, actually, is not telling the U.S. intelligence community what [Joseph] Mifsud told me actually the minute after I left that meeting in London with him. The stupidest thing I did was actually gossiping about it with foreign diplomats. Allegedly, the Australian and for sure with the Greek. And not telling the U.S. intelligence community until I was interviewed.

(...)

...[I]t wasn't a shock when I went into the meeting on March 31 and elucidated things it a more clear way that I could potentially organize a meeting between President or candidate Trump and Prime Minister Putin. 

MAZZETTI: And what was the reaction of the meeting when you brought this up?

PAPADOPOULOS: The reaction was mixed. I mean, you know, of course, there were some scholars from conservative think tanks at the time at the Heritage Foundation, and others that you know nodded in disapproval, they shook their heads. But at that time, I really wasn't interested in what the other participants wanted. 

I just wanted to hear what the two principals wanted to say, and it seemed at the meeting that candidate Trump was at least open to this. Though he wasn't committed either way, but he nodded and deferred to Jeff Sessions who I remember being actually quite enthusiastic about a potential meeting between then-candidate Trump and Putin.

(...)

MAZZETTI: And you said Sessions seemed quite enthusiastic about the prospect. 

PAPADOPOULOS: Yes.

MAZZETTI: And Trump nodded. 

PAPADOPOULOS: Nodded — noncommittal, but I mean, of course, to defer to Jeff Sessions and to ask Jeff's opinion. The way I saw it was, at least, he was perhaps open to the idea, but he wanted to defer to what was then a very senior senator in the Congress.

(...)

MAZZETTI: One of the things that seems the most puzzling out of this whole Trump-Russia story is that you're told about this pretty explosive information. It is information that would no doubt help the Trump campaign. You wanted to help the Trump campaign. You were very eager to gain, cement, a place in the campaign. And yet, you say you didn't tell anyone about it but you did tell the Austrian diplomat and the Greek foreign minister. Seems strange for people to sort of —

PAPADOPOULOS: I allegedly told the Australian, and I certainly told the Greek foreign minister, but let's not forget, though, at the time I was shuffling between Europe quite frequently. I wasn't at a campaign headquarters, where I would have the opportunity to sit down and probably talk with campaign heads. So, I actually I don't find it shocking that I wouldn't have told them something like this, considering my interactions with the campaign was, as I stated, probably 99 percent done via email. And maybe — you never know — maybe if the call between myself and Stephen Miller occurred that day, I would have told him. But that call never went through, and we're left with receiving interesting messages from Moscow. It's how fate works sometimes, I guess.
Papadopoulos also did an interview with CNN's Jake Tapper which is scheduled to air as part of a special program Friday night. 
CNN:
Former Trump campaign adviser George Papadopoulos says he doesn't remember telling anyone on the campaign that Russia had damaging emails about Hillary Clinton, but "can't guarantee" that he kept the bombshell from his campaign colleagues.

... Papadopoulos also doubled down on the claim that then-Sen. Jeff Sessions embraced his proposal that candidate Donald Trump meet with Russian President Vladimir Putin, contradicting Sessions' testimony to Congress. 

The young political operative maintains that he never alerted the Trump campaign about the Russian dirt. But when pressed, Papadopoulos refused to completely shut the door on the possibility that the information made its way to other people on the campaign. 

"As far as I remember, I absolutely did not share this information with anyone on the campaign," Papadopoulos said, adding, "I might have, but I have no recollection of doing so. I can't guarantee. All I can say is, my memory is telling me that I never shared it with anyone on the campaign."

(...)

Sessions testified last November before Congress that at a March 2016 Trump campaign meeting he "pushed back" against Papadopoulos' proposal to set up a meeting between Trump and Putin. Papadopoulos told CNN that Trump "gave me a sort of a nod" and "wasn't committed either way" but that Sessions "was actually enthusiastic about a meeting between the candidate and President Putin."

The Justice Department has declined to comment about Papadopoulos' assertions. Sessions' attorney Chuck Cooper said the attorney general "stands by his testimony" about his recollection of the meeting with Trump's foreign policy team.

(...)

"My recollection was that the senator was actually enthusiastic about a meeting between the candidate and President Putin," Papadopoulos said, adding, "I remember him being enthusiastic about a potential meeting between the candidate and President Putin after I raised the question."
Papadopoulos sentenced in Russia investigation (ABC News)
Papadopoulos sentenced to 14 days in jail for lying to FBI in Mueller probe (NBC News)
Excerpts From the New York Times Interview With George Papadopoulos (NYT)
Papadopoulos breaks silence, 'can't guarantee' he didn't tell Trump campaign about Russian dirt (CNN)