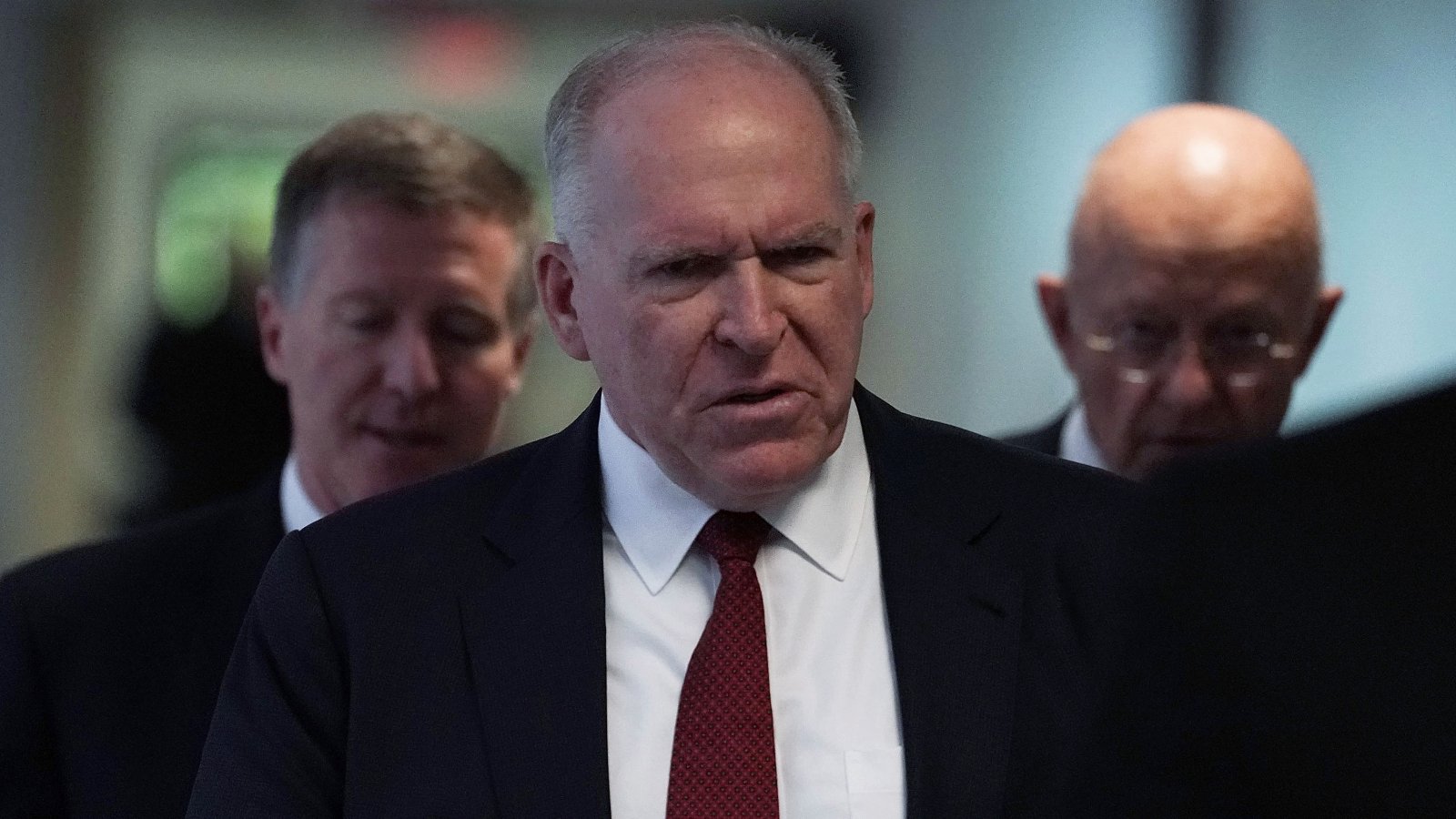 UPDATE: From CNN's Chief National Security Correspondent:

---
So far, fifteen former intelligence officials – senior officials who served under both Republican and Democratic presidents – have signed a statement condemning President Trump's decision to revoke former CIA Director John Brennan's security clearance. 
The show of solidarity comes on the heels of Brennan penning an op-ed of his own in response, and retired Navy Admiral William H. McRaven, the man who oversaw the raid that killed Osama bin Laden, writing an opinion piece asking the president to pull his clearance too.
CNN:
With the exception of Brennan -- and excluding those who served under Trump -- every CIA director since George Tenet, who took over the agency in 1996, signed the [intelligence officials'] letter.

"We all agree that the president's action regarding John Brennan and the threats of similar action against other former officials has nothing to do with who should and should not hold security clearances -- and everything to do with an attempt to stifle free speech," the former senior intelligence officials, including former CIA directors, former CIA deputy directors, and a former director of national intelligence, said in a statement released Thursday. 

They went on to argue, "We have never before seen the approval or removal of security clearances used as a political tool, as was done in this case." 

"Beyond that, this action is quite clearly a signal to other former and current officials," the former officials said, adding that the signal "is inappropriate and deeply regrettable."
The letter's signees include former Directors of Central Intelligence Robert Gates, William Webster, George Tenet and Porter Goss; former CIA directors Gen. Michael Hayden, Leon Panetta and Gen. David Petraeus; former director of national intelligence James Clapper; and former deputy CIA directors John McLaughlin, Stephen Kappes, Avril Haines, David Cohen and Michael Morell, who is also a CBS News senior national security contributor. 

Morell told "CBS This Morning" he helped organized the letter. He said it was "difficult to get the language just right, because there were those of us who believed that what John has done since he left government and how he has chosen to use his voice is appropriate, and actually required in a democracy, and there are those of us who believe that he is acting inconsistent with the stature of a former director, so it was tough to get that right."

But, Morrell said, everyone who signed agreed that Brennan has served his country well and saved lives, and the use of a national security tool for "political purposes" is "inappropriate" and "unprecedented." 
CNN: 
The list originally included 12 officials, but overnight, former CIA director and Defense Secretary Robert Gates added himself to the list. Former Director of National Intelligence Dennis Blair and former Deputy CIA Director Bert Calland also signed onto the statement Friday.

(...)

The former intelligence leaders added in their statement that "decisions on security clearances should be based on national security concerns and not political views."

They also defended Brennan's character and called allegations against Brennan of wrongdoing "baseless."

(...)

Following the President's comments, former CIA director and onetime Trump campaign adviser James Woolsey issued a separate statement in which he said "objective criteria" should be used in evaluating who gets to keep a security clearance.

Woolsey was not able to review the joint statement issued by the other former intelligence chiefs by the deadline, and chose to write his own statement, according to a person with knowledge of the decision. 

The President said he would "soon" revoke the clearance of Bruce Ohr, a Justice Department official whom Trump has criticized for his connections to a dossier of infamous allegations about the US President and Russia. 

(...)

The mention of Ohr on Friday is notable because he currently works at the Justice Department and has not publicly criticized Trump.
STATEMENT FROM FORMER SENIOR INTELLIGENCE OFFICIALS
Former intelligence leaders: Trump attempting to 'stifle free speech' by revoking Brennan's clearance (CNN)
Top former intelligence bosses sign letter supporting John Brennan (CBS News)