Former CIA Director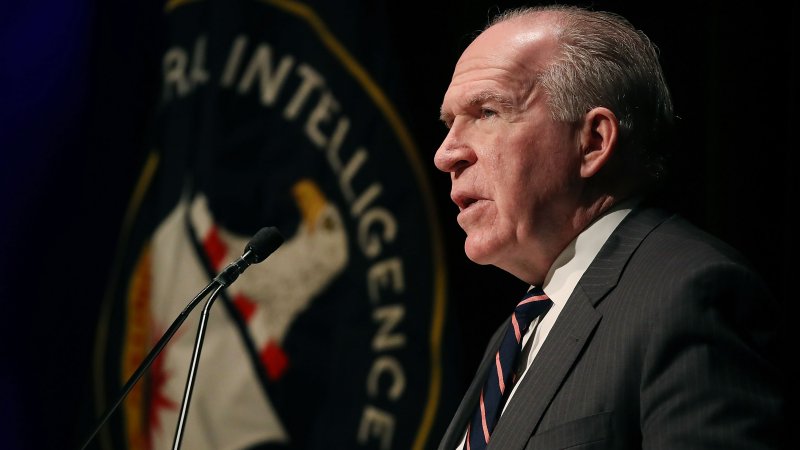 John Brennan, a former senior CIA official under President George W. Bush, served as President Obama's top counterterrorism advisor during his first term and then as Director of the Central Intelligence Agency (CIA) from March 8, 2013 until January 20, 2017. In April 2012, Brennan gave the first detailed explanation – and defense – of the United States' use of unmanned drones in the war against Al Qaeda and its allies. During his confirmation hearing in February 2013, Senators questioned Brennan heavily about the drone program and about his time with the CIA after September 11, 2001 when the Agency used harsh interrogation techniques like waterboarding.
In early August 2016, Brennan first informed the White House the CIA had gathered information that Vladimir Putin himself was behind the Russian effort to damage and/or defeat Hillary Clinton and assist Donald Trump in the 2016 election. In an effort to collect more intelligence, Brennan convened a secret new task force made up of analysts and experts from the CIA, the NSA, and the FBI. He slowly disseminated information to select Administration officials as the White House weighed how best to respond to Russian interference.
Attempts to warn state officials and brief Republican members of Congress on the threat of Russia's cyber attacks were met with disinterest and partisan skepticism.
Also in August, Brennan called Alexander Bortnikov, the head of Russia's FSB intelligence agency, and confronted him about the Russian election interference, warning it would damage future US/Russia relations. Bortnikov denied the allegations but said he would pass the message on to Putin.  
After the election, on January 6, 2017, the Director of National Intelligence released a comprehensive report on Russia's interference based largely on the work of Brennan's task force. The report explained why the Intelligence Community was in agreement that Russia's government meddled in the U.S. election and offered the following warning: "We assess Moscow will apply lessons learned from its Putin-ordered campaign aimed at the U.S. presidential election to future influence efforts worldwide, including against U.S. allies and their election processes."
On May 23, 2017, Brennan testified before the House Intelligence Committee that he had left his post with lingering questions as to whether or not the Kremlin had been successful in recruiting assistance – either knowingly or unknowingly – from people on or close to the Trump campaign. In answering a question from Rep. Trey Gowdy (R-SC) about whether he had seen evidence as CIA Director of coordination between "Donald Trump and Russian state actors," Brennan said he did see "information intelligence that was worthy of investigation by the Bureau to determine whether or not such cooperation or collusion was taking place" between Russian officials and "U.S. persons."
On August 24, 2017, Buzzfeed published an internal memo Brennan had sent to colleagues in December 2016 stating that he had met with James Comey and James Clapper and all three strongly agreed on the "scope, nature, and intent" of Russia's interference in the U.S. election. He encouraged his team to continue its good work in aiming to complete a full report by January, noting the CIA's efforts were of "great consequence to national security." The memo grabbed attention for Brennan's mention of his difficulty convincing some members of Congress that Russian election interference was a significant issue.